Having rambled through New Brighton in Staten Island a week previously, it's time now to turn Forgotten attention to New York's other "Brighton" named for the famed British Channel-side resort, Brighton Beach, Brooklyn.
Civil War profiteer William Engeman was the first to develop the oceanside territory between today's Ocean Parkway and Sheepshead Bay, purchasing lots from property owners countrywide, and building the Ocean Hotel and Pier between 1869 and 1873, and in a few years, the Brighton Beach Race Track, which brought in sportsmen from all over the Northeast (until racing was outlawed in 1910.)
GOOGLE MAP: BRIGHTON and MANHATTAN BEACH
The success of Engeman's enterprises attracted even more entrepreneurs, such as Henry C. Murphy, who constructed the NY and Brooklyn, Flatbush and Coney Island Railway, the descendant of which is the subway Brighton Line (in 2010, the B and Q train). Murphy also built the Brighton Beach Hotel in 1878, the same year his railroad first brought the high rollers to the seaside. As the decades passed Brighton Beach came to precede Coney Island as a seaside amusement venue, as vaudeville theatres and amusement parks sprung up along the newly constructed streets, which carried names until the 1930s (afterward they were all given the Brighton 1st Street, Road, Drive, Court, Path, Terrace system in place today). In the 1930s and 1940s an influx of immigration prompted developers to build 4 and 6-story apartment buildings, most of which are still standing.
In the 1970s the Soviet Union eased immigration policy and a brand new wave of immigrants made Brighton Beach the "Little Odessa" it is today (Brighton Beach reminded the new arrivals of that Black Sea seaport, now in the independent Ukraine). On my visit just before Christmas 2009, I didn't hear balalaikas ringing out and there were no comrades to keep warm — I was architecture and oddity hunting, as usual.
Henry Cruse Murphy (1810-1882), one of the first developers of Brighton Beach, was one of those polymathic figures that only the 19th Century seems capable of producing — he: graduated from Columbia College in 1830; ; owned and operated theBrooklyn Daily Eagle in 1841; became mayor of Brooklyn in 1842 and a U.S. Representative the following year, serving a second stint beginning in 1847, and was a Democratic Party candidate for President in 1852, and served 6 terms in the State Senate from 1861-1873. Besides politics he was a renowned scholar, translating David DeVries' Voyages from Holland to America 1632 to 1644 from Dutch in 1853 (the first of many such translations), and from 1857-1861 was the US Minister (ambassador) to the Netherlands. He was a founder of the Long Island Historical Society (the institution still exists as the Brooklyn Historical Society). He maintained an estate in what is now Owls Head Park in Bay Ridge, and the neighborhood's Senator Street was named for him.
But First … Coney
I made two winter visits to Coney Island in 2009-2010. The first was en route to Brighton Beach, as many Brooklyn subway lines terminate there; I have always been fascinated by Brooklyn's Riviera, which has a timeless quality but enough incremental changes from year to year to make it fascinating chronicling. The city, as well as a string of developers, has announced a Coney Island "revival" for year after year, decade after decade, yet Coney retains a simultaneously decaying and yet, life-affirming quality; it seems the more the infrastructure deteriorates, the more determined Brooklynites seem to retain it as their own, with miles of beach, Nathan's Frankfurters, the Wonder Wheel, the Cyclone, the rides and amusements along Surf Avenue, the Mermaid Parade, the Polar Bear Club, and a resistance to varnish and whitewash it as was done with Times Square. (My second visit was the annual Polar Bear extravaganza on January 1st, 2010).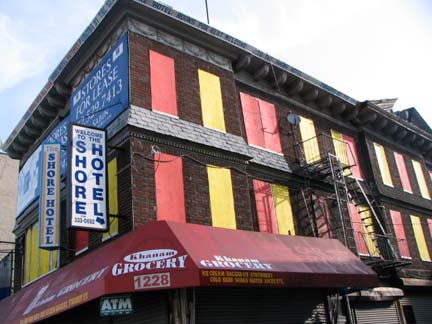 It looks as if the Shore Hotel is out of business at last — developer Joseph Sitt bought it and apparently kicked out the last hotelier. As recently as a couple of years ago I saw a couple of guys (in Orthodox Jewish attire) — going in via the Henderson Walk entrance. I always wanted to rent a room there but never got up the nerve. One year, I remember viewing the Mermaid Parade across the street from the Shore Hotel, and a young woman was leaning out the 2nd floor window, to get a better look. In her bra and panties.
[this building was torn down in late 2010]
The Coney Island Museum and its building-mate,Sideshows By The Seashore, Surf Avenue and West 12th. The Museum is open Saturday and Sunday from 12-5 for a 99¢ admission, while Sideshows, featuring a full slate of fire eaters, sword swallowers, razor blade swallowers, claw-handed performers, snake charmers, and skull hammerers, is open in the spring and summer season.
One of the overlooked aspects of Coney Island is, perhaps, its plethora of colorful, playful painted signs, advertising amusements and food venues open in season. In 2007, I did an entire FNY page about them; some of those have vanished, while others step up in their stead. Marie Roberts is probably the foremost among Coney's painted sign artists; some of her creations can be seen at that link.
The palmologist's sign reminds me of Al Stewart, the British folk rocker known in the USA primarily for 1978's "Year of the Cat." I first became aware of him through his 1973 LP "Past, Present and Future," whose "Nostradamus" got some radio airplay in the USA, paving the way for his later pop stardom.
I doubt such a connection is made by any other person passing this awning sign.
B&B Remains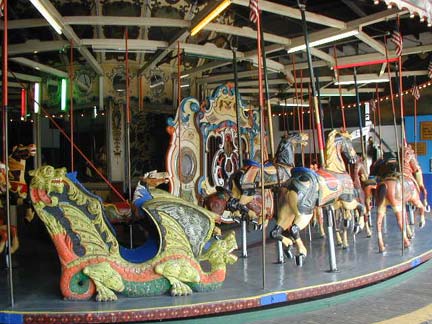 The north side of Surf Avenue just east of West 12th Street was occupied for many years by the B&B Carousell, whose rinky tink pipe organ was a welcome staple (along with Nathan's Famous) no matter what time of year you happened to stumble past. At left is a 2001 photo by Adam Sandy and at right is a photo I snagged just before the Mermaid Parade in 2004. The Bishoff and Brienstein Carousell was built in 1919 (its artwork features WWI-era biplanes) and first appeared on Surf Avenue in 1932; along with the Prospect Park Carousel it was the last in Brooklyn to use wooden horses, and a brass ring was available for the snatching. It was acquired by NYC at auction in 2005, has been undergoing extensive renovations in Ohio and is slated to reappear in a specially-created pavilion at the former Steeplechase park (near Keyspan Park) in 2010.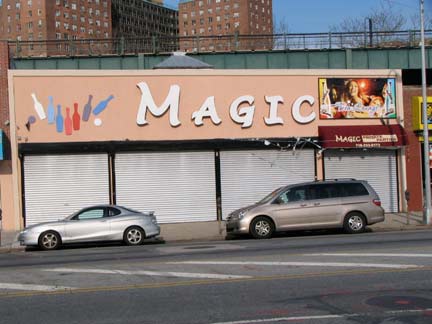 Its former space on Surf Avenue is now occupied by an establishment variously billing itself as Magic Bowling (hence the sign), Magic Jungle (kiddie parties) and presently (January 2010) Magic Lounge.
In other carousel news, the Walentas family, developers in DUMBO, have restored a similarly old carousel which has been installed in Brooklyn Bridge Park.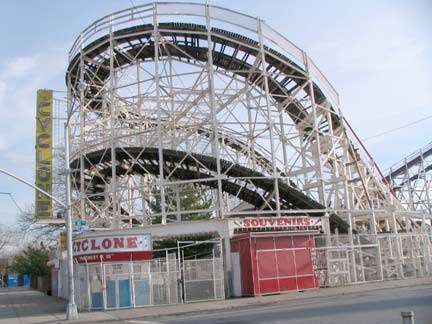 The Cyclone at repose. I'm too chicken to ride roller coasters, but I appreciate the presence of the Cyclone, which has been here at Surf Avenue and West 10th Street for over 8 decades. The 'coaster was built by Jack and Irving Rosenthal, with help from architects Vernan Keener and Harry Baker, opening June 26, 1927. It has been rumored to be near demise several times — it was closed because of deteriorating conditions between 1969 and 1975 and was almost condemned when the NY Aquarium wanted to acquire the property. In 1975 it was leased to Astroland's owners and was repaired and reopened. Despite the demise of Astroland after the 2008 season the Cyclone remains in operation by the NYC Parks Department, as it is an official NYC landmark.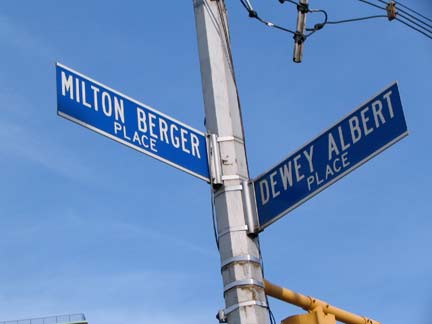 Milton Berger was a beloved press agent who for years touted Brooklyn's Riviera; Dewey Albert founded the now-defunct Astroland in 1962 after buying the property in 1952 from the owners of the old Feltmann's Restaurant (see below).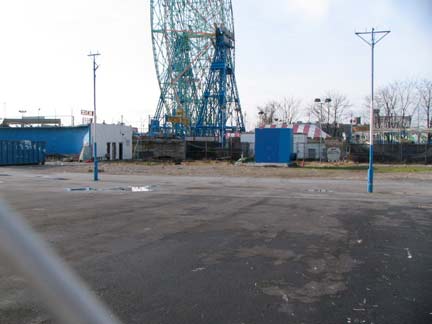 The former Astroland property stands mostly empty in winter 2010, bookended by the Wonder Wheel (built in 1920) and the Cyclone. Kinetic Carnival, the premier Coney Island newsblog, reports that the city has negotiated to bring a fully stocked amusement area into the space, featuring rides by the noted Italian firm Zamperla, for the summer.
The Riegelmann Boardwalk runs from Brighton 15th Street in Brighton Beach west to West 37th street at the edge of Sea Gate. The boardwalk is named for Edward J. Riegelmann, Brooklyn Borough President from 1918- 1924. After subway service was modernized in 1920 and the els began to bring ever more weekend reveler to Brooklyn's Riviera, under Riegelmann the city acquired title to beachfront property and commenced to build the boardwalk in 1921. It was one of the greatest engineering projects in Brooklyn/Gravesend to date and required 120,000 tons of stone, 7700 cubic yards of concrete and 3.6 million feet of timber. It opened May 15, 1923. In addition, under Riegelmann Kings Highway took its present form, as it was built up from a country lane to a ten-lane route between Ocean Avenue/Avenue P and the Eastern Parkway Extension (including a widening of Howard Avenue and Tapscott Street in East New York).
In 2006-2007 the Boardwalk's streetlamps were replaced with Type 24 Twin replicas with pendant additions, imitating but not quite matching the Boardwalk's original lamps, seen in the 1924 photo via brooklynpix.
It all begins here — Ocean Parkway begins its long march to Prospect Park here at Surf and Seabreeze Avenues. It was designed by the architects of Central and Prospect Parks, Calvert Vaux and Frederick Law Olmsted, and built between 1874-1880. In the distance we see the concrete viaduct that takes the subway Brighton Line over the parkway.
Obscure Beach Lane, which runs from Brighton Beach Avenue south to the boardwalk.
One of the original fountains left over from the Boardwalk's earliest days, at Brighton 2nd Street. The fountain stopped working decades ago.
ForgottenFan George Fischler: Just a couple of comments. The unusual "Beach Lane" between Ocean Parkway and Brighton 1st Street was where the trolley turned off Brighton Beach ave, down towards the boardwalk, and turned around in a loop where that apartment building is now. I used to sit on the boardwalk watching the trolleys turn. I grew up in the buildings pictured on Brighton 14-15 Street [see below]. 1170 & 1120 Brighton Beach Ave. They were the "Joseph P. Day" houses. The height of luxury apartment living when opened in 1938. They featured roof top decks with shade and park benches. The buildings originally fronted directly onto the beach (until other houses were built behind them in 1950), they had salt water taps for the bathtubs, bringing the ocean right into your apartment. The separate stall shower had 5 shower heads controlled separately. The lobbies still have some great deco floors, although much of the rest including some great murals are gone.
A Real Mother For Ya
Is the inscription found at the apartment house at 3102-3116 Brighton 1st Place near Brighton Beach Avenue meant to be the same Mother Jones of the famed left-leaning magazine of the same name? Sure it is. Let Paul Shaw explain in thisfascinating article about letterforms in Brooklyn: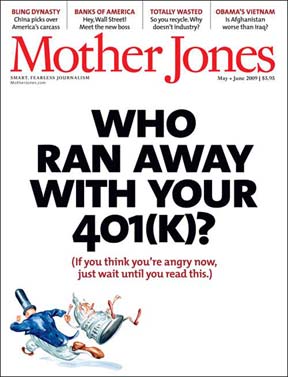 Mary Harris Jones — better known as Mother Jones — was one of the founders of the Wobblies (Industrial Workers of the World) and a labor organizer for the United Mine Workers and the Socialist Party of America. In 1902 she was labeled "the most dangerous woman in America" by a West Virginia District Attorney due to her efforts on behalf of striking coal miners. So, how did an apartment building in Brighton Beach come to bear her name? The building may have been a cooperative financed by unions for its members such as those the Amalgamated Clothing Workers built near Van Cortlandt Park in the Bronx between 1927 and 1970.
I'm glad our revolution never came and we had to break down walls in Eastern Europe, not here.
Brightwater Court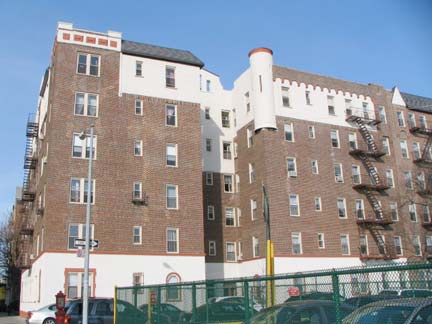 Brightwater Court runs a block north of the Boardwalk between Brighton 1st Road and Coney Island Avenue. Taking advantage of the ocean views, developers built several multifamily buildings during the golden age of apartment houses, about 1925-1940. Some of the ocean views, but not all, were negated by the construction of apartment houses on the south side of the street. These two castle-like buildings, either side of Brighton 2nd Street (the one on the bottom is called the Delmar Towers) continue to face the ocean.
A beautiful apartment house at Brightwater and Brighton 3rd, with beige brick alternating with Flemish bonded dark brown and blue bricks.
711 Brightwater Court

Toward the end of the Art Deco era, which began in the mid-1920s and ran about ten years, architects really stepped up the game, designing buildings with rich ornamentation, kitchen-sink festooning and multi-colored terra cotta-ing. The Ambassador Apartments in Fort Hill, Staten Island is one of these buildings, and 711 Brightwater Court at Coney Island Avenue, constructed in 1935, is another…
The front entrance reminds me of the Pythian Temple on West 70th Street with its tapestry-esque design over the front entrance.
Directly over the front entrance above each window pair is a motif of orange, blue and green terra cotta.
There's elaborate brown and black brickwork on the ground floor and at both ends of the building, and interesting angled brick treatment, with a touch of dark blue, above the end windows.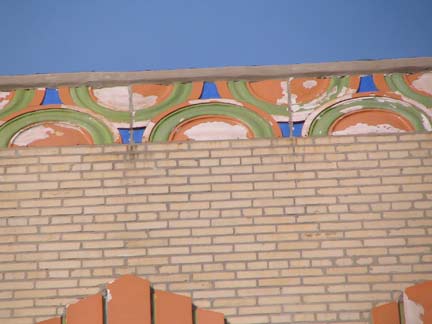 Admittedly I don't know much about 711 Brightwater, but the Urban Mermaid has a personal recollection:
It was 80 degrees today. I swam in the ice cold river again. I wish I could swim outside through the winter. I'd join the Brighton Beach Polar Bears if I lived in my grandparents' old neighborhood. They were right next to the boardwalk, 711 Brightwater Court, top (6th) floor. I'd sit on the end of one of their pink twin beds and all I'd see was ocean and Grandma's gigantic mirrored vanity! When we were 4 and 6 my sister and I would play in the vanity cave where the chair would usually sit. It was a box of mirrors and made a reflection that was an infinity of us. We'd sing and clap our hands and be our own chorus line. Grandma would feed us chunks of cantaloupe and honeydew to eat with toothpicks after a day on the beach. Grandpa would sit on the windowsill watching the sunbathers in bikinis through his binoculars. On rainy days he'd play golf on the green living room carpet.
Brighton Beach Avenue

Brighton Beach Avenue is relatively new — it was built under the newly constructed Brighton El in 1920, but also has an open-air section between Coney Island Avenue and Manhattan Beach. It was this section I decided to explore…
Millennium Theatre, Brighton Beach Avenue just east of Coney Island Avenue.
This large space with fine acoustics hosts some of the most celebrated troupes of Moscow and Leningrad, including Russia's brightest film and theater stars; offers performances by Russian comedians, many of whom are worshipped in Russia for their bravery and willingness to say things ordinary people dare not say in a totalitarian culture; and serves up every kind of music, from Russia's answer to Britney Spears to Russia's version of Nine Inch Nails.
The theater is located, inexplicably, above a rowdy Russian restaurant, but the beat that sometimes seeps through the floor and the inebriated patrons hanging out downstairs only add to the authentic feel of the place. Associated Content
A pair of apartment buildings on the south side of Brighton Beach Avenue between Brighton 14th and 15th Streets are unmistakably Deco.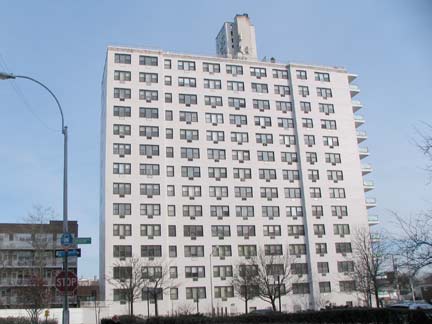 At Corbin Place we see a pair of starkly white buildings, a terraced retirement home (above) and the Westbrook Apartments high-rise, facing on Oriental Boulevard.
Manhattan Beach
I have always thought that Brooklyn should have a somewhat wary, adversarial relationship with Manhattan, albeit a cordial one. With that in mind I had no idea why a beach and a neighborhood at the southern end of Brooklyn should be named for Manhattan. Manhattan Beach doesn't even face Manhattan — at least Manhattan can be spotted from Greenpoint's Manhattan Avenue. When wealthy banker and railroad nabob Austin Corbin built the Manhattan Beach Hotel and the Manhattan Beach Railway that brought the well to do to the shore, though, it must have seemed perfectly natural to bring the big city to the wilds of far-off Gravesend Town. Corbin constructed the Manhattan Beach Hotel and the adjacent Oriental (i.e. east of Coney Island) Hotel in the late 1870s. President Ulysses S. Grant officiated at the Manhattan Beach Hotel opening, which featured historic tableaux, fireworks, and a performance of the Manhattan Beach March by John Philip Sousa. President Rutherford B. Hayes, meanwhile, did the opening honors at the Oriental Hotel in 1880.
While the two hotels did not survive the 1910s (neither did the Manhattan Beach Railway, which became the Manhattan Beach Branch of the Long Island Rail Road when Corbin became the LIRR's President) residential development began to take place in 1908; the Manhattan Beach Improvement Company, owned by developer Joseph P. Day, purchased Austin Corbin Jr.'s shares and laid out streets on the spit of land that lay between Sheepshead Bay and the Atlantic Ocean, giving them British-sounding names to impart class. Most apartment buildings have been prohibited from zoning regulations since the early days.
Corbin, who was virulently anti-Semitic (he likely despised all races but white, and all nationalities but Anglo-Saxon) is honored by Corbin Place in an overwhelmingly Jewish neighborhood.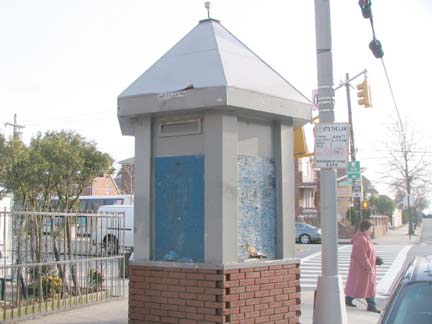 One of two remaining former Manhattan Beach guard booths, presumably to keep riffraff like your webmaster out. The other is at Shore Boulevard and Exeter Street. This one is at the contradictory corner of West End Avenue and Oriental Boulevard.
Update, 3/4/21: It turns out the booths had been added for police protection of a judge who lived in Manhattan Beach. Here's the fascinating story.
Kupper Brewery logo at small outdooor biergarten on Oriental Blvd. and Amherst Street. As far as I gather, the Wicküler-Kupper Brewery originated in Wuppertal, Germany in 1845 and closed in 1993.
St. Margaret Mary Church, Ocean Avenue south of Oriental Boulevard, an unusual Roman Catholic church as it is lacking ostentation and relatively simply constructed. The church was built in 1920: St. Margaret Mary Alacoque (1647-1690) was canonized that year, so this may be the first church to bear her name.
Two large homes, NE corner Ocean an Oriental.
Battling overcast, a feeble December sun illuminates Manhattan Beach. Believe it or not, Manhattan Beach was a private beach until 1956, when NYC Parks Commissioner Robert Moses constructed its concrete walkways and pavilions. There's also a very large, Moses-style parking lot, though it's dwarfed by the ones at Jacob Riis Park and Orchard Beach in the Bronx.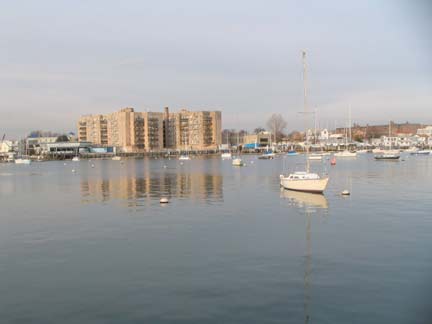 Just a couple of blocks north of Manhattan Beach is Sheepshead Bay. I visited Sheepshead Bay Road on the tail end of this walk, and have extensively chronicled the neighborhood just a couple of years ago, so felt no need to invade on this particular afternoon, which in any case was getting dark as December days do around 3:30 PM.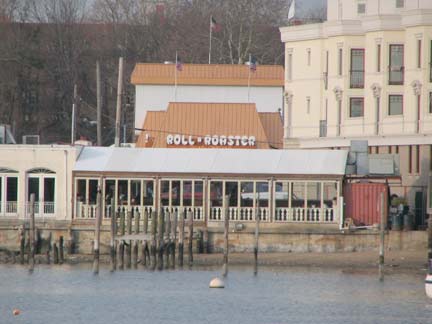 It was still too soon after my Nathan's hot dog lunch for a visit to Roll 'N Roaster, but it's always time to view the dancing waitresses of their famed 1970s TV commercial…
Presumably, the leggy lovelies found showbiz jobs, or perhaps a stint at Hooters, after their Roll 'n Roaster career ended. The Roaster made an ill-fated venture into the East Village for a couple of years in the early 2000s. Your webmaster ate every week religiously at Zeke's Roast Beef at Lief Ericson Park in Bay Ridge from 1982-1993, but, unlike Roll 'n Roaster, Zeke's succumbed to changing demographics a few years ago.
Cabbie Famous Fat Dave has, of course, been to Roll 'n Roaster, as we have similar culinary tastes.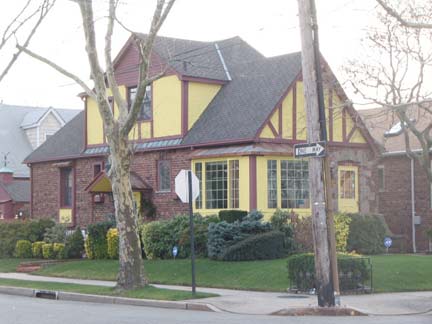 Taking note of the brown and gold Tudor at Shore Boulevard and Mackenzie Street–
I hurried over to the wooden planked Ocean Avenue Bridge, which is actually at Exeter Street. A succession of wood pedestrian bridges have spanned Sheepshead Bay since 1883; the first one, and a couple of successors, were actually positioned at Ocean Avenue. The bridge still has one original "woodie" lamppost fixture; the others were replaced with faux Bishop Crook lamps in the 1990s.
Lundy's, Emmons and Ocean Avenues. The famed restaurant opened as a clam bar in 1907 by Frederick Lundy Senior and grew to be one of Brooklyn's most recognizable seafood restaurants. This Spanish Mission style building opened in 1934 and housed the restaurant until 1978; the building stood empty until 1995 when Lundy's reopened under new management, but the fare was decidedly inferior to the classic-era Lundy's, and the restaurant failed. The building is now home to a number of concerns, including the Masal Lounge on the ground floor.
Lundy's was an immense establishment, seating 2,800 patrons in its heyday, but the enormousness of the space was second to its food. The food was not only excellent, according to nearly every source listed–the portions were in keeping with the grandiose feel of the building itself. Author/historian Robert Cornfield writes, "The oddity is that for all its great size, simple fare, crows, and noise, Lundy's was not a cold, impersonal restaurant, but was replete with community excitement, curiosity, warmth, and the delirious happiness of a splendid holiday." Amazon review for Lundy's: Reminiscences and Recipes from Brooklyn's Legendary Restaurant
Photographed December 2009; page completed January 23, 2010
erpietri@forgotten-ny.com
©2010 FNY