I happen to be involved in one capacity or the other with both the Greater Astoria Historical Society and the Newtown Historical Society, both concerned with the preservation of the legacies of areas in western Queens, architectural and otherwise. Both meet in the same building, a funeral parlor on Broadway in Astoria; after periodic meetings there break up, if the weather is decent and there's still any daylight remaining, I strike off with the Canon ForgottenCamera in search of anything to shoot. Astoria, as one of Queens' prime urban regions, never disappoints (as sometimes eastern Queens, as married to bland subarban ideals, often can). On one recent walkabout, I simply stumbled up 35th Street as far as I wanted to go.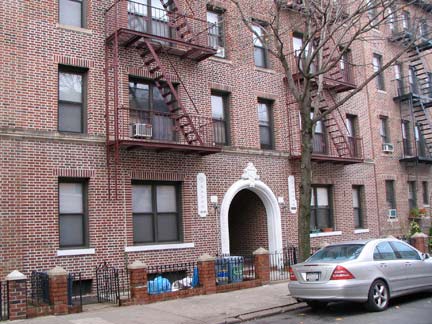 I have lived in a number of buildings during my life, as most of us do — and I take pride in the fact that all five of my residences have been in brick apartment buildings. I have always thought that brick is the best residential building material ever devised, and the handsomest. I have always been disappointed with the proclivities of Williamsburghers and Greenpointers to swathe their residences — both frame and brick alike — with aluminum siding.
I admire the circumstances behind the conversion of brick factory buildings to residences — you find those in several locales around town, Park Slope, Richmond Hill, Ridgewood. You see these vast acres of brick, unassuming, stolid structures. It might sound like heresy but I have never been nuts about the Beaux-Arts style with its gewgaws, trumpeting angels, carven heads. I like a plain, unassuming style with clean lines but yet, a pure whiff of workmanship. On 35th Street in Astoria, I found house after brick-fronted house — none of them the same, all of them with a different appearance. There are carven heads here and there, but they don't intrude. Only NYC's lack of back alleys prevents a perfect vista (the garbage has to go out front).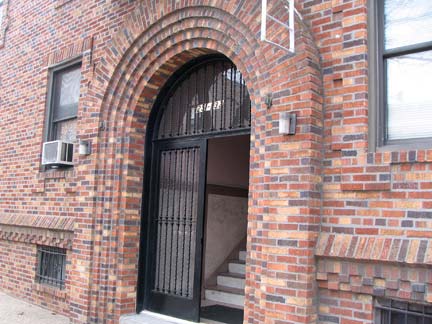 This was my favorite of all of 35th Street's brick houses, between Astoria Boulevard (Grand Central Parkway) and 28th Avenue, a stepped archway above the entrance, with many shadings — brown, red, blond, black, in Flemish bond (small bricks alternating with long bricks).

This sort of thing has long since passed out of vogue, but why?
I walked only 35th, but it's likely that the parallel streets are all stocked with such wonders, as well.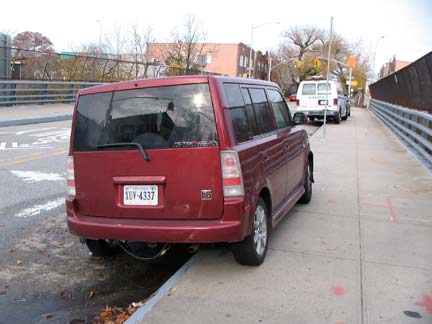 35th Street didn't impress me as being considerably narrower than any of its brothers, but cars were parked partly on the road and partly on the sidewalk on the GCP overpass, the reason escapes me.
The corner house at 35th Street and Astoria Blvd. North, 24-29 35th, must belong, or must have belonged in the past, to a stonecutter — how else to explain these unique carvings on the outer wall. The one bottom right is especially mysterious. Could this be a depiction of a solar system not our own?
…and an alphabet that did not originate in Mesopotamia or the Caucasus, but on a world as yet unknown to modern science but glimpsed from strange portals that only a select few mages have yet discovered?
… that show us scenes from vistas as yet unplumbable by our primitive methods?
Photographed November 2009; page completed March 18, 2010.