Those of you who have followed FNY for a long time know about my predilection for lampposts — an affinity I am hard pressed to explain. I do know I have been a fan of NYC lampposts, and by extrapolation stoplights, fire hydrants, street signs, and other ancillary materials, nearly since birth. Their lore and history — as well as the lamppost histories of other cities — is somewhat shrouded in a haze of mystery, mostly because no one cares that much, to be honest. But I do. Here and there, documents arise that paint a partial historical picture, and now and then, a glimpse can be vouchsafed into the hidden world of NYC streetlights.
Completed in 1910, the Sunnyside Yards is a vast railroad yard serving the Amtrak and New Jersey Transit. As I ride to Manhattan on the LIRR, whose passenger lines run through the yards, it's impossible to miss the Knickerbocker Laundry on 37th Avenue, originally an Art Deco masterpiece once called "the most beautiful building in Queens." It was a forlorn, crumbling ruin for years, until the whole shmegeggie was purchased by a Korean church and made into a gray and black behemoth that proclaims to RR travelers, "is it nothing to you, all you who pass by?", a quote from the Old Testament Lamentations.
Next door to the church is a rather unimposing brick structure, formerly home to a water works …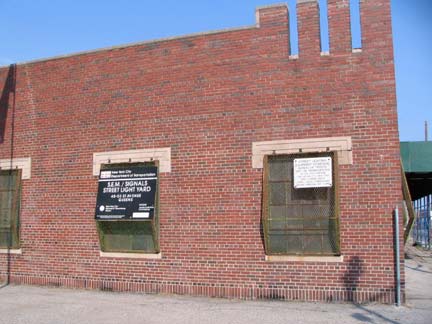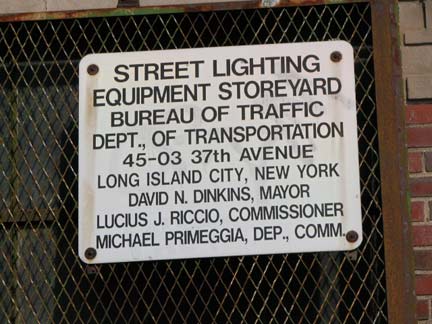 … emblazoned with signage of two generations of NYC leadership identifying it as first, an "equipment storeyard" and then, more directly, as the S.E.M./Signals Street Light Yard." This, then, is where the lampposts that rise on each street corner, and in between, are stored, and perhaps, soldered and assembled.
There are some signs left over from the Giuliani and Koch years (in 1998 on Staten Island I once found a rust-encrusted sign from the Wagner years of the 1950s) but the David Dinkins era of 1990-1994 is seldom represented. Though Dinkins was the first African-American NYC mayor, it was an undistinguished tenure, filed with race riots and rising crime; the NY Post headline "Do Something, Dave!" still resounds.
Though the curve-necked Donald Deskey posts (whose first appearance came in 1958) illuminate 37th Avenue, they are nowhere found in the stotage yards; they have not been installed on city streets since the early 1980s and probably before that. A pile of octagonal shafts await deployment.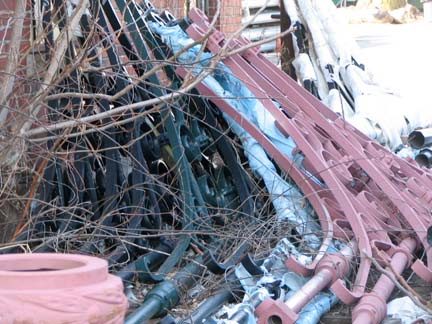 Still bearing their primary red paint coats, a group of Type B park lamp bases; next to them are a group of retro-Corvington masts.
On call are some new versions of the Type 24M Twinlamp sets, as well as a stack of 34th Street Partnership posts (discussed on FNY's 5th Avenue Deskey page), the most recent common genus of NYC lightpost to appear — they were first seen in 1992. They appear mostly in twin versions, but singletons can be occasionally seen on side streets. Since the DOT has twinned the Corvingtons, which in their classic era from 1910-1950 never had twin versions, I'd like to see the DOT take the Type 24m Twin, lop off one of the masts, and make it a single.
Since mice and "pet birds" are the chief enemies of metal lampposts, vicious watchcats prowl the yards. A sign enjoins photography. Too late!
The bases and shafts above left can be depolyed on retro versions of Corvingtons, bishop crooks, or Twinlamps. RIGHT: bases for the retro-Triborough Bridge lights that illuminate Hudson River Park, and the extremely common octagonal shaft lights.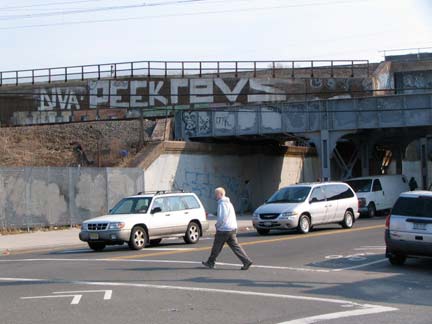 It was time to beat for the train. A fleece lined jacket on a 65 degree March day had my shirt soaked through. I passed a smashed fax and, at 48th Street and 37th Avenue, one of REVS' last remaining tags.
Photographed March 21, 2010; page completed March 23.