So today, FNY is concluding its Myrtle Avenue survey, covering the five miles the road spans between downtown Brooklyn and Richmond Hill. I often walk NYC's lengthy avenues from beginning to end, since I enjoy the contrasts along the way. In 1999 my first such walk was the length of the Bronx' Grand Concourse — I returned there to pick off what I missed a couple of years later, and I was taking photos there this past fall for a new survey that I was hoping would concur with its 100th anniversary in 2009. Too late! I've also walked the length of Brooklyn's longest self-contained street, Bedford Avenue, which I have posted in two sections over the months, and have yet to complete (everything is shot though). Myrtle Avenue, which I photographed in sections between July 2009 and February 2010, is the first such ramble that I have decided to do all at once, in four consecutive weeks. Let me know: did you get bored with this approach, or should I space it out more, a la Bedford Avenue?
Myrtle Avenue Part 1: Fort Greene-Bedford-Stuvesant
Myrtle Avenue Part 2 Bushwick-Ridgewood-Glendale
Myrtle Avenue Part 3 Glendale-Richmond Hill
WAYFARING MAP: Myrtle Avenue Glendale/Richmond Hill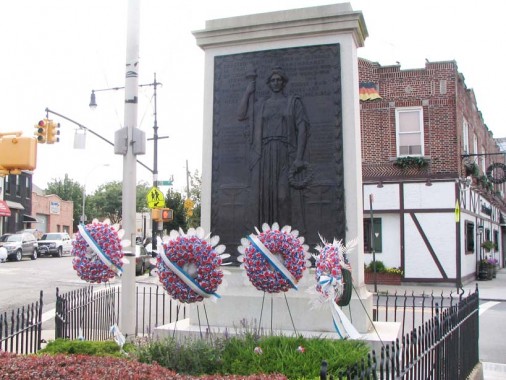 At Cooper Avenue, we see Myrtle Avenue's 4th war memorial at Glendale Veterans Triangle. Pietro Montana sculpted war memorials at Bushwick and Knickerbocker Avenues in Bushwick, and Anton Schaaf created this handsome view of Lady Liberty facing east, toward the battlefields of Europe, in the triangle formed by Cooper and Myrtle Avenues and 70th Street across the street from Zum Stammtisch. Schaaf also shaped Ridgewood's memorial at St. Nicholas Avenue, called by Cal Snyder in Out of Fire and Valor the finest war memorial in Queens. 21 Glendale residents, named on the bronze, are remembered here.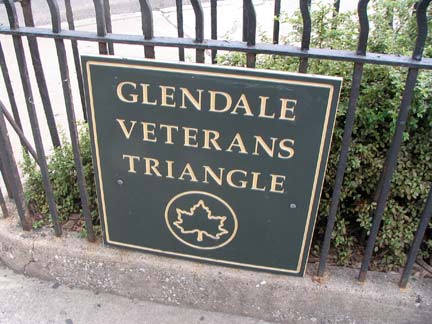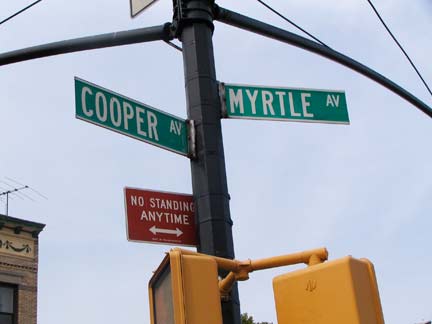 Cooper Avenue begins in humble fashion as Cooper Street at Broadway, Bainbridge Street and Rockaway Avenue in Bushwick, gradually picks up steam and changes from Street to Avenue upon crossing the Queens line and rumbles its way northeast to Woodhaven and Yellowstone Boulevards in Forest Hills. Older maps from the mid-19th Century show it was one of the first routes through Glendale, joining Myrtle Avenue and Cypress Hills Street in that regard.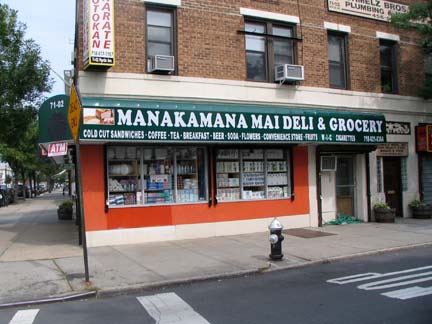 Myrtle Avenue and 71st Street — I'd like to know the story behind the name of Manakamana Mai Deli — are the owners Hawaiian? The name reminds me of the Canadian group Mashmakhan, who had a hit with As The Years Go By in 1970… (I didn't actually hear it till a couple of years ago, NYC radio never played it).
It turns out that the deli honors a Nepalese temple. (tip: John Simonetti)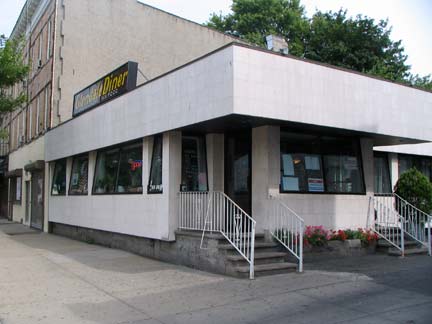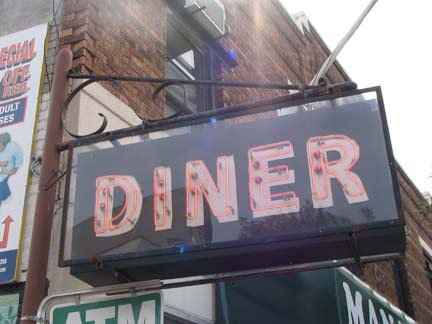 The plain (on the outside) Glendale Diner, between 71st Street and 71st Place, still has a nifty neon sign next to its parking lot.
East of Cooper Avenue. Myrtle Avenue, while still a major east-west thoroughfare, calms down somewhat and becomes partly residential, with a few storefonts scattered about.
Glendale Memorial Building, SE corner 72nd Street, is the former home of Schuhplattler V.V. (Vergnügungs Verein) Enzian, a German/Bavarian cultural organization, which moved to Franklin Square, Nassau County, in 2001. Currently the building is occupied by American Legion Post 104, and the hall is host to concerts and dances.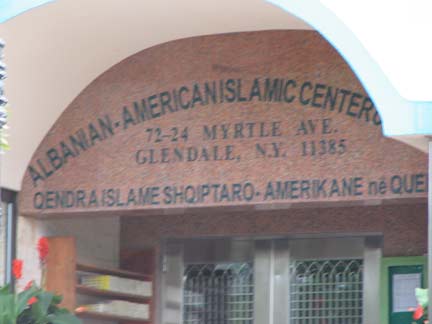 In the previous Myrtle Avenue page in Ridgewood/Glendale, we saw signs in Polish and Italian. At 72nd Place, add Albanian to the list at the Albanian-American Islamic Center. Albania, a country in southeast Europe on the Adriatic Sea, is called Shqipnia in its native language; there is a large Muslim population in Albania and bordering countries, a legacy of its domination by the Ottoman Turkish Empire for over 500 years in the previous milennium.
Even though Brooklyn and Queens' Cemetery Belt runs for miles, bordered by Bushwick, Glendale, Cypress Hills and Woodhaven and contains seventeen separate cemeteries — with Myrtle Avenue the southern edge of Glendale, the lengthy route borders just one cemetery, Mount Lebanon, between 72nd Place and 79th Place. According to its website, it was founded in 1914 with its first interment the following year. Richard Tucker (1913-1975), the famed opera singer, and the mobstering Shapiro brothers, Willie, Irving, and Meyer, are buried here.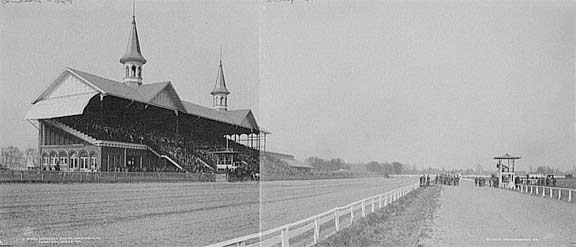 Though Belmont Steaks, on Myrtle between 79th Street and Place, is named for the thoroughbred horse race held every June at the nearby Belmont Park in Elmont, Nassau County, the restaurant is decorated to resemble Churchill Downs (left, in 1901) in Louisville, KY where the Kentucky Derby, first leg of the Triple Crown of thoroughbred racing is held on the first Saturday every May.
The J-Rob, or the Jackie Robinson Parkway, has an entrance at Myrtle Avenue and 79th Lane. The Interborough Parkway, as it was originally called, was constructed in sections between 1933 and 1935; along with the now-defunct Motor Parkway and Grand Central Parkway, it was one of the first roads built to handle express automobile traffic in NYC. It currently begins at the junction of Jamaica, Bushwick and Pennsylvania Avenues and runs generally northeast through the Cemetery Belt and Forest Park to funnel traffic into the Grand Central Parkway and Van Wyck Expressway. As with all other vehicular express trafficways labeled "parkway," trucks and buses cannot travel this road, since the overpasses are not high enough to permit them to pass.
For years the Interborough was the most primitive of all NYC express roads, as its original dimensions were retained until 1987, with narrow lanes and the barest concrete divider; driving on it was like traveling on a snake-shaped race track. The Department of Transportation was able to upgrade the road, making it safer, but it still retains some tight turns that make caution a must. In 1997 it was renamed the Jackie Robinson Parkway, for the Brooklyn Dodger who became the first African-American to play in major league baseball, on the 50th anniversary of his breaking that color barrier.
Forest Park entrance at 80th Street. Forest Park forms a triumvirate of 3 vast Queens parks along with Flushing Meadows and Cunningham Parks. The western end of the park (west of the abandoned LIRR Rockaway Branch) is the most heavily used, with Forest Park Golf Course, the Seuffert bandshell, the Carousel, and Dry Harbor Playground (pictured). The park was actually developed by the then City of Brooklyn in 1895, as a way to alleviate crowded tenement conditions by offering a place where fresh air could be obtained. The eastern end of the park consists of dense woodland with a bike trail and hiking trails interspersed within.
The Dry Harbor Playground at 80th Street has 80th Street's former name, Dry Harbor Road: the valley of Glendale's early settlers thought it resembled a 'dry' harbor' from an elevation, with no docked ships. A short piece of the original Dry Harbor Road is still found north of the playground between Juniper Valley Park and Woodhaven Boulevard.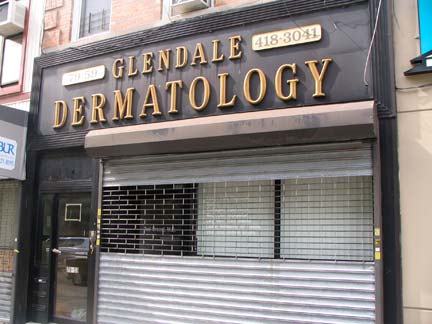 Storefronts along Myrtle Avenue between 78th and 84th Streets.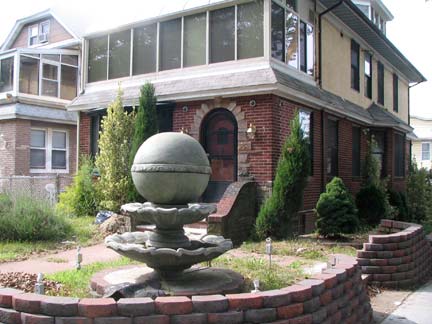 That concrete globe fountain must weigh a ton at the intersection of Myrtle Avenue and 84th Street.
A map from 1909 shows that the neighborhood, now eastern Glendale, was originally mapped as East Ridgewood, an association with the more established neighborhood to the west. (Corona, a few miles to the north, was originally called West Flushing.)
I was originally hopeful that the street I circled, now 78th Avenue, was called Devo Street, but checking a map from 1913, it was actually Deyo Street.
Union Turnpike begins its lengthy run to New Hyde Park, Nassau County, from Myrtle Avenue and 86th Street. It appears on a Queens 1909 Bromley atlas as Union Avenue between Metropolitan Avenue and Brushville road (today's 188th Street) in 1909, but by 1913 it had been mapped as Union Turnpike from Myrtle Avenue to the Queens line.
Unlike actual "turnpikes" it was unlikely that an actual toll was charged, with a lage log, or pike, turned to admit traffic after the fee was paid (those were mostly phased out by the turn of the 20th Century). This was the only road in NYC called a "turnpike" until 2007, when a section of Jamaica Avenue between Cross Island Parkway and the Nassau line at Little Neck Parkway was made into a western extension of Jericho Turnpike.
Union Turnpike is one of the last strongholds of twin double-mast octagonal lampposts in NYC (left).
Not sure what to make of this "triangle building" at Myrtle Avenue and 81st Avenue — eyesore or asset? Meanwhile Drs. Tung and Chung have a nearby office.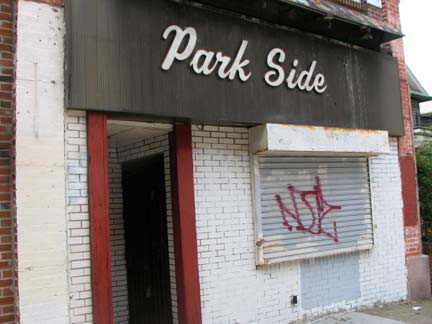 Another pair of the somewhat piquant storefronts along Myrtle Avenue just before it crosses over the Jackie Robinson at 88th Street.
A pair of murals face Myrtle Avenue across a parking lot on the side wall of a deli on Woodhaven Boulevard. The Bollywood Lounge was likely opened by Indian immigrants.
Woodhaven Boulevard is one of Queens' busiest north-south routes, a 10-lane behemoth running from Queens Boulevard at the Long Island Expressway south (as Cross Bay Boulevard) through Broad Channel to the Rockaway peninsula, via the Cross Bay Veterans Memorial Bridge. It was expanded in the 1930s from a two-lane road called Trotting Course Lane.
Many of Forest Park's more popular attractions can be found near its Woodhaven Boulevard entrances. RIGHT: the newly re-turfed (as of 2007) Victory Field, containing a running track, handball courts, New York State's only wheelchair football field, and a baseball diamond.
Victory Field was formerly occupied (until 1895) by a kiln owned by Lalance and Grosjean to make kitchen implements. The Lalance and Grosjean main offices and clock tower (as seen on FNY's Woodhaven page) can still be found on Atlantic Avenue near Woodhaven Boulevard. The field was dedicated in 1925 in honor an "Unknown Veteran of the War," so this field can be called the 5th war memorial along Myrtle Avenue as we move east.
I have photographed this (formerly) handsome 3-story brick building — probably four or six apartments — on Myrtle just east of Woodhaven Boulevard before. It's illustrative of late 20th-early 21st century realities intruding on the sensibilites of prior generations; the owner found it lucrative to install multiple cell phone transmitters on the roof. Perhaps later in the 2010s technology will allow these transmitters to be a lot smaller, but till then, they will continue to sully the landscape and despoil buildings that were built with pride.
The former Long Island Rail Road Rockaway Branch, with abandoned catenary and power line towers, crosses Myrtle Avenue just east of Victory Field. A group of fellow urban explorers and I walked the route of the old line in 1999; it has been decommissioned since 1962. The southern end of the line was purchased by what was then the NY Transit Authority in the 1950s and refitted to become the IND A line's connection to the Rockaway peninsula.
There has always been talk about reactivating the route for passenger service, but neighborhood groups have always implacably opposed the notion.
And the road goes on forever. Myrtle Avenue's longest nearly unbroken stretch runs from Woodhaven Boulevard east through Forest Park's woodland section to the other side of the park, where the route enters Richmond Hill. Along the way Forest Park's Main Drive, now closed to vehicular traffic and is now enjoyed by cyclists and runners, bridges Myrtle Avenue.
Emerging from Forest Park at Park Lane South and about 108th Street, Myrtle Avenue is met by a number of high-rise (here, 6 stories is high rise) apartment buildings built to take advantage of the Forrest Park view. We are entering Richmond Hill, one of Queens' most beautiful neighborhoods.
In 1869, developers Albon Platt Man and Edward Richmond laid out a new community just west of Jamaica with a post office and railroad station, and Richmond named the area for himself (or, perhaps, a London suburb, Richmond-On-Thames, a favorite royal stomping ground). Richmond Hill became a self-contained community of Queen Anne architecture west of Van Wyck Boulevard (now Expressway) that remains fairly intact to the present day. Journalist/activist Jacob Riis as well as the Marx Brothers were Richmond Hill residents in the early 20th Century.
Jayne Carlson Triangle, where Myrtle Avenue meets Park Lane South, is named for a local community activist (1946-2000).
Except for three childhood years, she lived in Richmond Hill her entire life, attending the area public schools and graduating from Richmond Hill High School. From 1984 to 1994, she worked in Richmond Hill High School as an aide and supervisor in the computer lab. Over the last 20 years of her life, she served as Vice-President of the Richmond Hill Block Association and helped their annual Park Fair grow from 250 attendees in its first year to over 50,000 in recent years. Carlson was also instrumental in creating the annual Gift to Forest Park that the Richmond Hill Block Association sponsors each year. And when Parks needed additional funding for the Schaefer Memorial in Forest Park, Carlson made sure that Park Fair funds were made available to help finish the project. From 1973 to 1982, Carlson sat on the executive board of the PTA of P.S. 66, which her children attended. She was also a member of the Parents Association at Archbishop Molloy High School. Carlson founded the Coalition to Save Engine 294 in 1975 (and again in 1990), when the local firehouse was closed down. NYC Parks
Park Lane South forms the southern boundary of Forest Park for most of its length between about 76th Street and Beverley Road and Onslow Place in Kew Gardens. Oddly, while Park Lane South is quite lengthy, its namesake, Park Lane, along the east side of Forest Park, runs just two blocks.
The north side of Myrtle Avenue and Park Lane South features Myrtle's sixth war memorial, The Doughboy, popularly called the My Buddy memorial. It was installed in 1926 and was sculpted by Joseph Pollia, who later designed the General Philip Sheridan memorial in Greenwich Village's Sheridan Square at 7th Avenue South and Christopher Street. It depicts a World War I soldier pausing by the grave of a fallen colleague. 71 names of fallen Richmond Hill residents are on the nameplate. photo: About Queens
In Myrtle Avenue's eastern end we see many more freestanding houses, complete with lawns, along Myrtle Avenue, at 114th Street (above). From FNY's Richmond Hill page:
Richmond Hill, located in Queens between Forest Park, Kew Gardens, and Jamaica, didn't spring up on its own, spontaneously. It's a planned community: it was conceived in reaction to the increasing population in Manhattan and Brooklyn in the mid-1800s, with row upon row of tenements and attached brownstones. Even the best-appointed brownstones in Manhattan were often cramped and crowded. And, in the 1800s social mores dictated that the only place to raise a happy family was in one's own house. In Manhattan, this wasn't much of an option anymore.
For the solution, developers looked to the east and south, and built developments from scratch in New Brighton, Staten Island, Prospect Park South in Brooklyn, and here in Richmond Hill, Queens, among other locales.
Although there was no such thing as zoning in the late 1800s, [developer] Albon Man had several means at his disposal to make sure the community developed according to his specifications. He obtained restrictive covenants to dictate, for example, the absence of front yard fences and uniform setbacks, that would give Richmond Hill a forestlike atmosphere with lots of green lawns, which persists to this day.
Porched house with many gables; Elaine Court apartment entrance, 115th either side of Myrtle Avenue.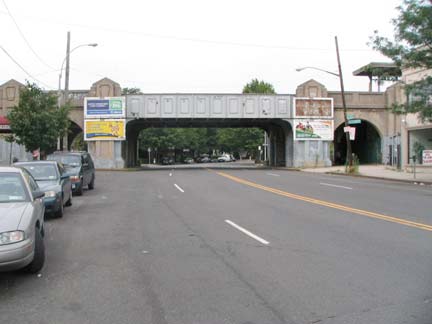 Hillside Avenue begins a lengthy run all the way to East Williston, Nassau County from Myrtle Avenue and 117th Street. There are plenty of Forgotten objects surrounding this junction, including a LIRR overpass that contains Pennsylvania Railroad keystone symbols, a legacy of the LIRR's long ownership by the Pennsy between 1900-1966 (Pennsylvania Station, first built in 1910, is a remnant of this).
The Flushing RKO Keith's, dormant since 1985, is not the only RKO Keith's that has fallen on hard times. This one, on Hillside just north of Myrtle, has been a flea market for the past few years, but most of its marquee is intact, having been restored in 2001 for a feature film called "The Guru" starring Heather Graham and Marisa Tomei. It opened in 1929 and stopped showing films in 1968; it has been a bingo hall and flea market since then. Like many larger theatres, it was also a concert hall, and in the 1960s acts like the Dave Clark Five appeared there.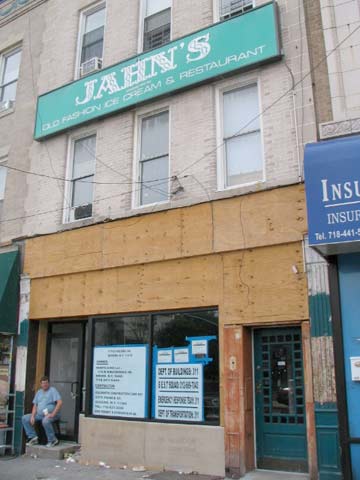 The once far-ranging Jahn's ice cream franchise has just a lone representative now in Jackson Heights. This one, in Richmond Hill on Hillside Avenue, closed in 2007, but not before FNY contributor Pat Cullinan chronicled the interior extensively.
1920s marquee sign for Bangert's Flowers on 117th St. just south of Myrtle Avenue.
Bangert's started out as Fluhr's in 1894 and was sold to the Bangert family in 1927. It boasts what must be its original 1927 marquee, complete with no longer functioning neon letters, and an original FTD sign complete with a winged-footed Mercury and FTD's original slogan, "Flowers by wire…the Mercury Way!"
All roads end eventually and Myrtle Avenue ends its approximate 5-mile run here on Jamaica Avenue and Lefferts Boulevard. It comes to almost a literal point at the intersection known as James J. Creegan Square.
Who the mysterious Creegan was, I am at a loss; the World Wide Web is silent on him. I would imagine he was a local notable or politician. For many years, Hagstrom mismarked Creegan Square as the intersection of Metropolitan and Jamaica Avenues.
Note the railroad trestle beneath the taller one, which is the elevated Brooklyn BMT line that has crossed the Williamsburg Bridge, traveled down Broadway, Fulton and Crescent Streets and Jamaica Avenue on the way to Archer Avenue in Jamaica…
On the trestle can be found the LIRR's crumbling, abandoned Richmond Hill station. Service to this station ended in 1998 when the LIRR closed all intermediate stations on the little-trafficked Montauk spur between Jamaica and Long Island City. The tracks still see freight service, and a couple of express passenger runs directly from Jamaica to LIC on weekdays. The sign explaining cessation of service is still there, 12 years and counting.
The last stop on Myrtle Avenue is the old Triangle Hotel, named for the corner formed by the two major routes. Almost as long as there's been a Richmond Hill, the Triangle Hotel building has marked the triangle where Myrtle Avenue meets Jamaica Avenue. It was built by Charles Paulson in 1868 and was originally rented out as a grocery and post office. By 1893 the building, now owned by John Kerz and operating as a hotel, included an eatery named the Wheelman's Restaurant in honor of the new bicycling craze.
According to the Richmond Hill Historical Society, Babe Ruth (who was a golf enthusiast in nearby St. Albans) and Mae West were patrons of the Triangle Hofbrau in the 1920s. Vaudeville-era pianist/composer Ernest Ball  (1878-1927) wrote the music for the now-standard "When Irish Eyes Are Smiling" in one of the hotel's guest rooms in 1912.
3/7/10