In downtown Brooklyn, there are a pair of streets called Fleet Street and Fleet Place — and even an additional alley on York Street in DUMBO called Fleet's Alley. I had suspected that they were called Fleet in honor of London, England's Fleet Street, the former newspaper and press capital there, as well as the street where Sweeney Todd indulged in unusual barber-ic practices. In fact, though, according to Brooklyn By Name's Leonard Benardo, it's named for Samuel Fleet (1786-1864), Huntington, NY's first postmaster, librarian and publisher of the Long Island Journal of Philosophy and Cabinet of Variety. Fleet moved to Brooklyn and became a wealthy farmer and property and slave owner.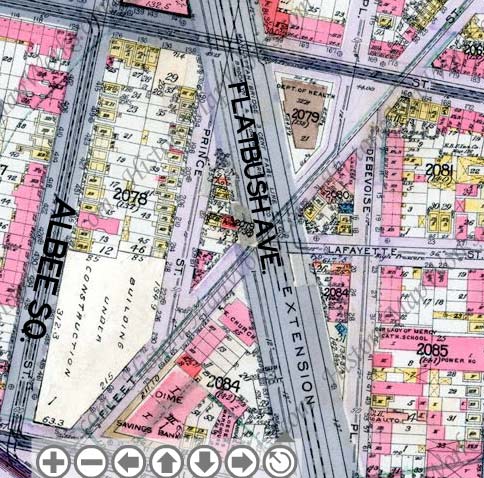 The downtown map of Brooklyn, circa 1912. Almost a century's worth of urban renewal and construction have left the present-day map looking nothing at all like this; Albee Square, which I marked in black, was then called Gold Street; the section of Prince shown on the map has disappeared; Debevoise and Lafeyette are now under the Long Island University campus. Flatbush Avenue Extension was constructed in tandem with the Manhattan Bridge and opened when the bridge did, in 1909.
Yet, slanting Fleet Street, and Fleet Place (the "PL" at top right) have somehow made it through the century. I was aimlessly wasting a recent Saturday in the area and stumbled on Fleet Street, and to my surprise…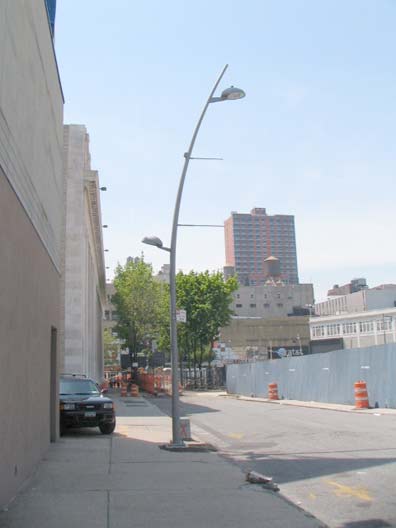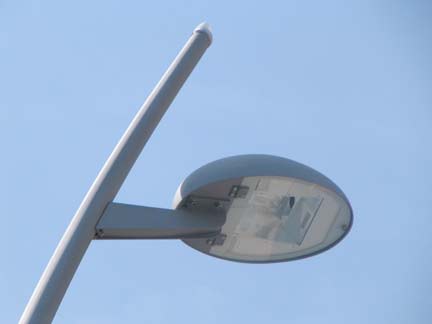 …discovered NYC's newest lamppost design. For now, at least, these posts are confined to the Fulton Mall area, which is getting its first makeover since it was first instituted in 1979. The new poles are cylindrical and quite high, with an unusual curving shaft. All have a pair of high intensity sodium vapor lamps, which burn bright yellow. Unlike other luminaires these are actually a part of the post, so there shouldn't be any mixing and matching of different luminaires as in past lamppost deigns. Note the photocell at the top of the shaft. I haven't seen any provision for the "top hat" red fire alarm marker on these posts, but I imagine it'll go somewhere.
The project will have long term benefits for all Fulton Street stakeholders that includes the creation of a revitalized and expanded Albee Square public space in front of the historic Dime Savings Bank building, a new concrete street bed, and new street furniture that includes CEMUSA bus shelters, trash receptacles, benches and bike racks, street lights and pedestrian-scale lighting. Downtown Brooklyn Partnership
Enjoy the view, it won't last long. A combined retail and luxury living skyscraper is going up in place of the old Albee Square Mall (which in turn had replaced the old Albee Square Theater) but, for now, you can see three recently built downtown Brooklyn skyscrapers: 4 MetroTech Center, the Oro Apartments (on Gold Street, naturally) and the new Toren Tower at Flatbush Extension and Myrtle.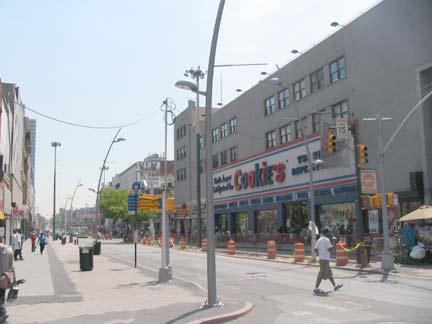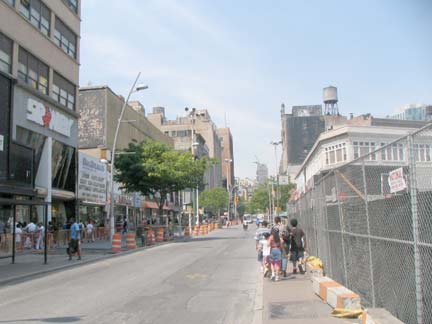 Not sure yet how much of a makeover Fulton Mall is getting — and I'm not sure how the new 21st Century accoutrements are going to rev up the look of the strip, which is lined with ancient former department stores, a still-extant one (Macy's in the former A&S complex) and modestly-priced retail. The posts may look a bit Dystopian, but I've been pushing for a signature lamppost of the 21st Century for awhile. For the longest time, NYC has tried to turn back the clock and has been installing newly cast versions of designs that first flowered in the 1890s. It's a decade into the new millennium and it's time for a new NYC lamppost. Maybe, this can be one of them.
A look at Fulton Street in the mid-1960s. Its collection of wrought-iron Twinlamps had just given way to a new set of double-mast octagonal-shaft models. Note the GM fishbowl bus, followed by the model it was replacing. For the most part, all the buildings are still there. brooklynpix
Photographed April 2010; page completed May 11.