I have not allowed the debilitating heat and humidity of one of the hottest New York summers in years [2010] in this age of accursed global warming to keep me indoors by the air conditioner. Indeed I have stepped up my activity if anything, with added tours and exhibitions in an effort to cram it all in before I'm unable to do it anymore. One Sunday in June I alighted from the train in sun-baked Bath Beach, as the grass turned brown, the concrete cracked in the beating sunshine and the sweat poured down my back just minutes after leaving the cool confines of the R160 D train at the 18th Avenue stop of the old West End el. After making my way down 86th Street and past Dyker Beach Golf Course, where Tiger Woods' father played, I set off down the main drag of Bath Beach, Cropsey Avenue…
There were indeed once beaches on the western Brooklyn shore (which is also the western extremity of Long Island) delineated by the place names Dyker Beach and Bath Beach. There's even a narrow sandy area remaining at about Bay 8th Street where it meets the Belt Parkway. Most of the beaches, though, were obliterated when the Circumferential, later simply the Belt (though the signs say Shore)* Parkway was constructed in 1940, give or take a year. A pedestrian and bike path (one of Robert Moses' very few concessions to non-auto traffic) was placed along the shore, which was fortified with a seawall and heavy stones. Winter storms still wash it out every couple of years.
*Reminds me of The Beatles' heroine in Rocky Raccoon: "Her name was Magill, she called herself Lil, but everyone knew her as Nancy"
Bath Beach was so-called for the British spa town and originally settled in the late 1800s by Brooklyn's nabobs and elite as a suburban playground, with villas, yacht clubs and mansions. After the stock market crash in 1929 and later, the construction of the Parkway, the elite moved further east on Long Island, Jewish and Italian immigrants moved in, and joined by Asian and Latinos, they are still there in large part. In the 1920s, a pair of brothers named Horwitz built houses in Bath Beach while trying for a big break in showbiz. After getting that break, they performed for decades as the Three Stooges.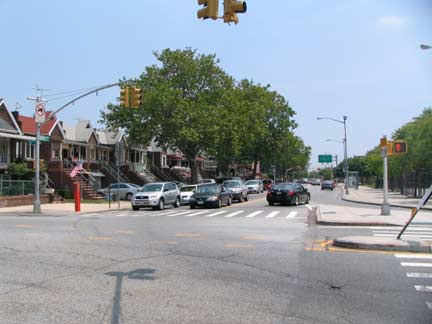 South of 86th Street and east of Dyker Beach Golf Course, Brooklyn's carefully crafted arrangement of numbered streets comes to an end, and there are just three east-west streets between 86th and Gravesend Bay: Benson Avenue, named for Egbert Benson (1746-1833) NY State's first attorney general, chief justice of the New York State Supreme Court, and first president of the New-York Historical Society. His nephew, also Egbert Benson, married Jane Cowenhoven, who inherited much of what is now Bensonhurst. The elder Benson retired in Jamaica, Queens, where he is buried in Prospect Cemetery there. Bath Avenue was named for Bath, England…
…and Cropsey Avenue for German immigrant Casper Crepser, who arrived in New Utrecht in the 1700s. His descendants changed their name to Cropsey; they include Hudson River School painter Jasper Cropsey (whose painting Looking Oceanward from Todt Hill has its point of view recreated in the Cropsey Overlook in Todt Hill, Staten Island) and murderer Andrew Bergen Cropsey, who killed his wife in 1908 in Bath Beach.
Cropsey Avenue begins at 14th Avenue and Poly Place across from Dyker Beach Golf Course and runs generally southeast — until curving south, for a reason I'll describe later. The Department of Transportation has finally decided on Poly Place as the name of the road that runs along the southern border of Dyker Beach Park between 7th and 14th Avenues. For decades, the road was unnamed, leading some to call it Poly Place and others, Cropsey Avenue Extension.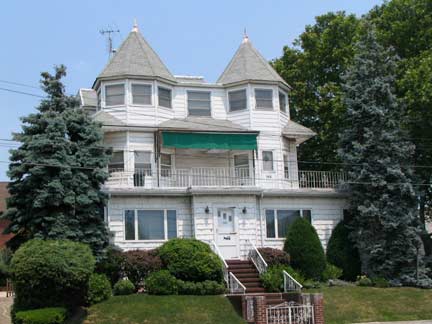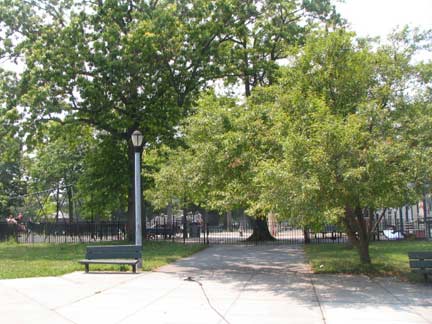 Periodically along Cropsey Avenue we see hints of what Bath Beach was like when mansions overlooked the yacht-dotted Gravesend Bay. At Bay 8th Street, there was once a distinctive two-cupola mansion under all that siding. Across the street is a playground in Dyker Beach Park, a vast area that includes the golf course as well as recreational areas south of Veterans Hospital and also at 86th Street and 14th Avenue. Like many Brooklyn place names, Dyker has a Dutch origin, either from a colonial-era Van Dyke family or the Dutch practice of building dikes in their low-lying country. The park was developed in stages between 1895 and 1934.
Large homes and plots are now unusual in Bath Beach and so this brick house at 15th Avenue and Cropsey stands out. There are certain clues you can look for in New York City if you're wondering how old a neighborhood is, or how old a house might be, and one of them is the presence of bluestone sidewalks. This handsomest variety of NYC walkway has not commonly been installed since the 1910s.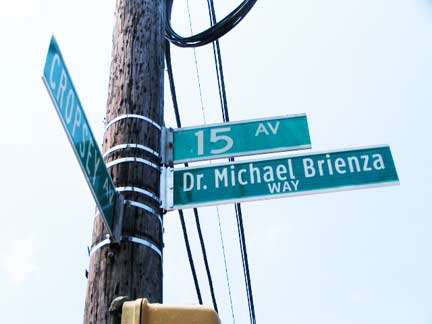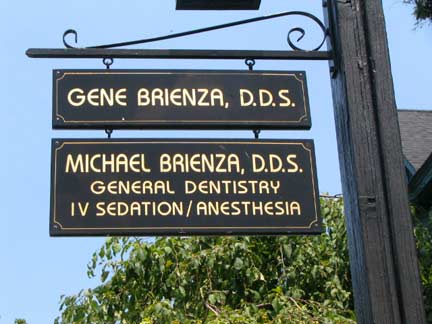 A dental practice occupies some of the building, and the late Dr. Michael Brienza is honored with a street sign. It's a new sign and reflects the current trend away from Highway Gothic and toward Clearview on street and highway signs. Lowercase letters, rarely seen previously on NYC signs, also make an appearance.
There's another (formerly) grand building on Bay 10th and Cropsey. Different people have different tastes, but IMO the view of the house has been ruined by that oppressive columned fence surrounding the property. These cheaply-made fences are going up all over town as homeowners apparently believe they add a touch of class (undoubtedly believeing whatever the sales rep at Home Depot tells them).
Lucretia Regina-Potter was in 2010 a Republican candidate for the 49th Assembly District. From the campaign page:
Lucretia is a Design Consultant at Bari Tile and Stone in Brooklyn.
Oh, well. Lucretia, your fence is for the birds. I like that hand-lettered billboard on the lawn, though — takes skill to do that!
Bath Beach has a very odd street numbering system. Numbered avenues have two numbered Bay streets between them, and Bay streets begin with 7: in the 1930s, Bay 1st through 6th were eliminated by the construction of the Dyker Beach Golf Course. Now, the sequence of Bay streets skips a number when an Avenue is encountered: Bay 7th, Bay 8th, 15th Avenue (skipping Bay 9th) Bay 10th, Bay 11th, 16th Avenue (skipping Bay 12th) and so on. A traffic engineer apparently once thought skipping numbers like this was good idea (confusing numbering patterns are no stranger to Queens, either). At around Bay 16th, the two competing numbering systems, Bay streets and Avenues, come together, so that 17th Avenue is followed by Bay 16th, Bay 17th, 18th Avenue, Bay 19th, Bay 20th, 19th Avenue, Bay 22nd, Bay 23rd, so that the overall numerical sequence is:
17, 16, 17, 18, 19, 20, 19, 22, 23.
Now that is messed up. There are also 19th Lane, 20th Drive, 20th Lane and 21st Drive to throw into the mix — the only occasion Brooklyn indulges in Queens-style street numbering.
At Bay 20th, heading southeast, we begin to see a number of distinctive multifamily buildings from the 1920s and 1930s on Cropsey. This one has contrasting rectangular and arched windows and long, thin bricks in contrasting colors. Nice! That car service sign, though, has to go.
Between Bay 20th and 19th Avenue is a handsome set of attached apartments with bay fronts, the better to let a lot of light in, and huge lintels over the windows. The one on the left has an older stair railing which may be the original.
At 19th Avenue is one of the original octagonal poles that was installed in the early 1950s. How can you tell? Very simple: the metal cap on the top of the shaft is quite small and adheres tightly to the shaft. Later poles' caps were larger.
In addition, I am aware that originally these posts used curved-masted shafts, likely with a Westinghouse AK10 "cuplight" luminaire.
Some more excellently designed apartment buildings from Bay 22nd to Bay 23rd. The one top left has impressive arched brick work on the third floor and the original roof corebelling is intact. Above right are carbon copies of the building tat I lived in in Bay Ridge from 1982-1990. And, hust like that building, much of the original cobelling has been replaced. These contain, most likely, tailroad car style apartments with rectangular-shaped rooms line up. I was lucky enough to have views of McKinley Park and the Verrazano Bridge in the winter.
The style with the round bay is very common in Brooklyn, but you never get tired of seeing them. An amazingly classy solution to multi-family buildings lost on the builders and developers of 'affordable' housing today.
Vintage painted awning sign, SE corner Bay 25th Street. That's a high standard to set. I wonder if they have a 'real' egg cream, a drink made with chocolate syrup (traditionally Fox's U-Bet), milk and seltzer; no eggs or cream are involved at all.
Yet another intriguing apartment building, NW corner of Cropsey and 21st Avenues. You can't tell from a distance but a closer look reveals that the brickwork consists of about five different colors! Nothing beats a brick building, and the imaginitiveness, attention to detail and innovative design early 20th Century architects put into buildings that served middle-class renters is inspirational. No such efforts are made for the 'affordable' rental market today.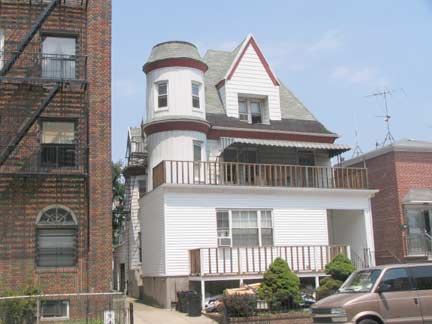 Some of the grand dames of 21st Avenue that have been Botox'd, re-sided and facelifted out of recognizability. There are good houses in there screaming to get out.
The corner turret was probably in place before the multicolored apartment building spoiled the view.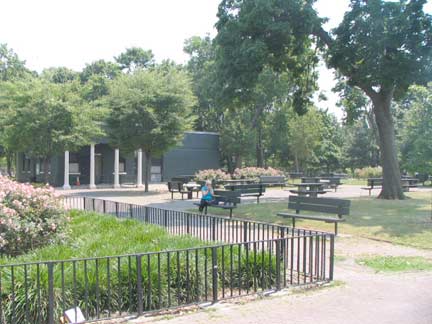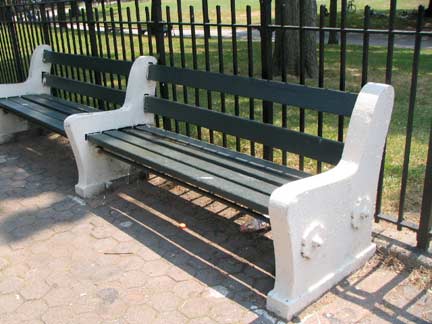 Bensonhurst Park is the largest park in either Bath Beach or Bensonhurst (much of Dyker Beach Park is taken up by the golf course), running between 21st Avenue and Bay Parkway and from Cropsey Avenue past the Belt Parkway to the bike path at the water's edge. (The Belt parkway bike path ends here, forcing bikes onto the streets through Coney Island and Sheepshead Bay before resuming at Knapp Street. Past that point, it was an overgrown, broken-glass-strewn travesty, until 1993, when I moved to Queens. Then it was rebuilt!)
The city of Brooklyn purchased approximately 16 acres of land from the Benson and Lynch families in 1895 for Bensonhurst Park. There are still some older wood and concrete benches here and there.
In the Swingin' Sixties my parents and I would pass the park on our periodic visits to E. J. Korvettes Department Store, which was at the end of Bay Parkway. After Korvettes went bankrupt and closed in 1980 the store became part of the Caesar's Bay mall. Bensonhurst Park was also the southern end of my bike trips along Gravesend Bay and the Narrows. The northern end of the bike path is at the old 69th Street ferry pier. Eventually the city intends to connect the bike paths all over Brooklyn's waterfronts, but how this will be engineered is anyone's guess.
We would take the B64 bus from 86th Street to Bay Parkway and Bath Avenue and walk to the end of the parkway. In 2010 the B64's route was dramatically changed and it now runs from Shore Road and 71st Street to the Ulmer Park bus garage on 25th and Cropsey (see below); it no longer runs to Coney Island, as it did for countless years. There is no longer a direct bus route from the 86th Street shopping district in Bay Ridge to Coney Island; your best bet is now the B1 down 86th Street and transfer to the B82 at Bay Parkway.
A big Tudor apartment building faces Bensonhurst Park; right: a pair of attached porched houses at Bay 31st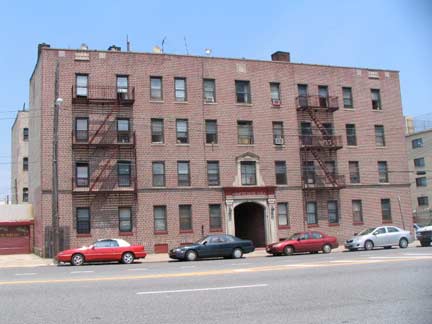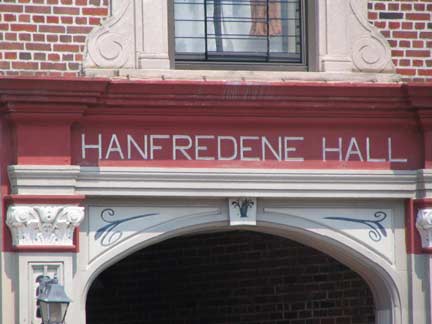 What looks like a standard-issue apartment building across the street on West 32nd bears the improbable name of Hanfredene Hall. I'd love to get the explanation behind this.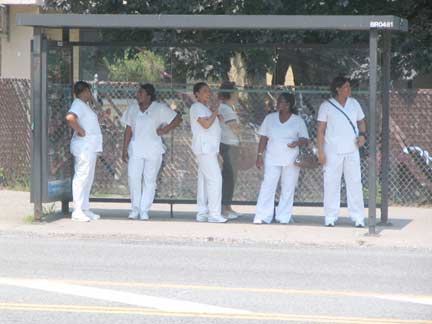 Though I passed an abandoned hospital or nursing home, a gaggle of nurses (for candy stripers the term is giggle) were waiting for a bus.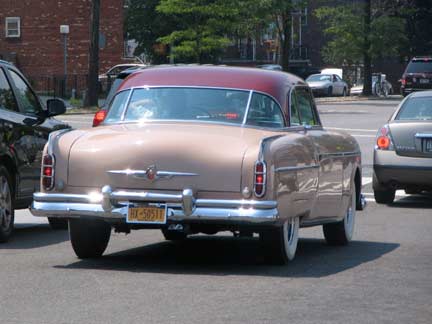 At Bay Parkway, Cropsey Avenue gains two extra lanes, from 4 to 6, and at 24th Avenue it obtains a center median. I have heard that it was widened in the 1950s, and was pretty sleepy before that; I don't know why the engineering was done other than to take traffic to the Belt Parkway interchange at Bay 50th Street.
Beginning at 24th Avenue Cropsey Avenue begins a gradual turn from the southeast to the south so that once it crosses Coney Island Creek it meets Neptune Avenue at a right angle. The reason it does this is steeped in geographic Brooklyn history. Prior to the 1920s the avenue ran through two small towns that were absorbed into Bath Beach, Guntherville and Unionville, and on a short peninsula separated from the rest of Brooklyn by the Harway Basin, where it dead-ended. By the 1920s the Harway Basin had been filled in, and the avenue was extended south, bridged over the creek and it became a main route to Coney Island.
At 24th Avenue, Harway Avenue (where I found the vintage car that passed by before I could get a better shot) branches from Cropsey and assumes the southeast path Cropsey Avenue was taking. Until the 1930s, Harway Avenue was Cropsey, and Cropsey Avenue was Harway. One of Coney Island and Bath Beach's abiding mysteries, for me, is why the two switched names.
Car: 1953 Packard Mayfair Coupe
We're hunting Ulmer
The Ulmer Park Bus Depot, at Harway and 25th Avenues, recalls an amusement park and beer garden that closed in the 1930s, and a Bushwick brewer whose brand is no longer produced. On our ForgottenTour in Bushwick in June 2010, we saw the William Ulmer mansion at Broadway and Willoughby Avenues, as well as the old brewery building and picturesque offices, with its letter U's in bas-relief. In far-off Bath Beach, we have another relic associated with Ulmer.
We'll turn to the inimitable Bowery Boys website for the information…
Ulmer Park was the lark of William Ulmer, one of Brooklyn's most successful brewers in an age where much of the nation's finest beer was coming from the future borough. The German-born son of a wine merchant who learned the trade from his uncle, Ulmer opened his eponymous brewery in the 1870s at Belvedere Street and soon came upon the idea of opening a park as a way of selling more beer. (Not a bad idea. Jacob Ruppert would have similar designs in mind when he bought the New York Yankees in 1915).
The park would open in 1893 in Gravesend Bay along the southern shore of Brooklyn — back when there was an actual shore — between Coney Island farther south and the more conservative Bath Beach resort community to its west. Ulmer Park seemed to have more in common with Bath Beach — clean, family friendly (keep Dad happy so he keeps drinking!) with a beer garden, carousels and swings, rifle ranges, a dance pavilion and of course plenty of beachfront property.
The park seemed to be particular popular with Germans — Ulmer after all was German, and this was a beer garden — and particularly the annual 'Saengerfest' festival. A Times article even claims that 100,000 gathered at Ulmer Park for the end of one such festival.
Ultimately, neither the resort at Bath Beach nor amusements at Ulmer Park could compete with Coney Island which was about to enter its golden age in the early 1900s; apparently, it was grit and decadence people wanted in their summertime Brooklyn getaways. Ulmer closed in 1899.
The land remained a public space hosting baseball, cricket and track and field events. Eventually it was wiped away and redeveloped. It remains in name only, at the Ulmer Park branch of the Brooklyn Public Library and the name of the neighborhood bus depot.
Ulmer Park poster from the collection of Gravesend historian Joseph Ditta
1929 Belcher Hyde atlas showing Cropsey and Harway Avenues. In a few years, the two avenues would trade names. Note the Ulmer Park Music Hall; remnants of Ulmer Park hung on into the 1930s. Paved roads are shown in pink. Stryker Street and Mill Road are remnants of the old town of Unionville; Mill Road was shaved back to a 2-block run between Bay 43rd Street and 27th Avenue further south.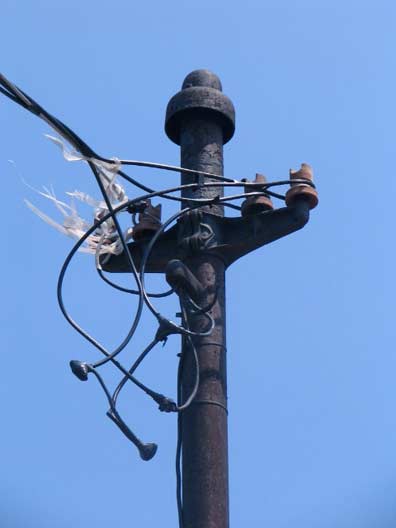 The lot on 25th and Harway across from the bus depot (which was constructed in 1950) was formerly a turnaround area for the B31, 34 and 38 trolley lines, all of which ran between Bay Ridge and Bath Beach. One or two of the old trolley poles remain — there were formerly a lot more of them. The trolley lines were out of business by the late 1940s and were replaced by buses, hence the need for a depot.
The Cropsey Pharmacy, Bay 40th and Crospey. The letters must glow bright yellow during the evening, and there's the lighted word DRUGS on the Bay 40th Street side. This is an unusual place for a pharmacy, as the entire block, across the street too, is residential. RIGHT: Sons of Italy senior housing. It was here that I went hunting for Mill Road, just north of Cropsey, and found it.
At 27th Avenue we see the Contello Towers, the second group of high rise apartments we've seen along Cropsey — the first overlooked Bensonhurst Park. 27th Avenue was subnamed Bobby Draxdorf Way in this stretch by order of the City Council on June 14, 2007:
The remaining 49 names represent individuals or entities that are being honored for their lifetime accomplishments, and while it is not possible to describe the reason each individual or entity is deserving of a street name change, each Council Member who submitted a name presented a detailed justification for this honor.
A weakness of naming streets this way is that outside of the honoree's family and friends, no one knows why the honor was bestowed. Why not place a subtitle in smaller type under the name? Such as "hero firefighter" or whatever other reason there might be?
Update 10/29/15: Regarding Bobby Draxdorf, I have since heard from a neighbor who wrote the following to Community Board 13 requesting a street name change of Mill Road to Bobby Draxdorf Way; I suppose 27th Avenue was chosen as an alternative because Mill Road is not mapped as a city street. Bobby Draxdorf died in an boating accident in July 2006.
Since Bobby Draxdorf was born he grew up in the same neighborhood, his grandmother's house is right next to his own.  He learned very early in life to respect others.  He would be the first to check in on his neighbors if there was a black-out, that their heat was working properly and if they need air conditionings to survive, or just to see if anyone needed any help.  He was the first to walk through the neighborhood with a shovel in hand to shovel the properties of those unable due to illness or age.  This was out of a giving heart, never for any monetary means. 
He consistently checked on the aged.  In his own family one of his aunts is in a home for the severely ill, he would always make it a point to visit her. I ask where in this day and age do you see nephews visit their sick aunts on a consistent schedule.  We live in a time when even children neglect their own parents in homes.  Bobby made it his business to even visit and know all the aged Bocce players in the 27th Avenue Park on Cropsey Avenue to see that they had cool water or if they may have needed anything while he was there.  On his children's baseball teams it would be Bobby who had to stop off and fill his cooler with ice, Gatorade and water for the kids and coaches, never asking for a penny.
Bobby Draxdorf exercised his citizenship without any recognition, yet at every community meeting, be it regarding the speed bump, gang members in our parks, drug dealers in an abandon neighborhood house, to cleaning out Cropsey Avenue & 27th Avenue Park to fighting to take down the incinerators for our community –he was always there giving his support for the right causes.
Though Dreier-Offerman Park once referred to the vast area west of the Belt Parkway now largely occupied by baseball diamonds and playing fields, the name is now confined to the smaller rectangle defined by Cropsey Avenue, 27th Avenue, the Shore Pakway service road and Bay 46th Street. The name honors a home for unwed mothers and their children that formerly occupied this site. The larger, 72-acre area was later renamed for landscape architect Calvert Vaux (1824-1895), who along with partner Frederick Law Olmsted designed both Central and Prospect Parks. Vaux' life ended tragically here as he drowned in Gravesend Bay after falling off a pier. Accounts differ about whether it was an accident or a suicide.
Also at 27th Avenue is one of a series of curved iron bridges taking pedestrian traffic over the Belt Parkway. They actually seem out of place over the streamlined Belt, and seem to come from the Beaux-Arts era.
It looks like the pedestrian bridge is inaccessible at least for now. I couldn't leave the area, of course, without mentioning the Type F lamppost still in place here — one of four or five "original" Type Fs remaining on NYC streets. In the early part of the 10th Century, a subset of iron poles identified by letter were installed in streets and parks. There is a partner across the bridge.
As we approach Coney Island, Cropsey Avenue has to cross two bridges. The first takes traffic across the Belt Parkway, built between 1938 and 1940, and has ramps allowing access and exit.
A 1960s recollection: the B64 bus recently traveled to Coney Island, and the MTA kept flipping between using 28th and Cropsey or Harway and Stillwell Avenues as the route. When ths bus used 28th-Cropsey I marveled at one of the last remaining Corvington-style wheel stoplights (seen on this page) still in place at Bay 48th. By the 1970s it had been replaced with a newer model.
I liked the building signs almost matching the yellow cab color.
A Type B on the pedestrian staircase on the bridge has had its base truncated and placed atop the stone wall.
After a couple years of dormancy, the brilliant chrome Parkview Diner (formerly Retro 50 and the Nebraska), just south of the Belt Parkway, has reopened for business. It is a 1975 Kullman Diner, later renovated by the De Raffele diner manufacturers. After the 2003 Coney Island Mermaid Parade, I wound up here with several very wet mermaids, and getting into a diner is not easy for them.
Bay 53rd Street, which runs to a dead end west of Cropsey, is all that remains of a former enclave called White Sands. The remaining White Sands streets were paved over for a Home Depot and its vast parking lot. RIGHT: a short stub of Canal Avenue runs between Cropsey and the Belt Parkway. Decades ago, was originally going to connect with another stub of Canal Avenue about a mile west in the Sea Gate area but that would have involved the filling of Coney Island Creek.
A second bridge, constructed in 1931 to replace an earlier structure, takes Crospey Avenue over Coney Island creek (in which, when tides are favorable, you will find a yellow submarine). A bascule bridge, it can lift in the center to allow boats to pass; rarely is that function necessary anymore on little-trafficked creek. For your webmaster, its chief attributes are its original 1931 lampposts, which are still in place.
The Cropsey Avenue Bridge still has its original Machine Age-style fence, and the shafts of its original lampposts shown here as depicted in a catalog of remaining lampposts styles in NYC as of 1936. They're reminsicent of, but don't quite match, the metal posts used on the West Side Highway from 1932 to its closure in 1973.
By the time I first encountered them on the bridge as a child, more globular luminaires had been substituted for the ones shown here.
Later on in the 1970s, the perpendicular shafts had been removed and cobra-neck masts, with GE M400 lamps attached, had replaced them.
Moving on into the 1980s, the city stopped using the poles altogether and the current flock of twin double-masted lamps had been placed in the center median.
The Coney Island Creek bridge's original light posts, and the fence they are attached to, are amazingly still in place and the city even periodically gives them a new paint job. They are currently in minty fresh green.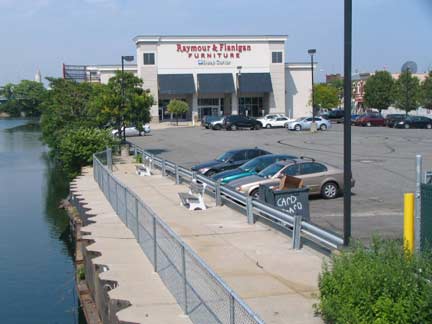 Even though Coney Island Creek is noxious indeed, and has no Superfund allocated to clean it up a la Lavender Lake, aka the Gowanus Canal, the area on its southern flank has been spiffed up quite a bit lately as new malls and furniture stores such as Raymour and Flanagan have opened up here. R&F even opened a sitting area by the creek. You have to provide the nose plugs, though.
Starbucks has opened a takeout-only castellated coffee castle by the creek and Hart Place, formerly an oil-stained virtual dirt road parallelling the creek, has been repaved, with a sidewalk — it's never looked so good.
Officially in Coney Island now. Between the creek and Neptune Avenue, Cropsey Avenue is auto repair central — spare parts, auto glass, transmissions, mufflers. The longtime concrete plants remain in place. Name that car!
A: 1958 Cadillac
One of Coney's main gateways is an auto repair strip and has been thus for decades. And unless Coney is overdeveloped in future years as the city is threatening to do, I have always considered this one of its charms — that mix of hard work and hard play. The Mets recently built Citifield next to the Willets Point Boulevard auto body shops as well — the city has been trying to throw them out using every legal means at their disposal and has managed to buy out some of the owners. But both the Willets and Cropsey heavy metal will be here for some time to come.
Note that Crospey Avenue's house numbering carries on as if there were a 31st Avenue here (though the numbers end at 28). That's because Cropsey originated in Brooklyn's numbered avenue system at 14th Avenue. Parallel streets are numbered in the 2700s — they follow the lettered avenue system from A to Z, and behave as if there were letters after Z.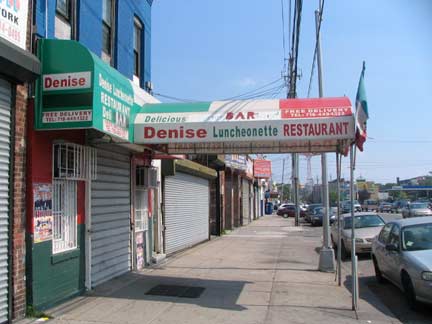 Since the delis are mostly on Mermaid Avenue the auto shop guys need something closer for lunch. These holes in the wall fit the bill.
Cropsey Avenue officially ends at Neptune Avenue, but the road continues as West 17th Street south to MCI Park (formerly Keyspan Park, the home of the Class A Brooklyn Cyclones) at Surf Avenue. Here we see the famed Coney Island Parachute Jump, now a NYC Landmark. It originally appeared at the 1939-1940 World's Fair in Flushing Meadows and was moved here after the fair closed.
7/25/10