In the summer of 2009 I was on Metropolitan Avenue in Williamsburg, Brooklyn, having just completed another 40 or 50 blocks in my drawn-out survey of Bedford Avenue in Brooklyn (two segments of this have already appeared in FNY) when, en route for the subway, I passed the City Reliquary at Number 370. It had been awhile since I had been in — I had originally written about the mini-museum featuring NYC oddities in 2004, soon after it opened in a picture window in the building of its founder, NYC firefighter Dave Herman. After my 2009 visit I wrote about it again, in its newer location at 370 Met Ave in a former bodega (the red and yellow awning remains from that previous incarnation).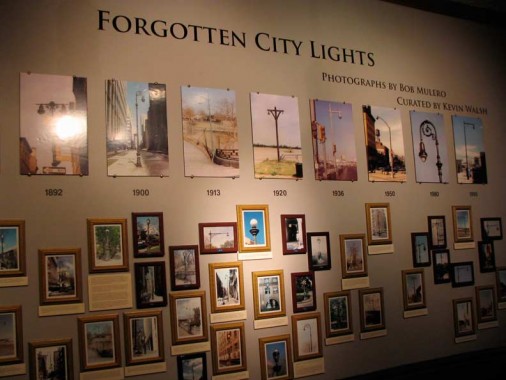 I went into the Reliquary, found Dave Herman inside, and a, er, um, light bulb went off in my head that this would be the perfect venue for FNY to mount an exhibit of NYC lampposts over the years. The Reliquary is a repository of NYC ephemera such as objects dredged from the East River; Titanic remnants; videotapes of the 1964-1965 World's Fair, tributes to newsstands and newsies of the past; dozens, perhaps hundreds, of postcards depicting the Statue of Liberty; on and on.
What better place to display the work of Bob Mulero, King of NYC lampposts. Since the mid-1970s Bob, an MTA employee and toy collector, has been diligently photographing the detritus of the NYC lamppost universe, from rusting long-armed Corvingtons to the several styles of Bishop Crooks to the few remaining Triboro Bridge and Whitestone Bridge styles to the Woodies that were placed on Robert Moses parkways to the Donald Deskey posts that ruled the streets between 1964 and 1974 to the delicate Type F poles that once lined hundreds of side streets to the 4 or 5 that remain today to….
The proposal was accepted by Dave, and Bob and I went through hundreds of photographs, blueprints, line drawings, certificates and pamphlets to provide material for the City Reliquary exhibit. And although the Reliquary only had two walls and four display cases available for us — it only scratches the surface of Bob's collection. And that's the scary part.
The lamps on the walls were framed by Dave and his assistants at the Reliquary. Bob and I worked on the detailed captions for each photo, which provide the years they were in use and other pertinent information, as well as the last dates they could be found on city streets.
The walls and cabinets were dotted with lamppost photos, schematics and blueprints in the red-curtained back room of the Reliquary.
"Special Twin" and West Side Highway post photos were given loving care
A cabinet of lamppost curiosities
About fifty ForgottenFans and City Reliquary fans turned out for the opening night ceremonies. The back yard air and plenty of beer made up for the lack of air conditioning.
The exhibit was shown at the Reliquary for a few months in summer and fall 2010, 2010. Come down and support the Reliquary, one of Williamsburg and Brooklyn's most worthy attractions. (Even before the FNY lamppost exhibit, that is.)
Page completed July 20, 2010