While skulking through Pelham Bay in the Bronx in July 2010, I once again pondered the origin of the heretofore mysterious B Street, which runs south to a dead end on Baisley Avenue between Hobart and Edison. Well, thanks to the efforts of ForgottenFan Mike Fornebaio the 'mystery' has been solved. It turns out this is one of the oldest streets in the area that has kept its original name, and is one of the keys that unlocks the secrets of this unheralded realm.
In this Gallery, I have placed an excerpt from the 1900 Hyde atlas of the area side by side with 2010's google maps of about the same area. Click on any image for a closer view.
While we think of the Bruckner Expressway as a mid-1900s modern thoroughfare, it pretty much follows the path of Eastern Boulevard in a reverse-L shape, as a discerning eye will notice on the 1900 map. St. Raymond Cemetery, founded in the 1850s, is already in place.
As far as B Street is concerned, notice the center of the 1900 map and an area called Schuylerville. Though the name is now applied to the entire area within the triangle formed by the Cross Bronx Expressway, the Bruckner Expressway and the Throgs Neck Expressway, it was formerly applied to a much smaller area near the angle in the L made by Eastern Boulevard.
Zooming in closer, note the dead end Hobart Avenue near B Street on Baisley.
It turns out that the dead end, now Hobart Avenue, was formerly A Street, which makes the presence of a B Street rather more logical. You can see both here on our 1900 map. Elliott Avenue is now Baisley; Fort Schuyler Road is now East Tremont Avenue; The roads marked Seton and Haskin have disappeared off the map. According to Bronx historian John McNamara, A Street went through a period as Amsterdam Avenue before becoming a dead-end extension of Hobart Avenue, which otherwise runs between Baisley and Zulette Avenue and further north, between Middletown Road and Continental Avenue. A numbered sequence, 1st, 2nd and 3rd, are long gone.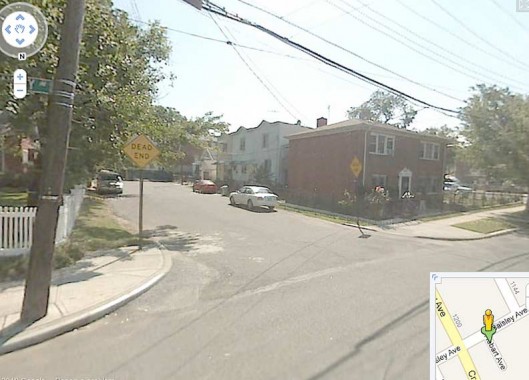 Hobart Avenue, once A Street
B Street, above, and the former A are survivors of old Schuylerville and Bronx veterans of long standing.
Photographed June 2010; page completed July 26, 2010