I was foraging on Metropolitan Avenue recently, a couple of hours before a meeting at Dave Herman's City Reliquary, when I found myself teetering tenuously up Havemeyer Street, which extends for a few blocks between Broadway and Union Avenue. Formerly 7th Street in Williamsburg, the street was renamed for a member of the 19th Century German immigrant Havemeyer family. You can take your pick which one — brothers Frederick C. and William, who opened a sugar refinery in Manhattan; Frederick C. Jr., who opened another sugar factory in Williamsburg; William F., who became a 3-term NYC mayor; F.C. Jr.'s son Henry, who renamed the sugar factory Domino and came to dominate the market.
I found several very interesting signs on Havemeyer that date to a different era from the street's present configuration. Holding my ears shut to drown out the boom car noise (OK, if you have a boom car, write me and tell me what you enjoy about it) I found several surviving signs from decades past.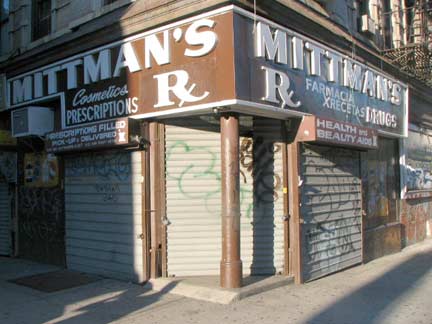 Mittman Pharmacy, S. 3rd and Havemeyer. I'd imagine this sign has been in place since the 1970s, or it's a new sign highly imitative of a former one. Raised letters are always an esthetic delight on an awning sign. Looks like it has had a paint job.
Sweet Virginia is described on the shopping blogs as a boutique for hip trendy girls, the kind who gravitate to the Willieburg. When I went by I felt like scraping the shit right off my shoes.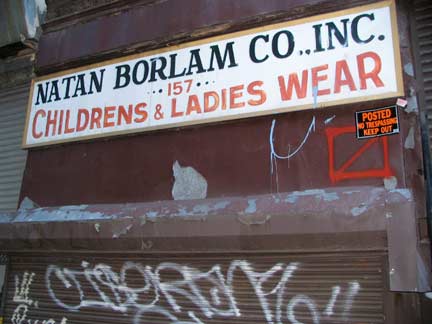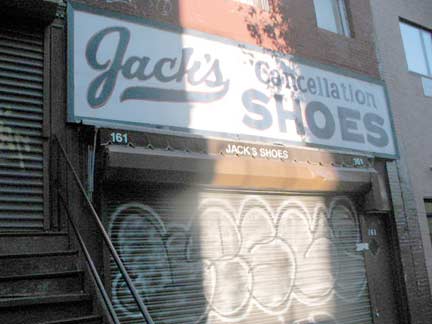 Cancellation shoes are the ones you wear when the dentist's secretary calls you and says not to come in– he can't make it to the office. These signs go back to the era when this was a wholesale clothing row, much like the Lower East Side used to be.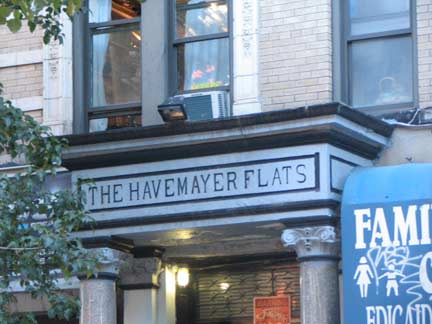 I'm not sure if the spelling error was made when the building was first built, or this is a latterday moniker. Since people don't spell things correctly that much any more, I'd bet on the latter.
One day I hope to walk into one of these shops labeled 'corsets, slips, night gowns, hosiery' and find the sales girls decked out in them. Hey, this is the Willieburg, it can happen.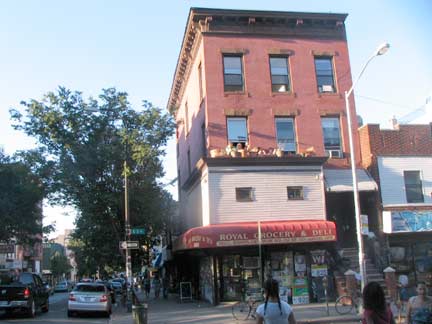 They were hanging out the windows at South 2nd to soak up the warmth and likely the boom car noise.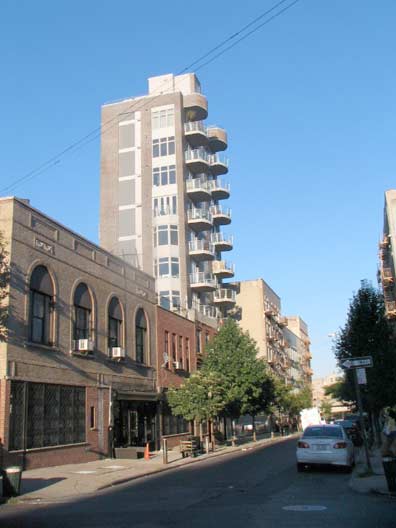 On South 1st, can you spell incongruous?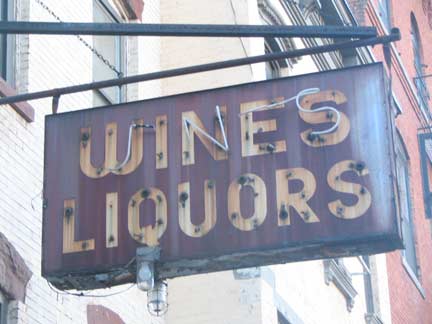 Vintage neon liquor store signs are all over town, some still marking actual liquor stores. Even when the spirits have long since departed, the signs are bulky and heavy, and new proprietors find them too much bother to remove. Seekers of NYC ephemera can thank the signs' bulk.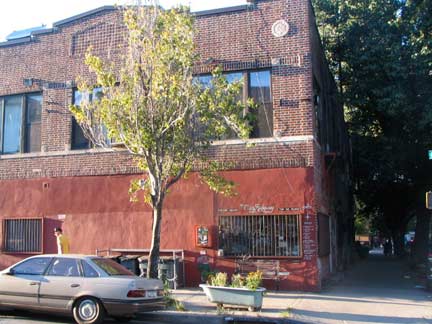 Havemeyer and Grand, the locale of the original storefront City Reliquary, a collection of NYC paraphernalia and ephemera by firefighter Dave Herman which is still in place. A larger space at 370 Metropolitan Avenue opened up several years ago. It's a museum and a neighborhoood gathering place.
Nearby, a bathtub serves as a planter.
Page completed July 5, 2010