Desperate from some surcease from the baking, broiling madness that was the summer of 2010 in New York, a summer that saw over a month total lof plus-90 degree weather, a summer in which thunderstorms were harder to find than New York Met grand slams, a summer in which your webmaster nearly liquefied: one Sunday I was flopping unsteadily in the West Village's maze of streets, to which I had dazedly clambered after making confused, hazy progress down 9th Avenue hoping for a glimpse of abandoned West Side Freight Elevated tracks.
In my compromised condition I was, of course, flummoxed as to the actual reality of the scenes that manifested themselves before my fevered, miasmic eyeballs, and only a session with theAIA Guide and various websites proved that what you see here were, in fact, real and no mere hallucinations. Even the camera can lie. The occasional photo of your webmaster in which I do not appear to be a bloated, raving fool prove that assessment.
A clearing on the corner of Bank and Washington Streets is guarded by a single hand-printed sign warning against "unauthorized Parkers." This sign is too old to refer to San Antonio Spurs superstar Tony Parker, and so the only authorized Parker it could be referring to is Dorothy, I'd imagine, though I'm not sure if she had a driver's license. This apparently was the site of a long lost service station.
Moving over to Charles, at 135 near Washington is one of the more monumental police stations you'll ever see. The grandeur was probably lost on the cops and crooks who were in and out every day. It was originally the 9th Precinct, designed by John DuFais and built in 1897, an era when most of NYC's grandiose works went up. As long ago as 1978 it was onverted to apartments, beating the old NYPD Headquarters on Centre Street in that regard. It is now known as Le Gendarme. This is probably one of the larger sculptures of the NYC Seal you will see on a building, though this one is a variant of the usual one (the Dutch sailor is holding an oar instead of a plummet)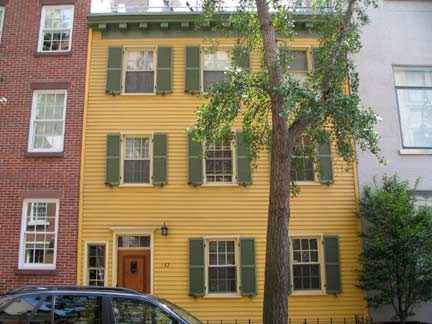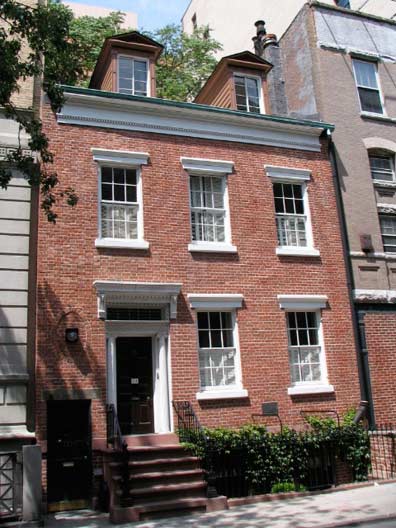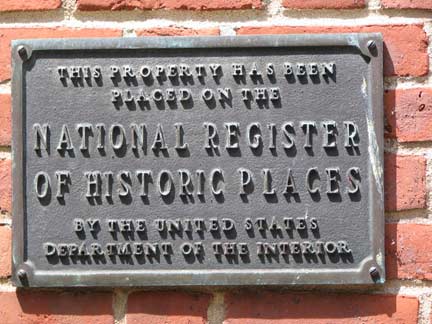 A pair of the simple dwellings adjoining the hoosegow on Charles that have attained a patina of respectability with age; both from the 1830s. #132, top, has probably been resided a few times, but has a pleasing green and gold color scheme. #131 is a Federal style house built in 1834. I'd like to see what the rooms with the dormers look like. You can't see #131 1/2 in the back.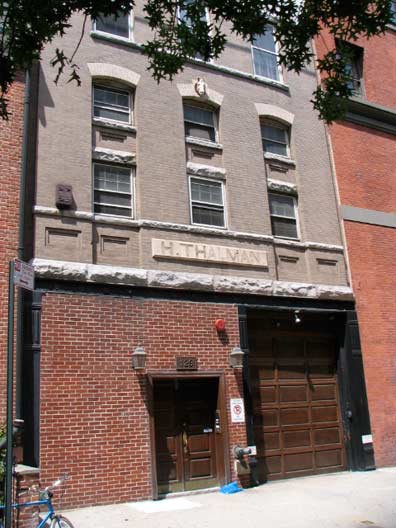 When stables were constructed in the 19th Century, architects frequently placed the head of ole Dobbin over the door, to drive the point home. "H. Thalman" was probably a stables owner at #129 Charles.
120 Charles, past Greenwich, was the home of journalist/poet/playwright Holly Beye in 1949-1950, some of whose essays were collected in 120 Charles Street, The Village.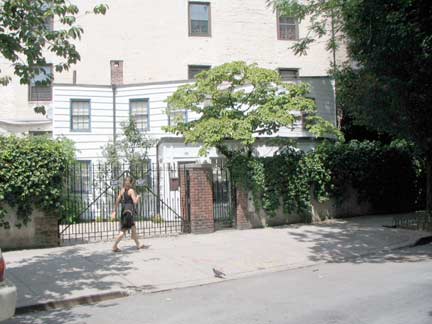 It appears as if 121 Charles has been here forever but it is actually a 1967 interloper. It is an 18th Century farmhouse moved here by Sven and Ingrid Bernhart after it was discovered after a demolition on York Avenue and East 71st Street , and trucked downtown to this spot on March 6th of that year, along with some of the cobblestones adjacent to it. While uptown it had been the home of author Margaret Wise Brown (1910-1952; "Goodnight Moon"). A vicious watchdog prevented me from getting any closer pictures.
Information from Greenwich Village and How it Got That Way (Terry Miller, Crown 1990); Jim Naureckas' Songlines
9/15/10