I had just crossed the miasmic, fetid Gowanus Canal one recent flaccid, sweat-inducing Sunday, on an August in one of the hottest, most humid New York summers in an uncountable string of them, having just meandered north on 3rd Avenue from the more wholesome precincts of Bay Ridge, the land of my birth where other children as well as the nuns viciously abused me with sarcasm and cutting rebukes when I was an overweight and unsociable young dead-ender. I crossed traffic-choked Hamilton Avenue under the not-so-benevolent canopy of the Gowanus Expressway when my attention was piqued by a dusty Belgian-blocked triangle, where a ragpicker reviewed the day's gatherings.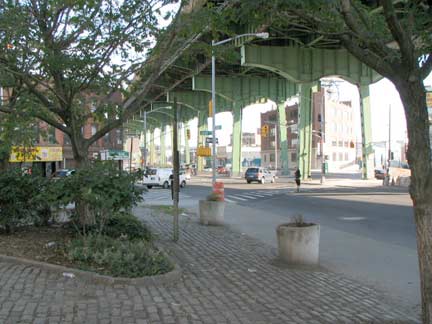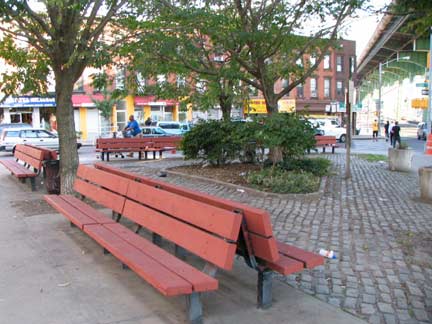 It's a desultory little spit of territory on the southern end of Court Street, where it meets Hamilton, and marked by a sign reading Cough Triangle. I recognized it immediately as a pet project of former NYC Parks Commissioner Henry Stern, who served a couple of mayors, most recently Rudoplh Giuliani. He was fond of imparting whimsical names on green spaces that were previously unnamed, and unknowable.
To me, this Belgian-blocked 3-sided space with its withered vegetation and cracked planters, known only to local layabouts and nearly heat-stroked NYC wanderers, was named all-too-appropriately by Stern; between the fumes of the Gowanus Canal, which has been despoiled for a century, and the exhaust from the pedal to the metal expressway supported twenty feet above, I already felt a tickle in my throat and some phlegmatic rumblings in my windpipe. But reading the sign showed that Stern had named this triangle with a double purpose. It was likely named Cough Triangle not only for the reaction of the inner organs when in the vicinity, but also because it is formed by the confluence of Court and Garnet Streets and Hamilton Avenues. Taking the first couple of letters from each word, Stern cleverly constructed C-O-U-G-H and slapped the newly christened triangle on Parks Department signage.
But wait, there's more. Spying a gleam in the concrete on the bit of Garnet Street between Court and Hamilton, I noted a pair of unmistakable trolley tracks, that had resurfaced after decades of deferred maintanance of the Garnet Street macadam.
These tracks likely served as a turnaround point for the # 54 Court Street trolley line, which plied the route from downtown to Hamilton Avenue until the diesel engine became the preferred mode of NYC transit and the line was shut down, July 17th, 1949.
The city is once again considering light rail as a transit mode in the downtown Brooklyn area [2010], but I doubt much will be done about it.
Cough Triangle also serves as a staging area, or battleground, for the architectural esthetics of the 21st Century (above) versus the 19th Century (below). Developers and city planners choose the former for its low-maintenance simplicity. I choose the latter because it is not an ugly piece of crap.
Page photographed August 29, 2010, completed September 14