About ten years ago — at the Dawn of Forgotten New York (ca. 2000) I was aimlessly wandering around Red Hook Brooklyn — long before Fairway, long before IKEA, before the Todd Shipyards were dismantled, when the abandoned Revere Sugar factory still stood and the remains of a lightship where still floating in Erie Basin. A familiar figure greeted me at Beard and Reed Streets: Bob Diamond, of the Atlantic Avenue Tunnel popularization and Brooklyn trolley revival. Bob and a team of workers were toiling away on the streets of Red Hook, laying down tracks on which he hoped to run a fleet of vintage trolley cars between Red Hook and downtown. For a brief shining moment it seemed as if the project could actually get built. Then Bob and the Brooklyn Historic Railway Association came up short of funds and the city pulled its support — and subsequently pulled up the tracks that had been laid down on Conover and Reed Streets.
In the summer of 2010 the Department of Transportation once again entertained the notion of Brooklyn light rail.
Trolley lovers and residents of the isolated neighborhood were thrilled at the announcement — especially as it came after many years of trolley dodging by the city, which received the $300,000 for the study — courtesy of Rep. Nydia Velazquez (D –Sunset Park) — five years ago, yet did nothing with it.
After years of delays, the Department of Transportation will finally consider resurrecting trolleys from Red Hook to Downtown, officials announced on [September 9, 2010].
"We're looking back to the future," said Transportation Commissioner Janette Sadik-Khan. "Streetcars remain part of the transportation mix in cities from Toronto to Melbourne, and we need to consider all options to improve transit access in underserved neighborhoods like Red Hook."
The five-month study will be coordinated by URS, a consulting firm that was involved in the Portland, Ore., streetcar system, which Diamond cited as a model for his own proposed route last month.
If the city determines that Red Hook is ripe for a trolley system, there are certainly plenty of federal funds that could go towards the project.
A Department of Transportation spokesman said that the agency was well aware of the money available, and had taken advantage of more than $200 million through the stimulus and other grants for ferry projects, a major bus lane upgrade on 34th Street in Manhattan and other improvements.But the agency, the spokesman added, was not yet in a position to apply for the federal money when it came to trolleys.
"We are not in a position to apply for funding for a streetcar system whose feasibility has not yet been determined," the spokesman said. New York Post
At present, three trolley cars obtained by the Brooklyn Historic Railway Association are exhibited on racks built by Bob Diamond and associates at the rear of an ancient Red Hook brick warehouse converted to a Fairway supermarket in 2005.
This is the worst possible place for vintage streetcars to be placed — they are open to the salt air and wind, and show the signs of repeated vandalism with broken windows and gutted interiors.
Two of the cars (above) are 1951 Pullman Standard PCC's that ran on the Boston Green Line. The other (left) is a 1947 St. Louis Car Company PCC car.
If these cars are to run again it'll entail a Herculean rehabilitation method.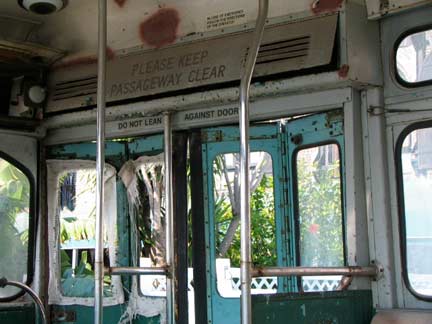 In 2005, when I last saw the Green Line cars, their plastic seats were intact. One car still has the seats in place, but the other Green Line car looks like this.
When the BHRC began construction of the Red Hook trolley line in the early 2000s, tracks were laid in the streets and the cars took power from overhead catenary wires. The Fairway construction has compromised the surface trackage.
Ironically an old trolley pole survives nearby at Richards and Van Dyke Streets (right). Three trolley lined used Columbia and Richards Streets to get from downtown to Erie Basin, with the latest ending service in 1951.
Rehabilitation of older cars for everyday use has been done before, most notably in San Francisco, whose F surface line running downtown on Market Street and The Embarcadero uses a fleet of vintage trolley cars and trolley buses. #952, at above left, was built in 1923 and originally ran in New Orleans, LA (which still has a trolley car system) while #1859, above right, originally ran in Milan, Italy and was built in 1928.
Of course, these are not to be confused with San Fran's cable car operations, in which cars move along cables underneath the roadway surface.
Shown: interior, #1859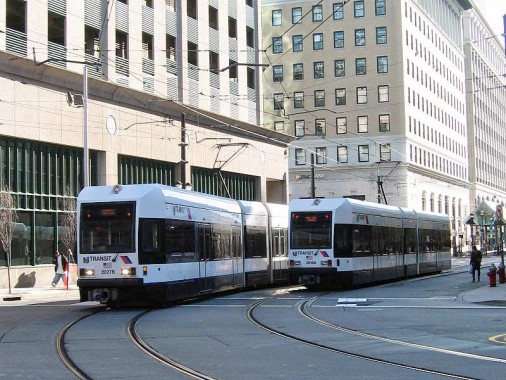 Above: Exchange Place, Jersey City. The only application of surface light rail in the New York City area is Hudson-Bergen Light Rail, a division of New Jersey Transit, running in NE New Jersey, connecting Bayonne, Jersey City, Hoboken, and locales in Bergen County. This is a new line that began operations in 2000.
This, in your webmaster's opinion, is the model upon which any new light rail applications should be based, whether in Red Hook or other NYC locations. But can the state subsidize such a system in NYC? Time will tell, for an HBLR-style system, or one like San Francisco's, using vintage cars.
Page completed September 27, 2010.