There are two spots in Manhattan where 4th and 10th meet — and 4th and 11th, 12th and 13th, as well. 4th Avenue and East 10th, 11th and 12th Streets, but also West 4th Street meets West 10th, 11th, 12th and 13th. I got some photos at West 4th and West 10th in August 2010.
Greenwich Village was an independent settlement on the island of Manhattan long before the overall street grid, adopted in 1811, was formulated, and its own street plan, which runs athwart the rest of the grid, was maintained when the grid gradually inched northward in the early 1800s. As part of the overall grid, 4th Street dutifully runs east and west with Broadway dividing West from East. Upon reaching 6th Avenue, though, West 4th breaks free, running northwest, joining the old Greenwich plan — and intersecting West 10th, 11th and 12th…
That of course was not the original plan. In the Village, West 4th follows the old course of Asylum Street, named for the Orphan Asylum Society which stood on Asylum Street between Bank Street and Troy Street (now West 12th St.) After the asylum was demolished in 1833 the street became West 4th, and Amos, Hammond and Troy Streets were later renamed West 10th, 11th and 12th Streets, creating the strange intersections.
On a recent summer stagger through the West Village, after peering through the miasmic haze of heat and humidity I found myself at 4th and 10th, or, if you go back far enough, Asylum and Amos. I looked around.
I have never been inside Fedora, on West 4th northwest of West 10th, but have been aware of it for many years because of its iconic neon sign, which lights up at night ("bar" in red, "Fedora" in green). I was unaware, all those years, that it wasn't named for the hat, but for its now-former owner, Fedora Dorato, who had run the small basement Italian restaurant/tavern for sixty years.
Fedora Dorato came with her family from Florence in 1931 when she was 10. She has lived upstairs from the restaurant named for her since she married Henry Dorato in a building that Henryís father bought in 1921, where he ran the restaurant speakeasy Charlie's Garden. Except for paint jobs and air conditioning, the place has remained the same, with its pressed-metal ceiling, intimate tables and dedicated waiters. The Villager
Restaurateur Gabriel Stulman took over the space and will reimagine it as "a casual supper club" according to Grub Street. Fedora spoke in favor of Stulman's plan to the community board, which approved. She passed away in 2011.
The apartment buildings at the NE corner and NW corner are similar enough to be a matched set, with casement windows and castle-like rooves; probably built as a matched pair by the same architect. I Tre Merli on the ground floor means "the three blackbirds" in Italian.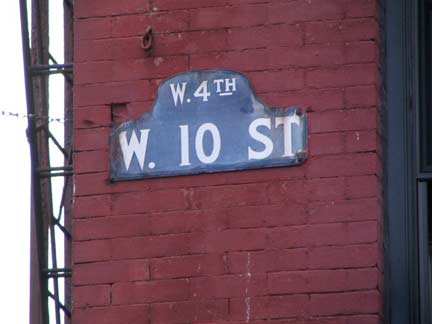 So nice they signed it twice. Maroon and white signs, in NYC, signify historic districts. I wonder if the federal mandate changing highway and street signs to the Clearview font in Capitals and lowercase will mean the end for these signs.
Meanwhile, a building on the SW corner (with the chiseled Warwick signifier) has preserved one of the iconic Manhattan navy blue and white humpback signs, formerly seen by the thousands on Manhattan and Bronx street corners. (Manhattan and the Bronx share a street numbering system, and Bronx County was part of New York County along with Manhattan until becoming a county on its own in 1914, and hence shared street sign design. Perhaps coincidentally, navy blue and white are the colors of the New York Yankees.)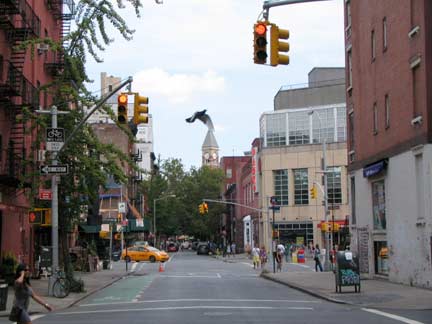 Looking NW on West 10th the clock tower of the rococo Jefferson Market Library, which has done duty as a courthouse and prison, can be seen.
On the SE corner of 4th and 10th, another apartment building from the 1890-1910 period.
East and West 4th Street are longer than 4th Avenue, the only case in Manhattan in which a numbered street is longer than the avenue of the same number.
Continuing along West 4th between West 10th and Christopher I noted this riotous Art Deco building in one of my favorite color combinations, black and gold. While Art Deco began the trend toward streamlining that was perfected by the International style in the 1950s, there was still plenty of room for ornamentation and the architects of this building, which went up in 1931, indulged a lot of whims, with half-rondel figures along the doorways and terra cotta medallions featuring sword-brandishing horsemen. The building continues along 7th Avenue South, so it fronts on three streets.
Photographed August 2010; page completed October 7, 2010