Originally a northern section of Avenue A between East 114th and East 120th Streets –cut off from York Avenue, which was also originally Avenue A, by a bend in the Harlem River — Pleasant Avenue has been anything but, during its checkered history. A day-old newborn was found here in 1884; its throat had been cut. In 1935, Thomas D'Auria was stabbed to death witha bread knife — by his own father. In 1949, a saloonkeeper reduced the price of a glass of beer to a nickel. He was soon rubbed out by a competitor. Pleasant Avenue was the bailiwick of "Fat Tony" Salerno, the capo of the Genovese crime family. In 1971, Francis Ford Coppola filmed James Caan as Sonny Corleone beating up his brother-in-law in a fitting setting.
1867 Dripps atlas section showing Avenue A, which became Pleasant Avenue in the 1880s. This cutoff section was far removed from the more continuous Avenue A downtown, and it was renamed for its pleasant location in a then-rural enclave near the bucolic Harlem River.
Over the decades East Harlem became a mostly Italian neighborhood and later, mostly Latino. I recently walked the length of 116th Street from Broadway to the Harlem River, and wound up on this Pleasant enclave that, at least on this sunny day in August, revealed little of its violent past.
There are traces of an Italian past in East Harlem — I found several on 116th Street — but the most obvious one on Pleasant Avenue is Rao's, the Italian restaurant at the south end of Pleasant and East 114th, one of the most difficult restaurants in NYC at which to get a table. The restaurant has only ten tables, and one seating per night. Bwanas with connections, like movie stars, mobsters, and politicians can, of course, get in more easily than the hoi polloi. The NY Times' Mimi Sheraton gave Rao's a 3-star review in 1977, and there has been an aura of exclusivity at the place after that. It was founded by Italian immigrant Charles Rao in 1896, and has remained in the family since. Rao's sells a line of Italian specialties in supermarkets and groceries for those who can't get in, and that's mostly everyone.
The Corinthian-columned Manhattan Center For Science and Mathematics makes an impressive sight from East 115th Street, in the building formerly occupied by Benjamin Franklin High School. It is one of Manhattan's most academically accomplished high schools, graduating 97% of its senior class in 2009.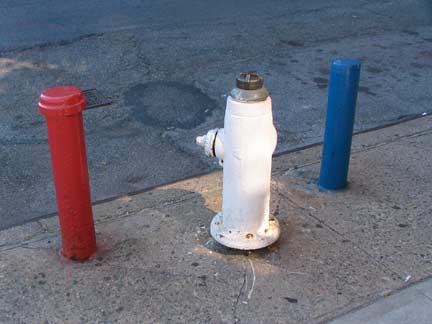 Hydrant in USA or Puerto Rico colors.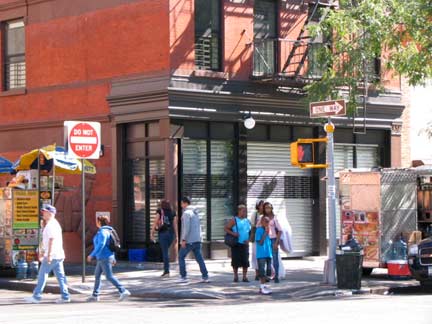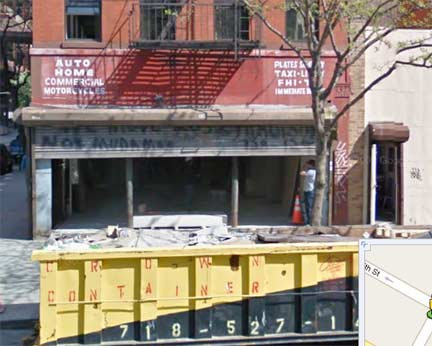 The ground floor space on the SE corner of East 117th and Pleasant has been converted to a new restaurant. When the Google Camera Car went by several months ago [in 2009] the space's old use as an insurance business was still apparent.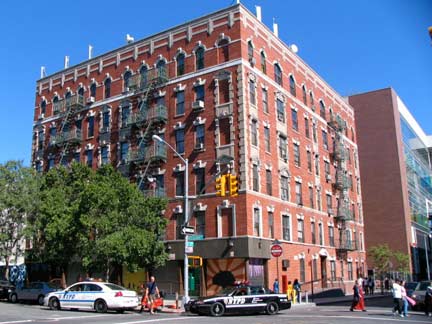 Looking at the well-built apartment houses on Pleasant Avenue at East 117th (left) and East 118th built by architects with a clue you'd never believe this used to be a very dangerous area. But appearances can be deceiving of course.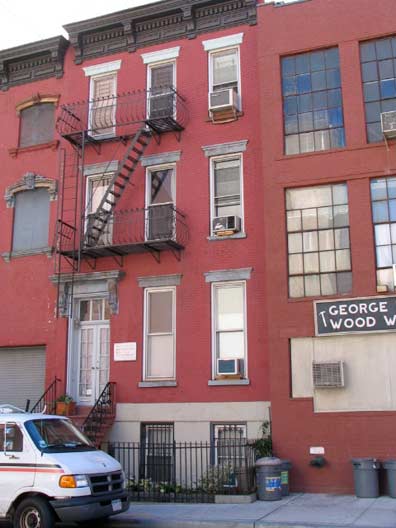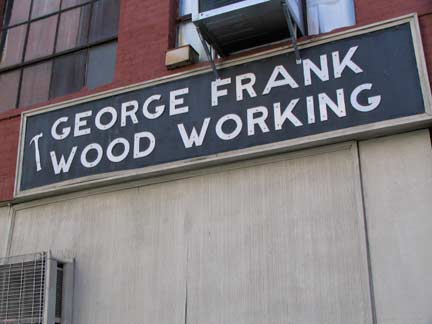 The east ends of both East 117th and East 118th are much busier now that they provide access to the new Target department store complex along the FDR Drive between 116th and 118th. On East 117th, though, I preferred to concentrate on a building largely unchanged since the Depression — the original fance and door are likely the ones seen here. I liked this handmade George Frank Woodworking sign next door.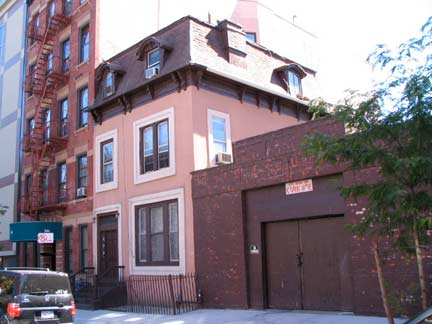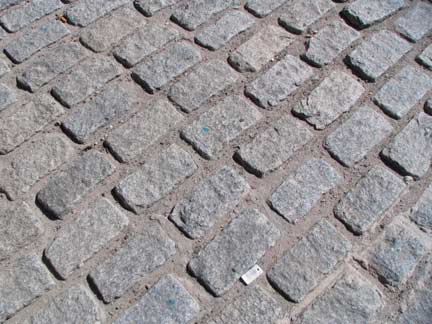 The dead end of East 118th east of Pleasant Avenue is one of the few uptown Manhattan blocks still paved with Belgian blocks. I liked the small mansard-roof building with the dormers. The new Target Center can be seen at the end of the street.
The Roman Catholic Church of the Holy Rosary can be seen looking west on E. 119th from Pleasant Avenue. The parish was established in 1884 and the church was constructed between 1898-1900.
Photographed August 2010, page completed October 5, 2010