On a mostly overcast, heavily muggy late summer weekend afternoon I wandered lonely as a clown through the concrete fields of western Queens. I had an appointment at a saloon in Long Island City, but purposely arrived in Woodside on the LIRR a couple of hours early so I could indulge the wandering sickness for which there is no cure. I set out west along Roosevelt Avenue but drifted southwest, as if yanked by a magnet, toward the miasmic Newtown Creek and its factories, industry and sewage treatment plants; then north to the bustling Sunnyside Yards and its railroads alive and dead; then eventually under the tinkertoy canope of Qveensboro Plaza (or so its old enamel signs spelled it). I eventually wound up at the bar for my appointment and was ignored by the bartender — there were many patrons much younger and wealthier than your humble webmaster, and I eventually accepted my place in the grand scheme, and my co-conspirators and I tiptoed out of the joint, duly and properly chastened.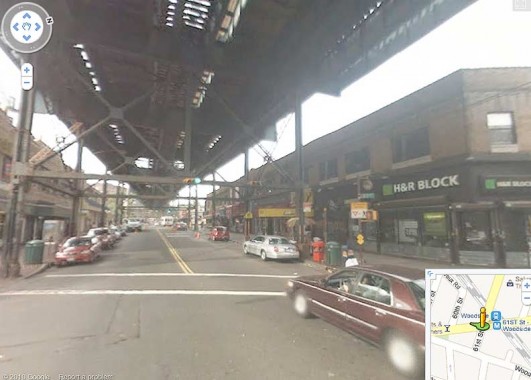 The view west at Roosevelt Avenue and 61st Street. Unlike other NYC streets that have been shadowed by elevateds, Roosevelt Avenue has never been familiar with much sunshine — when the Flushing el was built east in stages from 1915-1928, Roosevelt Avenue was built underneath it from about 58th Street east. Greenpoint Avenue formerly extended northeast to Betts and Woodside Avenues (Betts is now 58th Street). Here at 61st, the el rises high to accommodate a slight valley, but also to safely rise over the Long Island Rail Road, which was also placed on an el in the mid-1910s. The road honors Theodore Roosevelt, who died in 1919, shortly after it opened.
The #7 Flushing Line has colloquially been known as The International Express (the phrase was actually originated by the NYC Department of Planning), and entire worlds pass beneath the feet of commuters who ride its rails. Just the few blocks west of the LIRR station at 61st Street you find evidence of Korean, Thai, and Colombian immigrants.
Queens is the most ethnically diverse place in the world. The International Express is simultaneously a trip around the world and a voyage to quintessential Queens. People from approximately 150 nations have immigrated to Queens and established communities here. Communal memories permeate the streets: store and restaurant names, as well as their architecture and patrons, recall a variety of native lands. Community is a sense of "us"-ness, a collective identity as a group, which arises from shared experience, traditions and values. Community members gather in social clubs and in restaurants to be with others who share their culture and history. Queens Tribune
Typically though, FNY walks are more concerned with infrastructure than demographics. NYC fire alarms and the ways NYC has identified their presence has been marvelously nonstandardized over the years — the city pretty much has mounted them however possible. Here we see what are actually newer means, as the boxy alarm introduced in the 1960s, with the red and blue FDNY and NYPD call boxes, is mounted on an elevated pillar. The lamppost bears the "old" orange plastic illuminated cone indicator, as well as the new "top hat" on top of the luminaire.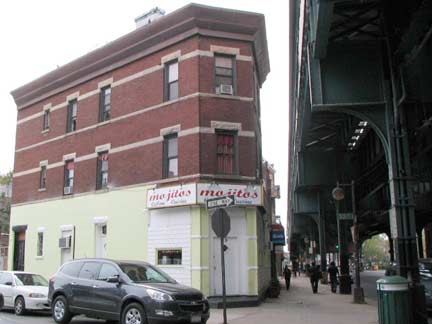 One of the fleeting glimpses of sun on the walk shone on the Three Crowns Bar and Cocktail Lounge. On the right is one of the odd-angled buildings that accommodate Roosevelt Avenue, which runs a little northeast against the street grid here.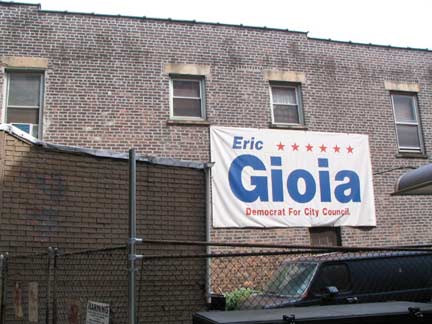 As we'll see, today's route is punctuated by some tiny buildings, constructed about a century ago (studies have shown that people were indeed shorter and thinner a century ago, before the McDonald brothers opened a shake shack in San Bernadino, California, in 1940).
We pass by the campaign office of Eric Gioia, who served in the NY City Council from 2001-2009. After losing in the NYC Public Advocate campaign to Bill deBlasio in 2009, he became a VP at JP Morgan Chase, though his campaign HQ is still clearly marked.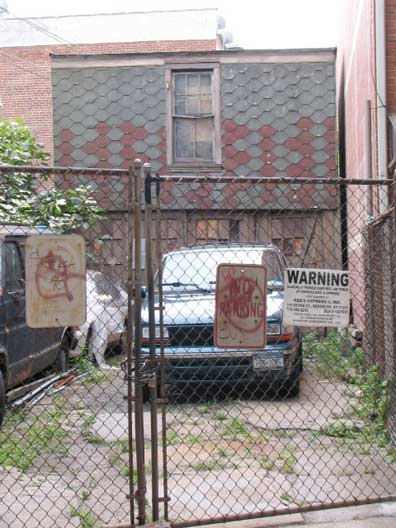 A barn of indeterminate age, and an adjoining small dwelling, can be seen next to the old HQ.
West of 53rd Street, Roosevelt Avenue sees the southern end of a large cluster of apartmets built with yellow Kreischer brick by Gustave X. Mathews and designed by Louis Allmendinger. Such apartment blocks line many streets in Woodside, Astoria, Long Island City, and Ridgewood. On the other side of the street, modern-day developers have illogically built terraces opposite the elevated train, so summer sunners can breathe in diesel fumes and be rained on by the odd spark or two.
At 52nd Street and Roosevelt, 43rd Avenue begins a run of several blocks west. This is atop a slight hill and on clearer days than this, excellent views of the Three Amigos: the King of All Buildings, the Citigroup tower (Long Island's tallest) and the Chrysler Building can be had. The three towers were constructed in 1931, 1989, and 1930.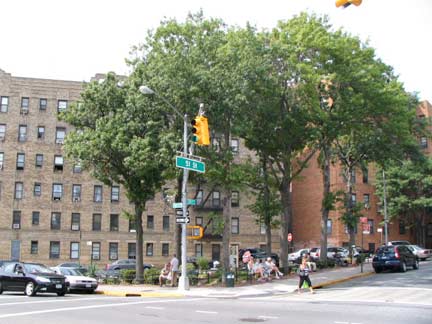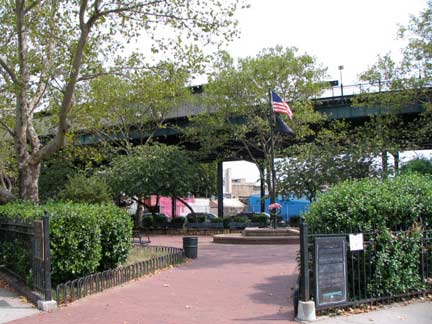 Western Queens has historically been strapped for park space (the 66 acres of Astoria Park in the extreme northwest make up the most park space west of Flushing Meadows), and while these two green spaces catercorner at 43rd Avenue and 51st Street don't come close to filling the bill, it's unusual they're so close together. Left: Pvt. 1st Class Vincent Daniels Square, on the SE corner, commemorates a Woodside resident killed in World War I, while on the NW corner, John Downing Park remembers a firefighter at Woodside's Ladder 163 who was killed while battling a fire started by an explosion in a paint store on June 17, 2001.
When Roosevelt Avenue meets Queens Boulevard we exit Woodside and enter Sunnyside. I paused briefly on 46th Street at the Sunnyside Arch, constructed in the 1980s and renovated in 2005 and again in 2009. Kate Thomson and Jawbone, a NYC-area covers group, were playing a street festival.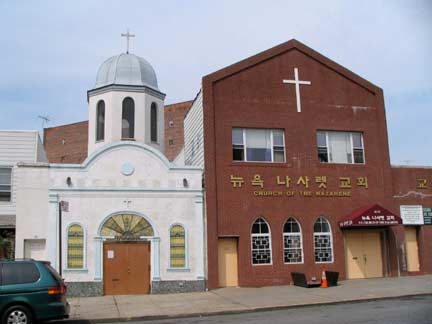 Meanwhile on 48th Avenue and 45th Street, I was struck by the Korean-congegation Church of the Nazarene, which has two separate buildings in 2 different architectural styles.
When the Google Photo Truck passed this house on the south side of 50th Avenue between 39th Place and 40th Street, it looked like this …
… but after the owner no doubt made what he considered to be major improvements and encased it in wood paneling, it now looks like this.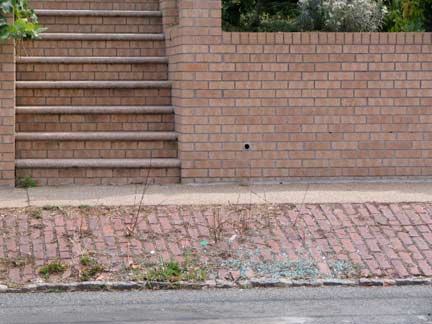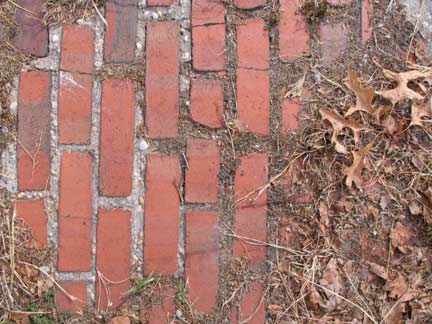 I turned southwest on Greenpoint Avenue, a very old route connecting the Brooklyn neighborhood with western Queens; its eastern extension, Roosevelt Avenue, goes all the way to Flushing. At left, the restaurant Pisco Sour at 37th Street, named for the South American cocktail made with grape liquor. I call attention to it because the building it's in is likely quite old — its age disguised by the aluminum siding. At right, a tiny dwelling across the street on Greenpoint Avenue.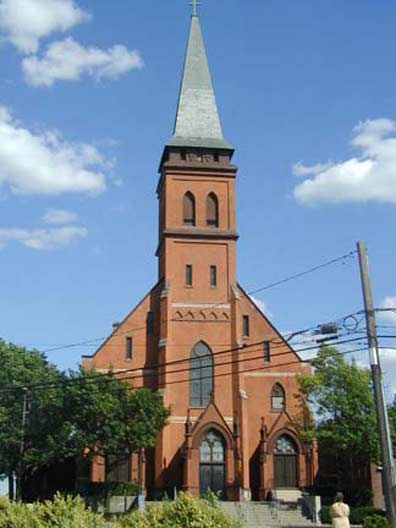 The queen of Greenpoint Avenue, at least its Queens section, is the tall spire of St. Raphael's Church, visible from most of Sunnyside and also from Greenpoint, Brooklyn, across Newtown Creek. The parish of St. Raphael, named for the archangel, is quite old, having been organized in 1867 with the present building erected from 1881-1885.
I did make it into Blissville briefly but before going there, there are some icons to view from the highest point in southern Sunnyside, more properly called Laurel Hill, its former name (remembered chiefly by Laurel Hill Boulevard, these days the service road of the Brooklyn-Queens Expressway). Here'a look west toward Manhattan and east on Hunters Point Avenue.
At left, an 1891 topographical map shows the only routes then existing. The Long Island Expressway roughly follows the line of the main east-west line, Borden Avenue, while Greenpoint Avenue runs SW to NE as it does today.
Note that the Blissville street plan emanating NW from Greenpoint Avenue is still in place today and consists of Review, Starr, Bradley and Gale Avenues as well as 34th and 35th Streets on today's map.
Southwest from Hunters Point Avenue and 35th Street, the Best Western City View Motel, formerly Public School 80, dominates the picture. See my Greenpoint Avenue link above for more on this most picturesque of all NYC motels — I have always coveted a room at the City View with a city view.
Columbia Dentoform, 34-24 HP Avenue, makes patient simulation forms for dental education, i.e. they make choppers for aspiring dentists to practice on before they start drilling your mouth for real.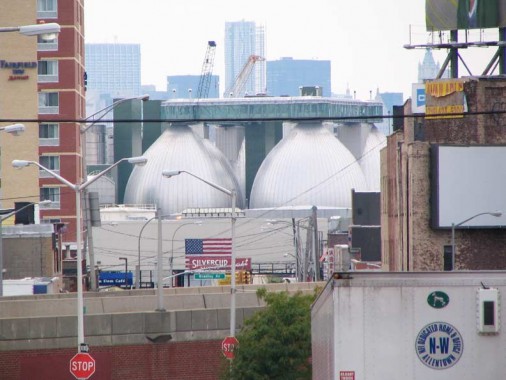 A view west on 34th Street from Hunters Point Avenue reveals what is quickly becoming one of Greenpoint's newest touchstones and tourist attractions: the Newtown Creek Wastewater Treatment Plant, first built in 1967 but upgraded beginning in 2003 with the addition of eight "digester eggs" colloquially known in these parts as the "shit tits." Superficially stated, they reduce the volume of sludge by employing anaerobic digestion; eventually, the eggs will process 1.2 billion gallons of refuse annually.
"What's unique to [Greenpoint]? This is an easy one, this is a slam dunk– it is called the Newtown Creek Wastewater Treatment Plant. The Shit Tits. Where else, not just in the city but in the world, are you going to have a waste-treatment plant that not only has a visitorís center, but has a nature walk? If you have to pin me down as to park spaces I like to go — that's it. Why do I like the wastewater-treatment plant? Why do I like the Shit Tits? Why do I like the visitor's center? On the one hand, it is so absurd, but on the other hand it's actually really neat.
All these new condos that are being built here — why is it that we have more thought put into the aesthetics of [New York's largest] waste-treatment plant — that, as I understand it, handles the most poop in the entire city — than the buildings that we live in? I mean, if there was an apartment building that looked like the Shit Tits, I would totally live in it. Inasmuch as they make fun of it, yes, it does go down to the water; yes, Newtown Creek is disgusting — this is not news to any of us. But it's an interesting view — you get to go on the creek, you get to see the industrial parts of Long Island City, you do have some views of Manhattan — it's a beautifully done park, just in a really, really weird location .
That's part of the reason I like it. I'm not one of these people that's into concerts or events at parks and things like that. I just want to sit and relax. You are guaranteed relaxation over there." Miss Heather of New York Shitty, in Time Out New York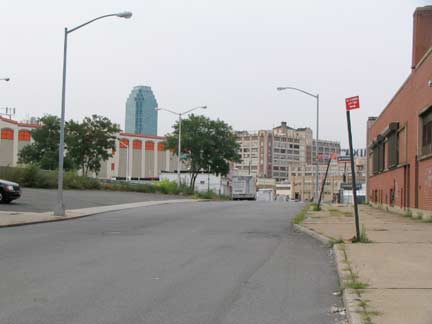 Gale Avenue and 34th Street boasts one of the few instances of criss crossed street signs. A common scheme outside of NYC, the method hasn't been offically employed here since the early 1960s, when most were removed from Staten Island. Old photos of western Queens show they used to be pretty much ubiquitous.
Gale Avenue looking toward Hunters Point Avenue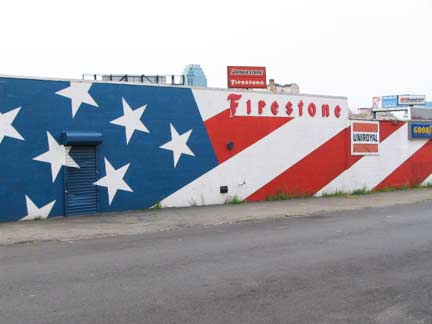 Hunters Point Avenue and 32nd Place.
HP Avenue at Van Dam Street. The latter has always been one of the odd ducks in the north-south Queens routes; it runs from Skillman Avenue at the Sunnyside Yards south to Greenpoint Avenue, and while its parallel streets lost their names in the 1920s as part of Queens' street numbering scheme, Van Dam always kept its name and was even given an extension sometime between 1909 and 1928 to Greenpoint Avenue (not sure of the exact year). The home of LaGuardia Community College on its north end, it's a busy truck route on its southern end. Interestingly there's a Van Dam Street in eastern Greenpoint just south of Newtown Creek, and I wonder if the two are related.
The new Marriott Fairfield Inn at Starr Avenue and Van Dam Street is one of a number of hotels that have sprung up in the vicinity of the Long Island Expressway, servicing motorists on the busy route.
At the triangle formed by Van Dam and 35th Streets is Blissville's own mini Flatiron Building, and as per the habit of late 18th and early 19th Century architects, the date of completion is seen on the exterior. The S.M may have been the initials of the architect.
Scenes from 35th Street. The haberdasher had a note for his patrons, and a veteran is proud to be an American.
Blissville
Blissville is the small wedge of Queens positioned between Newtown Creek, Calvary Cemetery and the Queens-Midtown Expressway; it takes its name from Neziah Bliss, inventor, shipbuilder and industrialist, who owned most of the land here in the 1830s and 1840s. Bliss, a protege of Robert Fulton, was an early steamboat pioneer and owned companies in Philadelphia and Cincinnati. Settling in Manhattan in 1827, his Novelty Iron Works supplied steamboat engines for area vessels. By 1832 he had acquired acreage on both sides of Newtown Creek, in Greenpoint and what would become the southern edge of Long Island City. Bliss laid out streets in Greenpoint to facilitate his riverside shipbuilding concern and built a turnpike connecting it with Astoria (now Franklin Street in Greenpoint, Vernon Blvd. in Queens); he also instituted ferry service with Manhattan. Though most of Bliss' activities were in Greenpoint, he is remembered chiefly by Blissville in Queens and by a stop on the Flushing Line subway (#7) that bears his family name: 46th Street was originally known as Bliss Street.
Review Avenue is the longest of Blissville's north-south routes, running from Borden Avenue south along the west end of Calvary Cemetery to a junction with Laurel Hill Boulevard and the former Penny Bridge LIRR station.
I had originally been stumped about Review Avenue's name, but the Newtown Pentacle's Mitch Waxman sewed it up nicely:
Literally, it was the avenue that funeral reviews- elaborate parades of mourners replete with musicians and baroque carriages- would use to travel to Calvary Cemetery.
Remnants of a railroad spur from the LIRR Montauk Branch to the west can be seen along the route.
At Borden Avenue, the bridge is out. The bridge spans Dutch Kills, an arm of Newtown Creek, and is one of 4 retractile bridges in the USA and one of two in New York City; the other is the more picturesque Carroll Street Bridge in Carroll Gardens, Brooklyn. In retractile bridges, the deck is rolled or slid backward or sideways along a track to open the bridge to allow shipping to pass. The Borden Avenue Bridge has been under repairs for about 2 years [in 2010] and work will continue for the forseeable future. Right: Sparks Deli, Borden Avenue and Review Avenue.
[The Borden Avenue Bridge has reopened]
During the Borden bridge closure, crossing Dutch Kills was the job of the Hunters Point Avenue Bridge, a bascule bridge opened in 1910 (The Borden Avenue retractile bridge opened two years earlier). Oddly, the Hunters Point Avenue street sign at 30th Street doesn't bear the usual AVE marker — listing streets without the common AVE, ST or RD is standard practice in San Francisco, but not here. As Hunters Point Avenue crosses Dutch Kills, it loses its name and becomes 49th Avenue, and so Hunters Point Avenue doesn't enter the neighborhood for which it is named. It used to be Hunters Poiunt Avenue all the way west, though, as the Hunters Point Avenue #7 subway station attests.
Pausing on the HP Avenue Bridge, you can view the IDC Building (formerly the American Chicle Building) looking north, or the high arching Queens Midtown Expressway on the south. For such a short tributary, Dutch Kills is spanned by no less than 4 bridges: HP, Borden, the expressway bridge, and the railroad bridge carrying the Montauk LIRR branch.
I don't know the original purpose of this handsome structure on 27th Street and Pearson Place, but it's the present home of Paramount Fine Antique Reproductions. Looks like it's recently been renovated top to bottom.
Just south of Sunnyside Yards is Degnon Terminal, operated by the Degnon Realty & Terminal Improvement Company. A subsidiary, Degnon Terminal Railroad Corporation operated a switching terminal. It received and delivered cars from and to connections and switched them to the various industries, also the reverse operation. This carrier's only railroad connection was with the Montauk Cutoff of the Long Island Rail Road at Pearson Street [Hunterspoint Avenue], Long Island City. Degnon constructed its tracks about 1919, although land reclamation and grading began about 1907. The road consisted of two main tracks along Nelson [47th] Avenue, in addition to many warehouse and industry tracks. Structures include a one-stall engine house, (covered with corrugated iron), a one story frame office building and a water crane (attached to the city main. In the 1916-1927 era, the Degnon Terminal Railroad had a 0-6-0 locomotive with a slope-back tender.
In September 1928 management merged the rail property into the Long Island Rail Road and disposed of all Degnon equipment. After years of inactivity, workers removed Degnon's switch in 1989. Trains Are Fun
Austell Place parallels Pierson and runs for a block between Skillman and 27th Street. It has a brick pavement unique in NYC, three shades of buff. I'm amazed it survived. "Napkins & Chopsticks" was the flop followup single to the Murmaids' classic 1963 hit, "Popsicles and Icicles." I'm kidding.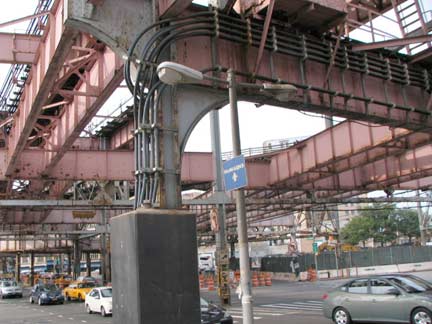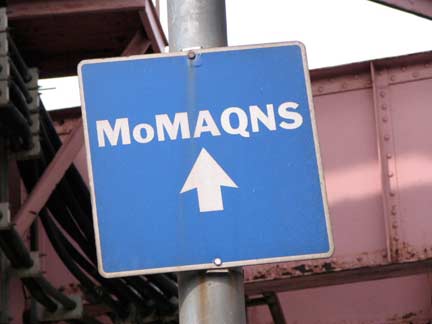 The Museum of Modern Art on West 53rd Street relocated temporarily in Sunnyside between 6/29/02 and 9/27/04 while the main building underwent renovations. One or two signs directing traffic to the location on 33rd Stret near Queens Boulevard are still there.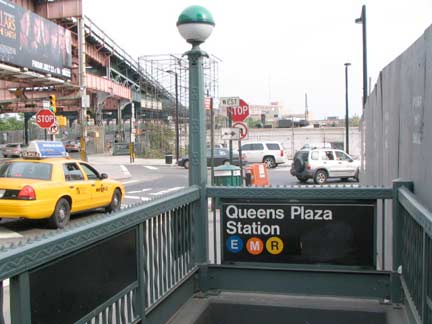 In response to shrinking revenues and little aid from Albany and Washington the MTA rejiggered several subway lines and raised fares in 2010. The E, V, G, and R trains used to run on the Queens Boulevard line, but after changes were made, the E, the M, the R and further down the line, the F ran on the line. Some of the old signage was never changed.
To save time, as my appointment time was coming up fast, I ascended to the Qveensboro Plaza station and took the N train to 36th Avenue, then walked up 34th Street. I'll have to do a complete survey of the side streets of Astoria and LIC someday because whenever I visit, I stumble on some anachronisms like these, 19th Century buildings in a 21st Century world.
Astoria's 35th Avenue features some monumental buildings in an otherwise quiet residential neighborhood, such as the headquarters of Local 731, PS 166 (Henry Gradstein School), the Kaufman-Astoria Studios, built by Paramount in 1920 at 35th Avenue and 36th Street. After a few decades when the US Army used it to produce training films (where Paul Newman and Jack Lemmon made their film debuts), the site was redeveloped for TV and film production in the 1980s and then as a museum for motion pictures and television. Astoria Studios was redeveloped beginning in 1982 by George Kaufman as a modern film production studio featuring seven sound stages (including the largest one outside of Los Angeles).
Sunswick, at 35th and 35th, has dozens of brews I have never heard of, as well as some usual favorites. The bar is named for the now-underground Sunswick Creek, which was a rivulet originating in the East River and winding through western Astoria and Ravenswood. The word is derived from a Native American term meaning "place of the chief's wife."
11/8/12