St. Patrick's "old" Cathedral, 260-264 Mulberry Street between Price and East Houston, is called "old" to differentiate it from its "newer" cousin uptown, St. Patrick's Cathedral at 5th Avenue and East 50th, designed by James Renwick Jr., opened 1878 and finished in 1888. Old St. Pat's, NYC's original Catholic cathedral, is quite a bit older, having started construction in 1809 and completed in 1815, making it one of the oldest buildings in Chinatown/Little Italy. In March 2010 Pope Benedict XVI announced that it would become Manhattan's first basilica, a church that has been accorded certain specific and cereminial rites only the Pope can bestow.
The privileges attached to the status of basilica, which is conferred by papal brief, include a certain precedence before other churches, the right of the conopaeum (a baldachin [canopy] resembling an umbrella) and the bell (tintinnabulum), which are carried side by side in procession at the head of the clergy on state occasions, and thecappa magna which is worn by the canons or secular members of the collegiate chapter when assisting at the Divine Office. In the case of major basilicas these umbraculaeare made of cloth of gold and red velvet, while those of minor basilicas are made of yellow and red silk — the colors traditionally associated with both the Papal See and the city of Rome. wikipedia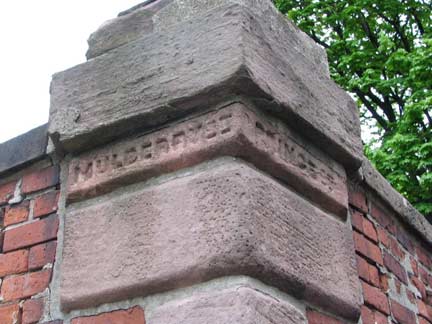 The Cathedral was built at a time when Roman Catholics were under literal attack in NYC, as depicted in Martin Scorsese's Gangs of New York. A brick and stone fence was built to surround the chuch and its accompanying churchyard because attempts were made to burn it down during the mid-1800s. Scorsese served as an altar boy in his youth here, and the church was used for several scenes in The Godfather and Gangs.
The soon to be Basilica was designed by architect Joseph François Mangin. It is 120 feet in length and 80 feet at its greatest height. Its organ is nearly a century and a half old, installed in 1852. A wealth of mortuary vaults lie beneath the church, and the churchyard's most famed interment was Venerable Pierre Toussaint (1766-1853), a Haitian immigrant and former slave who became an abolitionist, philanthropist (he made his money as a hairdresser for NYC's upper crust) and devoted himself to the ministrations of NYC's poverty-stricken, opening shelters for orphans, a credit bureau, employment agency and refuges for priests during the turbulent period for Catholics mid-century. He was responsible for some of the funds that went to build the uptown St. Patrick's Cathedral, in whose vaults he was reinterred 137 years after his death by John Cardinal O'Connor.
The Cathedral was one of the first buildings in NY to gain Landmarks designation in 1966. It was remodeled after a fire in 1868 with cast iron columns that support a timber roof.
In the Civil War the Irish-American brigade, the Fighting 69th Regiment, counted many of its members worshipers at St. Patrick's; the regiment lost many men at the Battle of Bull Run in Virginia. Archbishop John McCloskey was made the first American cardinal by the decree of Pope Pius IX and he received the Cardinal's red cap here on April 27, 1875.
The 201-year-old church in Little Italy was a spiritual home in the 19th Century for Irish immigrants seeking refuge against Protestant persecution. In recent decades, it has welcomed Dominican and Chinese immigrants. "This is not a museum. This is still a living, breathing, loving, embracing parish," Archbishop Timothy Dolan told a standing-room-only crowd at a solemn vespers service in the old cathedral to celebrate its new status.
NY Daily News
Page completed December 9, 2010