In July 2010 I stumbled in the dead dog heat on West 30th Street (the fruits of that labor are included on West 30th Part 1 and West 30th Part 2) and then turned south on 9th Avenue. 9th Avenue is a northern continuation of Greenwich Street, which ends at a wide plaza formed by Gansevoort Street and Little West 12th, and runs continuously north to Cathedral Parkway (West 110th Street). In 1896 all of 9th Avenue north of West 59th was renamed Columbus Avenue for Italian navigator Cristoforo Colombo. There is also a lesser-known small piece of 9th Avenue way uptown in Inwood, running in two pieces from West 201st to West 208th and then from West 215th to Broadway; in fact, 9th Avenue is Broadway's last intersection on the island of Manhattan before it crosses the Harlem River into Marble Hill. Today, my point of concentration ran from the Penn Station area south to Greenwich Village….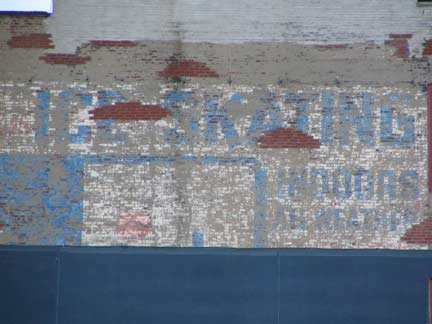 Final remaining painted ad for Sky Rink on the 450 West 33rd Street building home to the NY Daily News, the Associated Press and WNET-TV. Sky Rink was a rooftop skating rink here until its move to the nearby Chelsea Piers sports complex in the 1990s. Meanwhile the NW corner of 9th and West 33rd was home to the Cheyenne Diner until it was closed in 2008 and later moved to Birmingham, Alabama. This ad has since been painted over.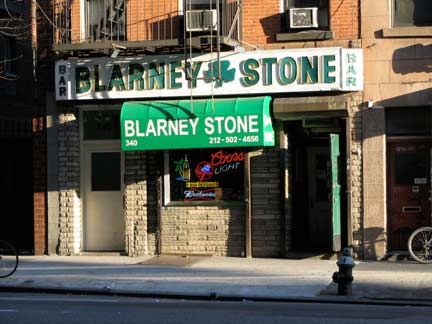 9th Avenue near 29th Street. The Blarney Stone chain of dives has been around in NYC for decades, and yet I don't know much about them. Can anyone fill me in? The chain is named for Ireland's namesake stone, located at Blarney Castle outside Cork. According to legend, kissing it gives the kisser prodigious persuasive powers.
I'm really reluctant to write about this place. If I thought more people would read this, I wouldn't. It's like a fragile glass sculpture. It could so easily be destroyed. As it is, this could be the last place of it's kind south of 125th Street? Wow! A DIVE BAR in the best sense of the word. Nothing faux, pretentious, or studenty….The thickly brougued †bartendress bought us two pitchers of beer. The night cost $11 a piece plus the pizza. We were the life of the party, and guardians of the unlockable mens room door. When we walked in, I said, "this place would be perfect if it weren't for the music being too loud." In ten minutes, Linda, the bartendress came to ask us if there was anything she could get us. "Yeah," I said. "Lower volume." †BANG! She was at the controls. "Just raise your hand when it's at a good volume," she said. "Excuse me," I didn't, but should have, said. "Are we dead and is this heaven?" The neighborhood is foreboding with NOTHING, but 1 pizza place and lots of people sleeping on the sidewalk. I hope that's enough to scare off tourists. Once inside, the funkiness, friendliness, and everyone's-a-pal spirit, makes this our best new discovery of the year. yelp review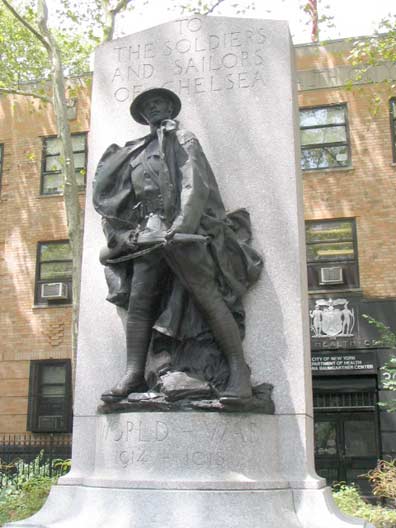 Tucked away in Chelsea Park at 9th Avenue and West 28th is Chelsea's World War I Memorial, a 14 foot tall granite stele on which a bronze "doughboy" statue is displayed holding a rifle, and inscribed with the words "To the soldiers and sailors of Chelsea, World War 1914-1918." It was designed by artist Charles Rollison Lamb and sculptor Philip Martiny and was installed in 1921. A similar statue by Martiny can be found in Abingdon Square, 8th Avenue and Hudson Street, in Greenwich Village.
Also arrayed in Chelsea Park facing 9th Avenue are three monuments, resembling fence posts, that memorialize three men who are utterly unknown in the 21st Century, erected by a no-longer-extant organization, the Seymour Tammany Club. Tammany Hall was a political organization that aided Democratic Party candidates in NYC from the mid-1840s into the 1960s, though its power greatly waned after Fiorello LaGuardia was elected mayor in 1932. William L. Kavanagh was a member of the New York Democratic State committee in 1930; Frank J. Goodwin was a political leader in the 9th Municipal Civil Court District in the early 20th Century.
From a collection of Tammany leader George Washington Plunkitt's speeches, Plunkitt of Tammany Hall:
A few years ago there was a bitter contest for the Tammany leadership of the Ninth District between John C. Sheehan and Frank J. Goodwin. Both had had long experience in Tammany politics and both understood every move of the game.
Every morning their agents went to their respective headquarters before seven oíclock and read through the death notices in all the morning papers. If they found that anybody in the district had died, they rushed to the homes of their principals with the information and then there was a race to the house of the deceased to offer condolences, and, if the family were poor, something more substantial.
On the day of the funeral there was another contest. Each faction tried to surpass the other in the number and appearance of the carriages it sent to the funeral, and more than once they almost came to blows at the church or in the cemetery.
On one occasion the Goodwinites played a trick on their adversaries which has since been imitated in other districts. A well-known liquor dealer who had a considerable following died, and both Sheehan and Goodwin were eager to become his political heir by making a big showing at the funeral.
Goodwin managed to catch the enemy napping. He went to all the livery stables in the district, hired all the carriages for the day, and gave orders to two hundred of his men to be on hand as mourners…
Frank L. Dowling, meanwhile, was Manhattan Borough President from 1917-1919, the year of his death.
The monuments were installed in 1926.
The Church of the Holy Apostles, across from the park at 9th and West 28th, was designed by renowned ecclesiastical architect Minard Lefever in 1848, when 9th Avenue was a country lane. It has seen the passage of the Ninth Avenue El from the 1880s through June 1940, and the construction of the Penn Station Houses complex; it occupies a small plot on the NW edge of that development. The AIA Guide calls it both a Romanesque Revival and early Italianate Style church. It survived a devastating fire in 1990 and the Episcopal church now shares the space with the Beth Simchat Torah synagogue.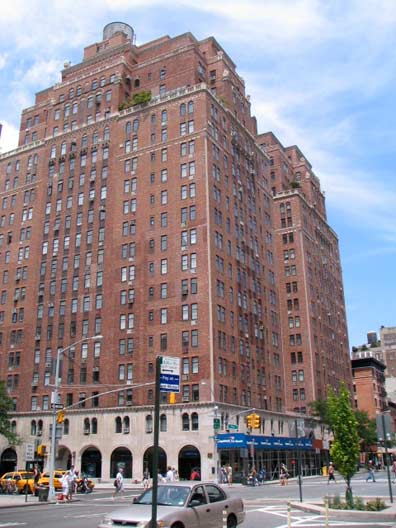 One of my favorite apartment complexes, London Terrace, takes up the entire block between West 23rd, West 24th, 9th and 10th Avenues. The complex, built in 1930, consists of over 1600 apartments; considered the largest apartment complex in the world when completed. The units surround a private garden. One bedrooms are in the $3,000s.
9th Avenue features the first separated bike path on a Manhattan avenue since the early 1980s. The Koch administration was in for a penny when it built one on 6th Avenue, but quickly ripped it up. In the 2000s, the Department of Transportation is in for a pound, creating many dedicated bike routes in NYC, curtailing auto traffic in some spots to do it.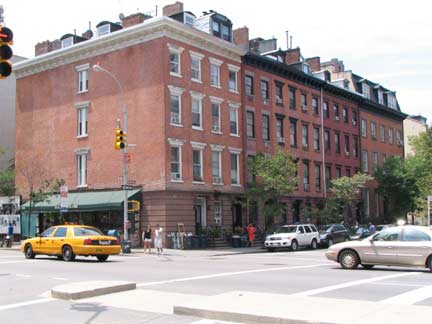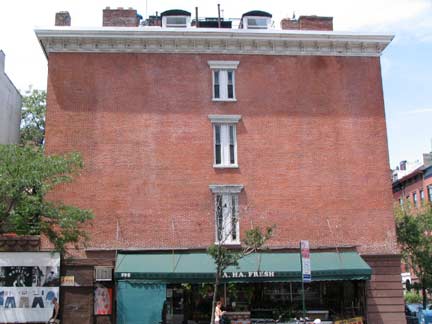 For those uninitiated with the heart of Chelsea, between 8th and 10th Avenues from West 20th to West 23rd, it's a wonderland of Italianate-style townhouses, mostly built in the 1830s and 1840s with some even older buildings sprinkled in here and there.
For example there's 400-412 West 22nd, 3rd and 4th from left, with the very unusual narrow window treatment on the 9th Avenue side.
Nos. 400-412 were built in the Italianate style in 1856 for James M. Wells. This row is similar in style to the houses built by Wells in 1852-3 on West 20th Street. This row again illustrates how charming a group of narrow houses can be when designed with English basements and small doorways. Each house has its original roof cornice and five retain their original dormer windows. The attic floor provides extra living space in houses which are just a little more than fourteen feet wide. Landmarks Preservation Commission Designation, 1970 
Flemish-style building front, 9th Ave .between W 22nd and 23rd
General Theological Seminary, 9th Avenue between West 20th and 21st, as it looked in 2008 (left) and as it looks in 2010 after a major conversion to luxury apartments. No matter what the exterior may look like, it's nothing like the interior, which is better glimpsed from the side streets or, during the week, from inside, which remains a public area during designated daily periods.
Sign in at the desk, and pass through another set of doors into New York City as it looked in the last days of the 19th Century.
The oldest building, the West Building, dates to 1836, while the quadrangle's central focus is the Chapel of the Good Shepherd, with a 116-ft. tall tower. Architect George Coolidge Haight designed and built the various Gothic Revival buildings between 1883 and 1902. The Seminary grounds had been an apple orchard owned by Clement Clarke Moore, who was Professor of Oriental and Greek Literature, as well as Divinity and Biblical Learning at the General Theological Seminary; Moore donated part of his property to the Seminary. Moore anonymously published the holiday poem "A Visit From St. Nicholas" in a Troy, NY newspaper in 1823; he did not publish it with a byline until 1844. Moore's depiction of Santa Claus in the poem, combined with Thomas Nast's depictions, helped to solidify The Jolly One's present image.
It's almost completely washed out and faded now, but before it recedes completely here's the dope on a long-lost real estate and insurance practice on 9th Avenue between West 21st and 22nd from Walter Grutchfield, NYC's premier researcher on painted signs:
James N. Wells Sons, Real Estate, 191 9th Ave. between 21 and 22 Sts. (1986)
191 / JAMES N. WELLS SONS / James P. Eadie / REAL ESTATE /
SALES LEASING MANAGEMENT / INSURANCE / On This Spot Since 1835
Prior to 1870 James N. Wells, "agent" or "real estate", was located at 167 Ninth Ave. It is not clear whether this was a different building, or whether re-addressing of the same building took place…
The original James N. Wells founded his real estate business on Manhattan's West Side in 1819. He appears in Longworth's New York City Directory in 1835 as Wells James N. Carpenter, Avenue 9th between Twenty-first and Twenty-second h. 71 Twenty-second.
He appears in the US Census for 1850 (16th Ward, pg. 252) as age 60, Land Agent, born New York, with wife Rachel, 59 and children Julia A.O., Emma, John R. and Josephine L., ages 20 down to 13.
The first entry in New York City Directories for a James N. Wells Jr. is in 1879. Possibly, this was a grandson of the original James N. Wells.
The first appearance of the firm name James N. Wells Sons is in 1907.
James P. Eadie (1869-1942) joined the firm "in a minor capacity" (New York Times obituary) in 1890. He became a partner of William J. Wells [who he?] in 1908 and "assumed complete ownership and control of the business upon the death of Mr. Wells in 1913" (Times obit again). The sign, then, is likely no earlier than 1913 and could be much later since James P. Eadie continued to run the business until his death in 1942.
In 1933/4 the principals at James N. Wells Sons were James P. Eadie, pres.; John Morgan, vice-pres.; and Ross F. Eadie (James P.'s son) secretary-treasurer. In 1989 James N. Wells Sons was acquired by Stribling and Associates (Elizabeth Stribling, pres.).
It's unusual to see small brick and frame buildings facing major north-south avenues in Manhattan but there's a group of them here in Chelsea on the west side of 9th Avenue north of West 21st. Nos. 185-189 are small wooden structures built from 1856-1868 for James N. Wells' real estate interests. The brick building on the corner is actually the oldest, constructed in 1831-1832.
At intervals along 9th Avenue, the Department of Transportation installed guy wire stoplights, with cobra neck lamps attached to them, but didn't remove the lampposts they replaced. In this case, the DOT decided to put new luminaires on both lamps, and I imagine both light up at night.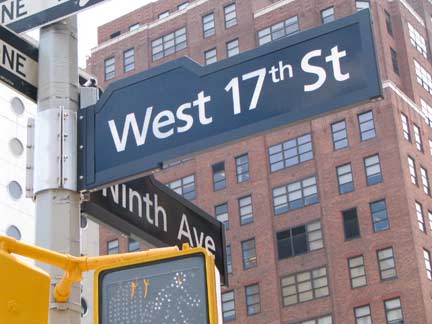 Meanwhile at West 17th, the DOT thought it was a good corner for a deluxe-size pair of street signs with reflective letters. These are usually found in Midtown.
Just south of West 18th. Edward Hopper has always been one of my favorite artists. I am always looking for NYC street scenes that might have inspired him and this barbershop fit the bill.
Vanishing New York describes the barbershop:
I went in for a haircut and was warmly welcomed by Willie, one of the three barbers who man the shop's antique chairs. He told me their lease will end in a year and a half, but they may to go sooner, perhaps in the next 6 months, as soon as they can find a new place.
Run by Manuel Manolo for the past dozen or so years, the New Barber Shop is an unofficial social club, a community center, a home. Men sit in chairs silently or chatting in Spanish, surrounded by pictures of baseball players, boxers, and John F. Kennedy.
A friendly, talkative guy named Marshall ("but people call me Flaco–it means skinny") introduced himself. A wealth of information and a sort of barber shop ambassador, he knows everything that's happening up and down the block. He told me that the building is already being renovated to install a gym in the basement on one side and a parking garage on the other. Jeremiah's Vanishing New York, March 27, 2008
So far so good, though, since in July 2010 The New Barber Shop was still there.
COVENANT
9th Avenue, both sides of West 17th, facing east. On one side an exuberant early 20th Century apartment building, on the other, the 1966 Maritime Union Building, complete with portholes, now the Maritime Hotel after a long stint as NYC headquarters for Covenant House, an organization providing food and shelter for runaway and homeless youths. Franciscan priest Bruce Ritter, a professor at Manhattan College, instituted Covenant House in 1972 after several years assisting poor, homeless and runaway youth, and he became the face of the organization on TV ads and mailings. Ritter was forced to step down in 1990 after several allegations of sexual misconduct came to light; nonetheless, the organization continued to thrive and has branched to several cities in the USA. Its current HQ is at 460 West 41st Street.
A yellow cab dared to challenge the bike lane and lost, at West 16th Street. More street barriers such as this are making things difficult and dangerous for motorists, but traffic calming advocates insist they work.
 The National Biscuit Company Building between West 15th and 16th where Oreos and Mallomars were invented in 1913 is now home to an engaging indoor marketplace consisting of dozens of vendors, Chelsea Market, and is also home to NY1, NYC's all-news cable channel. Nearby Prince Lumber represents the far west side's waning industrial character.
It's expected there would be a steak house hard by the old Meatpacking Distict and, though most of the meat packers have given way to restaurants, clothing shoppes, and tourists walking the High Line Park, Old Homestead Steak House at 9th and West 14th persists as it has since 1868 when this was a major trading crossroads. In a afew years, the elevated train would come, and the area transformed to industry. It was among the first NYC restaurants to serve Kobe beef from Japan, and recently, they outfitted a waitress in a Lady Gaga meat dress. And there weren't no flies on her.
What I call the Apple Building, 401 West 14th (or 47-59 9th Avenue) was a factory/loft building constructed in 1923. When I first encountered it it was a Western Beef offering meat recently slaughtered and butchered at the abattoirs a block away. The meat carcasses were cleared out and Steve Jobs took it over in 2007. In fact I created this page on a Mac I bought there on January 1, 2008. And now, yet another demonstration of my utter futility.
I took same computer to Tekserve on 23rd Street for more RAM in 2009, carrying it there in a suitcase. (I had no other good way to bring it, getting by without a car.) As part of the repair, I had to detach the power cord, which I put in a plastic bag and carried back to the LIRR., along with the suitcase. I placed the plastic bag in the seat next to me, and read the paper on the way home. Attaining Little Neck, I put down the paper, grabbed the handle, and … left the plastic bag and power cord on the train. Now, power cords aren't easy to find. They come with the computer, and usually don't fail, so the Mac shops don't carry them. I went to this particular Apple store, and the manager went down to the basement, and got me a new power cord after hearing my story. And that's how FNY was saved.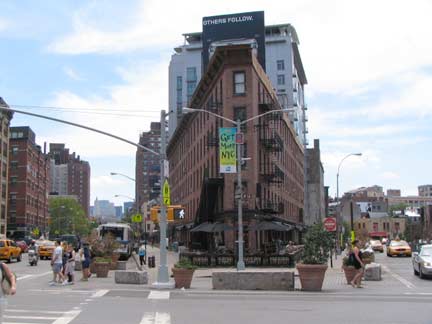 Triangular Herring Building, in the triangle formed by Hudson Street, West 13th and 9th Avenue.
This vernacular, neo-Grec style factory building, which is largely intact, contributes to the historically-mixed architectural character and varied uses – including industrial and market-related functions -of the Gansevoort Market historic District. Built c. 1849, with the northern section added by 1860, it is the earliest extant purpose-built industrial building in the first phase of development of the historic district. It further contributes to the visual cohesion of the district through its unusual triangular shape and placement at a very prominent and wide intersection, and through its three brick and stone facades and late-19″-century cornice. Gansevoort Market Historic Landmarks District report
Go get a cup of coffee while that report downloads…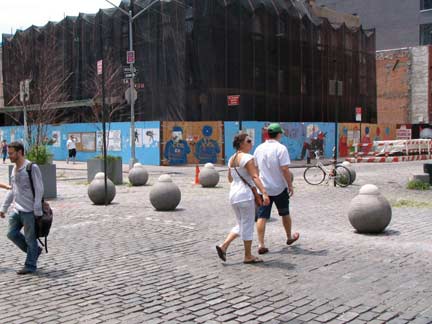 The interplay of grid systems, that of Greenwich Village and the east-west uptown grid, converge here at Gansevoort Market which creates some wide open spaces. Of late the Department of Transportation has installed traffic-calming measures including closed-off areas for idlers, ah, seats, and the installation of these boob-shaped bollards. These are by no means the only recently-installed public works that imitate the form of the female breast. In Greenpoint, the Newtown Creek Wastewater Treatment Plant is known by a much simpler moniker, the Shit Tits.
The corner building at 9th and West 13th is a 6 story loft building home to the upscale Far Eastern themed Spice Market. A look at the exterior shows one of the building's former purposes, with painted references to Bogen Electronics' "UHF converters, High Fidelity amplifiers, AM-FM tuners." In the good old days, television came in two separate divisions: Very High Frequency, Channels 2-13, and Ultra High Frequency, Channels 14-83. UHF stations were tougher to pick up on rabbit ears antennas, and usually there was nothing worth watching over there, anyway. Then came cable and people paid to watch TV!
Meanwhile, the celebrities heading for Pastis, Spice Market or the Hotel Gansevoort also take in the Olympia Garage, another holdover from the good old days.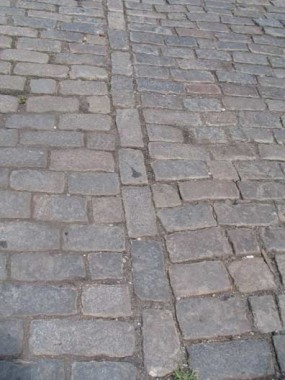 The 5-year-old Hotel Gansevoort on the east side of 9th at West 13th and the streets' Belgian block paving look oddly alike. The single line of bricks down the center likely is a drainage aid.
At 9th Avenue and Little West 12th Street, an 1860s-era building (check those floor-length windows on the ground floor) sports an Abercrombie & Fitch ad. Awhile ago, A&F discovered that you can sell a lot of clothes by showing people with no clothes.
DOT signmakers usually follow their directives "out the window" as they say in the print biz. For NYC Street signs, that means the top line will be in large letters, the second line in small letters. Here it makes no sense. You also see signs with AVE OF THE in huge letters and "Americas" in tiny letters. Just following orders!
1860s buildings at Little West 12th and Gansevoort Streets;  1960s Dodge truck at the northern limit of Greenwich Street at Gansevoort.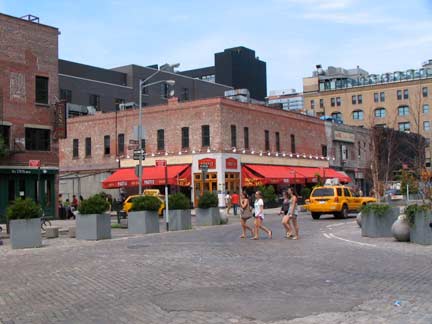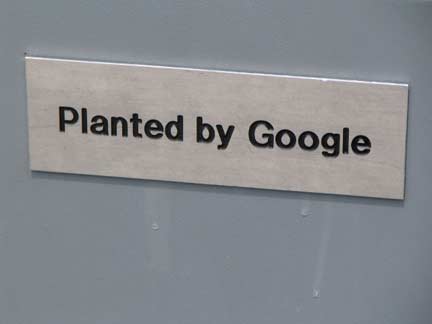 For most of its history the space formed by Gansevoort, 9th Avenue and Little West 12th was a wide-open, Belgian blocked airy space, but the Department of Transportation, in the Bloomberg era a very active street-forming organization, has created turn lanes and sitting areas, and planters installed by Google, whose tentacles reach everywhere.
12/5/10