March 2011: Just suffered my first layoff of the decade, which just missed being my third (1999, 2004, 2011). My last trip while employed by someone else in 2011 was to Murray Hill, a rather expensive section of Manhattan your webmaster has no business being in other than as a tourist. Even Murray Hill's somewhat stodgy streets, though, are somewhat devalued by the relentless thrum of traffic going toward or away from the Queens-Midtown Tunnel and for its collection of UN missions from around the globe, which are usually quiet but the silence can sometimes be interrupted by crowds demonstrating against whatever dictator is making trouble.
Murray Hill is generally accepted to lie between East 34th and 40th Streets between Madison Avenue and the East River. It is named for the mercantile Murray family, who migrated to New York from North Carolina and Pennsylvania in the mid-1700s. Patriarch Robert Murray lived in a grand mansion called Inclenburg at today's East 36th and Park Avenues; a plaque on a building marks the site today. Inclenburg was situated on a high hill that has since been leveled, but there are still a number of inclines remaining in Murray Hill, particularly on 3rd Avenue in the 34th Street vicinity. Today its chief public attraction is the J.P. Morgan mansion at Madison and East 36th, which is now the Morgan Library and Museum. Mrs. Robert Murray, according to legend, was responsible for delaying the British advance on Manhattan Island by having British officers in for tea and cookies at Inclenberg!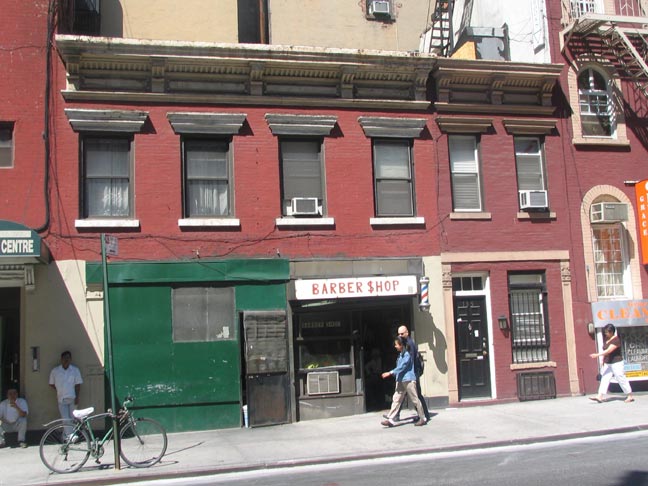 As I made my way up Lexington Avenue toward Murray Hill I remembered how I had shot this scene, on East 27th just east of Lex, a few years earlier, and thought of how much it seemed to be a photographic match to the work of Edward Hopper, who painted hundreds of New York scenes but mostly shunned the hustle and bustle, sticking mainly to NY's quieter moments.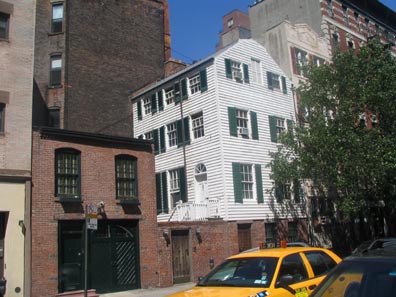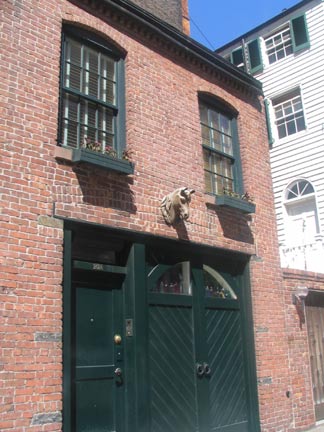 Also, this wood frame house at 203 East 29th (just east of 3rd) stands apart from its brick neighbors, and appears quite a bit older. As Christopher Gray of the NY Times explains, it likley dates to the late 1830s or early 1840s on an estate dating to 1747 purchased by John Watts, who called it Rose Hill Farm, after his original farm in Edinburgh, Scotland. The neighborhood south of Murray Hill is now called Rose Hill, though that name hasn't caught on too terribly. The adjoining brick stable is a survivor from the same era.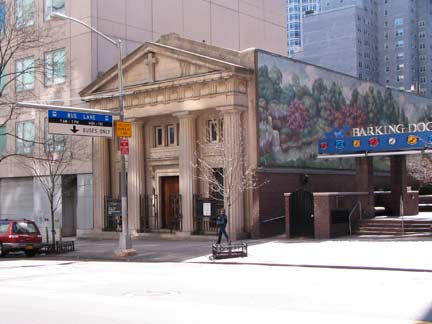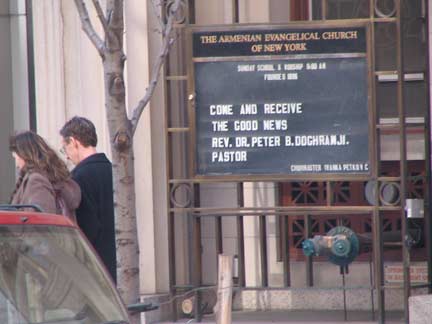 Entering Murray Hill proper, my first stop was at 152 East 34th between Lexington and 3rd Avenues, a Doric-coulmned, peak-roofed marble building now home to the Armenian Evangelical Church. Oddly, accounts differ on the age of the place; the AIA Guide to New York City says 1840s, while a listing in Panoramio says 1907, by the architect William Emerson. I wonder what church originally occupied the building. A plate in an 1885 atlas of the area shows a stone building on this site, so I'd have to say that the 1907 date is likely the correct one.
Thanks to ForgottenFan Peter Burke, I was referred to a listing in David Dunlap's From Abyssinia To Zion, a Guide to Manhattan's Houses of Worship, which says teh Armenian purchased what was originally the 19th Ward Bank (Emerson, 1907) in 1921.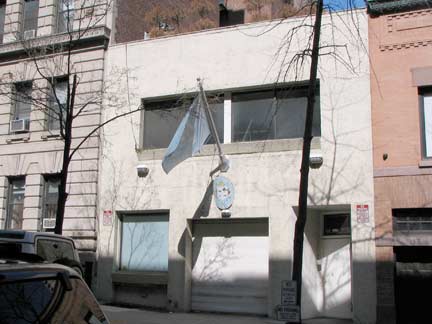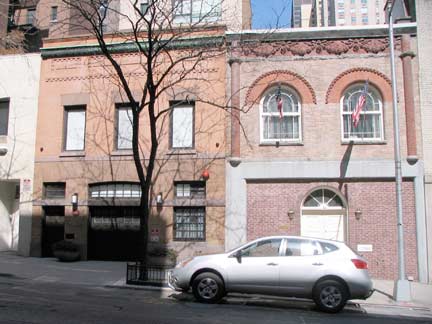 155, 157 and 159 East 35th, just west of 3rd Avenue. 155 and 157 were originally stables, then carriage houses. There are small stables and hostelries converted to residential use all over Murray Hill. They looked like this in 1935. Sculptor Malvina Hoffman (1887-1966) lived at 157 East 35th and also created works in nearby Sniffen Court, just to the north off Sniffen Court (see below). 157 has also been home to author Pearl S. Buck ("The Good Earth") and musician Lenny Kravitz. 155, the former home of commercial photographer Victor Keppler, is the least successful, at least on the bland exterior; the building is now home to a UN mission (what country?).
Corinthian columned Stern College for Women at 253 Lexington Avenue and East 25th, a division of Yeshiva University. The College was founded in 1954 at 253, originally Packard Junior College.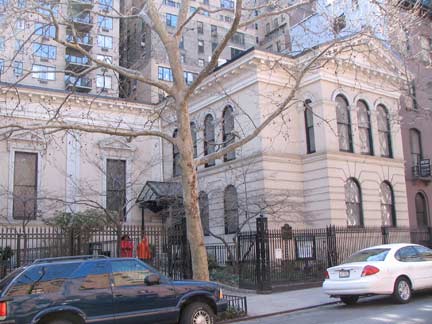 The New York New Church, 112 East 35th, began construction in 1858 by an as-yet unknown architect. It was founded by followers of Emanuel Swedenborg, a Swedish religious philosopher. The signboard presents luminaries who have been influenced by Swedenborg's philosophies, which differ markedly from other Christian churches in that he believed Judgement Day had occurred in 1757, and the Holy Trinity did not exist.
105 East 35th is one of a number of sliver thin, handsome town houses on the north side of the street between Park and Lex. This one is notable for a statue of a Greek goddess (or Muse, Grace, Fate, or whatever, though they usually came in threes) as well as a couple of classic-themed tableaux with gamboling cherubs.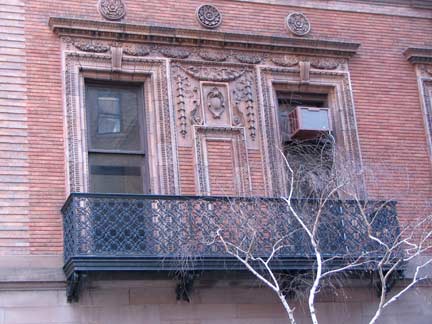 23 Park Avenue at the NE corner of East 35th was built for civic leader and NY State Senator and assemblyman James Hampden Robb by architect Stanford White in an Italian Renaissance style and built between 1888 and 1892. The Advertising Club of NY occupied the building from 1923-1977, so the fictional Don Draper of Mad Men may have had one of his traditional 3-martini lunches here.
Murray Hill is the site of many United Nations mission buildings, as stated above. Armenia's red, blue and orange flag can be seen outside its mission at 119 East 36th, along with some lettering in Armenian script (it is quite different from Roman or Cyrillic; some can also be seen at the Armenian church on East 34th shown above). A few doors down is the Chad mission, spelled Tchad on the French-language plaque.
A monster known as the "Marriott ExecuStay Aurora" towers over the townshouses of East 36th between Lexington and 3rd Avenues.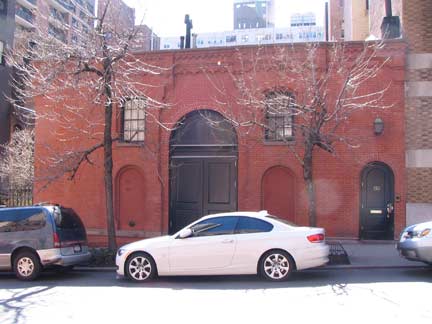 Yet one more of Murray Hill's small brick stables/carriage houses at 150 East 36th off 3rd Avenue, home of the members-only Amateur Comedy Club, founded in 1884:
Quartered in two former stables, the club mounts six productions a year for members and invited guests in a miniature, 115-seat theater in the clubhouse at 150 East 36th Street. There are no female members, although women do take stage roles – Julie Harris, then an amateur, appeared her in "The Devil's Disciple" in 1946. NY Times, 1982
I can find an H.P. Lovecraft connection in anything, and 150 East 36th has one: the Amateur Comedy Club gave comedy/fantasy writer and playwright Lord Dunsany, one of Lovecraft's chief influences, his first exposure to NY audiences in 1915, as this NY Times article from 1918 states.
Sniffen Court
Directly adjoining 150 East 36th (which is also called #1 Sniffen Court) is a collection of 10 stables/carriage houses that have become one of NYC's most expensive enclaves.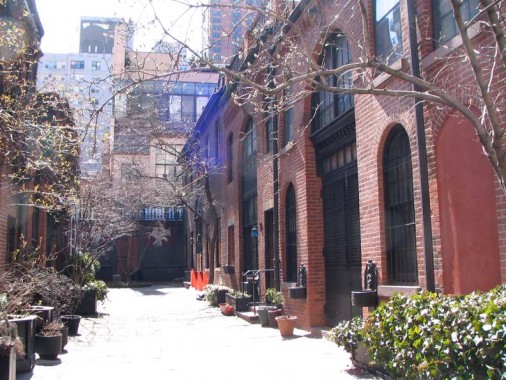 The newly-formed New York Landmarks Preservation Commission made Sniffen Court one of its first designees in 1966:
Sniffen Court was named for John Sniffen, a local builder who was retained by four developers who took four standard 25′ x 100′ lots and rearranged them for resale into ten lots, with common access to an alley. When carriages became fewer, individual premises were made over into dwellings, very much as were the stables in Washington Mews, off Lower Fifth Avenue. Today, two of these stables have been converted by an amateur theatrical group [the Amateur Comedy Club] for use as a small theatre, while another is used as an architect's office. In the twenties the large house, facing the street on the east side, with crow stepped gables, was remodeled by a well known architect as his home. The remaining units are small private residences. The south end of the court is terminated most effectively by the exterior wall of the sculptress Malvina Hoffman's studio. Miss Hoffman has adorned this wall with handsome, sculptured plaques of Greek horsemen. LPC report, 1966
The NY Times' Christopher Gray, however, disputed the John Sniffen story in 1991:
There is no evidence to connect Sniffen Court with its putative builder, John Sniffen, or anyone else by that name. Conveyance and tax records indicate that 10 two-story carriage houses were built in 1863-64 by James D. Smith, a merchant; John E. Wylie, a broker, and Caleb B. Knevals, a grocer. All three had downtown businesses but lived in the newly chic Murray Hill area. Between May and July 1864, Smith, Wylie and Knevals sold the buildings to local residents and their deeds called the alley that the stables shared "Sniffen Court." No. 5 was bought by James W. Alling, a leather merchant who lived at 67 East 35th Street.
Sniffen Court's street sign has been pilfered [as of 2011] but the cross sign at East 36th Street identifies the Sniffen Court Historic District, which is Manhattan's second smallest.
The battered bricks on the two gatehouses are opainted dark chocolate and coach gray. Planters of well-grromed begonias and bottle-green boxwood brighten up the flagstone mews. Add to this picture such accessories as brass door knockes, lopsided lanterns, leaded-glass windows, and tangles of ivy, and you have a cul-de-sac that gives p[assing pedestrians a good reason to pull in their reins and peek through the midable wrought-iron gate.William H. Hemp, New York Enclaves, 1975
Doors fans may recognize Sniffen Court from the cover of their 1967 LP Strange Days.
The album's artwork was designed by William S. Harvey and photographed by Joel Brodsky. The cover photo was taken in Sniffen Court, a small residential mews in New York City. Jim Morrison refused to appear on the cover, so photographer Joel Brodsky decided to use a circus-like photograph for the cover image. However, most carnivals were out on summer tours so it was a struggle for Brodsky to find professional circus performers. The acrobats were the only ones he could find; the dwarf Lester Janus and his younger brother (not twins) Stanley Janus (who appeared on the back cover) were hired from an acting firm; the juggler was Brodsky's own assistant; the trumpet player was a taxi driver; and the strongman was a doorman at a club.wikipedia
A video produced a couple of decades later shows circus folks moving in and out of the court, and period footage of The Doors.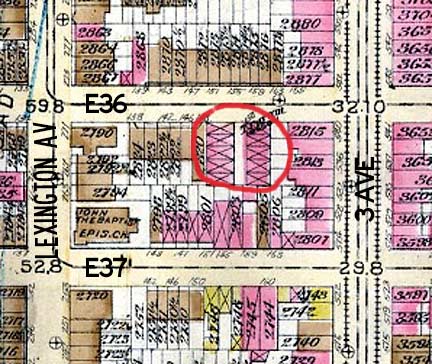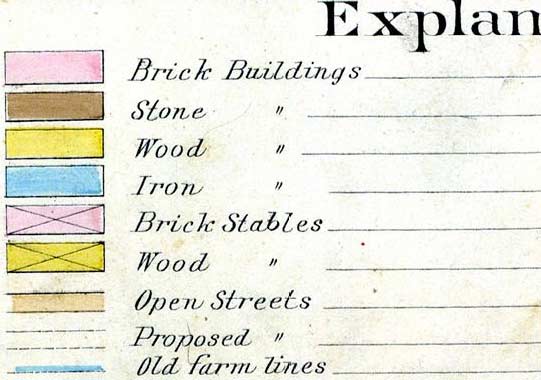 An 1885 atlas shows Sniffen Court as a collection of brick stables, but does not mention its name or any connection to a John Sniffen.
I couldn't get past the gate, but ForgottenFan Andrew Cusack, who has friends in lofty places, actually got inside one of the carriage houses in 2008 for an intimate look.
A selection of awning signs along 3rd Avenue between East 36th and 39th Streets. These are all actually rather new but they're going for a classic look and appearance. I believe the Dukes sign incorporates a couple of vintage Coca-Cola bullet signs.
Both Lexington and Madison Avenues were not originally mapped in the Randel Commissioners' Manhattan grid plan, which just celebrated its bicentennial in March 2011. By the early 1830s, local landowners sold enough property to the city so the avenues could be built amid the lengthy blocks between 5th and 4th (now Park Avenue) and 4th and 3rd. Lexington Avenue occasionally still shows signs of being completed later, with the sides of townhouses facing the avenue — such as here at East 37th and Lex. The King of All Buildings peeks down.
Yet another of Murray Hill's picturesque carriage houses can be found at 149 East 38th, just west of 3rd. The George Bowdoin Stable is a landmarked structure dating to 1902 (the date is emblazoned between the 2nd floor windows). The stepped facade was a hallmark of Flemish architecture. It was built for a local honcho, Richard Martin, but acquired by Bowdoin, a business partner of J.P. Morgan, in 1907. What does the bulldog represent?
Your webmaster, of course, was not vouchsafed a peek at the interior, but this NYTimes article supplies an idea of what it looked like in 1997:
The surprises continue on the other side of the facade of the former stable, purchased this year by Donald Saff, an artist and consultant, with some of the unexpected features of the interior having a distinctly late-20th-century feeling of whimsy. The novelty inside ranges from the practical — such as extensive use of skylights and glass-block walls — to those that Mr. Saff refers to as "James Bond" (a remote-control box in the master bedroom raises a curtain to a sunlight-filled shaft, and turns on lights and music) and "Miami Vice" (pink neon lights in pillars leading to the commercial kitchen).
Directly across the street, meanwhile, at 150-152 East 38th is another landmarked building, which is an 1858 gatehouse said to have belonged to a member of President Martin Van Buren's family. The house (only the top floor can be seen from the street) is set back far from the curbline and was given this extensive facade in 1934 by architect Robertson Ward — a 'gate' in front of a gatehouse. The property was further renovated in 2001.
Christopher Gray's researchindicates that the building was built by a Patrick McCafferty in 1857, so any connection with Van Buren is purely conjectural, despite what the historic plaque says.
The Bedford Hotel, East 40th and Lexington, reminds me a great deal of an apartment building downtown at East 19th Street and Irving Place constructed by George Pelham in 1929-1930. The downtown building is encrusted with pale yellow terra cotta gnomes, and while the Bedford is pretty much gnome-free, the two buildings looks like brothers and it wouldn't surprise me if Pelham was the architect here as well.
Finishing this relatively brief tour at one more stable, which appears to hew closest to its origins than any other seen here. The Jonathan Allen Stable at 148 East 40th, between Lex and 3rd, was constructed by Charles Hadden in 1871; the horses were stabled downatairs while the ostler or groom stayed upstairs. The building is today used as a veterinary facility and 'day care' for dogs and cats. It became a NYC Landmark in 1997.
3/27/11