I did a thorough survey of Staten Island's Tompkinsville and Stapleton, especially Van Duzer Street, in December 2010 (to match my earlier page on the gorgeous homes of St. Paul's Avenue). I wasn't finished that day, though, and after getting through Tompkinsville and Stapleton, I pressed further, into Grymes Hill, West Brighton, Randall Manor, Clove Lakes, and Staten Island's Sunnyside (to differentiate it from the more well-known Queens neighborhood.)
This further walk runs about 4 miles and runs past more of some of Staten's better-looking areas, skirts some poorer areas, and runs past two of the notches in Staten Island's greenbelt. Without stopping it takes about two hours to complete, but with my constant pausing to check things out, it took between three and four. The day went from crystal clear to heavily overcast, presaging the 4th snowiest winter in NYC history since records were kept in the mid-1860s, with over 5 feet of snow.
WAYFARING: GRYMES HILL TO SUNNYSIDE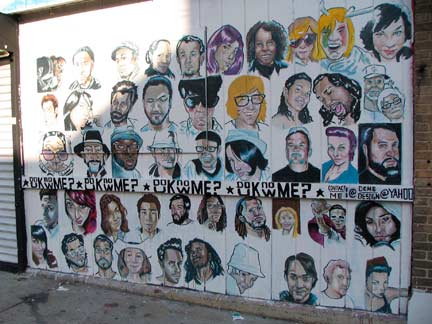 At Beach and Van Duzer Streets, a mural outside the Martini Red saloon apparently shows neighborhood denizens, or perhaps bar patrons.
At Jackson and Beach Streets is the steepled former St. John Baptist de la Salle Church, now used by a Protestant congregation, and the boarded up former school next door. The incredibly intricate ecclesiatical stone cut letters are still intact above the school entrance. Meanwhile, the porched 76 Jackson has some old fashioned lettering above the front entrance. The namesake saint (1651-1719) was the founder of the Institute of the Brothers of Christian Schools and is considered the patron saint of teachers. In nearby West Brighton, St. Peter's Boys High School is associated with the Brothers.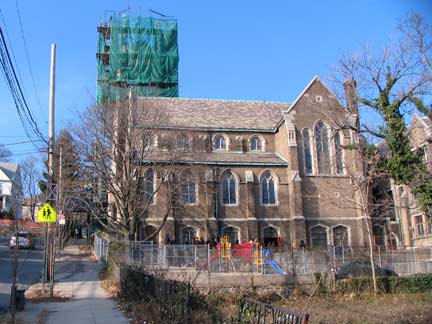 Though Catholic and Episcopalian churches tend to be grander than other Protestant denominations', Trinity Lutheran Church, at the corner of St. Paul's Avenue, is the exception, as it dwarfs the former St. John Baptist. The congregation was founded in 1856, with this massive edifice — the bell tower looks down toward the Narrows — opened in 1913, with Hobart Upjohn, grandson of famed church architect Richard Upjohn, heading the architectural team.
St. Paul's Avenue, looking toward Cebra. The stoplights have an unusual "do not turn left" arrow in place of the usual red light (other stoplights around town add an extra light for this sort of thing.)
In a borough that has more dead-ends than any other, Dyson Street, off Cebra Avenue north of St. Paul's, offers views of homes constucted around 1900 give or take 10 years, and an unobstructed view of the Narrows and the Verrazano Bridge. Much of Dyson Street falls under the St. Paul's Avenue — Stapleton Hieights Historic District.
The view will be available until its owner is able to build a McMansion on it.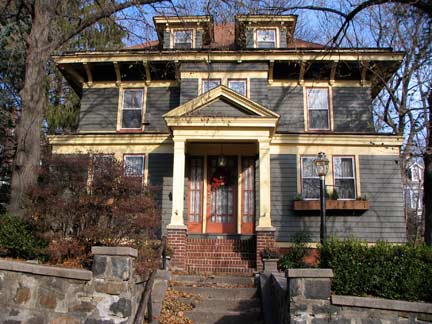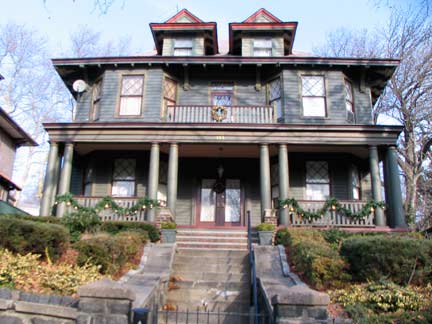 Most of Cebra Avenue's homes all fall under Landmarks protection. Two of the more outstanding ones are at #169 (top) and #155 (bottom). Both claim Henry G. Otto as architect; #169 originally has a closed porch like #155, but was altered in 1958. #169's original fieldstone concrete wall is still in place; it was owned by vintner Peter Goggi, whose winery was located on Van Duzer Street, in the 1920s and 1930s. #155 was owned by longtime local attorney and State Assemblyman (in 1905-1906) Arnold J. B. Wedemeyer. Both homes were built on the former grounds of early 19th Century owner Caleb T. Ward and were completed by 1912.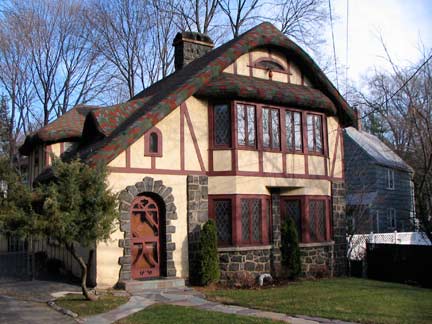 The magnificent Tudor 'gingerbread house' style building at 101 Cebra, north of Ward Avenue, is a gatehouse converted into a residence in the late 1920s by James Pietsch. The result is similar to the famed Gingerbread House of Bay Ridge but on a rather smaller scale. The garage got the same treatment! The house does not fall into the landmarked area.
The wreck of the Samuel R. Smith Infirmary looms over Cebra Avenue as it approaches Victory Boulevard. I have featured it in FNY before, but this angle is impossible to avoid photographing. Constructed in 1889, it has been home to Staten Island Hospital and a training school for nurses. Since the school moved out in 1979, the building has been left to crumble and moulder — as so many other historic structures on Staten Island have, from parts of Seaview Hospital to the Farm Colony buildings, to the Augustinian academy/retreat house, to the Manee-Seguine Homestead, and I could go on all day.
[2012: after over 30 years of abandonment, the Infirmary was razed in 2012]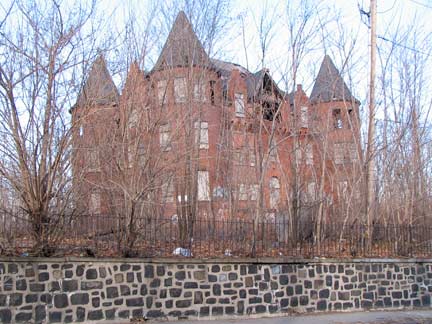 Not only has the Smith Infirmary been abandoned for over 30 years, but newer administration buildings constructed in the 1960s(?) on Castleton Avenue are also burned out wrecks.
Castleton Avenue, one of the main east-west streets between New Brighton and Port Richmond, is named for the former Richmond County town through which it runs. The town was one of Staten Island's four original towns from the colonial era, and was originally set aside as the manor of the governor of the Province of New York and was named for the manor of Governor Thomas Dongan in Cassiltowne in County Kildare, Ireland. Staten Island's towns were dissolved after it became part of New York city in 1898. In its eastern section, between Jersey Street and Brighton Avenue, it's one of Staten Island's 'twistiest' routes, with plenty of curves to angle around frequent hills.
Haven Esplanade
Silver Lake Park, Golf Course and Reservoir, and its better-known cousin, Clove Lakes Park, form a V on aerial views and Staten Island maps. Most of Silver Lake Park lies between Forest Avenue, Victory Boulevard, and several short streets in the West Brighton neighborhood, while the lager Clove Lakes Park stretches from Victory Blvd. and Clove Road northwest to Forest Avenue, bordered mostly by Brookside and Slosson Avenues and Royal Oak Road on the west, in Castleton Corners. I went past both parks on this walk.
Silver Lake, centered around a natural pond left over by a glacier, had been settled by the late 19th Century. A casino and an ice harvesting works had already occupied its shores when, between 1900 and 1904, parcels were acquired from local landowners and the park officially opened. In 1913 the lake was expanded into Silver Lake Reservoir and played an important role in the Catskill water system. The golf course, opened in 1929 on the park's western end west of the reservoir, was constructed atop several cemeteries and it has been postulated that several interred remains might still be found under the fairways.
Haven Esplanade is one of a couple of malled routes that extend north from the park to main east-west routes; it runs fro two blocks between Castleton and Forest Avenues and is home to some of the region's finer homes.
I had thought that Haven Esplanade was a descriptive name, as it's a quiet respite from the busy traffic found on both Castleton and Forest Avenues, but checking the NYC Parks website, I find that it honors a prominent local 19th Century businessman, Silas Nathaniel Havens.
Havens engaged in … farming, lumber, real estate, and feed enterprises. A well-known public figure, he was a trustee and director of the Staten Island Savings Bank, a stockholder in the First National Bank at New Brighton, and president of the board of trustees of the Kingsley Methodist Church of Stapleton. In 1858, Havens married Arabella Smith of Connecticut, and the couple settled permanently in New Brighton.
In short, he was one of the pillars upon which the new 19th Century village of New Brighton was built. A block west, Havenwood Road was also named for him. Further,
Mature trees, including London plane trees (Platanus x acerifolia) and pin oaks (Quercus palustrus), frame the centralized stairway leading down from the first part of the mall. Another row of trees creates a path to the next set of stairs, which lead down to the last level. New plantings in the fall of 2000 include white cedar (Thuja occidentalis), upright yew (Taxus baccata), several varieties of euonymous, forsythia, and perennials such as black-eyed susans (Rudbeckia hirta), white and purple Echinacea, and New England asters (Aster novae-angliae).
From Forest Avenue, a view of Silver Lake Reservoir and the bridge that bisects it, and at right, Silver Lake Golf Course.
Hart Boulevard is another center-malled street that runs to Silver Lake Park. At the corner of Forest Avenue is a monolithically inscrutable Verizon telephone office building. There are two streets named Hart in the area — possibly from a long ago deer presence?
Staten Island is a borough dominated mostly by short streets with about a dozen routes that traverse the island, many of them named "Richmond" after the county name. Forest Avenue is not as old as the colonial-era Richmond Road, Richmond Terrace, or Amboy Road, but is an amalgamation of several old routes including Forest Avenue in New Brighton, Cherry Lane in Port Richmond, and Washington Avenue in Mariners Harbor. In the late 1920s it gained additional importance because it was the main route that brought traffic to the Goethals Bridge to New Jersey until the 1960s, when the Clove Lakes Expressway (soon renamed the Staten Island Expressway) connected the Goethals and Verrazano-Narrows Bridges. Here we see Forest Avenue, mostly lined with small businesses, at about Oakwood Avenue.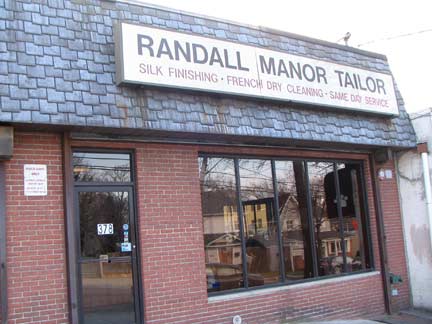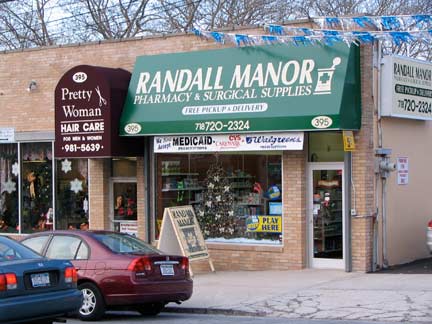 A small neighborhood just east of West Brighton — south of the Snug Harbor campus, north of Silver Lake Park, and east of Bard Avenue — Randall Manor was named for Robert Richard Randall, the founder of nearby Sailors' Snug Harbor. From the ForgottenBook:
Sailors' Snug Harbor, an 83-acre National Historic Landmarked District facing Richmond Terrace between Tysen Street and Snug Harbor Road, was founded in the Washington Square area of Manhattan by Robert Richard Randall when he specified that his fortune be left to the care of retired seamen without other means of support. Randall was the bachelor son of a privateer and knew well the toll a life at sea can take on the body and psyche. After Randall's death in 1801, over twenty years was spent in adjudicating claims to Randall's fortune, and by 1821, lower Manhattan had grown considerably and land for the sort of retreat Randall had had in mind was unavailable. But there was a solution in Staten Island: Snug Harbor trustees purchased Isaac Housman's farm in then-rural Richmond County in the 1830s, and architect Minard Lefever was commissioned to build Snug Harbor's magnificent Greek Revival edifices, only some of which remain today.
At its peak Snug Harbor was home to over 1000 seamen; by 1976 operations had relocated to North Carolina. The buildings were allowed to deteriorate for awhile, and some were demolished, but seven have been landmarked and Snug Harbor, opened to the public in '76,  has become a premier cultural center in NYC. The institute includes Staten Island Botanical Garden and Children's Museum.
At City Boulevard and Forest Avenue I found a modern-design church with an old tombstone, dating to 1929. Perplexed, I searched for another cornerstone, proving I was right that the church is fairly recent. The Our Saviour's Lutheran congregation was founded here in 1893 and is currently on its third church building, constructed in 1958.
Sunset Hill was a planned real estate development in Staten Island several decades ago. Strictly speaking, it consists of three north-south streets south of Forest Avenue: Metropolitan Avenue, City Boulevard, and the short cross streets between them. The homes found in Sunset Hill are occasionally picturesque cottages and there are some even smaller buildings interspersed between them.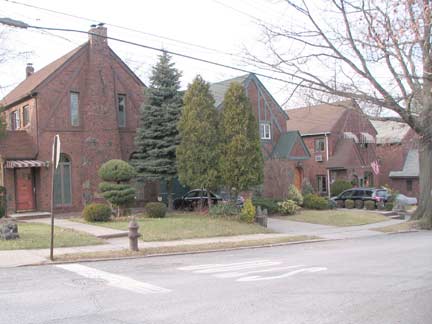 One and two family houses dominate in West Brighton. For example, some wood frame and brick dwellings at Bard and Mathews Avenues (top) and Mathews and Oakland Avenues (bottom).
The Department of Transportation is unsure how to spell Mathews Avenue, but the established spelling here is with one "t."New street signs in the Clearview typefont occasionally add an extra "t" which is usually there on most people named Matthew or Matthews.
The William H. Pouch Camp is a wilderness area home to a Boy Scout camp surrounding Ohrbach Lake in the Staten Island region east of Willowbrook and northwest of Todt Hill, accessible from Manor Road driving south from the Staten Island Expressway. The camp is short on funds, and might have to be sold, making way for more overdevelopment and the loss of a key Staten Island wilderness region.
Pouch was an industrialist who in 1916 founded Pouch Terminal, a pier and warehouse complex in Clifton on the northeast shore of Staten Island.
The Save Pouch Camp! signs are found on the lawns of many Staten Island residents.
Tyler Avenue lacks a sidewalk on its Bement (pronounced by locals BEE-mint, not BEMM-ent as I had suspected) and sports a Do Not Enter sign. Enter anyway on foot, because a surprise awaits you about halfway down the road…
The Gardiner Tyler Mansion, 27 Tyler Avenue between Bement Avenue and Clove Road, was constructed circa 1835 when most of the surrounding region consisted of farms and fields. President John Tyler's widow, Julia Gardiner Tyler (1820-1889) resided in this house during the Civil War. Virginian John Tyler, the 10th President, was the first US President to be married during his administration. His widow moved here after his death in 1862; even though she was born in New York, she ardently supported the Confederacy. John and Julia Tyler are buried in Richmond — Virginia, that is, not Staten Island.
The mansion faces St. Peter's Cemetery, a West Brighton fixture since the mid-1840s. It lies on each side of Clove Road (itself an Indian trail through the hills, later a colonial route) north of Clove Lakes Park.
In this cemetery is buried 55 Civil War veterans, as well as Vietnam hero Father Vincent Capodanno (of the South Beach, Staten Island boulevard fame). Only Staten Island residents are buried here.
An icy day at Clove Lakes Park. This 198-acre park's name, and that of the road that borders it, has nothing to do with clover; instead, it is derived from the Dutch term for "cleft," and to gain perspective on why, observe how the nearby Staten Island Expressway divides Grymes Hill to its north and Emerson Hill to its south; the expressway describes Clove Road's former route "cleaving" the hills.
Beginning in 1825 the brook that runs through the park was dammed into a series of ponds, Brooks Lake, Martling's Pond, and Clove Lake, by miller Abraham Britton. Where the brook meets the ponds, you will see a succession of picturesque waterfalls, the only such on the island.
Adjacent to the athletic fields is a one-story building that was built in the early 1930s to provide restrooms and other facilities. Constructed of native fieldstone, the 'Field House' was designed by O.A. Madsen and renovated by Aymar Embury II. In 1989 the building was named 'Stonehenge' for the mysterious megaliths in Wiltshire, England. NYC Parks
Clove Lakes Park served as my introduction to Staten Island when I was a kid. I was on one of the first TA buses to cross the Verrazano Bridge in November 1964, and the B7 route (since changed to the S53) terminated at the time at Victory Boulevard and Clove Road, at the entrance to the park. My parents and I visited a number of times in the years following as a change of pace from Prospect Park. One of the first times I went exploring was in 1965 at age 8, when I set off on my own to cross the park from one end to the other.
However I did not inform my parents of my intentions, and after an hour of happy solitary exploring, a lost shoe and pickup in a park vehicle and a thorough bit of discipline from my father (I was mystified that I had offended him) I was back on the bus to Bay Ridge with the old man, expecting punishment from my mother, but she merely said I had been punished enough. At age 11 I began roving with my bicycle all over the borough, but I didn't start bringing my camera everywhere till 1998, to my eternal regret.
A pair of houses on Cypress Avenue south of the park in Sunnyside. Perhaps some ex-Queens-ites named the neighborhood, which also contains a Northern Boulevard. I actually don't mind the new treatment on the house on the right. It is sleek and modernist, but the lawn is still there, though I would have made the windows bigger.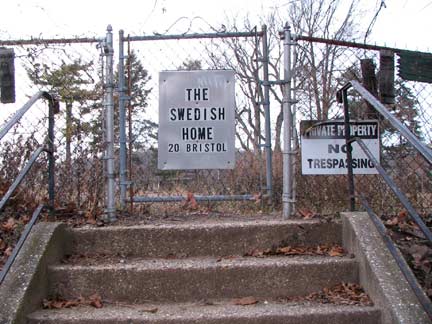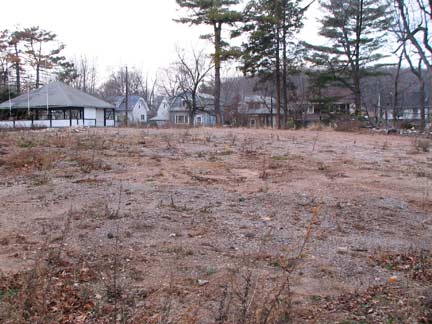 I have only myself to blame — I consulted the 1988 AIA Guide to NYC before this walk. My 2000 edition has fallen apart from poor binding and the 2010 is still amateurishly bound, and neither can stand up to the thorough workouts that I give them. But 1988 is 23 years ago [in 2011]. I thought I was going to find the 1870 Swedish Home for Aged People (originally the L. B. La Bau residence) at 20 Bristol Avenue, but by the time I got there, the fence protected nothing but an empty lot. It closed in a hurry in 2008 after nonpayment of back taxes became a problem. The house was never landmarked, and a developer swooped in like a vulture and razed it. The Great Recession has stopped the developer from building anything there, apparently. The Home occupied the building from 1912-2008.
Swedish traditions such as Julgransplundring, the ceremonious discarding of the home's Christmas tree, were maintained, and Scandinavian flourishes like the Swedish flag and a red clapboard woodshed could be found at the home. SI Live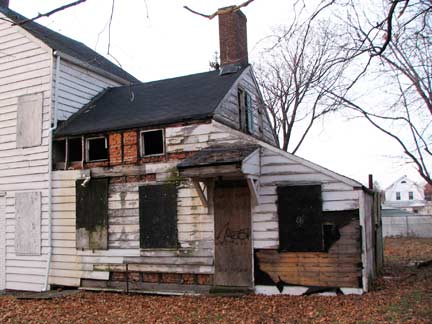 There are a pair of vintage homes nearby, though, one in rotten shape, the other a well kept place. The rotten one first: the John King Vanderbilt House, 1197 Clove Road north of Victory, was built in the 1830s for a member of the Staten-Island based Vanderbilts (more houses built for the Vanderbilts can be found on their namesake avenue in Clifton and Park Hill). The house was rebuilt in 1955 under the auspices of historian Dorothy Vanderbilt Smith (see below) and declared a NYC Landmark in 1897, which no doubt is the reason for its continued existence.
Meanwhile, D.V. Smith's own former home, 146 Waldron Road, just around the corner, has been well-maintained. It is a landmarked Queen Anne style house of more recent vintage, built in 1895.
The Dorothy Valentine Smith House stands on land which during the 18th century was part of a farm owned by successive generations of the Corson family to which she is related as well as to the subsequent owners and occupants of this property, all members of the interrelated Vanderbilt and Vredenburg families. Employing elements of Queen Anne style, as it was used in the United States, the house was constructed in 1893-95 for John Frederick Smith, Miss Smith's father…
The Smith House bears a complementary relationship to the adjacent John King Vanderbilt House (1197 Clove Road) built in 1836, which, although using a different stylistic source, has many similarities in facade elevations and plan. A leading figure in Staten Island banking and insurance circles, John Frederick Smith was also an active participant in Staten Island's civic and cultural life. His house on Clove Road became his daughter's lifelong heme. Miss Smith, like her father, was involved in many civic and social service organizations, and she was a staunch guardian of Staten Island's history. Author of several books and numerous articles on the subject, Miss Smith also played a pivotal role in Richmondtown Restoration Inc. and the Staten Island Historical Society, all activities which helped Staten Islanders to recognize the importance of their heritage. NYC Landmarks Report
Photographed December 2010; page completed April 25, 2011