When I moved to Flushing, Queens in 1993 I was amazed to find how wide open it all was, once you got away from the super-crowded downtown Main Street area. The avenues were super-wide, the houses were small and had big lawns, and things were generally a great deal more suburban, not in the quaint small-town sense (I had that exprience in Port Washington, where I worked from 1992-1999 and again 2006-2011) but in the somewhat boring, bedroom to the city sense. I'm talking strictly in an architectural or esthetic sense, of course. It's surprising how your perspectives can be altered from time to time. When I worked in Nassau County I considered myself more of a Long Islander, but now that I'm not, once again, I identify more as a Queens-ite or a New Yorker. I suppose it all depends how welcome I am made to feel.
Since western Queens, from Astoria to Long Island City to Hunters Point to Ridgewood to Maspeth to Elmhurst, has been covered extensively in FNY beginning in 1998, with much more left to cover, I have decided to turn to the city line area in eastern Queens from Little Neck (where I live now) south to Bellerose, Queens Village, St. Albans, Laurelton, and Rosedale for inspiration. These parts of town, though, were largely developed after World War II to fill the housing needs not only of GIs returning from the war but also for immmigrant populations and the baby boom that followed the war years. This meant many areas were developed as tracts, with entire blocks looking pretty much the same. If you turn the clock back far enough, though, this was farmland dotted with small villages and settlements. I strive to pull back the suburban veneer and show the relics of the past that allow themselves to be seen, or are allowed to remain.
What is now eastern Queens was mid-Queens from the colonial era till 1898, when the three easternmost towns (North Hempstead, Hempstead, and Oyster Bay) decided to form Nassau County. Sometimes I wonder what Nassau County would have been like if it had not only remained part of Queens and the entire shebang (today's Queens and Nassau) had joined the Bronx, Brooklyn, Staten Island and Manhattan in creating Greater New York in 1898. Would Nassau be as suburban (especially on the north shore) as it is now, or would it have had a street grid imposed on it, and the Queens street system extended out to the Suffolk line (it would have likely reached the 400s, as Queens' easternmost numbered street is 271st). We will never know.
I walked south from my home on Little Neck Parkway, down Marathon Parkway (profiled in FNY a few years ago) and then south on one of Queens' littlest-known boulevards, Commonwealth (you know Queens Boulevard, Northern Boulevard, Rockaway Boulevard, and about a dozen others of similar importance, but Queens is also rife with smaller boulevards as well). I did find some surprises along the way, but it's something of a bland way to go.
WAYFARING: NORTHEAST QUEENS WALK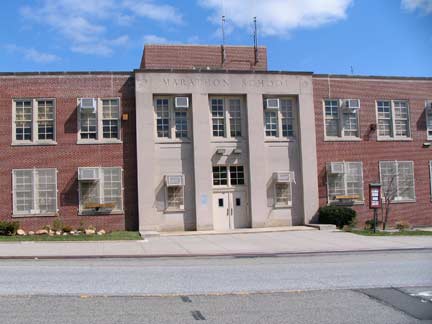 Marathon School, now PS Q811, Marathon Parkway and 63rd Avenue, was built in 1952 at the beginning of the Dwight Eisenhower years. The grandiose architecture of the C.B.J. Snyder years (Snyder, the architect of Flushing High School, was the pre-eminent NYC school architect in the post-Gilded Age) had past by the early Fifites, but schools were still being built to somewhat majestic and sophisticated templates then.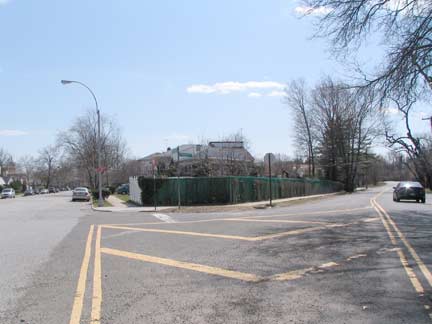 Commonwealth Boulevard diverges from Marathon Parkway south of 63rd Avenue, and for a few hundred yards, looks exacly as it must have when first opened sometime in the 1930s. (It appears on Queens maps by the 1920s, but street maps get information from city planners and developers and often do not depict streets that are open, but streets that are soon hoped to be opened). No sidwalks on either side. The paving was likely added some time after the street opened. I have a Shell gas station map (made by the defunct Gousha map company) the shows Commonwealth as the southern extension of Marathon, with no cross streets.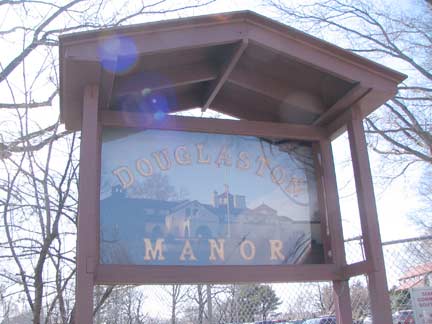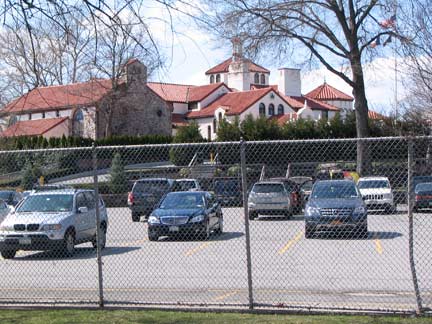 Douglaston Manor, at Marathon and Commonwealth, is the Spanish Mission clubhouse (Clifford C. Wendehack, architect) of the Douglaston Park Golf Course (formerly the North Hills Golf Club, founded 1927). The Douglaston was founded here in 1962 after North Hills moved to Manhasset in Nassau County. The clubhouse is also available for rental for weddings and catered affairs.
The expanding Children's Hospital of Queens (now known as Queens Children's Psychiatric Center, and once the Brooklyn State Hospital) has a campus on both sides of Commonwealth Boulevard south of the Grand Central Parkway. QCPC treats emotionally disturbed children ages 5 to 18 in a variety of services.
[see comments below for clarification]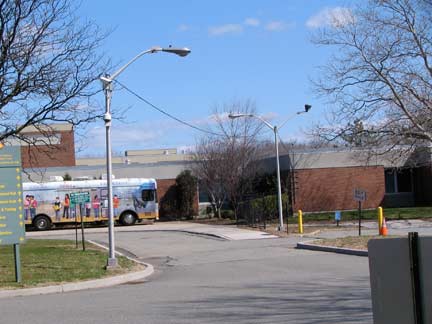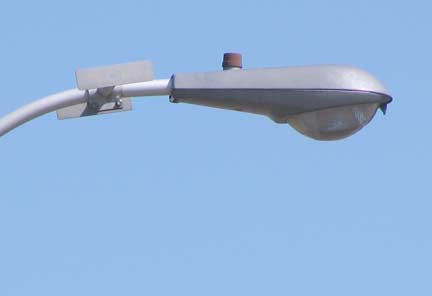 A recent replacement program has wiped out most of New York's remaining 1960s lamppost lumniares and replaced them with a single version (the Crouse-Hinds Cooper OVC), reducing drastically the variety of styles formerly seen. The exception is in private parking lots and driveways, like here in the QCPC lot, where some of the old styles remain. This is a Westinghouse OV-15, a bit smaller and lighter than the larger Westy OV-25 that was used quite frequently from the 1960s through the 1980s and battled for streetlamp supremacy with the General Electric M400 on the streets of NYC.
The main office building of the Creedmoor State Hospital on Winchester Boulevard north of Union Turnpike dominates the skyline of much of northeast Queens and can be seen from as far away as Bayside. The original hospital, the Farm Colony of Brooklyn State Hospital, opened in 1912 on the former grounds of the Creedmoor Rifle Range, which had occupied the former Creed farm from 1870-1892. Much of the Farm Colony is in place today as the Queens Farm Museum; the fresh outdoor air was considered helpful in the rehabilitation of psychiatric patents. Residents at Creedmoor peaked at 7,000 patients by 1959, and slowly but steadily declined thereafter. Today the population is under 500 as outpatient tratment for many psychiatric patients has become the norm, and many buildings on the Creedmoor campus have been abandoned.
A Cyclops stoplight regulates traffic at the QCPC driveway at Commonwealth Boulevard.
As has been said, this part of Queens is heavily residential. At left is Glen Oaks Village, a garden apartment complex on Commonwealth north of Union and at right, one of the many freestanding private homes in the Glen Oaks neighborhood at 80th Road.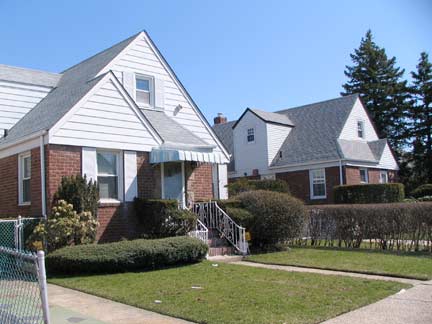 The suburban aspect of northeast Queens is reflected in one house plots and carefully maintained lawns yet, you know you're still in the city as all streets have sidewalks.
Take a look at this unusual stretch along Commonwealth between 83rd Avenue and Hillside Avenue. These houses are all right angles — nothing diagonal or slanted, anywhere. I wonder if these buildings fare worse when it rains. Across the street, the Cross Island Parkway approaches Commonwealth Blvd. but doesn't intersect it.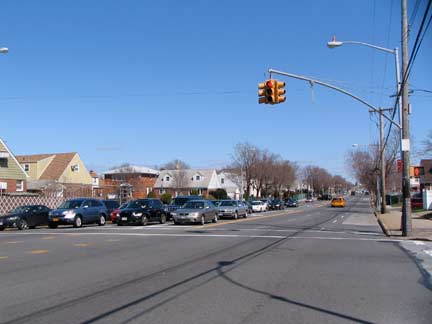 Hillside Avenue takes the place of 84th Avenue in eastern Queens. It runs just south of a high hill in Briarwood and Jamaica Estates, hence the name. The western section appears in maps in the early 1900s, and it was extended east as the region was built up. Arising at Myrtle Avenue in Richmond Hill (as does Union Turnpike) it extends east, as NY State 25B, well into Nassau County (becoming East Williston Avenue briefly in East Williston) until it merges with Jericho Turnpike in Old Westbury.
When you are in a relatively "new" part of town a good way of carbon dating the architecture is take a look at one of the churches, which usually have cornerstones indicating the year they opened. Holy Trinity Lutheran, Commonwealth and 87th Avenue for example, was finished in 1939 and has what could be their original billboard.
This dormered house at 86th Ave and Commonwealth is the largest in the neighborhood.
The Catholic St. Gregory the Great school (top two photos) and church (bottom two) have an unusual arrangement — while both can be found on the block between 87th and 88th Avenues, they are separated from each other by the Cross Island Parkway. The church dates from the same era as Holy Trinity Lutheran, as the cornerstone reads 1936, so we can imagine that area was built up in the late 1930s. The Cross Island was also built in the late 1930s, along with the rest of the Belt Parkway as part of NYC's Belt System of parkways conceived by traffic czar Robert Moses. The parkway originally has a more parklike appearance, but has become more like an expressway over the years, with the exception that the overpasses are too low to permit truck and bus traffic.
Saint Gregory the Great, or Pope Gregory I (540-604) held the pontificate from 590 till his death. He was a prolific writer and liturgical reformer. Gregorian chant, used in medieval church services, was erroneously thought, centuries after his death, to have been initiated at his behest.
A gash through Queens
In 1872, entrepreneur Alexander T. Stewart had grand plans for a new city in eastern Queens County — ultimately, it became Garden City — and built a railroad that would connect it with the East River ferries, called the Central Railroad of Long Island. In today's configuration, it branched fro the Port Washington Line tracks about where the Van Wyck Expressway runs today, and ran in nearly a straight line to the Garden City area. The line was not a moneymaker, however, and ceased operations after only two years. The railroad's right of way, though, has long outlived its railroad, and defines Queens' street pattern to this day. It forms the boundaries of Kissena Corridor Park in mid-borough, and causes some inconvenience for motorists attempting to travel north-south in the present day.
By 1891, the Central Railroad of Long Island had been cut back to a spur that traveled to the Creedmoor Rifle Range, and can be seen on this map as the branch reaching a dead end at "Creed Moor Sta." The old right of way contuinued northwest from there. It crossed Jericho Turnpike at the intersection of Little Neck Road and entered Floral Park.
Moving forward sixty years, this Hagstrom map from 1952 shows the Creedmoor Spur still in place, ending just west of Winchester Boulevard. The tracks, though, had pretty much been abandoned by that time though fantrips were still able to use steam locomotives on the tracks, as depicted in the invaluable Arthur Hunecke's Arrts Arrchives page on Creedmoor.
Note: very few streets were laid out through the railroad right of way. Today, only Commonwealth Boulevard, Cross Island Parkway and 235th Court (shown as Pistol Street on this map) and Winchester Blvd. are through streets.
The right of way of the Central Railroad of Long Island is marked by this row of posts looking east from Cross Island Parkway south of 87th Avenue looking east.
A parking lot north of 88th Avenue on the west side of Cross Island Parkway limns the ancient CRLI route. The back yards of homes on 87th and 88th formed the railroad route and, who knows, some archeology digs in those backyards might yield some rails, track or railroad spikes. Which, by the way, have turned up on the Creedmoor grounds in recent decades, according to Bob Andersen's LIRR History page.
Gettysburg Street meets a dead end at the railroad right of way north of 88th Avenue. 235th Court, meanwhile (left), is the only side street in the neighborhood that makes it through the railroad cut.
You could cut your finger on the peaked roof of this house on 87th Avenue.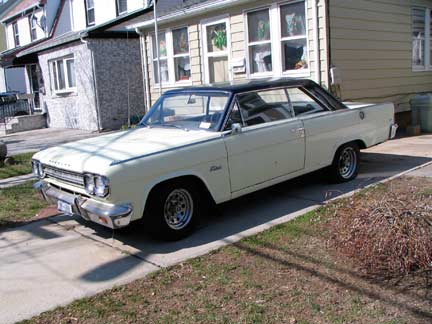 AMC Rambler Rebel, likely a 1965 or 1966 model, 88th Avenue near 242nd Street.
A new house on Pontiac Street south of 88th displays the new paradigm for lush, green lawns.
In Bellerose, Braddock Avenue is the main connecter between Hillside Avenue and the Nassau line at Jericho Turnpike, a four lane road with a center median. It is a very old road, the former market road between Flushing and Jericho Turnpike.
I like the hand lettered approach to ever changing gasoline prices.
Corporate Wonderland
The intersection of Braddock and Hillside, one of the busiest in Queens, is the borough's nexus of chain stores/restaurants and corporate branding. All of the following can be found here:
Spencer Avenue
Going east to west, Spencer Avenue arises somewhat subtly at Springfield Boulevard and Braddock Avenue, a two lane street with modest brick residences on each side. It is destined to turn into one of northern Queens' busiest routes…
A water tower looms over the brick houses of Spencer Avenue just west of Springfield.
At 217th Street Spencer Avenue begins to pick up steam as traffic is fed into it from the north-south cross street. Traffic is still light enough that only a blinking cyclops stoplight is sufficient to regulate traffic.
Between Springfield Blvd. and 217th, Spencer is normally narrow, but after accepting traffic from Sawyer Avenue and 217th Street, it becomes a busy four-lane route.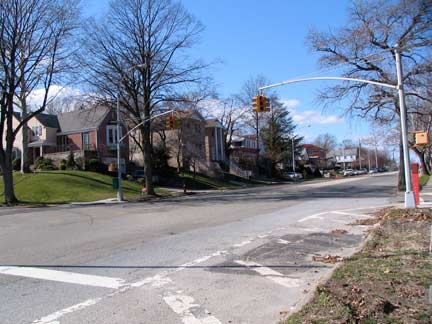 And after passing under the Grand Central Parkway, Spencer Avenue is recast as Bell Boulevard, and roars for five miles through Hollis Hills, Oakland Gardens and Bayside until it reaches the Cross Island Parkway at Fort Totten.
In this section of Queens the Grand Central Parkway runs along the same hill, a remainder of the glacial period at the close of the Ice Age, that Hillside Avenue is named for. Some large homes on Spencer Avenue have been built along the hillside, some classics (top) and some that probably won't win architectural awards (bottom).
Thoroughly modern Union Turnpike, Hollis Hills, at Bell Boulevard: Roman Catholic Church of the America Martyrs (1967) and Windsor Park Library.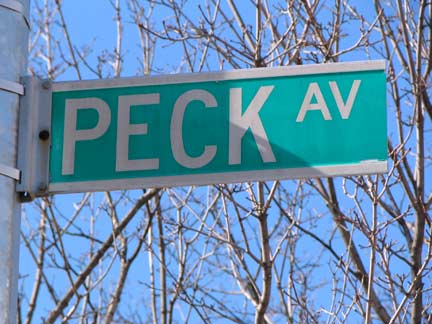 Peck Avenue, one of eastern Queens' ore unusual streets, runs in pieces from Flushing to Holis Hills, generally on the south side of the former Central Railroad of Long Island right of way. The easternmost part intersecting Bell Blvd. was the first to be laid out, according to my 1940 Gousha map. Running parallel to Peck Avenue here is Stewart road, another reminder of the CRLI and its developer, Alexander T. Stewart.
Peck Avenue is named in honor of longtime Flushing resident and property owner Isaac Peck (1824-1894). In 1847 Peck settled in Flushing. Owning most of the property, Isaac Peck built a three-story department store along Clinton Street (now part of College Point Boulevard). The second floor of the structure held a terrace upon which patrons waited for the steamer Flushing. The ship carried passengers from the communities of Jamaica, Whitestone, and Bayside into Manhattan (reachable at the time only by boat). NYC Park
North of Peck Avenue, Bell Boulevard passes under an overpass that once carried the Long Island Motor Parkway; when first built in the early 1900s, it was Long Island's first major auto route. It was extended into Queens from 1924-1926, at which point it ran from today's Grand Central parkway to Lake Ronkonkoma. Though the pathway in Queens is now used by bicycles and pedestrians, some of the on ramps (like the one here) can occasionally be discerned. When Robert Moses built the Grand Central and Northern State Parkways in the 1930s, the LIMP's revenue was greatly reduced, and it was closed in 1938.
You wouldn't know it from the presence of PS 205, the Alexander Graham Bell School, or the playground Telephone Park adjacent to it but Bell Boulevard was not named for the man who first patented the telephone, but shipping merchant Abraham Bell, who purchased about 250 acres in what is now Bayside in 1824. Bell Boulevard (at first named Bell Avenue) was once the dividing line between his two farms. Bell's mansion on Bell Blvd. and 39th Avenue remained standing until 1971, when it gave way to a building now home to a Tiger Schulman judo school.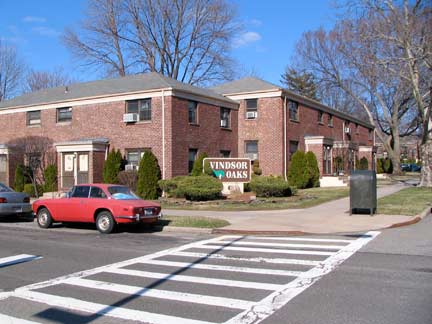 Vast acreages of Queens housing in the Bell Boulevard are given over to the Windsor Oaks and Windsor Park developments. The housing was likely named to give it a patina of sophistication, adopting the name of Britain's ruling family.
Alfa Romeo, 1970-1972, 217th Street near 75th Avenue. The auto maker's badge is distinctive and incorporates heraldry elements from medieval times.
[The shield] was designed in 1910 by an Italian draughts man Romano Cattaneo who used two heraldic devices traditionally associated with Milan: on the right is the Biscione, the emblem of the House of Visconti, rulers of Milan in the 14th century; on the left is a red cross on a white field, the emblem of Milan, which Cattaneo had seen on the door of the Castello Sforzesco. wikipedia
Before finishing in northeast Queens, time for lunch at Pete's Diner at 73rd Avenue and Bell Blvd., which advertises breakfast, lunch and dinner, which are three of my favorite meals.
Photographed March 2011; page completed May 8, 2011