Though Times Square has certainly changed since I was in school, St. Marks Place (opinions are divided over whether it gets an apostrophe) remains an epicenter of NYC counterculture – come – tourist trade, as Midwesterners, Europeans and Far Easterners flock there for an 'authentic' NYC experience. I have spent time on St. Marks in the past, but to frequent the comic, book and record shops. I came too late for the Fillmore East or Electric Circus, instead attending shows at CBGB or Irving Plaza (and I was never a big concertgoer). I have an affinity because many friends frequented and lived in the East Village, and as you might guess if you are a Forgotten NY reader, nostalgia is one of my primary activities. In May 2011 I walked St. Marks Place again and many of the locales I was familiar with are still holding firm, as well as most of the artwork of one of my favorite NYC "street artists" ….
Approaching St. Marks Place from the west, you arrive at Cooper Square, a lengthy intersection where five roads meet: East 8th Street, Astor Place, Lafayette Street and 3rd and 4th Avenues (4th Avenue is not officially named that until it get north of East 9th). Seen from East 8th is the remarkable Cooper Union Building.
Cooper Square (Astor Place at 3rd and 4th Avenues), was named for industrialist and inventor Peter Cooper (1791-1883), the developer of the first practical steam engine. He helped build America's iron and cable industries (partnering with Samuel Morse in laying the first trans-Atlantic cable), and was one of the first developers of gelatin made from rendering mammal remains. In 1857 he founded Cooper Union for the Advancement of Science and Art in a new brownstone building at one of Manhattan's true crossroads, the Bowery (originally the Post Road) and Astor Place, once known as Art Street. The building is supported by steel rails invented by Cooper himself.
Directly in front of the building on a traffic island formed by Lafayette, Astor and 4th Avenue (labeled Cooper Square here) is Tony Rosenthal's nearly one-ton steel sculpture, Alamo, which resembles an all-black Rubik cube with fewer squares. It is positioned so that with a little heft, you can revolve it on its base with a push. The work has been there since 1967.
The mosaics of Jim Power have been in place on light poles along St. Mark's Place, and on other East Village locales, for nearly 25 years. Power, a Vietnam veteran who has patrolled the East Village after his return from the war, has lived in various areas in Lower Manhattan with his beloved dog for the last few decades and has found a niche in fine art, decorating the area with ceramic pieces and bits of crockery that he glues onto exterior surfaces. At first, the applications were purely decorative, but over the last few years, Power has become something of an amateur historian, working the names of personalities and famed buildings of the past and present into his designs. As he becomes older and more infirm, he has taken on a protege named Al Bonsignore, their work has been getting ever more attractive. During the Giuliani era, many of his lamppost works were removed, but today the Department of Transportation practices a brand of benign indifference. He is now able to pursue his passion, which has, as yet, unfortunately not accrued him much income, other than some local businesses hiring him for murals and such.
Power has a number of mosaics in the Cooper Square area depicting other nearby locales such as Union Square, which is 5 blocks away, and elsewhere remembering vanished rock venues in area like the Anderson Theater and the Fillmore East. Falafel and shawarma are street foods featuring chickpeas and lamb.
Looking south on 3rd Avenue reveals new Cooper Union buildings and condos with futuristic designs.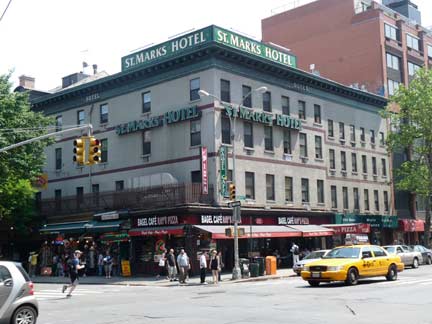 The St. Mark's Hotel, on the SE corner of 3rd Avenue and St. Marks, was originally the Valencia Hotel and the ground floor hosted the Five-Spot, one of NYC's premier jazz venues, where Thelonious Monk first made a splash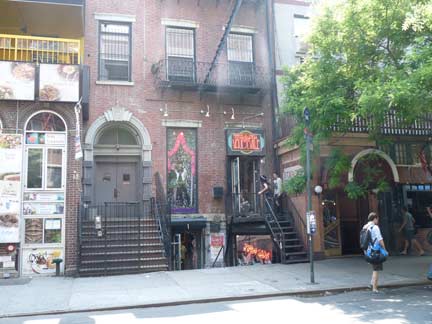 #4 St. Marks hosts the longtime clothing store Trash & Vaudeville. Many of St. Marks Place's buildings have been here a very long time — #4 was built in 1831 and two years later was purchased by Alexander Hamilton's son (also named Alexander Hamilton). It was also the home of author James Fenimore Coooper from 1834-1836.
St. Mark's Comics, #11 St. Mark's, wasn't my prime venue for comics buying, though I have been in a number of times. My preferred locale was Forbidden Planet, still in business but then at Broadway and West 12th, in a creaky-floored, non-air conditioned space — I would be in on lunch hour from a day job and later, Friday afternoons before reporting to my night job.
Known as Arlington Hall and originally built in 1833 as a German music club headquarters, #19-25 continued to have a musical pedigree almost to the end of the 20th Century. It became the Polish National Home in mid-century and later, the club Electric Circus, where Lou Reed and the Velvet Underground held forth in Andy Warhol's Exploding Plastic Inevitable. Jimi Hendrix and the Grateful Dead played there as well. Later, it did time as a community rehab center. Recently the front was redesigned with bricks recycled from an upstate NY mill. Billy Joel fans will remember this as the place where his 1986 video "A Matter of Trust" was shot in one of the basement spaces (I am not sure which one exactly). Though The Piano Man does not play guitar, he wields a Les Paul model in the video.
All those years I was bringing home stacks of wax from Sounds at #20 St. Mark's, I was unaware, or not paying attention to, the fact that I was in a historic home, in fact the only survivor of an entire row of identical Greek Revival houses built in 1833 for developer Daniel LeRoy. (I didn't really have an everyday Forgotten New York sensibility until the mid to late 1990s). In the days when I would prowl the racks for interesting sounds I heard on the radio, my three prime venues were Sounds, Venus Records, which by the mid-1980s was on West 8th near 6th Avenue, and the once-invincible Tower Records at Broadway and East 4th, with its yellow and red vinyl bags. The mighty have indeed fallen.
The target motif near the roof at #12 er, ah, "marks" the former home of the German-American Shooting Society, constructed in 1885, making it a relative junior on the block. The German inscription says "Unity is strength." This is one of a number of remnants of the heavily German neighborhood that clustered in the East Village in the late 1800s. It was devastated by the General Slocum steamboat disaster which claimed the lives of over 1000 day trippers. Kleindeutschland never recovered from it.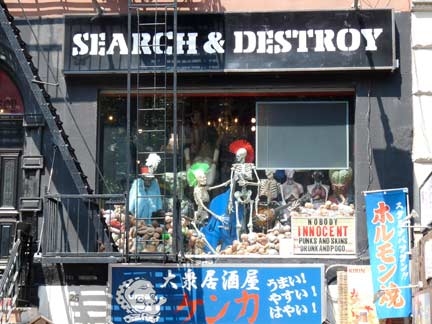 Search and Destroy, the punk clothing store at #25 on the east end of Arlington Hall, likely takes its name from the Iggy Pop and the Stooges' 1970s classic.
Bull McCabe's at #29 was previously called Finian's Rainbow. Two doors down at #33 (it was scaffolded so I didn't shoot it) was Manic Panic, a boutique owned and operated by two former singers with Blondie (who also appeared in the Sic Fucks), Tish and (the original) Snooky. Manic Panic, today mainly known for hair dyes, operates out of Long Island City these days.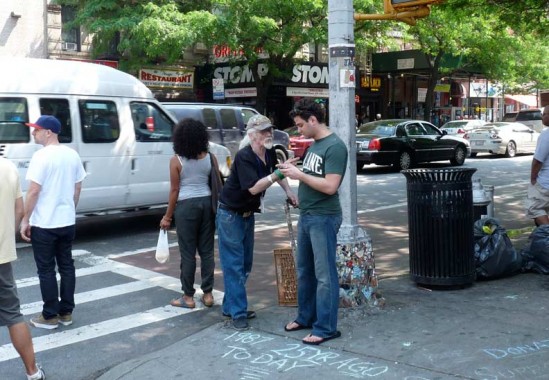 At 2nd Avenue and St. Mark's, I spotted the master mosaic man himself, Jim Power (beard, hat). I would have introduced myself but he was in a conversation (with Matt Rosen of East Village Neighborhoodr as it turned out). Note the mosaic-lined cane. One of these days….
His math regarding the 25-year anniversary of his East Village mosaics is a bit off. It's actually the 26th anniversary, if he chalked it there on May 27, 2011, the day I happened by. That means I shot this page on the very date he began doing his mosaics.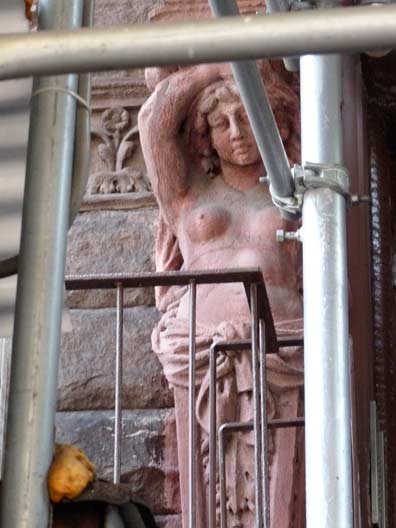 What I call the Mermaids of St. Marks (there are actually a pair of these caryatids just west of 2nd Avenue) is almost invisible behind scaffolding.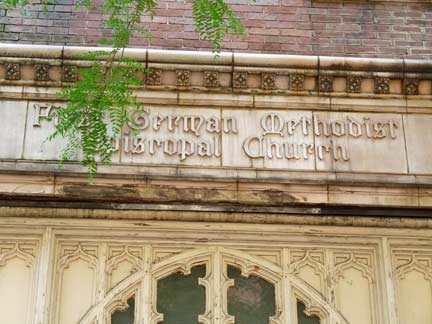 Another Little Germany remnant at #48, Church of the Village, was the First German Methodist Episcopal Church.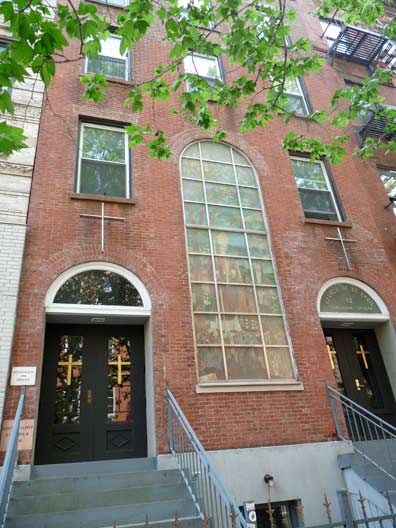 One of the surprising things about St. Mark's Place is that there are a few churches scattered here and there, though they take pains to not stand out very much. At #62 is the Church of St. Cyril and the Slovenian Cultural Center.
I have been in the Holiday Lounge at #75 many times, though only once in the past 20 years. Owner Stefan Lutak, who fought the Nazis at the Battle of Stalingrad, passed away in 2009 at about 89 years old. Inside was dark except for Christmas lights, and you were able to get cheap, cold beer and cigarettes from a still-extant cigarette machine and a jukebox. Just the basics. Stefan served everyone from Frank Sinatra, Allen Ginsberg, W. H. Auden, Madonna and your webmaster.
[The Holiday Lounge shut its doors for good in early 2012]
A mini Grauman's Chinese Theatre sidewalk can be found at Theatre 80 St. Marks, but first thngs first: this is the latest incarnation of what was once a speakeasy, then an off-Broadway theatre (likely most famed for "You're a Good Man, Charlie Brown"), then a film revival house, and now a combination of the last two. When entrepreneur Howard Otway purchased the theatre in 1971, he staged a mini-Hollywood premier and invited several movie stars of the classic era, including some very big names… Joan Crawford, Myrna Loy and Gloria Swanson among them — to sink their handprints and shoe prints into wet cement, which became part of the sidewalk. Naturally the city has threatened to remove the slabs at times over the years, but they still survive here, surprising visitors who were unaware of them. The theatre is still in the Otway family. On the second floor Lorcan Otway runs the Mafia Museum.
I haven't got a full list of the stars represented here and the name shown above stumps me. If anyone knows who it is, let me know. Joan Blondell, Ruby Keeler, Hildegarde, Alexis Smith and Lauren Bacall, among others, were among the original signees. In 1983, Kitty Carlisle and Dom DeLuise added sidewalk slabs (both Kitty Carlisle and Hildegarde lived till age 99, so signing a Theatre 80 might have been good luck).
Wini Shaw, who sang the "Lullaby of Broadway" in the musical " Gold Diggers of 1935, I'm told.
I remember Theatre 80 as one of the first revival houses (I never saw the Thalia but I have been in Angelica and the Film Forum). If you wanted, you could get coffee in china cups and brownies on china plates.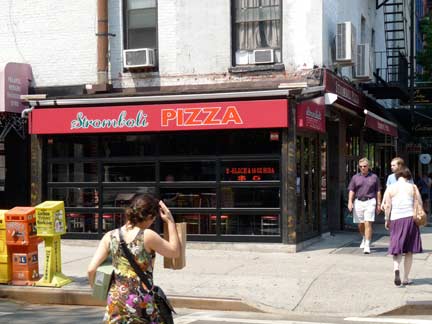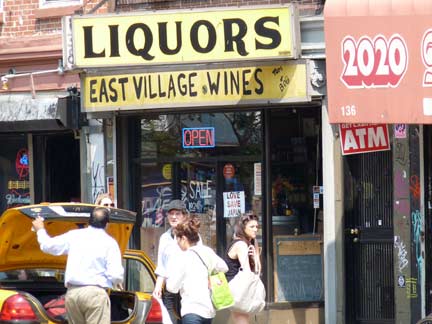 It's amazing that so many of the old strongholds I frequented in the Easy 80s are still around. The secret to a good slice is cheese thick enough to be chewy, spread generously over a thick smear of tomato sauce. Stromboli, named for a volcano in Italy, had those features at least back then (I had just come out of Burritoville and and so could not sample the goods). I was in an Italian place the other day, got adventurous and ordered something out of the ordinary. I was presented with something with cooked chicken pieces, raw squares of feta cheese, and sliced up raw tomatoes. Everything was cold. It just wasn't pizza to me.
My camera is drawn like a fly to sugar to ancient liquor store signs, which never seem to get replaced.
The Mob was and probably remains a shadowy presence in the East Village. This Power mosaic at 1st Avenue and St. Marks Place recalls the 2007 film American Gangster featuring Denzel Washington as a gang lord beloved by his family and feared by everyone else. Salvatore "Lucky Luciano" Lucania (1897-1962) gave the Mob a corporate structure, forming a national mob syndicate while sacrifing none of the ruthlessness and violence that is the mob's stock in trade. He was also the original Dapper Don, hanging with showbiz and dressing in bespoke suits. An interesting sidebar in Luciano's career is that US intelligence turned to Luciano for his connections in the dockworkers' unions and the Italian mafia. Information gleaned in this manner helped the US immeasurably in the WWII Italian campaign.
In 2010, a new protected bike lane was built on 1st Avenue (and also on 2nd). The controversies that arise concerning bike lanes are amazing — the comment boards light up on sites like gothamist and streetsblog when there is a bike story, and so there tends to be at least one bike story per day on gothamist or gawker. Ideally, bicycles, pedestrians and motorists would be protected from each other by invisible energy force barriers but that technology will not arrive for a few decades.
1st and 2nd Avenues are the longest numbered continuous avenues in Manhattan, running from East Houston Street to East 126th and East 128th, respectively (5th Avenue is interrupted by Marcus Garvey Park). Little remembered now is that 1st Avenue was the home of the 2nd Avenue El from East Houston to East 23rd, so it passed by here. 2nd Avenue El service ended in 1942.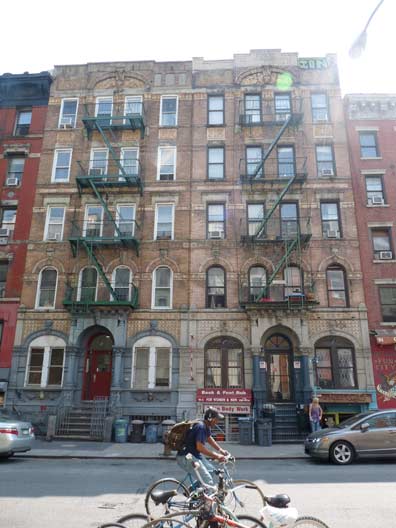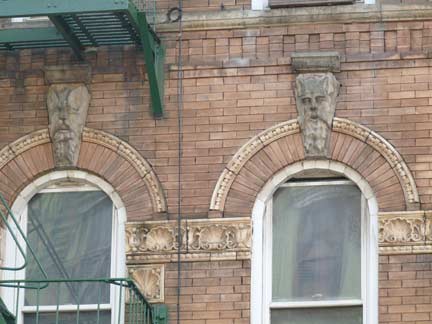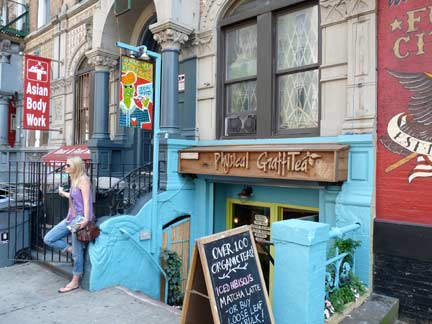 Very clever. Physical GraffiTea recalls the classic 1975 Led Zeppelin album Physical Graffiti (the one with "Kashmir" on it) while none but rabid Led Zep fans might realize that 96-98 St. Marks Place was used for the cover of the album. Art director Peter Corriston made some changes such as removing the 4th floor (to fit the square LP cover format — in those days before Photoshop, an X-acto knife and airbrushing were used) and the name of the band was added in an appropriate font at the top. The words "Physical Graffiti" are spelled out in the windows. The inner gatefold shows photos of the band members in the windows, while the back cover shows the same 2 buildings at night.
And, 98 St. Marks features prominently in Rolling Stones history as well. The video for their 1981 hit "Waiting on a Friend" shows Mick Jagger sitting and standing on the stoop (sitting next to him is reggae star Peter Tosh) while waiting for Keith Richards to arrive. Then, the Glimmer Twins make their way to St. Mark's Bar on the corner of 1st Avenue and St. Marks', presently V Bar, where they meet the other three Stones.
"Waiting on a Friend" was originally recorded for Goats' Head Soup in 1973 but was on the shelf for a few years before it was dusted off for the Tattoo You LP.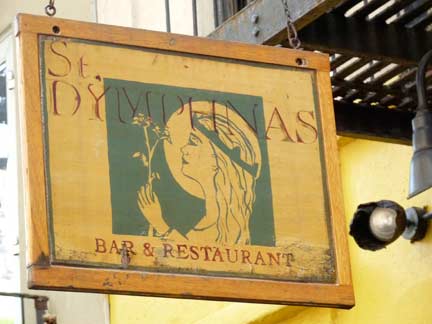 While I have always had an interest in NYC's remaining neon signs (and Project Neon has set about to chronicle every one) I also enjoy vintage-style wooden signboards, increasingly being used around town, that are finely crafted and illustrated, like this one at St. Dymphna's, at #118. The saint, according to tradition, lived in Ireland in the 7th Century and was martyred by her father, King Damon, who desired an incestuous relationship. She is the patron saint of nervous disorders and mental illnesses.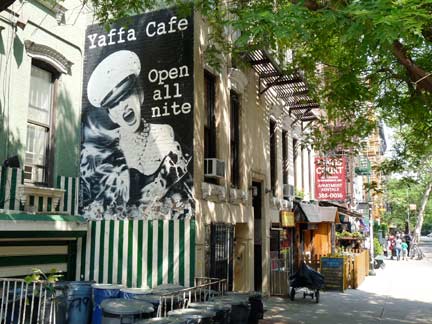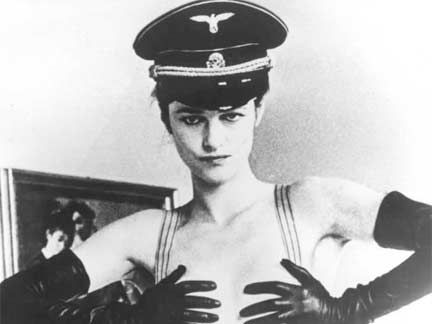 The mural for Yaffa Cafe, at #97, is a portriat of owner Lika Ramati. When I passed it immediately reminded me of the image of Charlotte Rampling in the 1974 film The Night Porter in which she plays a concentration camp survivor who enters into a sadomasochistic relationship with a Nazi interrogator (Dirk Bogarde).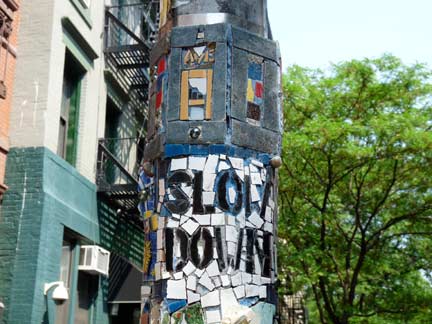 While Jim Power has been commissioned to do art/advertising for local businesses (see below) he also dabbles in utilitarian signage, such as this "slow down" sign on the lamp between 1st Avenue and Avenue A.
It would be good if the MTA would hire Power to mosaicize a subway station. It happens that the MTA will be opening a new one at the Javits Center in a couple of years, but the artwork has probably already been decided upon.
Power's mosaics on lampposts and tree planters advertise Crif Dogs, a gourmet frankfurter restaurant, at #113. Owners Brian Shebairo and childhood pal Chris Antista were partially inspired by Hiram's, the Ft. Lee, NJ doggery visited on occasion by your webmaster during the late Bernard Ente's 4th of July weekend Hot Dog Walks. The name comes from when Shebairo attempted to say "Chris" while chewing a hot dog.
A pair more overhanging sidewalk signs, at Tuck (#115; that is NOT the Australian flag) and Ten Degrees, #121. The name refers to the proper Celsius temperature to store wine.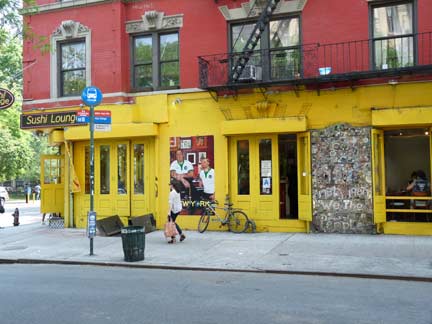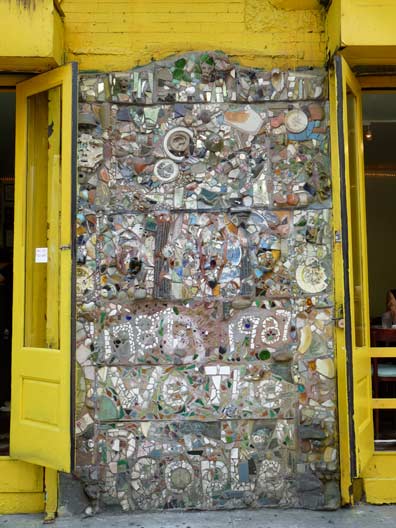 One of Jim Power's vintage pieces from 1987, on what was once the biker bar Alcatraz. Now one of those ubiquitous sushi joints, and I can't fathom the appeal of raw fish.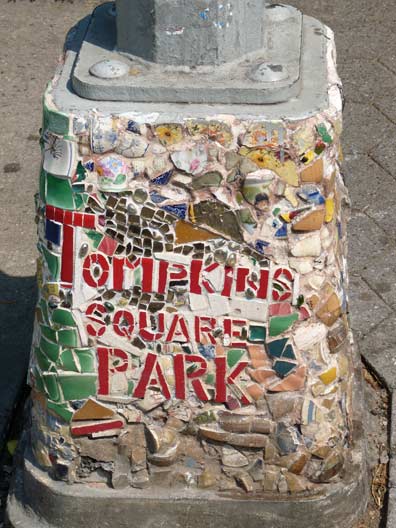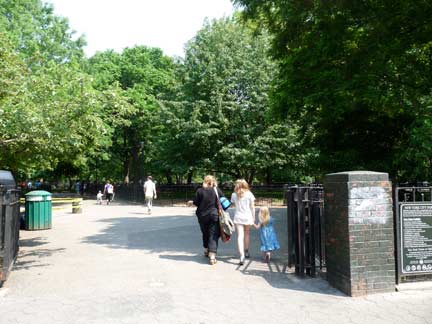 St. Mark's Place ends at Avenue A and Tompkins Square Park, named for Daniel D. Tompkins, NYS Governor and 5th US Vice President. Though space was cleared as early as the 1850s it became a public park only in 1878.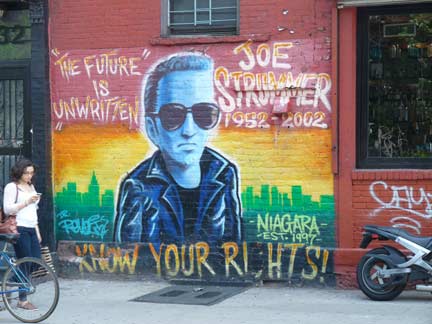 A portrait of the Clash's Joe Strummer can be found on East 7th and Avenue A.
Information from Jim Naureckas' NYC Songlines was used on this page.
Photographed May 27, 2011; page completed May 29