NoHo, one of Manhattan's smallest enclaves, is located east of Mercer Street north of Houston (giving it its name), west of the Bowery, and south of 4th Street, comprising only a few square blocks. Nevertheless, there are two separate landmarked districts found there. The name NoHo is an example of the trend of naming neighborhoods by compacting two or more words into one, as in TriBeCa (triangle below Canal) and DUMBO (down under the Manhattan Bridge overpass). Mitch Waxman ofNewtown Pentacle has proposed standardizing this for all NYC neighborhoods of two words or more, such as DUGABO (down under the Greenpoint Avenue Bridge overpass). My old neighborhoods would then revert to BayRi (Bay Ridge) and LiNe (Little Neck). Why not?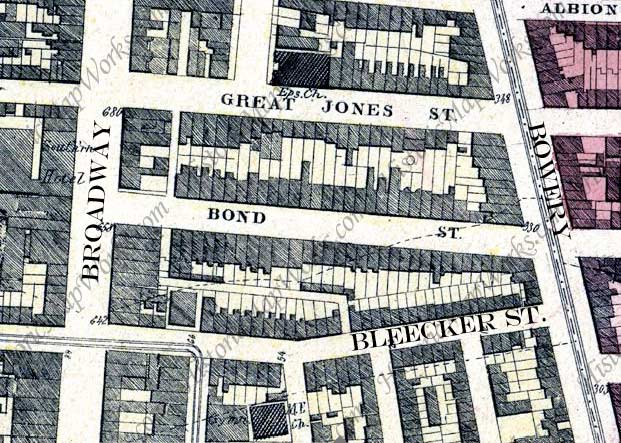 Bond Street, like its partner, Great Jones Street, runs east two blocks between Broadway and the Bowery. Even though they sit in the same places East 2nd and East 3rd should be, they have always had a separate identity (re the above Dripps atlas segment from 1867). It's possible that the street was named for London's Bond Street, or for 18th Century surveyor Captain William Bond. Bond Street in London has been a major shopping mecca for centuries and while NoHo's Bond Street has been steeped in manufacturing and industry for most of its history, inroads have been made by the well-heeled in recent years with stores selling expensive nonessentials, and gigantic, stylized apartment buildings by of-the-moment architects.
Sitting on the northeast corner of Broadway and Bond Street is the former Brooks Brothers store (668-674 Broadway), a Victorian Romanesque 5-story building completed in 1874 by architect George Harney. The men's clothier, founded in 1818, occupied the store on the ground floor from 1874-1884. Galleries and upscale shops now can be found on the 1st floor. Samuel Ward, father of Julia Ward Howe of "Battle Hymn of the Republic" fame, had a masnion here before the present building.
#2 Bond (the ground floor was occupied in 2011 by Relative Space, an expensive floor coverings dealer) was built in 1828, with two extra floors added in 1863-1864. Picture windows are a recent addition; the building has been a factory for much of its life.
RIGHT: Jones Alley (named for David S. Jones, an 18th Century landowner from whom much of the land was purchased for development; Great Jones Street was also named for him. Jones is colloquially called Shinbone Alley and, unusually for NYC alleys, makes a pair of abrupt turns. It is presently privately owned.
I have always been attracted to streets in transition, as Bond Street decidedly is. At #4, the American Olean Ceramic Tile Center is hanging in there, a manufacturer of kitchen cabinets and related products weathering, for now, the encroachment of privilege. It's one of the better brands, apparently – their website is quality.
There are a number of them in Manhattan but finding a #1 address in NYC is always somehow fulfilling for me. #1 Bond, the Robbins and Appleton Building, is a designated NYC landmark in wedding cake style cast iron (Stephen Decatur Hatch, architect; 1880) It was built for the American Waltham Watch Company.
Bond Street looking toward Broadway. It is paved with Belgian blocks for its entire 2-block length.
Bond Street looking east. It is lined with mid-19th Century buildings with two early 21st-Century additions.
24 Bond, east of Lafayette, has been home to a group of sculptutes by residing artist Bruce Williams since 1998. The building is home to the Gene Frankel Theatre and the building once was home to avant-garde artist Robert Mapplethorpe, whose friendship with Patti Smith was the subject of her recent memoir.
The sculptures remind me of The Worms from the Men In Black movies.
#25 Bond is a new residential building featuring a limestone and glass front, opened in 2008 by BKSK Architects. The original slab sidewalk was retained, but given some swirling etchings. The ground floor has expensive retail: there have been businesses here called "Completely Bare" and "United Nude." I sense a trend. Speaking of Men In Black, Will Smith lives here, at least in 2011.
Developer Ian Schrager, perhaps best known for opening the star studded Studio 54 disco with Steve Rubell in the late 1970s, built the Coke bottle green #40 Bond with Swiss architects Herzog & de Meuron. The sculpture treatment on the fences is supposed to emulate graffiti. Curbed has a look at one of the apartments.
Right next door to the Schrager pleasure palace, there's the more utilitarian, early 1900s #42 Bond. There's a terrific 1960s-vintage green linoleum fron entrance and a hand lettered Etna Tool & Die sign. The upstairs floors house corporate event spaces.
Dies are tools used to cut, mold and shape materials using a press.
To its right is another new residential building, #48. Woman's suffragette Susan B. Anthony (1820-1906) featured on dollar coins from 1979-1981 and again in 1999, lived in the vanished #44 for a time.
A bit of the old Bond, at #51, a dormered 4-story building that probably goes back to the 1830s, the home of D & D Salvage. #49, on the right, was once the Free Circulating Library.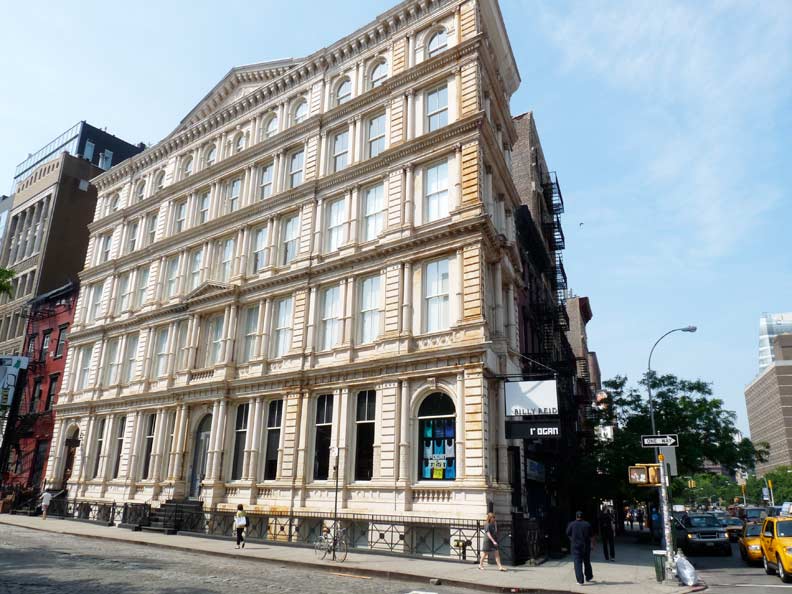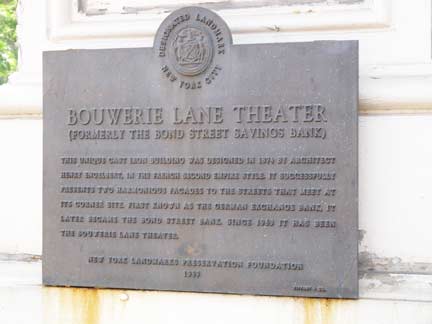 One of the Bowery's only cast-iron front buildings, #330 at Bond Street, was built in 1874 (Henry Engelbert, architect) as the Grman Exchange Building, later the Bond Street Bank. The Bouwerie Lane Theatre moved in in 1963 and was joined by the Jean Cocteau Repertory Theater in 1974. The theatre featured an early appearance by Frank Langella in The Immoralist in 1963; Tom Stoppard's Night and Day and anarchist playwright Jean Genet's The Maidshave also been presented here. The theatre went out of business in 2007 and the ground floor hosts luxury clothier Billy Reid.
Not your father's Bowery. Originally part of the post road to Boston, the Bowery has had many incranations over a nearly 300 year history. In the 19th Century it was one of NYC;s first entertainment districts, but after it was shrouded by the 3rd Avenue El (the sidewalks were covered, while the middle of the road enjoyed sunshine) it became the mecca of NYC's downtrodden (as well as kitchen and lamp wholesalers), and so it remained until the early 2000s when it was once again reborn … as multimillion dollar residencesand apartments pushed out the flophouses. Remaning showbiz remnants, like the Bouwerie Lane, Amato Opera and Hilly Kristal's CBGB … vanished, seemingly overnight.
CBGB act Joey Ramone, frontman of one of the longest-lived punk bands of the 1970s-1990s, is remembered by a street sign placed high on its lamppost — fans would always steal it.
Bond Street's 1857 "Crime of the Century"
6/1/11