As many have guessed, I walk on the periphery in many arenas. In the spring and summer of 2010 and 2011, I maintained an ongoing survey of the Queens-Nassau line and, as mentioned on the Part 1 Little Neck page, today's Queens-Nassau line was originally in mid-Queens and was originally a town line that was promoted to city line status when the western Queens towns joined New York City in 1898. From the North Shore Towers-Long Island Jewish Hospital area, the line runs (roughly) southeast, then turns south and then west along Jericho Turnpike before yet another abrupt turn south. Here, the line bisects the mostly calm and placed precincts of Bellerose and Floral Park and actually divides them in rough equality between Queens and Nassau. Parts of each locale lie on either side of the boundary line.
While much of Bellerose, except for the Creedmoor Rifle Range, came of age after World War II, Floral Park was well-established on the Nassau side in the 19th Century, and its Queens territories were built up after military plants, Long Island Jewish Hospital, and, temporarily, the United Nations, arrived in Lake Success after the war.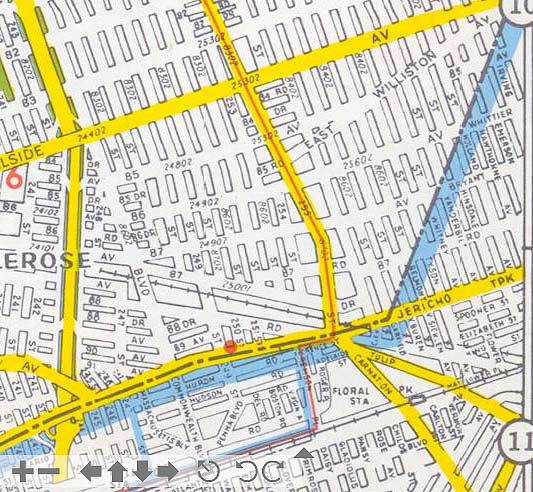 These two maps, produced in 1909 and 1949, show the Queens-Nassau line in Bellerose and Floral Park. In 1909, the city line cut across farms and otherwise unoccupied territory, but by 40 years later, a street grid had been laid out and single and 2-family homes were rapidly being built. I wonder what the time frame was for when the streets were laid out and paved — I have a 1928 map that shows the grid in place, but street maps often reflect the dreams of city planners and developers, and not actual reality.
The city line here does something quite unusual. Instead of zigzagging along streets, it simply slashes through, meaning that it cuts across several midblocks and even bisects some homes. Someone fill me in — in that situation, who provides the power, water, etc?
Until 1925 the Queens-Brooklyn line cut through Ridgewood in similar fashion, but it was then redrawn to zig-zag along one street, then another. I wonder why that was not done here.
WAYFARING MAP: QUEENS-NASSAU. This doesn't show the actual borderline, but instead the route I followed.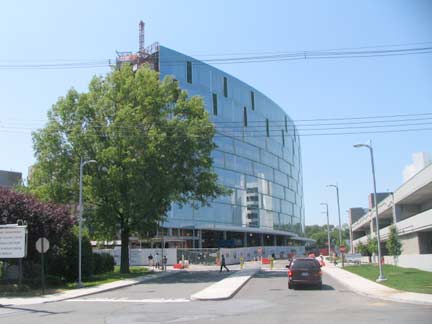 At 76th Avenue and 271st Street, a new roadway enters Long Island Jewish Hospital at a new pavilion. Unusually, since the 1950s, LIJ has straddled the Queens-Nassau line, with some buildings in Bellerose, some in Lake Success.
271st is the highest numbered street in Queens and also in New York City. As we have seen, Queens' three easternmost towns were not included in the NYC consolidation plan in 1898 and broke off to form Nassau County the next year. It's interesting to speculate that if Hempstead, North Hempstead, and Oyster Bay had remained in Queens and been consolidated into NYC, and the numbering system implemented in the 1920s had extended further east, how high would the numbers go as far as the Suffolk County border? In the 400s at least, and possibly 500.
The Queens-Nassau line runs along busy 6-lane Lakeville Road for two blocks, from 77th Avenue to Union Turnpike. However, the city's Department of Transportation is resolute in not including Lakeville Road in its addresses or maps, and so shows the NYC side of the street as Hewlett Street, which intersects Lakeville Road in two spots, first at 77th Avenue and then breaking off at 77th Road with a short spur meeting Union Turnpike.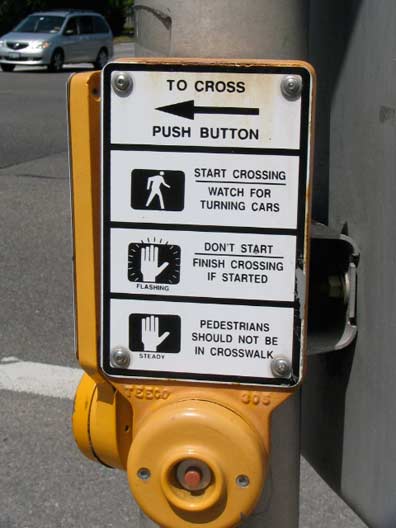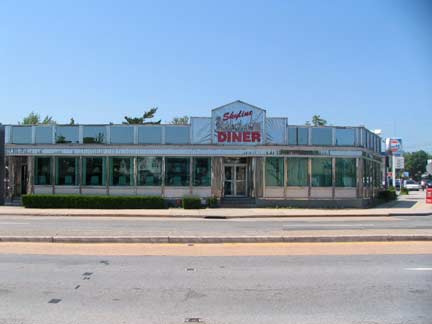 Just before Union Turnpike, which has its origins at Myrtle Avenue at Forest Park in Glendale and roars east to Marcus Avenue at New Hyde Park Road, enters Nassau, we see the Nassau County version of the ole push button, make the stoplight green canard. This works in neither Queens nor Nassau.
The Skyline Diner is your "last chance" to eat in Queens before leaving NYC. It's a relatively new 1987 Kullman, with a restoration by De Raffele in 1994.
At the borderline, alliances can be muddled in the fog of war. Seven Queens avenues, 78th through 83rd and 85th, enter the enemy territory of New Hyde Park, as they slip past the borderline, which runs in a (permanently, we trust) demilitarized zone that runs between Queens' Langdale Street and New Hyde Park's Stewart Avenue. An uneasy truce exists between these two warring zones. Is it possible that these seven Queens avenues could be on a mission of mercy or detente? Or, as FNY suspects, a spy mission? Three of the infiltrators are cut short at Lakeville Road, and 81st through 83rd make it no further than Stewart Avenue. 85th staggers to an end just two blocks in.
The line of demarcation is fairly well discernible in spots. On 78th Avenue, it's marked by a painted white line. On nearby Langdale Street, it's Pleasant Valley Sunday, with large, lush lawns and a leisurely pace.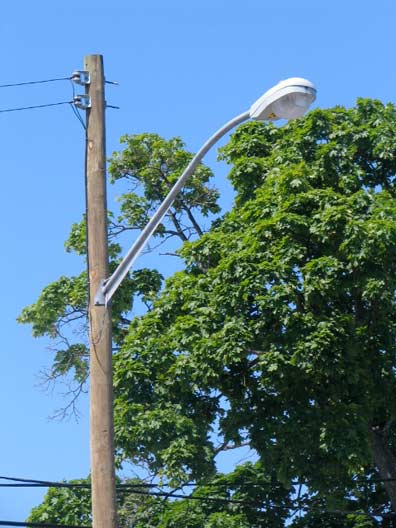 Queens and Nassau are also discernible by lamppost stylings. A variety of telephone pole masts are used in North Hempstead, inclusing this straight bracket with lantern-type lume. In NYC, about 90% of all telephone pole mounted lamps use this curved, finned mast that has been manufactured since the early 1950s.
Jain temple, 81st Avenue in New Hyde Park.
Jainism traces its roots to a succession of 24 Jinas ("those who overcome", or conqueror) in ancient East India. The first Jina is traditionally believed to have been a giant who lived 8.4 million years ago. The most recent and last Jina was Vardhamana (a.k.a. Mahavira, "The Great Hero") He was born circa 550 BCE) and was the founder of the Jain community. He attained enlightenment after 13 years of deprivation. In 467 BCE, he committed the act of salekhana which is fasting to death. Each Jina has "conquered love and hate, pleasure and pain, attachment and aversion, and has thereby freed `his' soul from the karmas obscuring knowledge, perception, truth, and ability…"
Jainism contains many elements that are somewhat similar to parts of Hinduism and Buddhism. The world's almost 4 million Jains are almost entirely located in India. There are about 1,410 in Canada (1991 census). Religious Tolerance
Nassau County hydrant, NYC hydrant (with an unusual paint job; most NYC hydrants are black with silver tops). North Hempstead traffic signs have a wonderful hand lettered quality.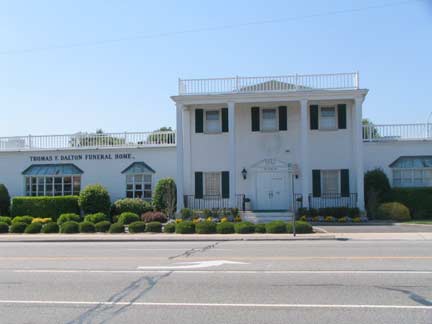 Hillside Avenue (NY State 25B), like Union Turnpike, arises on Myrtle Avenue in Richmond Hill and blazes through eastern Queens and western Nassau, eventually merging with Jericho Turnpike. Just over the Nassau line is the New Hyde Park Diner (De Raffele, 1970s) and the
Thomas Dalton Funeral Home
.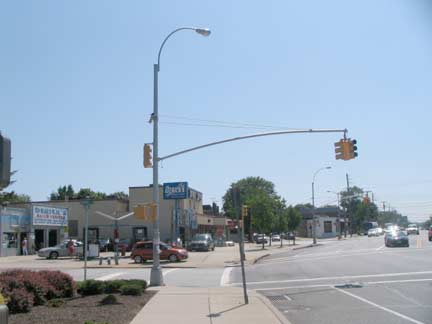 Hillside Avenue, looking east from the city line at Langdale Street and west. Subtle differences can be made out, such as a change in stoplight schemes.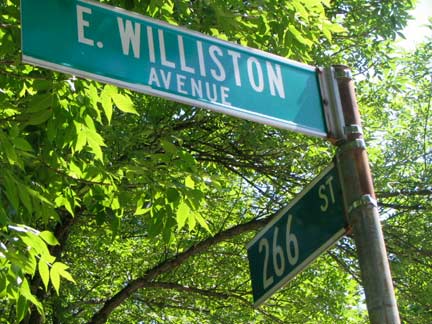 A road called East Williston Avenue arises at Little Neck Parkway and runs northeast against the overall grid for about a dozen blocks before merging with Hillside Avenue at the city line. The road doesn't approach East Williston, which is about a mile east in Nassau County, but Hillside Avenue runs through the community and indeed past its railroad station (whose century-old depot was torn down about a decade ago as of 2011).
The name Willis is prominent in Long Island; in 1862, Roslyn attorney Benjamin Willis (1840-1886) formed Company H of the 119th New York Volunteers in Hempstead. Company H saw action in many prominent Civil War battles, including Chancellorsville, Missionary Ridge, Gettysburg and Sherman's March to the Sea. Willis survived the war and was elected to the State Assembly (2 terms, 1875-1879).
This is the corner of 85th Avenue and 266th Street, but also 85th and Emerson Avenue. The Queens-Nassau line runs diagonally just west of the intersection, and the difference is marked subtly by a change in pavement, and a somewhat archaic 1960s-era Westinghouse Silverliner lamp.Note that the utility pole with the NYC signs 85th Avenue and 266th Street is officially in Nassau County.
Further south, 86th Avenue becomes Whittier Avenue midblock, past a run of handsome Tudors, and a pavement change tells the story. Eastbound streets in New Hyde Park carry names of 19th Century literary lights: Whittier, Bryant, Lowell, and several north-south streets as well; Bryant, Emerson, Hawthorne, Irving.
The Queens-Nassau line cuts diagonally across this intersection that's 87th Avenue and 261st Street on one corner, and Whitney and Bryant Avenue on the other.
Looking toward Nassau County from Belmont and Lowell Avenues, or if you prefer, 87th Road and 259th Street.
Even though seven numbered Queens avenues are permitted to slip into New Hyde Park, Nassau County mapmakers were adamant that no numbered streets in the 250s and 260s would leach in. As a result, Brokaw Avenue is the name of the short stretch of 258th that enters Nassau. In fact, when only the northeast corner of 257th is in Nassau, that corner is called Keene Avenue.
Jericho Turnpike now extends from the Cross Island Parkway east as NY State 25 into mid-Suffolk County. It straddles the Queens-Nassau line between 225th Street and Little Neck Parkway. The Queens side was called Jamaica Avenue until 2005, when the local community board prevailed on the NYC Department of Transportation to designate it as Jericho Turnpike.
Once entering Nassau County in full, you'll find a lamppost mishmash on Jericho, which includes some 1960s-era General Electric M400s, which ruled NYC streets between 1960 and about 1972. You will also see some early 20th Century buildings along the Turnpike, which existed as a Native American trail through the forests well before the colonial era.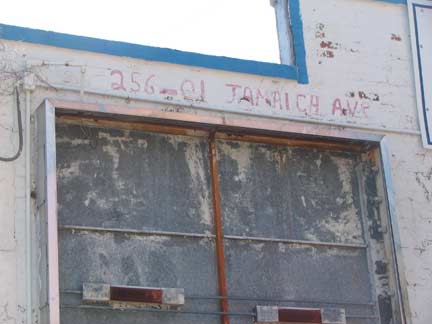 At 256-01 Jericho, a remnant of the Jamaica Avenue legacy.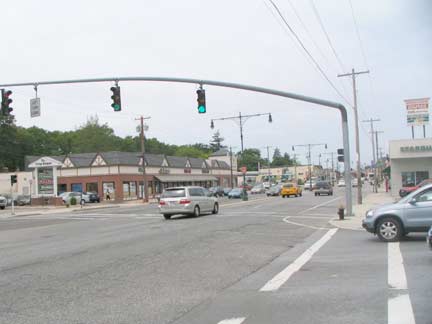 Little Neck Parkway, when it meets Jericho Turnpike, becomes Tulip Avenue and enters the border town of Floral Park. Our next Borderline Crazy entry in this series will take us into Floral Park and further south into the undefended border of Cambria Heights and Elmont.
Looking east on Jama…er, Jericho Turnpike, we see twin Corvington median lamps, one side of which illuminates Nassau County, and Nassau County-style davit stoplight posts that are mounted on the Queens side. We're all mixed up.
In the fog of war… boundaries and alliances can be easily muddled.
6/26/11