Throughout my life I have been leaching and oozing eastward, toward the Sun. I lived in an apartment house that barely missed being sacrificed to the Great God Moses as a kid. I lived in a couple of places in and around Dyker Heights. Then came a big leap to a place in Flushing, to work near a direct mail company that wound up hiring me twice and laying me off twice. I edged eastward again to Little Neck and am now an Eli Manning TD toss away from Nassau County.
Queens is unique in NYC in that it maintains undefended borders with Brooklyn, from Newtown Creek south to Jamaica Bay, and Nassau, from the East River south to the Atlantic Ocean. After several explorations of the former border, I decided to plumb the latter.
I became curious about those weird hinterlands where Queens becomes Nassau. I can take a 10-minute walk and come upon gated strongholds with lush, manicured lawns, corral-type fences, and homes worth millions. In the main, Queens and Nassau maintain a cold peace, interrupted occasionally by the growls of attack dogs at pedestrians who wander too near. In Nassau, the automobile is the accepted form of transit, and walkers are regarded warily.
Long Island counties, beginning in the late 1600s, were Kings, Queens, and Suffolk. Six towns in Kings consolidated in the late 1800s to create the City of Brooklyn, which was annexed (residents voted to consolidate it) to Greater NYC in 1898. Queens' history is a bit more complicated. Queens originally comprised western Queens (the towns of Newtown, Flushing, Jamaica and in 1870, Long Island City) and what is now Nassau (Hempstead and Oyster Bay; North Hempstead was created in 1784). The eastern towns began agitating for "independence" from Queens County beginning in the 1830s, when a dilapidated courthouse in the Mineola area was to be replaced. Factions from the western and eastern parts of Queens vied for the new courthouse, which was ultimately built in Long Island City at the present Court Square in 1870. Differences, political and cultural, between the east and west ends of the vast county were accentuated during the debate. In the 1890s, proposals for Greater New York did not include Queens' eastern towns.
When Greater New York was born on January 1, 1898, Queens' four western towns were politically dissolved and western Queens became a borough. Queens' 3 eastern towns remained extant. For one year, January 1, 1898-January 1, 1899, half of Queens County was in NYC, half was not. The eastern towns finally seceded to become Nassau County on 1/1/99. There are still today some oddities remaining: the Rockaway peninsula was originally in the town of Hempstead and today remains part of NYC, while the adjacent Five Towns area were originally part of the consolidation and were part of NYC for one year. After Nassau County was established, the Five Towns were returned to Nassau.
WAYFARING MAP: QUEENS-NASSAU LINE. This reflects the route I used, not the actual line.
Nassau Road runs from 39th Road at the LIRR (top right) south to Northern Boulevard, paralleling the original streets of Westmoreland, Queens (Westmoreland St., Morgan St., and Glenwood St.) Here the Queens-Nassau line runs between Glenwood Street and Nassau Road.
Nassau Road resembles its brethren, with a collection of single-family homes, but the light posts are different, and you see Nassau County-variety fire hydrants and "curb dog" signs. Nassau features the words "dog waste" prominently on its signs, unlike NYC's. By the way, scooping up after your pooch did not become law until one of the Koch administrations!
41st Avenue and 41st Drive extend into Nassau County for about a half block between Glenwood Street and Nassau Road. The Queens-Nassau line is discernible as a change in the pavement. NYC utility lines also stop at the border.
The half-block of 41st Drive is called Cutter Avenue in Great Neck. Little Neck's early days featured a colorful character, the "Bard of Little Neck," Bloodgood Haviland Cutter (1817-1906), potato farmer, poet and friend of Mark Twain, who immortalized him as the "Poet Lariat" in Innocents Abroad. Twain poked fun at Cutter as a master of doggerel who annoyed fellow passengers on an excursion to the Holy Land in the novel. Great Neck's Cutter Mill Road is also named for him; his house stood on land occupied presently by the Terrace Circle Co-op. Cutter owned vast acreage in today's Little Neck, Great Neck and Plandome Heights.
Glenwood Street runs along the Queens-Nassau line from 39th Road at the LIRR, twisting in a southeast direction to Concord Street at Bates Road, occasionally touching but never quite crossing the boundary. Freestanding homes are the rule here, including some neat, tidy cottages, in what is for all intents and purposes suburbia.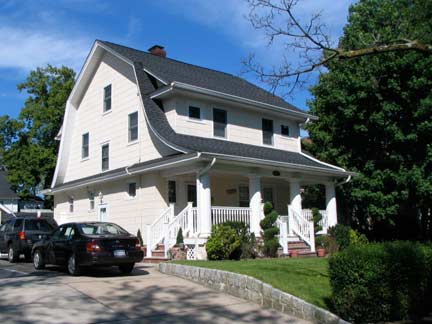 These two adjoining homes stand on the east side of Glenwood Street north of Northern Boulevard. 41-87 Glenwood standing next to 7 Glenwood. Why the different numbering? The answer is simple. The Queens-Nassau line crosses the east side of the street at this point and the east side is in Great Neck, the west side in Little Neck.
There are likely other examples, but I can only think of a couple other such situations in Queens: Hook Creek Boulevard in Rosedale, which we will see in a future Queens-Nassau border page, employs two different styles of house numbering and even has a different name here and there, and tiny Walnut Street in Forest Hills has both hyphenated Queens house numbers and an older system probably left over when the street was in Newtown, prior to the NYC consolidation.
Though Northern Boulevard begins at Queens Plaza and continues as Northern Boulevard to the Nassau-Suffolk border, and as Route 25A, out to Orient Point on the North Fork, it gets a brand new set of numbers as it enters Nassau County.
The Lions have had to find somewhere else to roar since the Scobee Grill served its last platter in November 2010.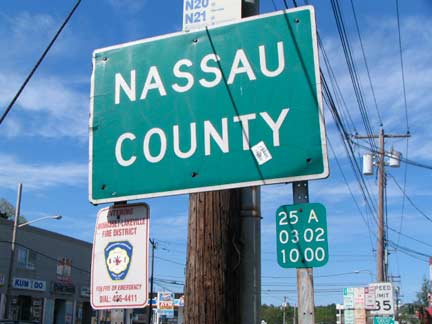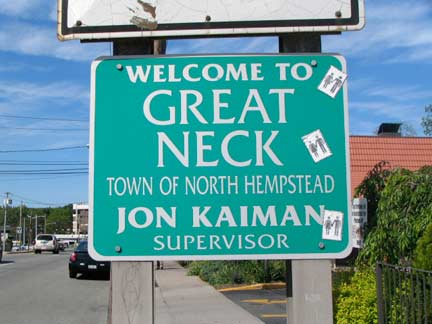 Nassau County, established in 1899, is not New York State's newest county. The Bronx broke away from New York County (Manhattan) in 1914.
Houses on Glenwood Street and Iowa Road in Great Neck. Unusually-named Iowa road runs in two separate pieces on both sides of the city line.
Once Concord Avenue angles southeast into Queens, it becomes Concord Street and runs along the city line, taking Glenwood street's place at a traffic circle.
Blurring the distinctions further between Queens and Nassau, several homes and entire blocks on the Nassau side employ hyphenated Queens-style house numbering. A couple of numbered streets, such as 259th, turn up on the Nassau side (oddly, 260th is on the Queens side and street numbering increases beginning at the East River).
The Queens Church of Jesus Christ of Latter-Day Saints, 254-10 Bates Road between Little Neck Parkway and Concord Street. Though the Mormon Church seems to be associated with the public imagination as centered in the western states, the faith was founded by Joseph Smith in western New York State. The faith breaks from other sects of Christianity in many ways, most importantly, it holds that God the Father and the Son are separate persons; for this reason, the Mormon Church is called non-Trinitarian.
The temple stands on the former site of the Little Neck School (1865-1914) which was supplanted by PS 94 on Little Neck Parkway and 42nd Avenue in 1914. The old school ws home to the Powers Chemical Co. for several decades until the temple was constructed.
After Concord Street rounds a bend and becomes Overlook Terrace, it drops its sidewalks and enters Nassau County. Queens and Nassau fire hydrants face off across the border.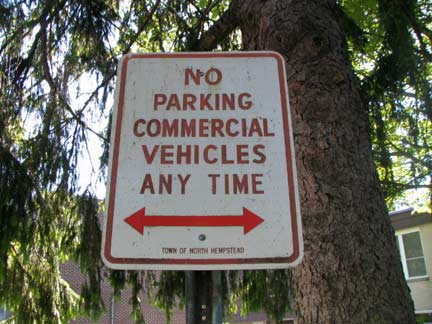 While NYC has a standard set of streetlamp genres (octagonal posts, Deskeys, retro versions of early 20th Century cast and wrought iron lamps, and a few others) Nassau County lamps can vary by community. On Overlook Terrace are wood posts with square luminaires (very occasionally seen in NYC but only under elevated trains). Older signs in North Hempstead have a marvelous hand-lettered quality.
Horace Harding and Nassau Boulevards have an intertwined history. As early as the 1920s, a road called Nassau Boulevard extended from Queens Boulevard in Elmhurst east through Flushing, Bayside and Little Neck. In the 1930s, Nassau Boulevard became Horace Harding Boulevard, named for a prominent banker (1863-1929) who was actually more of a railroad executive than a motorcar buff, though he did financially support the construction of the road that bears his name.
From 1953-1958 traffic czar Robert Moses built the Long Island Expressway along the route of Horace Harding Boulevard, but diverged from the original route at Little Neck Parkway. The service roads along the LIE bore the Horace Harding Expressway name, but there was still a short piece of original road extending from the city line to a section of Lakeville Road.
In NYC that section would up with the old Nassau Boulevard name, while the portion in Nassau became Horace Harding Boulevard. The portion of Lakeville Road it intersected became Bates Road.
South of the expressway the Queens-Nassau line runs in privately owned land and is hence inaccessible by foot. Beginning at 57th Avenue a road called Hewlett Street parallels the line for a few blocks. At 60th Road, the large North shore Towers loom over smaller one and two-family dwellings on 60th Road. The Hewlett name is prominent in Long Island: Hewlett is one of the Five Towns, and, more infamously, at the close of the Revolutionary War, Colonel Richard Hewlett, who had commanded Tory troops in Long Island, commanded a fleet of ships carrying Loyalists to Nova Scotia. However, Hewlett place names in northeast Queens and northwest Nassau can likely be ascribed to another member of the family, George Hewlett, who resided in Great Neck.
This narrow, winding, one-way path runs for a few blcoks between Little Neck Parkway and Hewlett Avenue — several small homes with well kept lawns are found along the path.
It's actually the northern service road of the Grand Central Parkway, built to conect the Northern State Parkway and Triborough Bridge in the early 1930s. This stretch must be close to its original state.
Little Neck Parkway meets Grand Central Parkway at the Deepdale Gardens co-ops. Here I decided to take the Q79 bus back home. I shot this sequence in June 2010, and I would soon not have the Q79 option, as the Metropolitan Transportation Authority yanked service at the end of the month. The bus averaged about 600 weekly riders.
[Weekday service was set to resume in January 2013]
6/20/11