After having previously walked Jamaica Avenue from its beginnings in Brooklyn out to Lefferts Boulevard and then along its easternmost stretch (now known as Jericho Turnpike at the insistence of the local community board, which forced a name change in 2005, I thought I would more or less complete the route from downtown Jamaica out to Queens Village.
The street name has nothing to do with the Caribbean island country. The avenue, the neighborhood and the bay are instead named for the Jameco Indians, an Algonquian tribe that occupied the center and southern sections of what is today's Queens County, for hundreds of years before the colonial era.
The Jameco name was Algonquian for beaver, which had been plentiful in the region; a remnant of this is Beaver Road, which ran beside the now-filled Beaver Pond south of the Long Island Rail Road. Native Americans used the trail, which connects to original trails that run from the East River to eastern Long Island, for trade with tribes spanning from the east coast to the midwest. After the Dutch settled the present day downtown area, known before 1664 as Rustdorp ("rest town"), Jamaica Avenue (as the Jamaica Plank Road) became a tolled highway for much of its length. The tolls were removed by the time of Queens' consolidation with New York City in 1898.
Downtown Jamaica Avenue passes several buildings that went up during or just after the colonial period, and just north of Prospect Cemetery which was established in 1668, immediately following the end of Dutch rule.
King Manor, facing Jamaica Avenue in King Park between 150th and 153rd Streets, was the mansion belonging to Rufus King (1755-1827). King, always an ardent abolitionist, was a youthful representative at the Continental Congress from 1784-1786, a US Senator from New York in 1789, a Minister (Ambassador) to Great Britain from 1796-1803 (where he impressed the still-hostile Brits after the close of the Revolutionary War), a US Senator again from 1813 to 1825, and ran unsuccessfully for President as a Federalist against James Monroe in 1816. The mansion was first built in 1730, and King purchased the building in 1805; his son, John Alsop King, NYS Governor from 1857-1859, added Greek Revival additions. The King Manor Association has maintained the building since 1900, and it opened to the public in 1992.
The First Reformed Church of Jamaica, Jamaica Avenue and 153rd Street, has stood since 1859, with the congregation in existence since 1715. The original church was located at the present day Jamaica Avenue and 162nd Street, and moved to this location in 1833 and that church burned down in 1857. The First Reformed moved to Jamaica Estates and this building stood empty for much of the 1990s, after which it was reborn in 2008 as the Jamaica Performing Arts Center after a $22 million renovation. Architect Sidney Young was a member of the congregation.
Grace Episcopal Church, across the street, was similarly founded early on, in 1702 as a representative of the Church of England — the churchyard boasts several colonial era gravestones, including that of Rufus King. The present sharply steepled church was built in 1865. If you have a chance to go inside, there are some Depression-era murals painted by the Works Progress Administration.
Downtown
Now attaining the heart of downtown Jamaica, as Walt Whitman did in the 1850s. We will find a much different Jamaica than he did, however:
And so on to the village of Jamaica, which is composed mostly of one long street, which is nothing else than the turnpike. It is lined mostly by trees, which again have an inner lining of the same, sprinkled with shrubbery…. then there is Gov. John A. King's residence unseeable from the road, through the impervious trees….
As you walk through the streets of Jamaica, every house seems either a store or a tavern. There are two newspapers, one by Mr. Brenton, otherwise "Dr. Franklin", a good soul; and the Long Island Farmer. Jamaica has a large, old established Academy for Boys, "Union Hall," and also an Academy for Girls … The infinitude of Jamaica stores and public houses allows an inference which is the truth, viz.: that farmers, travellers, marketmen, and other passengers on the turnpike through the vilage give it all its trade and retail business. It has no manufactories, and has not been what is called a "growing place" for many years, and probably will not be. –-Walt Whitman's New York, New Amsterdam 1963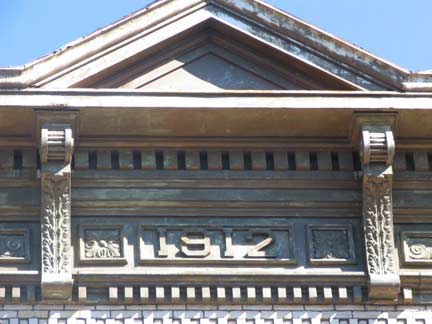 Detouring on 160th Street, you can see a contrast in the amazing awning of the Jamaica Business Resource Center at 90-33; La Casina, a nightclub/restaurant in a Streamlined Moderne style was built in 1933. A 1912 cornice is nearby, signifying the changes the Jazz Age wrought on building styles.
Jamaica Savings Bank, 161-02 Jamaica, is a NYC building on the NYC Register of Historic Places . The bank itself was founded by John Alsop King (see above) in 1866 and occupied property in this location since 1874, when a small frame building was constructed. The present Beaux-Arts structure (Hough and Deuell, architects) went up in 1898. The building is maked by pilasters (half-columns on a building exterior) and two ornamental balconies. The building's future is uncertain as of June 2011; the bank moved across the street in 1964.
Next door at 161-04 is the Jamaica Center for Arts and Learning, built in 1898 (A.S. Macgregor, Architect), a NYC Landmark, originally the Jamaica Register Building. The Italian Renaissance building is a somewhat somber companion for the more exuberant Jamaica Savings Bank.
Many neighborhoods now have new street clocks construted in a classic style, but this one at Jamaica Avenue and Union Hall Street is the real McCoy. It originally stood at 161-11 Jamaica Avenue and was likely built around 1900. It was restored and moved to its present location in 1989, directly across the street from the former site of Gertz, one of Jamaica's largest department stores. It too was declared a NYC Landmark in 1981 (and so can't be legally removed).
Union Hall Street today is one of the few streets in downtown Jamaica that has retained its old name (here on a Beers Atlas plate in 1873) to the present day. I had previously suspected that the name was retained because of the prevalence of trade unions in New York City, but I was incorrect … as the map indicates, it preserves the name of the Union Hall Academy, opened in 1792, that occupied property on the street close to the Long Island Rail Road, in 1873 running on the surface at the present day Archer Avenue.
This photo, from the Queensborough Public Library, shows former buildings of the Academy, which had by then moved to the locale shown on the atlas plate.
In 1791, the prestigious Union Hall Academy was built in Jamaica Township by residents of the three towns of Queens. An amount of $2,000 was pledged for the construction of the academy and it was an immediate educational success. Within four years after the original construction of the academy, it required expansion. At that time, in addition to a regular staff, there were five assistants to the principal as well as a library and research facilities. Some of the educators were well known such as Henry Onderdonk, the famous Long Island historian who taught at Union Hall between 1832 and 1865. 
In 1841, a fire nearly destroyed the academy while Walt Whitman was on the staff. As early as 1816, it became so popular that a female school was added to the standard academy. However, the rise of the public school system provided too much competition for the fashionable educational establishment. Although other schools were being built such as the Maple Hall Institute, a private boarding school for boys, the Union Hall Academy was closed in 1873. — Kathleen Lonetto, Long Island Heritage
A Conway chain store facade has now erased the last traces of the formerly grand Gertz Department Store, which formerly occupied this building on the south side of Jamaica Avenue between Union Hall Street and Guy Brewer Boulevard. The store, established by Benjamin Gertz as a stationery store in 1918, lasted until 1981 when it was consolidated under the Stern's banner and later, the Macy's flagship banner. The Gertz Mall had opened in 1988.
I made my one and only visit to Gertz in September 1968 — it was quite a road trip for our Bay Ridge family. We must have trundled out on the J train, a rarely plumbed line for western Brooklyners. My father was in search of a large furniture wall unit –successfully, since he kept it till he died in 2003. I recall that my first purchase of a Brooklyn Hagstrom map happened here. I also remember him repeatedly sending the steak back at a neighboring eatery. Too much pink.
It must have galled both Gertz and J. Kurtz & Sons that two retailers with such similar names were close neighbors. The joyfully Art Deco building at the corner of Brewer Blvd. and Jamaica Avenue went up in 1931 (architects Allmendinger & Schlendorf –easy for them to say). It was designated a NYC Landmark in 1981. Kurtz distinguished itself from Gertz by specializing in furniture. Jacob Kurtz had founded the company in 1870, and the furniture store occupied the building until 1978, coinidentally the same year the Jamaica el closed (it was rerouted under Archer Avenue in 1988).
Guy R. Brewer Boulevard, which runs from Jamaica Avenue south to Rockaway Boulevard at Kennedy Airport, is one of eastern Queens' oldest roads. On mid-19th Century maps it shows up as New York Avenue, became New York Boulevard by the 1920s, and was renamed along its entire length for 5-term State Assemblyman Brewer in 1982.
Advertised as "Jamaica's Largest Playhouse," the Merrick Theatre had its grand opening on January 15th, 1921, with a two-day engagement of Paramount's "Conrad in Quest of His Youth," starring Thomas Meighan. The feature movies were presented with live prologues with "concert soloists and scenic effects." Music for the entire program, including short subjects and a newsreel, was played by a symphony-sized orchestra, supplemented by a "magnificent" pipe organ. The Merrick had a complete change of show every Monday, Thursday, and Saturday. Its next feature attraction was Paramount's "Life of the Party," with Roscoe (Fatty) Arbuckle. cinematreasures
Taking a brief meander up 164th from Jamaica Avenue we find the First Presbyterian Church complex, including the parsonage, at 89-60. It is yet another in Jamaica's collection of very old church buildings. Jamaica's Presbyterian congregation, founded in 1663, may be the oldest continuous one in the United States. The church is housed in three buildings on 164th, two of them very old.
The original congregation's stone church stood from 1699 to 1813 at what is now Jamaica Avenue and Union Hall Street; during the Revolutionary War, the British commandeered it and imprisoned patriots there. In 1813, it was replaced with what is now the church sanctuary in a location at Jamaica Avenue and 163rd Street: it was placed on logs and pulled by mule to its present location in 1920. The First Presbyterian's manse, or staff living quarters, was erected on Jamaica Avenue in 1834 and it was moved to a location just to the north of the sanctuary, well back from the street, that same year. In 1925, the columned Magill Memorial Building, a combined church, auditorium and library that also included a gym and bowling alleys, was built just north of the manse.
Across the street there's a classic neon shoe store sign. My mother swore by the "Enna Jettick" brand of affordable footwear, which was in business for decades.
The facade of the Valancia Theatre, not changed a great deal since its days as a vaudeville and movie theater, seems slightly unreal when viewed among the busy storefronts of Jamaica Avenue in 2011.
One of the boons of the Jamaica elevated being torn down in 1978 is that the Loew's Valencia, at 165-11 Jamaica, can now be better viewed from this very busy stretch of the avenue.  The theatre, designed by John Eberson in a Baroque Spanish style, opened in 1929. It has an intricately fashioned brick and terra cotta façade designed to be viewed from up close: the platforms of the Jamaica el were a few feet away. You really have to tarry for several minutes to take in all the cherub heads, seashells and other decorative elements. Unfortunately, it must not have been easy to examine it from anywhere except the elevated! It was one of five Loews "Wonder Theatres" that opened in 1929 and 1930, with the others being the Kings in Flatbush, the Paradise on Grand Concourse in the Bronx, the Jersey in Jersey City, and the Loews 175th on Broadway in Washington Heights.
The Valencia seated nearly 3,600, featured goldfish pools in the lobby, wrought iron railings, an auditorium resembling a festive Spanish garden, air conditioning as early as the 1950s, and pipe organ music until 1965. As with many Loews theatres, clouds and twinkling stars were projected across the dark theatre ceiling. The theatre presented elaborate stage shows until 1935, when they were replaced by double features. The Valencia is now a church, the Tabernacle of Prayer, which thankfully has retained most of Eberson's detail inside and out.
Signs of Jamaica
After the elevated train on Jamaica Avenue was torn down after its closure in 1978 it was thought that businesses would get a boost from the lack of the noisy el and the opening of the street to sunshine. The city also played a role, disposing of the dwarf lampposts that lit the street under the el and instituting a general spruce-up, building faux brick sidewalks, brick patterns at the crosswalks, and specialized stoplights and lampposts from 150th-169th Streets. By 2011, the posts had started looking somewhat the worse for wear, as rust has creeped in.
The posts do preserve Queens' biggest collection of white and blue color coded street signs (every borough got its own color — Manhattan and Staten Island shared gold and black). By 2011 most extant ones have been taken away, but since these are "embedded" in the posts, it must be too tough to bother removing them.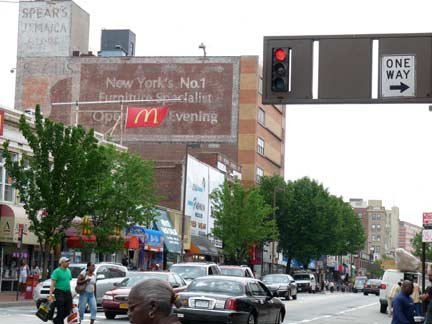 The Fulton Furniture Store at Jamaica Avenue and 168th Street, preserves Jamaica Avenue's former name, Fulton Street, as it was known until the 1910s. I am unsure if the old Fulton Street was meant to be an extension of Brooklyn's Fulton Street, the roadway from which Jamaica Avenue springs in East New York. An even earlier name, Ferry Road, encompassed both roadways, and led to the East River ferry to Manhattan.
Two ancient painted ads can be seen looking west from here: Spear's Jamaica Store and one for Sachs Furniture.
A block away at Archer Avenue and 168th Street is the imposing 104th Field Artillery Armory, which went up in 1933 (Charles B. Meyers, architect)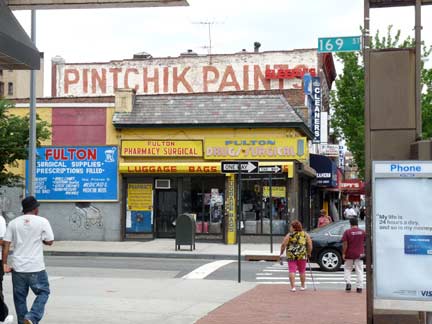 At 169th and Jamaica there are a couple of faded ads for Pintchik Paint, perhaps more famed for its Park Slope location at Flatbush Avenue and Bergen Street.
East of 169th Street Jamaica Avenue is still a commercial strip, but calms somewhat, except for the traffic. These strefronts can be found at 170th, including Quasar Liquors, which juses an Egyptian-style front on its awning sign.
East of 171st Street a facade is emblazoned J.J. Friel, est. 1870, and a barely visible painted sign can be seen on the side of the building. The company dispensed loans from a Broadway location and from the home office here at 171-03 Jamaica Avenue. A painted sign is still detectible on 5th Avenue in Brooklyn.
175th Street and Jamaica Avenue. Plastic letter sign for a tape recorder repair shop no longer there, and painted signs for Carpen's Plumbing Supplies, which is still there. Hey kids, tape recorders came before cassette tapes, CDs and MP3's and came after 78 RPM records and phonographic cylinder recorders.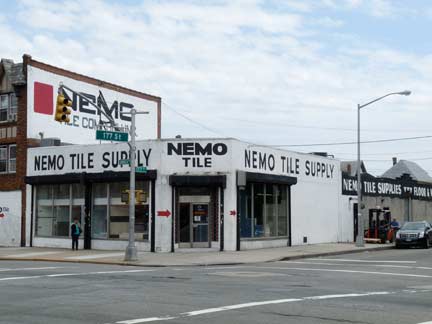 The Afrikan Poetry Theatre Ensemble was the forerunner to the cultural center, The Afrikan Poetry Theatre. It was an aggregation of poets, singers and musicians, that organized in 1976 to bring conscious raising lyrics in their songs, exciting sounds of Jazz, funk and African rhythms, and the "Power of The Word" in their poetry. The group was founded and organized by John Watusi Branch, and the late Yusef Waliyaya, both poets and cultural workers associated with the "East" Cultural center, and its school Uhuru Sasa (Freedom Now) in Brooklyn, NY in the early 1970's. Afrikan Poetry Theatre
After 2 years at 89-11 Merrick Boulevard the APT moved to its present location here at Jamaica Avenue and 177th Street in 1979.
Across the street is Nemo Tire Supply and its hand lettered signs.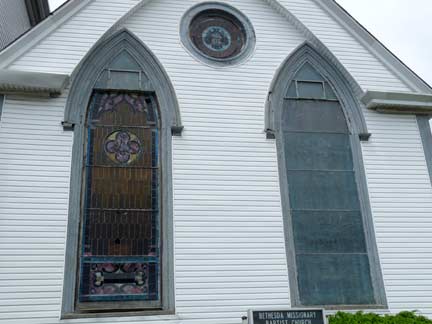 At Jamaica Avenue and 179th Place is one of those simple country churches (that were once in the country) that can pop up anywhere. In this case it's the Bethesda Missionary Baptist Church, built in about 1900 in what was likely a dusty track surrounded by fields and farms. One of those unpublicized surprises and forgotten landmarks you find all over NYC — if you know where to look.
Coal & Ice, at about 182nd Street. Can't make out the top line. This ad was placed primarily so eastbound riders on the LIRR could see it. Queens Check Cashing, 182-09 Jamaica, has a handsome logo, a capital crowned Q with the CC initials in the circle. According to 'faded ad' expert Frank Jump, it's Rubel Coal & Ice.
Preparing to enter Hollis, which is largely residential. Nevertheless, Jamaica Avenue is thick with factories and warehouses here, and these modest residences face a concrete plant across the avenue.
Hollis
Generally located between 183rd/Dunkirk Streets, Hillside Avenue and Linden and Francis Lewis Boulevards, Hollis was named by developer Frederick Dunton after his hometown in New Hampshire in the 1880s. Previously, Hollis had been the staging area for a key skirmish in the Battle of Long Island during the Revolutionary War in 1776. American general Nathaniel Woodhull was captured by British forces at a tavern owned by Increase Carpenter at the present Jamaica Avenue and 197th Street. Woodhull was struck repeatedly by a sword when he refused to speak the words God Save the King, instead saying, "God save us all!" He was imprisoned in a prison ship in Gravesend, Brooklyn, and died at New Utrecht in September 1776. Woodhull is buried near his home in Mastic, Suffolk County. A pair of winding streets near the Hollis LIRR station are named Woodhull and Carpenter Avenues.
In recent years, Hollis produced the Grammy-nominated, Rock and Roll Hall of Fame rap group, RUN-DMC.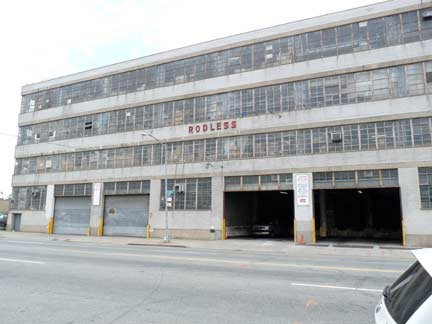 A pair of massive, many-windowed warehouse buildings at 184th and 185th Streets, the Ideal (Toy Company) and Rodless Buildings.
A pair of fenceposts at 193rd Street and Jamaica Avenue emblazoned with "HPG" initials, Fulton Street (Jamaica Avenue's old name) and "Hollis Park Boulevard" mark the edge of Hollis Park Gardens, built as a Jamaica suburb in the early 1920s (joining nearby Holliswood and Jamaica Estates, where Mario Cuomo and Donald Trump spent part of their youths. The large homes on wide green lawns provide quite a contrast to the bustling, industrial Jamaica Avenue.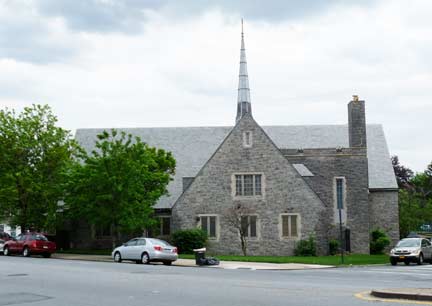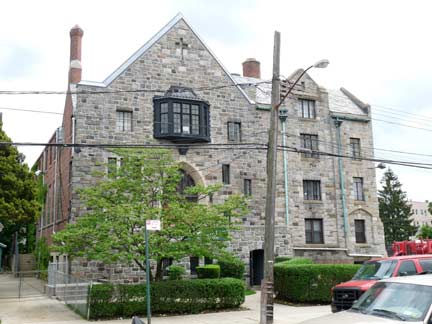 Jamaica Avenue skirts Bellaire as it eases out of Hollis. The parish of St. Gabriel's Anglican (Episcopal) Church at Jamaica and Woodhull Avenues originated in 1891 (at least a preserved cornerstone shows that date) and the present ashlar brick church was built in 1959. The parish house on Woodhull is home to QSAC, which provides services to children with autism.
…and nearby on Jamaica Avenue there is an angel.
Hollis Court Boulevard exists in two separate parts, one in Flushing and Auburndale, running from 46th Avenue and Utopia Parkway southeast to Francis Lewis Boulevard and the Long Island Expressway, the other a 4-lane road with a center grassy median running from Hillside Avenue's junction with the Clearview Expressway and Grand Central Parkway southeast to Jamaica Avenue. An intermediate section between 73rd Avenue and 86th Avenue adjoining Cunningham Park was renamed Hollis Hills Terrace in the 1970s.
At its southern end, it hosts some of the neighborhood's more bespoken houses.
Easing into Queens Village, Jamaica Avenue perks up somewhat and apartment and office buildings, as well as office blocks, begin to appear. Village Plumbing still boasts a sign several decades old, and it looks as if it once owned all of this building.
The land where Queens Village sits today is actually on the western end of the vast, flat Hempstead Plains that dominate southern Nassau County. The area around Jamaica Avenue and Springfield Boulevard was settled early on, in the 1820s, by entrepreneur Thomas Brush; an early name for the settlement was Brushville but by the late 1800s, it was called simply Queens. The "Village" was added later to differentiate it from the county and borough.
Hempstead Avenue, NY State Route 24, begins at Jamaica Avenue and 213th Street. It quickly escapes into Nassau County and forms the southern end of Belmont Park Racetrack, retaining the name Hempstead Turnpike as far east as Farmingdale. Route 24 extends out to NYS Route 110 in East Farmingdale.
Callister Building and Citizens Community Buildings, 215th Street. The latter contains the Community Theater, home to the New Greater Bethel Ministries. It was showing films as recently as 2007. The ministry blandified and whitewashed the marquee from when it was a movie theater.
A grand old street clock decorates an otherwise bland brick building at 215-48. The clock may have been a part of the previous building on the site.
Nearby at Howard Jewelers, a venerable neon sign shines forth.
If you look carefully you can see the faded "Queens Diner" faded sign next to the newer Dunkin' Donuts. Across the street, the H&R Block tax service is in a building that seems to have had a grand past.
A storefront at Jamaica Avenue and 219th Street fronts on a building that extends far into the rear. In the early 20th and late 19th Centuries, many taverns maintained a bowling alley or two for those so inclined (as did Neir's in Woodhaven) and that is likely the explanation here. On 219th, a locksmith retains some old signage.
The Long Island Rail Road has had a station at Jamaica Avenue and Springfield Boulevard since 1834, the first year the railroad penetrated this far east. The square formed by the two roads and Amboy Lane is the Queens Village and Bellerose World War II Veterans Memorial Plaza.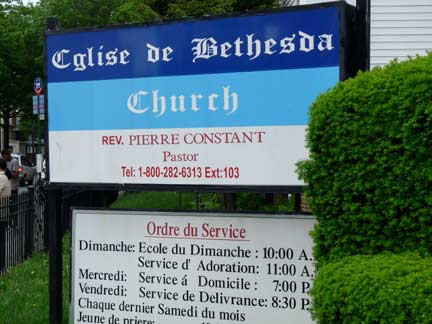 The Queens Reformed Church (Eglise de Bethesda) dominates the NE corner of Jamaica Avenue and Springfield Boulevard. The "old white church" opened in 1859 as the Reformed Protestant Dutch Church. The columned portico was added in 1947.
The Eglise de Bethesda serves the region's Haitian community. Across the street the Queens Theatre has run the gamut in recent years from XXX porno palace to a storefront church, but seems unoccupied at the moment (June 2011).
Photographed May 2011; page completed June 6, 2011
6/6/11