In early 2010, just as spring was beginning to spring, I ambled slowly and haltingly north on Berry Street, the only one of Williamsburg, Brooklyn's major 'north-south' (in general; streets wind around to match the overall East River shoreline here) to be called a "street" not an Avenue. Before the 1900s or so, Williamsburg's streets were mostly numbered, rising as they got away from the East River — thus Kent Avenue was 1st Street, Wythe was 2nd, Berry was 3rd, and so forth up to 12th Street, now Hewes. East-west streets have always been numbered — you had a set of North and South Streets separated by Grand Street.
Berry is named for Abraham J. Berry (1798-1865), Williamsburg(h)'s first mayor after its incorporation as a city in 1852. A physician by trade, he aided in an 1832 cholera epidemic and later was the surgeon for the NYS 38th Infantry during the Civil War.
Berry Street begins (or rather ends) at Division Avenue and South 11th Street. Though I was walking north, the house numbering for Williamsburg's north-south routes begins at their northern termini and increases as you go south (i.e. #1 Bedford Avenue is at the corner of Manhattan Avenue).
Williamsburg's new downtown/shopping/entertainment district runs along Bedford, with venues splayed out along the cross streets on either side. Berry is quieter and retains more aspects of Williamburg's former incarnation as a manufacturing/industrial enclave with residences and restaurants as an afterthought. When I first entered Williamsburg in the 1970s it was called the Northside north of about Grand Street, it was quiet as a mortuary, and in fact borderline dangerous. By 2011 it had become a full-blown Brooklyn's times Square, minus most of the sleeze.
I prefer to ignore that present aspect of "the Willie" and concentrate on the remnants of the crumbling neighborhood where, in high school, I rode an almost-broken down van to a bowling alley at Humboldt and Moultrie where other schools in our league, that had a bigger student body from which to recruit bowlers, regularly wiped the floor with our sorry rears. Of course all trace of those lanes has vanished as if it did not exist.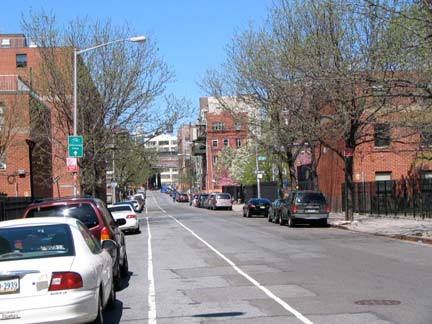 Berry Street. The DOT maintains a modest northbound bike lane. I was never a ride on the left type. I always preferred to go with the traffic flow as my right side is my weak side. This strategy, though, has made me subject to the occasional doorer. Motorists remain adamant in maintaining their right to open the door on the driver's side without checking to see if anyone is coming, and I have engaged in heated arguments over the years with motorists about this.
Of course, bicyclists also assert untenable rights to disobey traffic signs and strictures, believing the purpose of a bicycle is to enable the rider to flaunt them. It's a war that will go on as long as our street layout is the way it is.
While roving through Williamsburg, occasionally a building will be seen to rise head and shoulders above its brethren. Current zoning restrictions call for such high rises to be built only along the East River shoreline. However, before the laws were enacted it was more Wild West and developers were free to rear such out-of-context behemoths willy nilly. Then the zoning laws were changed, but construction on the bigger projects had already begun.
Another of Berry Street's brilliant, yet anonymous, brick warehouse buildings, at South 8th Street. It'd take a lot of rooting around in the municipal archives to find out the architect and date of construction. Of course if this area is ever landmarked the building would turn up in the LPC report.
Multicolored brick, a terra cotta arched entrance, and arched and rectangular windows mark this apartment house on Berry Street near Broadway.
The curved-edged building on the SW corner of Berry St. and Broadway formerly housed a Manufacturers Trust bank (the night deposit door still indicates that) — this is now a Signature Bank branch, a bank of which I hadn't heard of when walking past.
So, how did night deposit doors on banks work? Did you open them with a key and dump in your deposit with a deposit slip? In loose bills? Sounds iffy to me. Similarly is that how after hours library deposit doors work? You just dumped your books in? Just like that?
Berry Street crosses about a 5-block stretch of Brooklyn's Broadway that is vouchsafed full sunlight. Between the Williamsbug Bridge entrance/exit and its southern end at Jamaica Avenue and Fulton Street, Broadway is shrouded and shadowed by a rattling elevated, the Nassau Street-Broadway-Jamaica Avenue line, run mostly by the J train, though the M also runs on it part time. Looking east we see the dome of the 1880s Williamsburg(h) Bank Building, which ceased being a bank a few years ago and is now under preparations to be split into expensive condominiums. A part of the bank building that wasn't landmarked was razed.
Until the early 20th Century even this stretch of Broadway was covered with an el, a spur line from the bridge to Kent Avenue. In 2011 the only avenue in Brooklyn (and in NYC) completely elled over is Livonia Avenue in East New York and New Lots.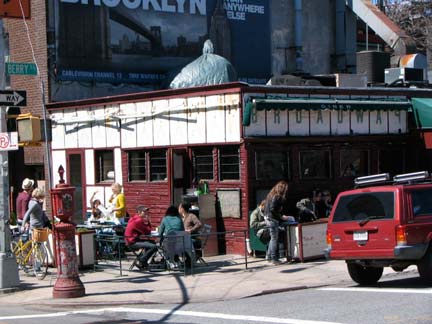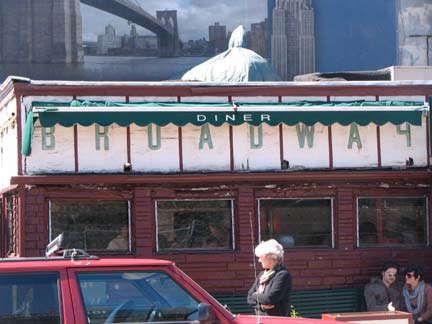 Though the bigger awning sign on the eatery on the NW corner says "Broadway" and the awning itself says "Diner" the official name of the restaurant is "Diner." It opened in 1999 and a claim to fame is that über-TV chef Anthony Bourdain once favorably reviewed it, and he's famed, or vilified according to your POV, for not liking comfort food. The dinner entrees are pricey but brunch and lunch are affordable.
A trend in the past 10-15 years in NYC is to ship classic railroad-car type diners out of town (as happened with the Cheyenne and Moondance) as rents increase geometrically, or to turn them into hoity toity foodie type places, with expensive menus featuring plenty of octopus, mussels or other seafood I don't like. It happened just around the corner as the humble Wythe Diner became first the Relish and now [2011] a Brooklyn branch of La Esquina. In Hunters Point, Queens, the Skyview begat M. Wells, which, even though every foodie critic on the East Coast praised it, still succumbed to a rent it couldn't afford in a humble Mountainview diner building.
Further north on Berry Street is this humble bright red brick building tucked beside the descending Williamsburg Bridge. Juts a slice of an older, mundaner Brooklyn.
I liked this shot of the windows with their crumbling outer lintels and sills, and the tied-back curtains.
A look a little further down South 6th, showing a former vision and a newer vision of residential housing. I'd like it if you could combine the amenities of the units on the left with the dwelling on the right.
Further down South 6th and a look at the Williamsburg Bridge. It's pedestrian friendly but is an extremely lengthy bridge to conquer, much more so then the Brooklyn or Manhattan. The reason for this is a very long, tapering ramp on the Manhattan side. On a bike it's a piece of cake especially if you're entering Manhattan.
This was the second span to cross the East River between Brooklyn and Manhattan, finished in 1903. All that interlocking and exposed metal was a departure from the graceful Brooklyn Bridge.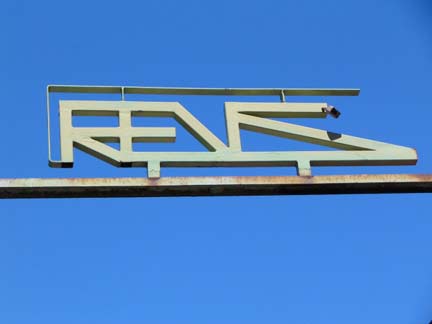 Graffiti and REVS, South 5th Street near Berry. REVS, the graffiti artist who first came to prominence in the early 1990s with ubiquitous REVS vs. COST (an associated artist) tags. In the 2000s, he turned to wrought metal art; piece bearing his name pop up around town, in locations secured by permission of the owners.
The 1910s era Frame & Picture Co. sign has been mostly obscured by graffiti on Berry north of South 5th Street.
The NYC Salvage Warehouse on Berry Street north of the Williamsburg Bridge in Brooklyn auctioned off its treasure trove of New York City artifacts to a single bidder in July 2011, and will be torn down to make way for condos. The place is something of an artifact itself, as the outside sports a sign going back to the Edward I. Koch administration.
A pair of walkups along Berry Street that have remained relatively unchanged, on the outside at least, for many decades.
At South 4th Street, an anti-smoking mural commissioned by Willimaburg art group El Puente features some disturbing, Bosch-ian images.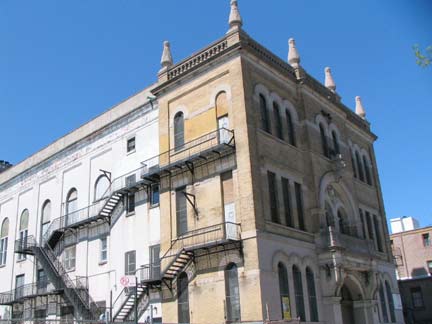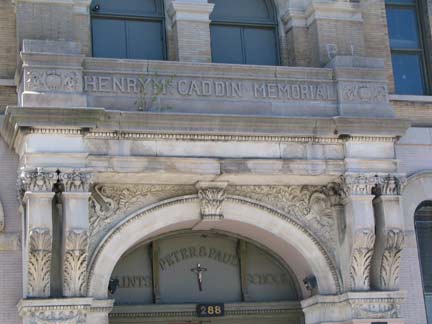 The mysterious Henry McCaddin Memorial at 288 Berry, formerly the grade school of nearby Sts. Peter and Paul Roman Catholic parish, has recently been reconfigured as a concert hall. It has been a school, concert hall and library in the past. The cornerstone was laid in August of 1897.
Coca-Cola provided grocers with vinyl-lettered signs beginning in the 1950s, and a few dozen can still be seen around town, such as the one on Milly's Mini Market on South 2nd and Berry (apparently they ran out of N's, so they made do). The 1980s "swoosh" Coke signage is seen here too.
Some more buildings along Berry unchanged since perhaps the Taft Administration. A look at the sidewalk reveals several bluestone stretches. Curbstones, too, are made of bluestone and many of these have survived around town.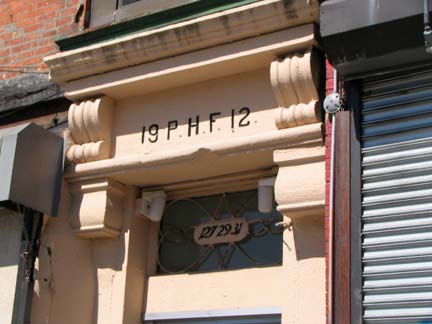 A brick apartment building at the corner of Grand and Berry sports new cell phone receptors. Grand Street is the divider between the "Northside " and "Southside" of Williamsburg.
An unplumbable mystery to me about this building is the inscription above the entrance. The "19 12" likely states the date of completion, but the initials P.H.F. are a puzzler. Perhaps, the architects' initials.
Grand Street runs from the East River to Newtown Creek, where it is promoted to Avenue and runs further inland to the heart of Elmhurst at Queens Boulevard and Broadway. I have prepared a walking tour of this lengthy road, which will appear on FNY sooner or later.
A large piece of incongruousness at Berry just south of Grand. Apparently another apartment building is anticipated to be built just south of it; why else would you make the entire south side windowless?
A pair of near-twin brick walkups face off across Berry from each other at North 1st Street. They probably had the same architect.
Radegast Hall  is a new beer garden-style Austro-Hungarian restaurant at Berry and North 3rd, at the site of the formerly desultory Empire Candy and Tobacco Warehouse. Beer halls featuring outdoor seating are becoming more popular, joining the Czech Bohemian Hall in Astoria which for many years was the only game in town for this kind of thing. My particular favorite beer hall in the 5 boroughs remains Killmeyer's way out in Kreischerville, Staten Island but I'm tempted to try Radegast if I'm here with other folks.
Radegast, also Radigost, Redigast, Riedegost or Radogost, is mentioned by Adam of Bremen in his Gesta Hammaburgensis Ecclesiae Pontificum as the deity worshipped in the Lutician city of Rethra. Likewise, Helmold in his Chronica Slavorum wrote of Radegast as a Lutician god. However, Thietmar of Merseburg wrote in hisChronicon that the pagan Luticians in their holy city of "Radegast" worshipped many gods, the most important of which was called Zuarasici, identified as either Svarog orSvarožič. According to Adam of Bremen, Johannes Scotus, Bishop of Mecklenburg, was sacrificed to that deity on 10 November of 1066, during a Wendish pagan rebellion against Christianity. wikipedia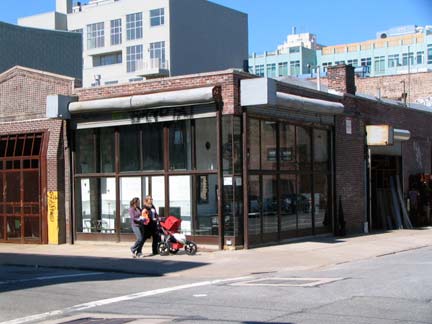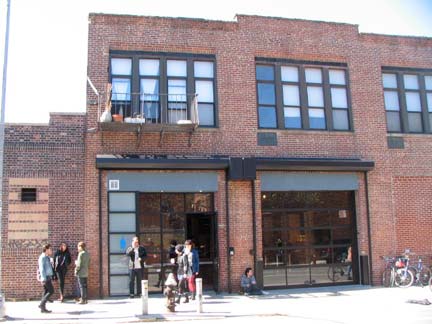 At North 4th, two more cases of carving public paces out of what were fomerly hsrdworking warehouses. Each follows the trend of not marking your establishment with any signage whatsoever. That way only the kool kids know about it.
At North 5th and Berry, the 21st Century vision of residential housing faces off against the early 20th Century vision, as the giant aqua-green NV is opposite a lengthy corner house that may have sported a bowling alley in decades past. The NV is by architect Karl Fischer, who the NY Times says is "remaking the face of Brooklyn." Though some say, not for the better.
NV is semi-Latin for "North 5th".
Williamsburg has an industrial past, and some of it still remains in the present.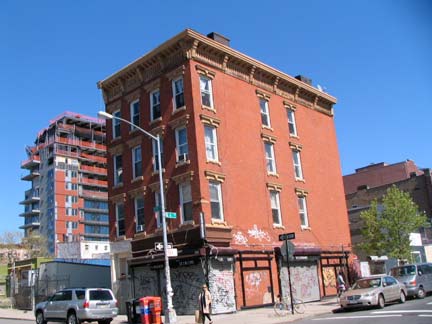 At North 6th, a corbelled veteran and one of Williamsburg's new "finger buildings" in the background.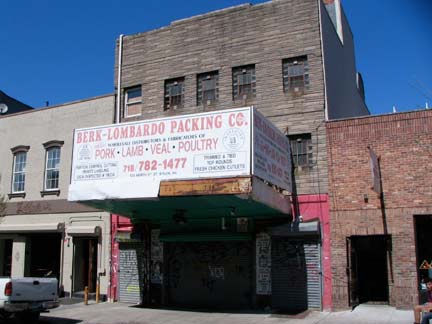 There's still a poultry slaughterhouse or two in Greenpoint, and a meatpacker/wholesaler on North 6th off Berry in Williamsburg.
People's Firehouse, Inc. Housing Community and Development is named for the actual People's Firehouse on Wythe Avenue that was the site of repeated battles between the city, which tried to close it in 1975 and 1991 (finally succeeding in 2003) and Williamsburg locals.
At North 8th and Berry, a newer old-school bar faces off against a just plain old bar.
Brooklyn Ale House was established in 1997 and at least on the exterior features details like stained glass above the entrance and a wood sign. Reviews are mixed but mostly good. Catercorner to it …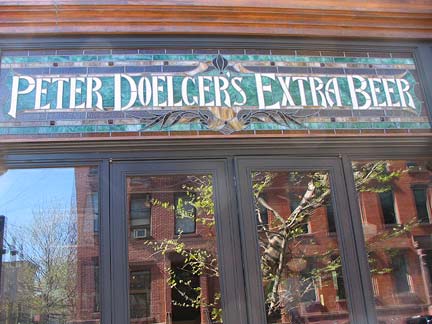 … is Teddy's, a Williamsburg institution that has been here since 1887. A vintage stained glass sign for Peter Doelger's Extra Beer is on the Berry Street side. The Doelgers operated a brewery here from the 1880s until the Depression years. In 1889 Matilda Doelger, the daughter of the owners, married a boxer named John West (of whom the family didn't approve). The Wests had 4 children, one of whom, Mary Jane, entered showbiz in her pre-teen years, and you know her better as Mae West.
I've been in Teddy's just once, on an unsuccessful pre-Forgotten NY (and pre-Williamsburg renaissance) blind date in the mid-1990s. Whenever I have gone back since it's been too crowded to go in!
I have a feeling the People Storage Facility on North 10th won't age nearly as well as the factory with the smokestack did.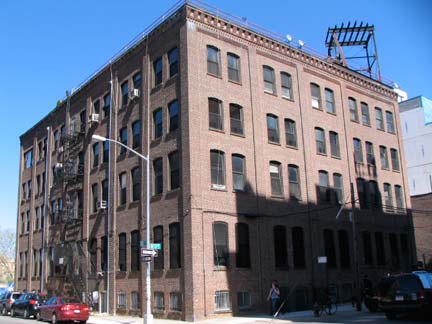 North 11th and Berry. The inherent class and dignity of unencumbered brick architecture.
11/13/11