The title card shows Trimble Road, a one-block street running from 62nd to 63rd Streets along the Long Island Rail Road main line north of Woodside Avenue.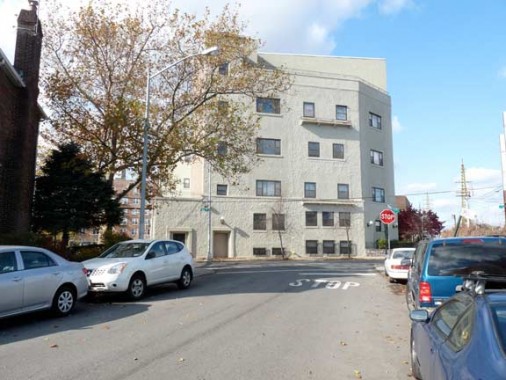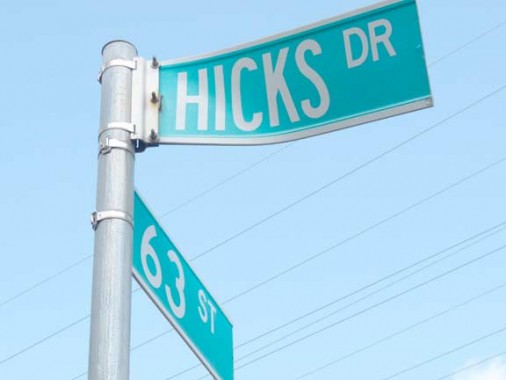 Trimble Road has a counterpart, Hicks Drive, a one block street running south of the LIRR tracks between 63rd and 64th Streets. The large building used to be a watch factory but is now residences.
In 1915, when this Bromley atlas plate was drawn, Woodside was a neighborhood in transition, mainly die to changes to mass transit. Roosevelt Avenue, named for Teddy, was newly cut through and ran from Woodside through Jackson Heights and Corona; it was the road over which the new elevated railroad ran. The LIRR, meanwhile, was streamlining its own operations, building a wide right of way that would serve most of its branches all the way to Jamaica and eliminating grade crossings as the region became more urban and less rural. The wide open space running from NW to SE was where homes had been demolished in antipation of the open cut on which tracks would be built.
A couple of streets which had run through to Woodside Avenue would have to be interrupted, and short roads were built along the tracks to allow autos and horse carts to get through. Trimble Avenue (formerly 10th Street) was therefore doglegged to Hicks Avenue (formerly 11th Street). In the 1920s, Hicks, Trimble and other named streets were then renumbered to 62nd and 63rd — but the short doglegs along the railroad kept their old names.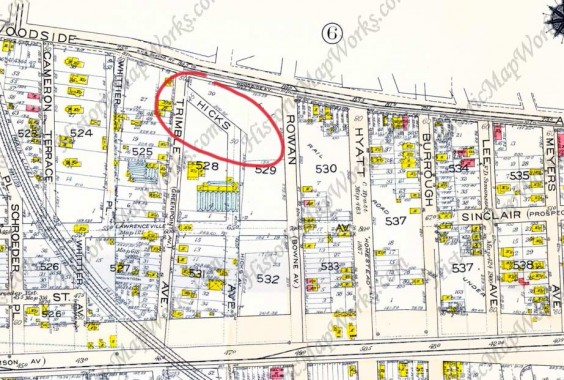 The circled portion of Hicks Avenue survives as Hicks Drive.
On the above map, there are other street names that have somehow survived till the modern era.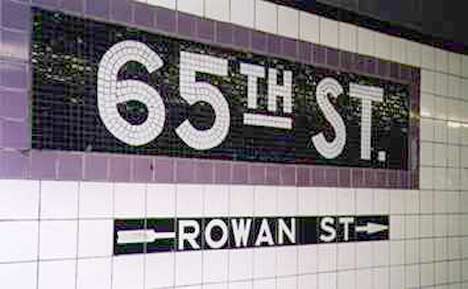 Rowan Street, now 65th Street, survives in the IND station on Broadway. When the IND was built, oldtimers still used the old names, and some of them sneaked onto the station signage.
Hyatt Avenue, now 65th Place, survives on a pair of gateposts that formerly marked the Ridgewood Terrace section of southern Woodside-northern Maspeth.
11/17/11