Over the years my pal Allen Dade has passed along several dozen images of the strange and varied lampposts found in the London area. I know next to nothing at all about them — except they're in the vein of the wrought and cast ison Bishop Crook and Corvington lampposts that, in newly cast versions, are dotting the NYC landscape once again. Is a similar recreation project happening across The Pond?
Here is that title card image, showing The Who (Pete Townshend, John Entwistle, Keith Moon, Roger Daltrey) in 1965 in Wapping (pronounced whopping), a neighborhood in London east of The City along the north shore of the Thames. In the background is the imposing Tobacco Dock wall. Of course my eye was drawn not only to Townshend's medals collection but the incredible swan-neck lamppost on the left, called "fungus lights" for a reason unknown to me: perhaps Allan can clear that up in the Comments.
Poplar High Street, Poplar, London, 1954
From about the same neighborhood. Some examples of this variety lamppost are still standing today.
Whitechapel, north of The Tower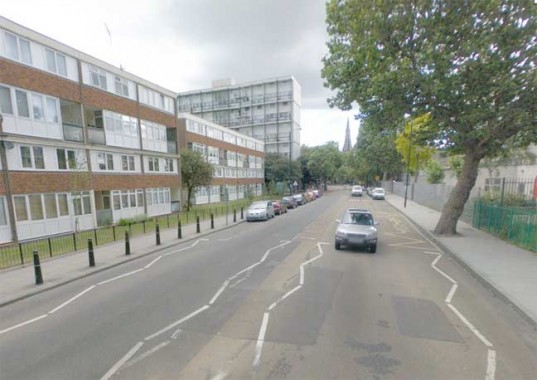 Two views of Manchester Road, Isle of Dogs, 1954/2011. Christ Church of the Church of England is the only common denominator. The fanciful concrete posts were removed by the 1970s. The Isle of Dogs is a peninsula formed by a wide bend in the Thames; its etymology is uncertain.
I'm uncertain of the locales for the next few posts. Some British ForgottenFans could perhaps enlighten me.
Ealing, NW of London
Above photo:  Dublin, Eire 
Many of these fanciful posts of a previous era had been replaced by the early 1980s.
11/16/11