One of my new favorite spots while hiking the twisting and turning length of Richmond Terrace on Staten Island's north shore — home to a brand new pedestrian walk facing Upper New York Bay and a long-abandoned railroad, as well as the remains of gypsum plants and plumbing supply firms — is the hole-in-the-wall Leidy's Shore Inn, a doughty institution founded by Jakob Leidy (say it LEE-dee) in 1905, making it nearly 110 years old. Over the decades, its main clientele had come from the area gypsum plants, as well as from the retired sailors who used to inhabit Sailors Snug Harbor, which is about a ship's length away. Recalls the Shore Inn's owner, Jacob's great-grandson Larry Liedy, "My father used to drive them home," he said. "These guys, they'd spend their whole paychecks here."
The Shore Inn is frozen in the mid-20th Century, which is just how the regulars prefer it, from its pressed tin ceiling to its wood plank floors. On a midweek afternoon, the vibe is relaxation as the trucks rumble down Richmond Terrace and the tugs guide barges down the Kill Van Kull.
The Shore Inn has undergone recent trials. For a time, there was worry it would lose its liquor license (the situation has been resolved). In August 2011, Hurricane Irene damaged the building, which still needed repairs as of May 2012.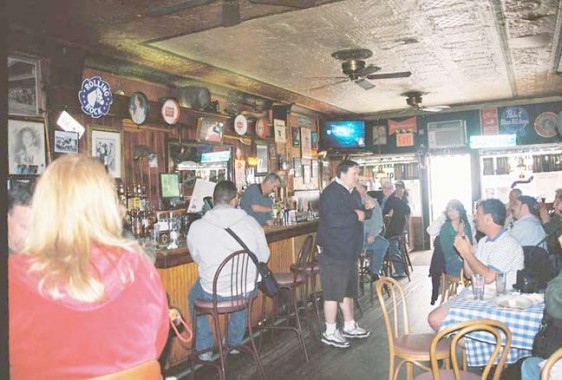 Larry (center) works the room as ForgottenTour 44 stops at the Shore Inn in May 2011. Earlier that year, Larry installed a vintage piano player, which provided the soundtrack.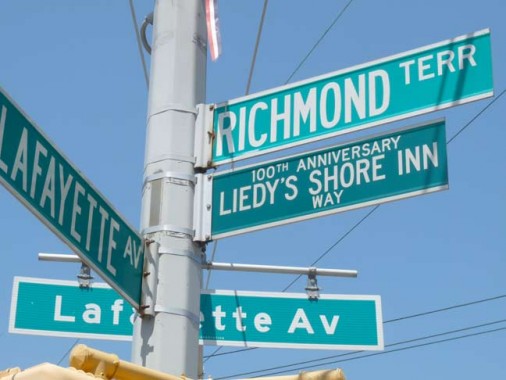 Liedy's scored its own street sign in honor of its centennial in 2005.
If you find yourself in New Brighton, drop in, and if you're around on weekend evenings, there's music, as well
http://www.youtube.com/watch?v=u-iD3UvKOQ0
5/30/12