162nd Street runs north-south in Queens, a bit here, a bit there, from the Whitestone enclave called Beechhurst south to Jamaica (oddly it never gets south of there, even though there's plenty of real estate south of Jamaica). Between Northern Boulevard and 46th Avenue in the eastern reaches of Flushing, it's a two-way main drag, with parking meters and storefronts.
When I moved into fab Flushing in 1993, 162nd was the main north-south shopping drag, with a Hallmark cards franchise, fruit stores, meat markets, two bars (three, if you count one around the corner on Northern) and a basically busy street life. I moved away from the neighborhood in 2007, and was surprised to see things have gotten a lot quieter since I left.
Flushing used to boast an Irish subpopulation, in the minority to be sure, but enough to make a presence felt. In the center, this pair of storefronts on Northern between 161st and 162nd was known as Bridie's, whose soda bread was so good Mary Beth would squirrel some away to take home in her bag. It later became a Korean "hof" and now it's been split into two busineses, one of which is a restaurant/bar.
162nd Street was bookended by two ancient and hoary taverns, the Velvet Cup near Northern and Paddy Quinn's, near Sanford. Quinn's is still hanging in, but a number of businesses have shuffled through where the Velvet Cup used to be. Sharp-eyed obsevers on the LIRR can still see the sign, which was removed and placed on the building's roof. I have tried to get the American Sign Museum in Cincy to haul it away and should try again.
Morde's Junk Shop Antiques is actually one of the few businesses on 162nd that's not shuttered. The deli where I got newspapers and snacks is still open, on the corner of Station Road, along with a forlorn coffee shop and tobacconist, but they seem to be surviving on inertia alone.
One of these stores used to be my dry cleaners.
Bakery, hardware store, another antiques shop, all closed.
This used to be the fish store. Something is coming soon. The nearby  fruit store and drug store have moved elsewhere.
This was the butcher. While I was in the neighborhood it moved to a different location between 43rd and 45th Avenues, then closed after a few years. The local Grand Union became a Korean supermarket several years ago, but I imagine people get meat there now. There was always a vinyl awning sign, which recently was removed, revealing this wonderfully hand lettered linoleum sign that I'd guess was put there in the 1940s.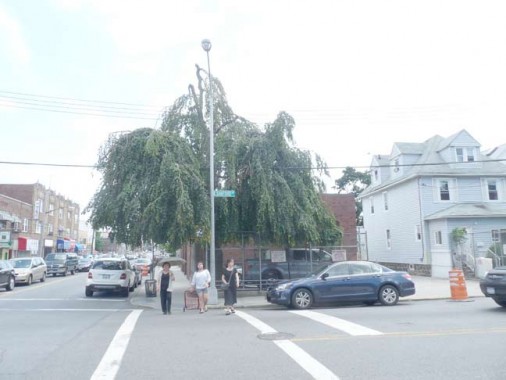 Kessler Signs, Sanford and 162, is still there as well as the corner weeping beech.
The big Tudor on the corner is home to Petrocelli Insurance as always.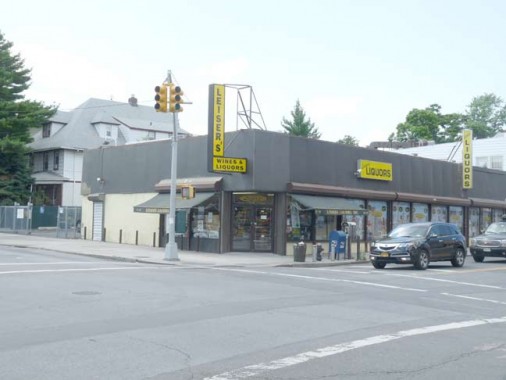 Liquor stores rarely fail. Leiser's, on the other corner, is a veritable liquor supermarket and is even doing TV commercials now.
Can we kiss 162nd Street goodbye or will it become the mecca it was when I first arrived in the 1990s?
7/18/2012