I have always been fascinated by streets that dramatically change character from one end to the other, as well as change their level of traffic. There are a number of streets in NYC that start with just a trickle of traffic and build and build to a heavy volume, such as Staten Island's Hylan Boulevard, which begins quietly at the Alice Austen House (which belonged to the famed late 19th-early 20th Century photographer) on the Narrows, becomes a screaming, honking mess as it roars down the island's east shore, and ends quietly again at the historic Billopp Conference House, where Ben Franklin unsuccessfully tried to stave off the Revolutionary War.
Each borough except Manhattan has a street, or streets, named Union, and Manhattan has the bustling Union Square, named for the confluence of Broadway (earlier Bloomingdale Road) and the Bowery. Brooklyn's Union Street is named for the Union Stores, an 1800s East River dockside repository for sugar, molasses and other comestibles. Both Brooklyn and the Bronx' Union Avenue are likely named for the Union Army following the Civil War.
I worked my way from south to north along Union Street, from its tamest point to its busiest. The street begins at Negundo Avenue, in the section of Flushing named for plants in alphabetical order from A to R. Flushing, beginning in the colonial era and for almost 200 years, was home to a number of plant nurseries where people would come from all over the NYC area to buy flowering plants and fruit trees. That era ended in the early 20th Century when Flushing became increasingly urbanized.
Union Street ends here at Negundo Avenue; negundo is a species of maple tree also known as the box elder and maple ash.
A selection of the houses along southern Union Street. Older frame houses, likely from the 1920s and 30s, mix with newer Tudor -style buildings and even newer lawnless brick houses.
PS24 (the Andrew Jackson School), at Holly Avenue and Union Street. Like most NYC public schools, there's no architectural information provided on the school's website, but I did find a photo album of the school and the immediate area that was taken in 1979.
As can be seen on this google map excerpt, there is a three-block break in Union Street between Cherry and Franklin Avenues. There's a reason for it that's over a century old.
On this 1909 atlas plate I have circled the two pieces of Union Street, which remain separated. The space between them was once occupied in large part by the Sanford Hall Sanitarium, which fronted on Jamaica Road (now Kissena Boulevard). What was the first private asylum in NY state was established in 1841 by Dr. James McDonald. One of its more famed patients was actress Georgia Cayvan; she died there at age 49.
Cayvan was famed for wearing a glass dress.
The sanitarium closed in the first half of the 20th Century (certainly by the early 1920s); Ash, Beech and Cherry Avenues, and their private houses, now take its place.
On Union between Franklin and Sanford, Sanford Towers, a large, multi-unit apartment building that I guess goes back to the late 1920s or early 20s, stands in contrast to the cheaper stuff that has infiltrated the neighborhood since the 1970s. Like many complexes of its type, it has a parklike center courtyard.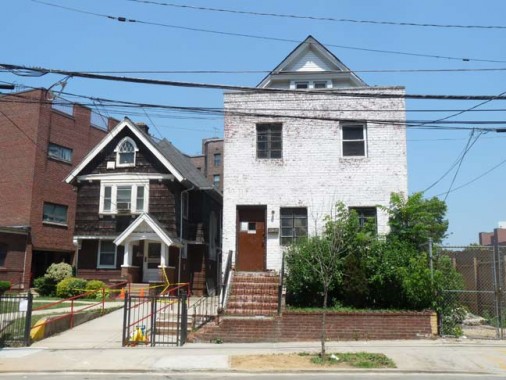 Two older buildings on the same block, the one on the left is the parish house of the First Baptist Church (see below). On the right, a boxy brick addition was made to the original wood frame house.
FIRST BAPTIST CHURCH (1890), SE corner Sanford Avenue and Union Street. First Baptist, perhaps, inherited the title of Flushing's tallest church steeple after the one on St. George's Episcopal on Main Street ws blown down in a September 16, 2010 tornado.
It's the first of a number of churches to be encountered when walking north on Union Street.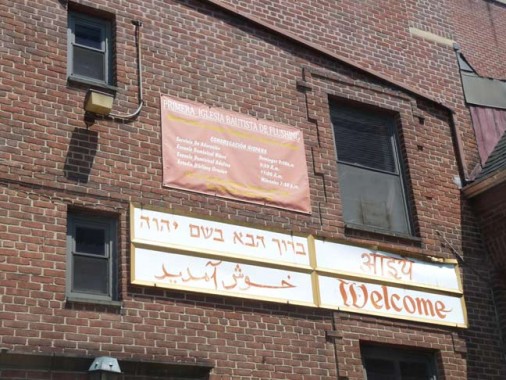 First Baptist welcomes worshippers of many languages, only a couple of which I recognize. I think three are English, Hebrew, Arabic, and what else?
ST. MICHAEL'S ROMAN CATHOLIC CHURCH, NW corner of Union Street and Barclay Avenue. The original was built in 1854, matching it in age with St George Episcopal. It was on Union Street and 41st Avenue, closer to Long Island Rail Road tracks, which may have caused it to weaken. It finally had to be torn down and replaced by this modern building in 1961. The parish parochial school, built in the 19-teens, still stands close by on 41st Avenue.
The new church features the little-known symbols of the New Testament's Twelve Apostles surrounding the front entrance, with the archangel Michael in the center. From top left, running counterclockwise:
Simon (a fish and a book; the apostles were 'fishers of men' through the Gospel)
Jude (a ship, to represent his missionary journeys across bodies of water)

John (a cup holding a snake; according to legend, John once blessed a cup of poisoned wine he was given to drink at a feast in Ephesus, and the poison departed the cup in the form of a snake)

Thomas (a carpenter's square and spear; he supposedly built a church by himself in India, while he was martyred with a spear)

Matthew (three bags of money; his first career was as a tax collector)

Peter (two crossed keys; as the first leader of the Church, Peter was given the authority of the Church or "keys to the kingdom")

James the Less (Often represented by a saw, or in other representations, a fuller's pole. Though tradition holds he was martyred by stoning, another story says he was clubbed in the head by a fuller's pole, formerly used in cloth manufacturing)

Philip ( a cross and two loaves of bread, perhaps reminiscent of the Miracle of Loaves and Fishes)
Bartholomew (Tradition holds he was martyred in Armenia by being flayed, or having his skin cut off, while alive. His symbol is a knife accompanied by a book symbolizing the gospel)
James the Greater (three seashells symbolizing the coast of Spain, where he preached)
Andrew (fish on an X-shaped cross; he was supposedly martyred on one. The fish is a symbol of Christ, from its Greek name, ichthys, which contains an anagram, in Greek, of honorifics given to Jesus, explained on this page.)
Matthias (he was chosen after Judas Iscariot's betrayal; his means of martyrdom was murder by ax)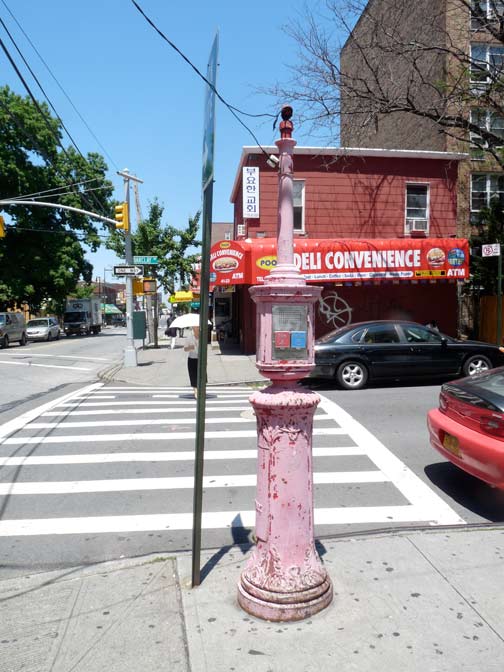 An ancient fire alarm, probably from the 19-teens, at Barclay and Union Street. It still has the top shaft on which the alarm light was likely mounted that now serves to conduit electric wiring. The additions of police and fire call buttons was done in the 1980s.
We'll see more of these later, but at about this point Union Street's buildings begin to fill with signs mainly in the Chinese and Korean languages.
Engine 273/Ladder 129, built right by the tracks, has a pair of goblins on the roofline. There is also a firehouse built on Murray Street one stop east on the Port Washington branch LIRR line.
Shown is Roosevelt Avenue as it crosses Union Street. Roosevelt Avenue is an extension of Greenpoint Avenue at its junction with Queens Boulevard, running east under the el and beyond it to Northern Boulevard and 155th Street in Murray Hill. It was built at the same time the el was, opening in 1917.
Roosevelt Avenue joins Northern Boulevard and Jewel Avenue as the only local streets allowed to cross Flushing Meadows-Corona Park. East of the park, it took over the old route of Amity Street (with a few years' stint as 40th Avenue) in 1928, when the el was extended as a subway to Main Street.
Nancy Reagan as a child lived on Amity Street (she was apparently borin in Sloane Hospital in Flushing, about which I know nothing), though for the most part she grew up in Chicago after her parents' divorce and mother's remarriage to a neurosurgeon, and moved on to Hollywood in 1949 as the silver screen beckoned.
The glass front on this building, Union Street and 39th Avenue, was considered a dandy place to affix dozens of signs.
MACEDONIA AFRICAN METHODIST EPISCOPAL CHURCH, Union Street and 38th Avenue. This is the third oldest religious institution in Flushing; it was founded in 1811 as the African Methodist Society, welcoming a diverse congregation of blacks, whites and Native Americans. The previous church on the site was constructed in 1837 (and is represented on the sidewalk historic signage) — it may have been a stop on the Underground Railroad in teh 1850s and 1860s. This, the second building on the site, was dedicated in 1932.
While African-Americans were being pushed uptown in Manhattan the late 1800s and early 1900s, African-Americans were being removed altogether from the downtown Flushing area in the mid- to late-1940s. The officials of government identified their community as a slum and proceeded to implement a plan designed by Commisioner of Parks, Robert Moses, to build a parking lot and bus station. Not only homes, but the little red schoolhouse built in 1861 by the Flushing Female Association, despite its landmark status, fell to the wrecking balls. The new arrivals to the suburbs needed convenient parking for their shopping expeditions so a viable community was displaced for a parking lot. A way of life was destroyed as members of the African-American community were scattered, leaving only their church as a reminder of their former existence in the area.
The church was determined to maintain its presence on the original site, and with the help of the newly assigned pastor, the Rev. G. Grant Crumpley, this was accomplished despite overwhelming odds. Rev. Crumpley was able to acquire from the City the adjacent lot and the church proceeded to build the Youth Building complete with chapel. Surrounded by a city parking lot, Macedonia continues to stand in downtown Flushing on or near the original parcel of land purchased by "Trustees and members" in 1811. NYC American Guild of Organists
NYPD 109th Precinct, Union Street across from Macedonian AME.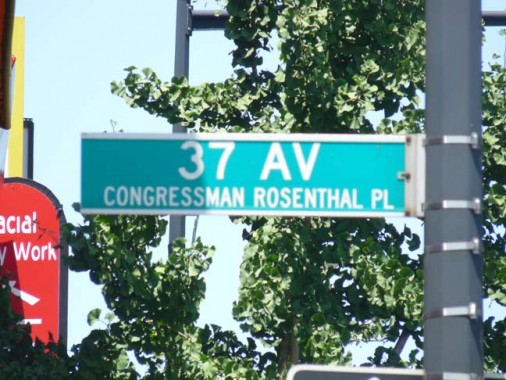 Beginning at 37th Avenue, building signage really tales over as every flat surface on the buildings lining Union Street are filled with an advertisement of some sort.
Since 1983 37th Avenue street signs have borne the subtitle 'Congressman Rosenthal Place' which should be replaced, as the practice since 1983 has been to post a separate sign bearing the nonoree's full name.
Benjamin Stanley Rosenthal (June 8, 1923 – January 4, 1983), a Representative from New York, was born in New York City. He attended public schools (including Stuyvesant High School), Long Island University, and City College. He served in the United States Army, 1943–1946, and received his LL.B. from Brooklyn Law School as well as an LL.M. from New York University, 1952. He was admitted to the New York bar in 1949 and commenced practice in New York City. He was elected as a Democrat to the Eighty-seventh United States Congress, by special election, to fill the vacancy caused by the resignation of United States Representative Lester Holtzman, and reelected to the eleven succeeding Congresses (February 20, 1962 – January 4, 1983). He died in Washington, D.C. wikipedia
He was succeeded by US Rep. Gary Ackerman, who announced his plans for retirement at the end of his term on 1/2/2013.
Between 37th Avenue and north of Northern Boulevard, Union Street is absolutely awash with ads mounted on buildings, most of them in Korean and Chinese. Periodically there has been a push to feature English as prominently, but that is not likely to happen.
Signs warning pedestrians and bicycles to exercise care have sprung up (many written using haiku) along Northern Boulevard and elsewhere. This one is decipherable only if you point a smartphone at it.
Possibly Flushing's most beautiful building, the Collegiate Gothic  FLUSHING HIGH SCHOOL [C.B. J. Snyder, arch.], on the northeast corner of Northern Boulevard and Union Street, was completed here in 1915 on what had been the southern edge of the Parsons plant nursery. Flushing High was established in 1875, when Flushing was a separate town in the county of Queens, which was then more than twice its current size (it included most of what has been Nassau county since 1898). It first graduating class in 1878 had six students; today, there are over 2000 graduates per year.
The school's monumental square entrance towers, picturesque silhouette, asymmetrical massing, and assorted Gothic-inspired details — crenellation, grotesque corbels, and heraldic statues of unicorns and griffins — echo the fanciful conjoining of styles typical of english universities. The Landmarks of New York III, Barbaralee Diamonstein, Harry N. Abrams 1998
The 1915 building was declared a New York City Landmark in 1991. Amazingly the school was going to be closed and reopened under a new name, with a new staff, after the 2012 school year because of a declining graduation rate, but after a United Federation of Teachers union lawsuit, the school will reopen in the fall of 2012… for now.
Some scenes from inside the school can be seen on this webpage.
Union Street takes a jog to the northeast, and changes character again, after crossing Northern Boulevard. Originally this part of Union Street used to bear the name Whitestone Avenue, as shown on this 1909 atlas plate (I added a couple of contemporary names). Though this map also gives it the subtitle Spring Lane, others give that name to Leavitt Street a block to the west. (Leavitt is one of the few streets on the 1909 map that has kept its old name). Leavitt, with its twists and tuns, probably does follow a former spring.
Whitestone Avenue probably became Union Street when many other area streets were assigned numbers, and the whole house numbering scheme was changed. However, Flushing has kept a generous portion of its names, especially the ones associated with the area's former role in the commercial plant business, than other parts of Queens.
You wonder, why bother extending Union Street along Whitestone Avenue's old path, but that's an over 80-year-old story now, and the issue has been decided.
More modest, but comparable in age, to Flushing High is the former PS23 (THE LINCOLN SCHOOL) on the NW corner of 25th Avenue and Union Street. Built in the 1890s, it's the only survivor of the Lincoln, Washington, Jackson and Jefferson school buildings in Flushing, and is the only pre-consolidation (1898) school still standing. It is at present the Queens Academy High School.
ST. JOHN VIANNEY ROMAN CATHOLIC CHURCH, 34th Avenue and Union Street.
On June 6, 1967, Archbishop Bryan J. McEntegart, the Bishop of Brooklyn, established the Parish of St. John Vianney.  It was carved out of sections of the larger neighboring parishes of St. Michael, St. Mel and St. Andrew Avellino.  The Brooklyn Diocese purchased the property on Union Street between 34th and 35th Avenues at a cost of $497,200.00 in order to construct the Church and other Parish buildings. There were two two-family houses on the property.  One was demolished and the other became the  residence for the priests serving the Parish. SJV website
Jean-Baptiste Marie Vianney (1786-1859) is the patron saint of priests. Known as the Curé of Ars, he was instrumental in the reinstitution of the Catholic faith in France after the French Revolution.
A pair of multifamily buildings face off across Union Street at 34th Avenue. Above is the older vision with decorative terra cotta elements, handsome brickwork, and storefronts facing the street. Below is the new vision, with garages facing the sidewalk, rusting fire escapes, and garbage collection by the front entrances.
Union Avenue is encrusted, barnacle-like, with the machinery and signage of earlier decades. This FDNY alarm sports its original pull handle it had when installed decades ago, and is accompanied by the placebo of a push-button, which fools the pedestrian into believing they can change the stoplight to green at their convenience.
Do they work at all?
At 33rd Avenue, the Vineyard Christian Church has a gravel surface parking lot all its own.
Why modern homeowners are obsessed with fence columns like this escapes me. Perhaps they are told they are popular, and they should buy them (just as kids are told that current pop music acts are selling like crazy — so they buy them like sheep, without even caring how they sound). The building houses practitioners of acupuncture and herbal medicine, so you'd think they'd want something more natural looking.
But so much of modern living is making people think you've spent a lot of $$$ on yourself.
Feeling a little restricted or hemmed-in lately? The folks in the middle know how you feel. Between 32nd and 33rd Avenues.
A large, rather anonymous, multifamily object, NW corner 32nd Avenue and Union Street.
Another of Flushing's local churches, Pure Presbyterian, 32nd and Union, offers English services as part of its Crossroad International English Ministry.
I liked this wood sign on the NE corner at 32nd Avenue. Translation, anybody?
Above 32nd Avenue, the uglier new construction leaves off and some older buildings, like this pair of Tudors, begin to reappear.
Linden Hill Post Office. Officially, the area between Flushing and Whitestone is named Linden Hill, presumably for local trees found when it was settled, and a main north-south route is called Linden Place.
An old-style arrowhead sign pointing to the Whitestone Bridge survives, battered, bruised and unbowed, at 29th Avenue. New versions of these classics have begun to appear, but they aren't die-cut but merely painted on the standard rectanagular-shaped signs.
A pair of large co-operative developments, Linden Hill Houses and Mitchell Gardens, face off on Union Street between 25th and 31st Roads. An E.E. Mitchell held a vast area of property in the area and 33rd Avenue was formerly known as Mitchell Avenue.
Finally, Union Street makes a bend at 143rd Street and metamorphoses into Willets Point Boulevard.
Willets Point is actually located within Fort Totten on the north shore, though many now believe it is in eastern Corona because of the persistence of the Metropolitan Transit Authority, which resolutely drops the "Boulevard" at its Willets Point–New York Mets station. A short piece of Willets Point Boulevard beneath the station is the main drag of the Iron Triangle, a concentration of auto body and hubcap shops the city is attempting to evict, as its esthetics displease Mayor Bloomberg and the NY Mets owners.
Oddly, the two pieces of Willets Point Boulevard are now over a mile apart, though they may have been connected before the Whitestone Expressway, né Parkway was built in the 1930s.
7/29/12