The relentless heat of the summer of 2012 (every day was over 80 degrees — I would like to retire to a clime where daytime readings never exceed 70, which is a humane temperature) and the relentless anomie of joblessness have been playing on the white matter and slowly been rendering a madness resulting in what the 1939 film "Things To Come" (which can be viewed in its entirety on youtube) called "The Wandering Sickness." I am compelled to stalk the streets with a camera and record everything that seems slightly off. There's probably some unlocked history there, where things seem off.
GOOGLE MAP: Hunters Point to Sunnyside via Astoria
Leaving the #7 Flushing Line at the newly rebuilt Court Square station, formerly 45th Road-Court Square. The station has acquired new platforms and windscreens, which weren't quite finished in August 2012, and neither was the lighting. The station had also acquired a direct transfer via a new escalator directly into the underground tangle of IND stations, the IND Crosstown (G train) and the E and M trains, which wind up running down 6th and 8th Avenues and then east on Queens Boulevard.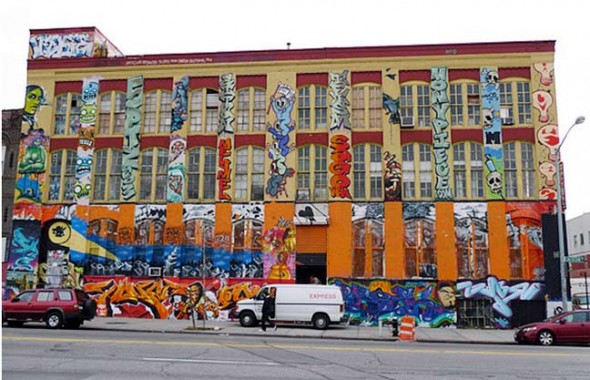 photo courtesy urban75
5 Pointz, originally the Phun Phactory, is an exhibit space on Jackson Avenue and Crane Street in which graffiti artists have decorated the exterior of a 200,000 square foot factory building. Artists pay below market rate rent for studio space in the interior. Pat DiLillo established Phun Phactory in the early 1990s to provided street artists a way of displaying their talents without breaking the law. However, some artists argue that anarchy is a part of garfiti culture, and a legal space circumvents that mission. 5 Pointz is most visible by passengers on the #7 el, which runs behind the building.
In 2012, it was reported that 5 Pointz would close and its building razed in favor of (you guessed it) expensive housing.
Some say that since street art only has legitimacy when it is created under illegal conditions, 5 Pointz was something of a copout. I must admit, for that reason, I have never warmed to graffiti and street art, despite featuring some of it on FNY over the years. In the 1970s, you knew one thing while riding subways that were graffiti-scrawled inside and out: the cops didn't rule this place; the Transit Authority wasn't controlling it: the taggers and graffitists were in total command.
Until the 1990s, when you walked the Bowery, you knew that the man with a one dollar bill was king, or, if unable to defend himself, would be quickly divested of that dollar. You walked the Deuce past the hustlers, muggers and whores and you knew who was in control.
If you were then konked in the head and fell asleep, Rip Van Winkle-style, and then woke up after 20 years, you would find the Bowery lined with gleaming hi-rises, and find the Deuce filled with family entertainments and swamped with tourists. Some decry the loss of authenticity. I mourn it too. I value order and safety, though.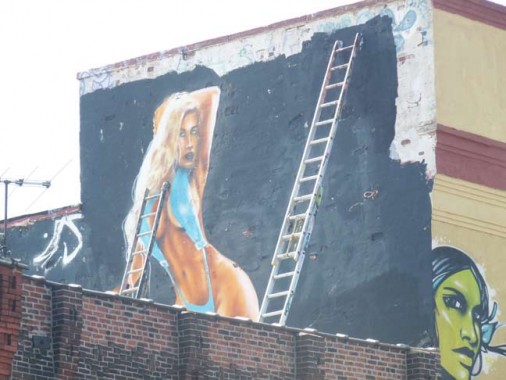 If 5 Pointz goes, I'll miss her, though. I ride past her several times a week.
23rd Street at 45th Road is lined with construction equipment on both sides, as it has been for the better part of three years.
23rd Street is lined with picturesque brick buildings on either side that likely predate the arrival of the el in 1917.
Some of the houses belonging to the Hunters Point Historic District, located mainly on 45th Avenue, spill over to the west side of 23rd Street. Its residents have to put up with teeth-rattling noise from the #7, which screeches around a nearby curve.
45th Avenue between 21st and 23rd Streets, one of Queens' few Historic Districts, seems transplanted from brownstone Brooklyn.
Completed between 1871 and 1890, the forty-seven houses exhibit diverse architectural styles including the Italianate, French Second Empire, and Neo-Grecian. A large number of the original stoops, lintels, pediments, and other architectural details are intact. Most of these houses were built in the early 1870s for well-to-do families by two developers, Spencer Root and John Rust.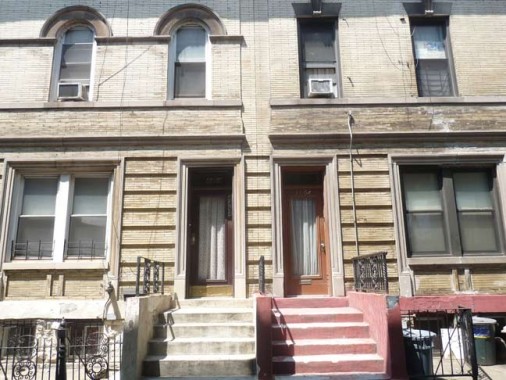 Two of the older apartment buildings on the west side of 23rd Street.
A variety of housing styles on the north side of 44th Drive. Note the plastic letters on the sign spelling out an alphanumeric phone number. The ST stood for STillwell, an exchange used in Queens, despite Stillwell Avenue being in southern Brooklyn.
44th Drive, when it was laid out in the mid-1800s, was named for Eliphalet Nott, inventor of the anthracite coal stove and founder of upstate (Schenectady) Union College. Nott, along with Neziah Bliss, had purchased the estate of the Hunter family, which owned the territory, in 1835. Bliss set about founding Hunters Point, Greenpoint, Brooklyn, and a small eastern hamlet called Blissville.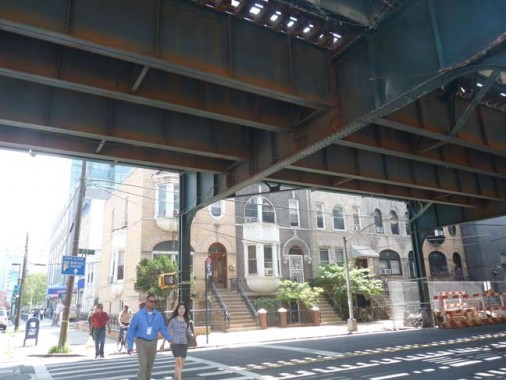 Looking east at 44th Drive, and another set of idiosyncratic dwellings on the east side of 23rd Street.
The Secret Theatre [23rd Street and 44th Road) is a custom-built theatre and rehearsal rooms facility in the heart of LIC's artist's quarter. Resident Company The Queens Players and visiting NY theatre companies can comfortably seat 88 people (104 onstage) and the space has a flexibility which allows us to produce shows either as thrust, proscenium, transverse or other styles of theatre. Theatrermania
Their logo features a lot of Futura, one of my favorite fonts.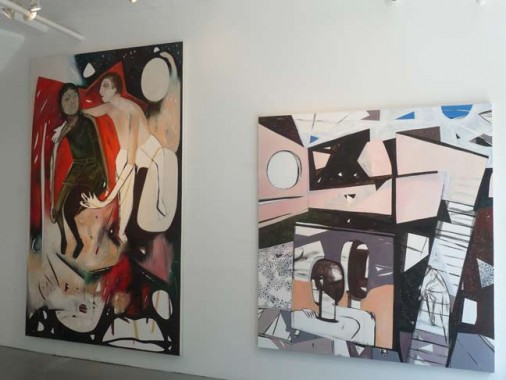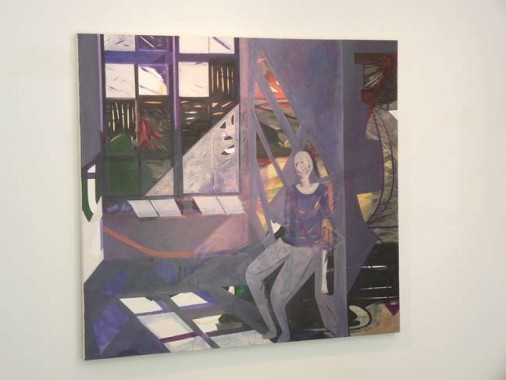 Sharing a building (a former factory and loft, still complete with loading dock) with the Secret Theatre is AES Gallery, founded in 2007.
On the east side of 23rd Street we see Hunters Point old and new, as rising gleaming office and residential towers spring up amid the ancient buildings of the late 19th and early 20th centuries.
North of 44th Avenue, 23rd Street is lined with tall manufacturing loft buildings on its west side. This one bear the name Repetti; an internet search was fruitless about what was made by Repetti, but an art gallery in the building has co-opted the name.
9/18/12: Repetti, it appears, was an old-time candy company. I had found another one, Ridley's, along Queens Blvd. in 2009.
I liked this view of the spindly elevated train supports in front of one of the lofts.
At the corner of 43rd Avenue, this loft has green-tinted windows to contrast with the green paint job recently given the elevated.
A battered sign on 43rd Avenue directs traffic toward Roosevelt Island, which is nowhere in the vicinity. To reach the island from here you would need to take 43rd Avenue to Vernon Boulevard, drive north to 36th Avenue and then cross the Roosevelt Island Bridge.
As Hunters Point becomes more and more populated with high rise glass-front residences and office buildings, here are a couple of ancient campaigners from a different era on 43rd Avenue.
Hand-drawn mural for Union Local 12.
The Citigroup Tower, Long Island's tallest at 45 stories, and its acolytes tower over the low-rise buildings of old Hunters Point.
Roman Bronze Works, 43rd Avenue and Hunter Street. I wonder if the sign and house numbering is in bronze.
The company has a lengthy pedigree: it was established in 1897 by Riccardo Bertelli, and was a subcontractor to Louis Comfort Tiffany's glassworks studios, which operated from a brick building on 43rd Avenue in Corona for much of the 20th Century.
The foundry's mold makers, casters, chasers and finishers, and patinaters cast sculptures from plaster and terra cotta models provided by sculptors. They also scaled down monumental and other finished works for editions of collectors' bronzes, allowing works by Daniel Chester French, Henry Augustus Lukeman [4] and Augustus Saint-Gaudens to ornament a private library or drawing room.
From 1898, Frederic Remington worked exclusively with Roman Bronze Works, as did Charles M. Russell. Remington bronzes were being cast by Roman Bronze Works as late as the 1980s. wikipedia
A Century of American Sculpture: The Roman Bronze Works Factory [amazon]
Bronze is a metal alloy consisting of copper and another metal, usually tin. It has been produced for thousands of years.
The tallest building in Long Island City save the Citigroup Tower can be found at Queens Plaza and 28th Street, easily towering over its neighbors.
A pair of older houses are hanging in there on 27th Street north of 43rd Avenue.
Looking toward the concrete-clad Queensboro Plaza station from 27th Street, home to the BMT N and Q trains as well as the #7 Flushing Line trains. The station used to be even wider until it was nearly trimmed in half after 2nd Avenue El trains stopped running over the Queensboro Bridge to this station in 1942.
The City has expended a lot of $$$$ in recent years spiffing up what had been a desultory, moribund stretch along Queens Plaza, which runs along the el on both sides. New plantings have been added, as well as pedestrian plazas, walkways and bike lanes, and a brand new park at 41st Avenue, Northern Boulevard and Queens Plaza North. The changes come as fast food joints and mind-reading psychics move out and gleaming high rise towers move in.
However, since the fast food joints have been pushed out, office workers are contending with fewer eateries. Food trucks have arrived to fill the bill.
Heading north on 28th. North of Queens Plaza, a flock of cheap motels have sprung up. This will likely be justa 6 story multifamily. A few feet away is a relatively unchanged old classic, with a porch and roof corbelling. But an ominous sign is the plywood over the porch windows.
Despite the siding, the intricate eaves ornamentation marks this as an early 20th Century house at 38th Avenue and 28th Street.
28th near 36th Avenue: Oliver Wendell Homes Junior High (I think they call it intermediate school now, but junior high is easier to spell). The mustachioed, Boston-raised Holmes (1841-1935) was a famed Supreme Court Justice between 1902 and 1932. He was a Civil War veteran and was appointed by Theodore Roosevelt. (Note 1957 cornerstone)
The jurist was more properly named Oliver Wendell Homes Jr., but I suppose that would have led to some confusion on the sign.
"Taxes are the price we pay for a civilized society." –Holmes in 1904, 9 years before the national income tax was legislated.
In 1864, 23-yr-old Holmes the soldier was at Fort Stevens, near Washington, D.C., while it was under Confederate assault. He screamed at a tall civilian in a suit and top hat recklessly peering over the fortress wall: "GET DOWN, YOU DAMNED FOOL!". The civilian was President Lincoln, who immediately complied. [an apocryphal story, but I'd like it to be true.] Harvard Regiment
28th near 36th Avenue has a number of these small 2-family brick buildings with arched front entrances. What I liked about them was…
…was that the half-circle of glass above the door, some of which have individual panes, some not, still have decades-old number appliqués.
On the corner of 36th Avenue this restaurant reminded me of …
http://www.youtube.com/watch?v=JZZbkzM3aak
Connie Francis…
Malagueta is a kind of chili pepper used in Brazilian cuisine.
Just north of the restaurant. What was the hot technology of today will without doubt turn into the relicts of tomorrow. This Mac came out around 2000 or 2001. I still have mine — my scanner is attached to it and I didn't feel like reinstalling the scanner software on my newer machine. When I have to scan something I put it on a CD and trudge it from my bedroom, where the old machine is, to the newer machine, in the other room. (I have an AirPort but have never figured out how it's supposed to work, so this awkward arrangement will have to suffice for now.)
Some remaining buildings on 28th Street, which ends at 33rd Avenue. There's some attached brick, some Tudor and a few freestanding homes that likely predate the multifamily homes. Note that in the early 20th Century, developers left some room for lots of greenery, recognizing its value. In the early 21st Century, most developers think such additions are a waste of usable space.
Moving on to 29th Street, this massive Tudor-ish pile stands at 30th Drive, and no doubt 99-100% of the tenants have no idea why the place is called Elm Towers. But I know.
There was a magical time in Queens history when many of the streets weren't numbered. Beginning in 1915, a comprehensive numbering system for the borough was devised, but it was adopted in a catch as catch-can manner throughout the 1920s. Some neighborhoods adopted the new system before others did. Astoria was a relative latecomer.
A few years ago, I went to the NY Public Library hoping to obtain some scans of their vintage Hagstrom Maps editions from the Roaring Twenties. The clerk told me that couldn't be done I don't recall the exact reason but it was either that a) the maps did not fit their scanner or b) they weren't in good enough shape that they could go in the scanner. The clerk did tell me that I could get copies done by shooting with my digital camera, so that's just what I did. One of the areas I shot was Astoria, in order to show the old street names before the changeover.
At the top of this 1922 edition — the street outlines were used until the late 1990s — you can see Elm Street, which later became 30th Drive. Quite a few apartment buildings in Astoria carry the names of the streets they were built on, before the numbering took hold.
Across 29th Street from Elm Towers is another apartment building called the Lady Hamilton. It has nothing to do with any relative of Alexander Hamilton, the first Treasury Secretary. Rather, it recalls Emma, Lady Hamilton, a 18th-Century model and entertainer who was depicted by portrait painter George Romney  (an antecedent of US politicians George Romney and son Mitt Romney) and became the mistress of military hero Lord Nelson.
In 1941, Emma and Lord Nelson's relation ship was depicted in That Hamilton Woman with Vivien Leigh and her husband Sir Laurence Olivier.
Reaching 30th Avenue, one of Astoria's busiest shopping street, at 29th Street you encounter a pocket of Italy in what is largely a Greek neighborhood. "Il Fornaio," pronounced Forn-EYE-oh," is simply "the baker" in Italian. Note the red, white and green paint job on the utility post, the colors of the Italian flag.
Once again, passersby and students are confronted with a name that is possibly not referred to within the school itself. [cf. Oliver Wendell Holmes, above.] PS 17, on 30th Avenue and 29th Street, is named the Henry David Thoreau School for a 19th-Century Massachusetts thinker, writer and provocateur (1817-1862). His most famous book, Walden, was a treatise on simple living in natural surroundings; Civil Disobedience was a work urging against blindly following governmental dictates, especially morally repugnant ones.
The Astoria Funeral Home, 30th Avenue and 27th, is a striking Spanish Colonial building.

ATHENS SQUARE
Located just east of the Thoreau School (PS 17) Athens Square is an approximately 1-acre tribute to the modern capital of Greece and its cultural center in the classic age. It has been a park since 1963 with subsequent renovations in 1990 and again in 1993.
Anthony Frudakis' bronze of the philosopher Socrates (of whom, it was written, was not as good-looking as he is depicted in art) was unveiled in 1993, while three adjacent granite Doric columns arrived in 1996. In 1998, Athens mayor Demetris Avramopoulos presented the city with a replica of the Piraeus Athena (originally sculpted about 350 BC). It depicts the ancient Greek goddess of wisdom and patroness of the arts. The Aristotle bust was sculpted by George V. Tsaras of Greece and is a gift from the people of Halkidiki, a peninsula in the Greek region of Macedonia; it was unveiled in April 2008.
Though the casual observer thinks of Astoria as primarily a Greek enclave, the neighborhood's Greek population has decreased in recent years — not in a mass exodus, but it has been lessening. To repeat a cliché, Astoria is one of the City's truest 'melting pots' with Greeks, other Eastern European nationalities such as Albanians, Bulgarians, and Bosnians,  Jews, Brazilians, Maltese, Spanish and Bangladeshis all sharing the stage with run of the mill Irish, like your webmaster.
Benches outside Athens Square allow observation of the passing parade.
Hamburgers have attained a greater prominence in modern cuisine, at least in NYC, with upscale burger joints springing up alongside fast food cow-pattie slingers. There's nothing wrong with the camera– the Burger Club sign is indeed reversed on the 30th Avenue side. The lettering is in the Copperplate font.
Astoria new and old, on Newtown Avenue, a colonial-era route once used by the British Army. This section of Newtown Avenue was proposed as a pedestrian plaza (despite the nearby presence of nearby 1-acre Athens Square), but local leaders shot it down, guessing, probably correctly, that the proposal was more a way to restrict vehicular traffic than to provide a sitting area.
Back to 30th Avenue where once of the pubs is named Dominie's. I associate this word more strongly with Hunters Point, since that area, when first settled by Dutch immigrants in the 1640s, was called Dominie's Hook for Everard Bogardus, its first European landowner. A minister, he was called 'dominie', ultimately from the Latin domine (vocative case of Dominus 'Lord, Master'). English and Scottish presbyters were also called by this name, with various amounts of affection.
Chicken Shack. Most likely, its owners and 100% of its patrons are completely unaware that a keyboard player from an obscure 1960s British blues band of the same name would become one of the most successful musicians on Earth from the 1970s-2000s after Christine Perfect McVie joined Fleetwood Mac.
You Bay Ridgeites [of a certain age] will fondly recall Walt's Hobby Shop, one of my favorite haunts as a kid in the swinging Sixties, in its two locations on 4th Avenue near 86th Street, and later on 5th Avenue in the 70s. I liked to build models of imaginary cities, and also ran N-gauge (the smallest possible) electric trains. My parents and I finally gave up on electric trains after we found it a losing battle keeping dust from accumulating on the set — vacuuming was such a chore. I'd also attempt to assemble scale models of the Starship Enterprise and Flying Sub from Voyage to the Bottom of the Sea, but inevitably, since I will never be mistaken as a carpenter, they would be somewhat misshapen — repeated years later when I tried to assemble IKEA furniture.
Here, I'd probably be attracted to the scale model of the NYC trolley, as well as the 'time machine,' a device I have always coveted in real life. Oddly, this shop also doubles as a dealer in religious hexerei, and I can't make the connection in my head between hobbies and religion, though I'd daresay many people can.
I may make a move to Astoria in the ensuing years. You can pretty much get anything you want there. I like the idea of playing pool, but never got into it much — my first few attempts were not successful at all. Some say you have to 'try, try again', but I say there's no use banging your head against a wall — do what you do well, and what you don't do well, leave alone.
Fonts: Futura Condensed (left), Cheltenham Condensed (center), Peignot (right)
I like the plastic lettering on this sign, near 36th Street — they're the largest samples in this genre I've seen yet. The MK letters are Cooper Black interlopers, as the original sign said something else.
A great example of the tragically underused Kabel font, which can be skinny like this, or corpulently fat in its bolder weights.
On facebook several friends sing Nutella's praises, but I've never had it. It is a hazelnut spread (sort of hazelnut butter instead of peanut butter) with chocolate flavoring added. The only objection I have is that its dark brown color makes it look like something else entirely.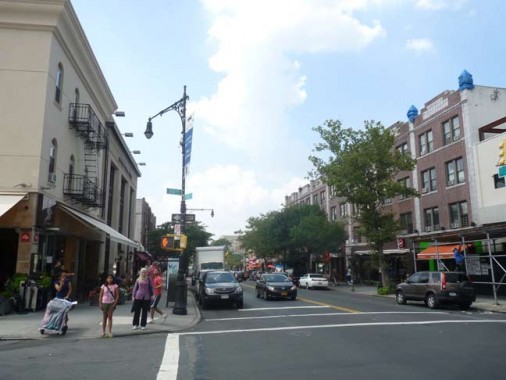 Though I find the apartment house on the corner of 30th Avenue and 38th Street interesting enough, I wanted to point out the neo-Corvington lampposts on both corners. While the original Corvs, placed on NYC streets from about 1910-1950, remained in place, illuminating the streets they were built to serve, the neo-Corvs have a problem — a good stiff breeze will send them spinning wildly.
Grand Court, NE corner of 30th Avenue and Steinway street. Note that earlier I said that old street names are often preserved in apartment building names, and here's one such example. Grand Court is rendered over the door with a great deal of panache, and was built when 30th Avenue in Astoria was called Grand Avenue. (There's also a substantial Grand Avenue in Maspeth and Elmhurst that is an extension of Williamsburg, Brooklyn's Grand Street.)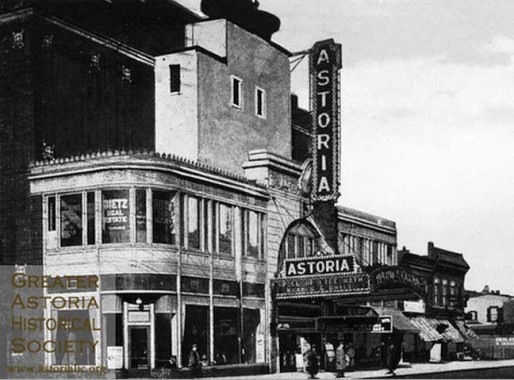 Former Astoria Theatre, NW corner 30th Avenue and Steinway Street. It opened in 1920 as a vaudeville house and was obtained by Loew's as a movie theatre in 1923. It became a 6-plex in 1981 and operated as one until its closure in 2001. The theatre now contains drugstore and gym chain outlets and a Chase bank.
30th Avenue opposite Newtown Road. Since I practically eat nothing but comfort food (is there a notion that food that's 'good for you' has to be noncomforting or unpalatable?) which bears hand-drawn signs saying home cooked, baked, smoked and fried. My kind of stuff, so will have to stop in someday at Queens Comfort. The lunch menu features pulled pork, various burgers, waffles and chicken, tater tots and gravy, a Southern-type menu. Reviewed fairly decently. The only objection I have is that they apparently don't carry Coke or Pepsi.
I was in a DUMBO eatery after a recent tour, and while the place carried Diet Coke, all right, they carried it in these 8-oz bottles with the usual red and white art but shaped like the classic Coke bottle, so I had to buy two to get enough to satisfy. I don't know why places have to mess with the Coke and Pepsi.
Thank you, Mr. Mathews
East of about 42nd Street, Astoria features block after block of yellow-brick apartment buildings that were constructed by developer Gustave X. Mathews and known collectively as the Mathews Flats. They can also be found extensively a few miles south in Ridgewood, and Glendale and Maspeth have a pocket or three of them.
The Mathews Model Flats were built by speculative developer Gustave X. Mathews and designed by Louis Allmendinger in the early part of the 20th Century. Considered to be some of the most innovative housing in the city, these "new law" tenements were designed with more space and better sanitation than their overcrowded 19th Century counterparts. By making use of generous lot sizes, introducing wide air shafts to provide improved air circulation and light quality, including bathrooms in each unit, and limiting the number of apartments per floor, Mathews established a new housing paradigm that was a welcome departure from the congested tenements of the Lower East Side. The three story apartment buildings were simple, sturdy, and relatively cheap to construct, and therefore became the standard for subsequent tenement house construction. Exhibited at the 1915 Panama Pacific Fair in San Francisco, the Mathews Model Flats were heralded as an exceptional achievement. Municipal Art Society
The bricks were supplied by the Balthazar Kreischer brick operations in southern Staten Island. The Kreischer and Steinway families intermarried – everything's connected in Astoria.
Here's another burger joint, 42nd off of 30th, but this one serves them in a Balkan twist, on pita bread with veggies and cheese.
ST. JOSEPH'S CHURCH
The church, on 30th Avenue between 43rd and 44th, was organized for German Catholics in 1877, with the first church building arising in 1880; the tall campanile was added later, as well as a convent and school. Its original rectory was moved to Newtown Road and 47th Street as a private home in the 1920s.
The crown of St. Joseph's campanile can be seen from 30th Road and 45th Street. 30th Road angles strangely and is not parallel to 30th and 31st Avenues.
There's usually a reason for this. On this 1910-era map, what is now 30th Road is labelled Arcadia Ave. and you can see that there were once two roads, labelled 15th and 16th Avenues, that met it at a perpendicular angle. No trace remains of them, but they once likely comprised a small settlement in the area adjacent to the much larger Astoria. The whole region was once part of Long Island City.
In the map, the small purple squares represent whatever Mathews Flats were then extant. Note Newtown road on the left.
New Apostolic Church, 47th Street south of 30th Road, which likely started out as some other church.
I'm not really religious at all, though I'd hedge and call myself agnostic (I wasn't born with the worship gene — look how much trouble there is in the world because of it) but I really like church buildings, which are often the only remaining interesting building in a wide swath.
Some Italians, most likely, along 47th street.
St. Andrews Church, 47th Street at 31st Avenue, has become the nondenominational City Lights Church.
On the opposite corner is the unadorned Jehovah's Witness Kingdom Hall.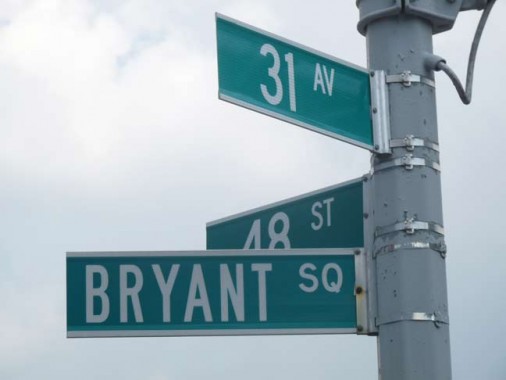 In NYC, the appellation "square" is rarely applied to simple two-street intersections, but makes an exception here, as William Cullen Bryant High School is across the street.
The namesake of Manhattan's Bryant Park was poet, editor and civic reformer William Cullen Bryant (1794-1878). Famous since his teenage years for poems like "Thanatopsis" and the Civil War elegy "My Autumn Walk" he was for over 50 years the editor of The New-York Evening Post, which had been founded by Alexander Hamilton in 1801.
One of the few remaining REVS tags, 48th Street at 37th Avenue.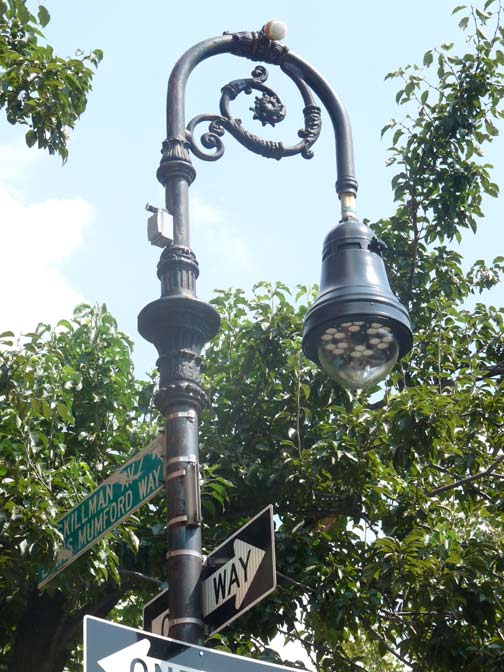 Angling toward the el on Queens Boulevard, I found this unusual luminaire mounted on a Skillman Avenue bishop crook. The yard on 37th Avenue where new NYC lampposts are stored is nearby, and several experimental luminaires can be found on nearby lamps.
The street sign refers to literary critic and architecture writer Lewis Mumford, who was born in Flushing.
In Sunnyside Gardens, not only have the subway stations managed to retain their old pre-numbering names, but the old names have been included on new maroon Historic District signs.
Before I drowned in my own sweat on an inhumanely humid afternoon, I thought it best to enter the sanctity of air conditioning on the Flushing Line and head back home.
9/17/12