After my Park Slope, Brooklyn  9th Street exploration in August 2012 I turned north on 7th Avenue and discovered why one of Brooklyn' old nicknames was the City of Churches, later the Borough of Churches. (I call the Bronx the Borough of Apartment Houses.) There seems to be a classic 19th Century church every other block on 7th Avenue from 9th north to Flatbush Avenue, one handsomer than the next…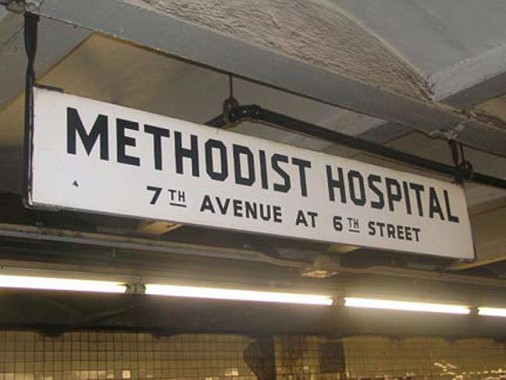 Methodist Hospital was founded in 1881, when it obtained a charter from New York State after urging of congregants from Methodist preacher Reverend James Monroe Buckley, given Brooklyn's burgeoning post-Civil War population. . It received an early boost from a $100,000 donation by George Ingraham Seney, a prominent Brooklyn banker and art enthusiast. The hospital admitted its first patient in 1887 and was the first of the current 78 Methodist-affiliated hospitals in the USA.
All Saints Episcopal Church, 7th Avenue and 7th Street
Founded in September 1867, All Saints opened its chapel Easter Sunday, 1870, and the present building, a "yellow brick and terracotta Romanesque-Moorish basilica with two distinctive towers, a bright barrel vaulted interior with ornate terracotta detailing, and many stained glass windows, including one by Louis Comfort Tiffany" holds forth today. .
Greenwood Baptist Church, 7th Avenue and 6th Street
Greenwood Baptist was founded in 1858 and named for the South Slope, which was called Greenwood then, presumably fot the vast Green-Wood Cemetery that borders the neighborhood. The present rough-hewn brick church was dedicated in 1900. There was a kerfuffle when cellphone equipment was installed on the tower in 2010, but the cries of traditionalists are becoming fainter in cases like this, and congregants say it allays costs of preserving the over 110-year-old church.
John Jay High School, between 4th and 5th Streets,  is now known as The Secondary School for Law, Journalism and Research, and has also been called Manual Training High School. Though I find the John Jay High School name a bit less of a mouthful, that school was shuttered for poor performance in 2004.
John Jay (1745-1829), for whom Brooklyn's Jay Street is also named, was President of the Continental Congress and later the nation's first Chief Justice of the Supreme Court and NYS Governor. Along with James Madison and Alexander Hamilton, he authored the Federalist Papers, a series of 85 articles promoting ratification of the US Constitution. An early abolitionist, in 1799 he signed into law a gradual emancipation that saw the end of slavery in New York state by 1829.
The stonework above the entrance of the school features books, gavels, and other symbols of the law.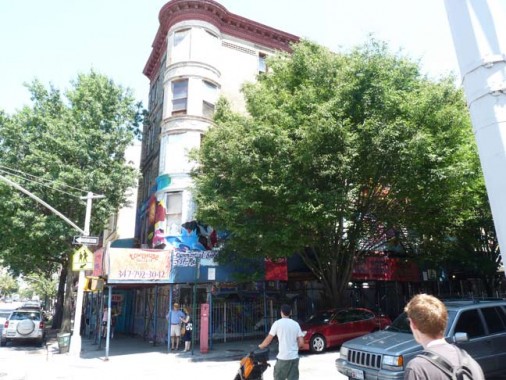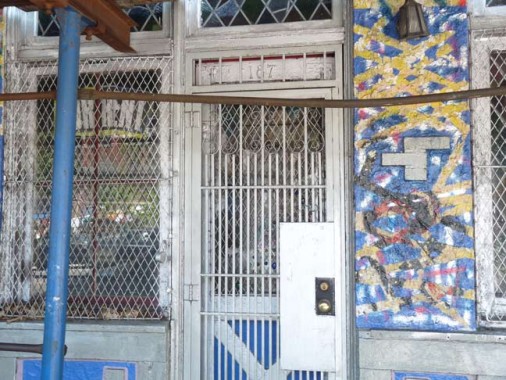 Something out of the past in now-tony Park Slope, as this 5-story building (187 7th) has been shuttered and scaffolded for some time. This was a commoner occurrence back in the Super 70s, and pockets of similar squalor were still to be found on 4th and 5th Avenue until around 2000.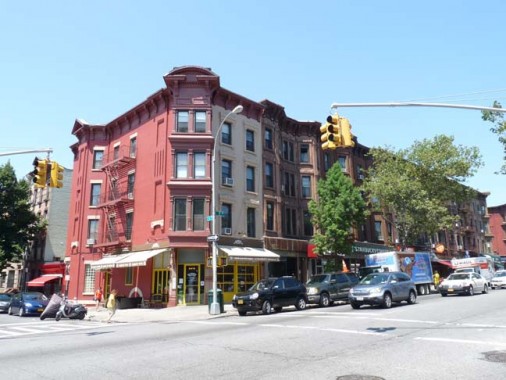 A hallmark of several apartment blocks along 7th Avenue, as well as 5th a couple of blocks way, are windows that diagonally face the intersection. Before 1940, the ones on 5th faced an elevated train, but here on 7th, they have always enabled lucky owners or tenants a nice view.
At 7th Avenue and 1st Street you will find a first-generation Brooklyn black and white street sign that was installed in 1964 or '65, at the very latest. It has already survived one replacement cycle, as the maroon Landmark District signs appeared in the early 1990s. This one might be the last Mohican in all of Brooklyn.
And I've likely hastened its demise. Department of Transportation, have mercy and spare this sign!
Old First Reformed Church, 7th Avenue and Carroll Street.
Completed in 1891 by architect George L. Morse, it's a flying buttressed, gabled, cinquefoiled, rose-windowed white limestone centerpiece of Park Slope's busiest avenue.
The First Reformed Church of Brooklyn dates back to 1654 with the arrival of Domine Johannes Theodorus Polhemus [a nearby short street is named for him], who served the people of Breukelen, Flatbush, and Flatlands. Worship was conducted under the trees, then in a barn. In 1666, the first church edifice was built in the town of Breukelen in the middle of a highway, now known as Fulton Street.
This building was replaced 100 years later and included a burial ground on land which is now occupied by Macy's [the old A&S]. The growth of the church by 1805 necessitated large facilities, and a building was erected on Joralemon Street. Within 30 years, this building was outgrown. It was razed and rebuilt on the same site in 1835. It remained in that location until 1886, when a chapel was completed at Seventh Avenue and Carroll Street. This chapel was expected to accommodate the congregation for some years to come, but the rapid growth of the neighborhood was reflected in increasing membership for Old First, and plans to complete the sanctuary were pushed forward. The church, at Seventh Avenue and Carroll Street, as it stands today, was dedicated on September 27, 1891. Old First
Many buildings along 7th continue to be residential, but have had storefronts added to them, like this one just north of Carroll.
Trusses, belts and candy were formerly available at a drugstore at 7th Avenue and Lincoln Place, now home of French-Hungarian restaurant, Cafe Dada.
The cafe is likely named for the avant-garde art genre from the 19-teens known as Dadaism, seen by some as a reaction to the horrors of World War I.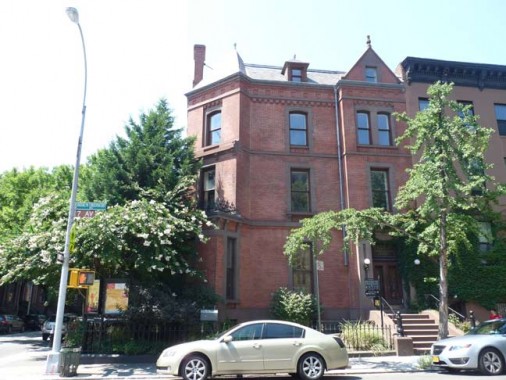 Brooklyn Conservatory of Music (now officially Brooklyn-Queens Conservatory), 7th and Lincoln, has occupied this handsome brownstone since 1944. Presently a community music school, it was founded in 1897 as a formal conservatory by German-American immigrants. Many area public schools have been forced to cut their music programs and the Conservatory helps fill in for the loss.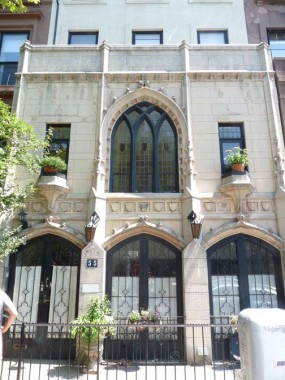 A regal entrance, at 55 7th.
Grace United Methodist Church, NW corner of 7th and St. John's Place. One more venerable church building along 7th Avenue, Grace United was built in 1882-83  in the Victorian Gothic with Moorish and Romanesque touches by prolific ecclesiastical architects the Parfitt Brothers to serve a congregation that originated in 1866. Its original steeple was blown down in 1944 by a hurricane.
Memorial Presbyterian Church, SW corner 7th and St. John's Place, diagonally across from Grace Methodist. Its congregation was founded in 1866, like Grace Methodist, and this church building opened in 1883, making this church about the same age as Grace.  Its 117-foot high spire has survived storms over the years.
Completing the trio of churches at 7th and St. John's Place is St. John's Episcopal Church, another Victorian Gothic, completed by 1885, featuring a prayer garden along the front. My favorite rock or brick-face for any church is the unevenly cut ashlar of the older chapel, built in 1870.
Douglass Street was renamed St. John's Place in honor of this church sometime after 1885. A number of street name changes occurred in the neighborhood after a murder was committed in 1873 at 731 DeGraw, whose name was changed to Lincoln Place.
The Lillian Ward House, at 7th Avenue and Stirling Place is so nice, with its dormers and corner oriel, I'll show it twice. The mansion was finished in 1887 for investor Charles Pied, along with neighboring houses on Sterling Place.
Edward T. Rogowsky was born in Brooklyn on September 15, 1940. He took an interest in urban studies and city planning while studying at Brooklyn College, and in 1968 he joined their faculty as a political science professor. He devoted his life to civic affairs and the public interest, and founded the college's Graduate Center for Worker Education and directed the CUNY Internship Program in Government and Politics, since renamed in his honor.
In 1990, he was appointed to the 13-member New York City Planning Commission, and used his influence to champion pro-union and pro-gay rights causes (he was one of the first openly gay city planners). He was instrumental in the revitalization of downtown Brooklyn and MetroTech, and wrote many books and articles about New York politics and economics. He joined CUNY-TV in 1992 as city editor and host of MetroView, the school's weekly public affairs program. He founded the Flatbush Development Corporation, directed Brooklyn's office of Community Boards, and was a member of CB 14. He also had scores of friends and was an accomplished lyricist. Here's Park Slope
On December 16, 1960, Sterling Place and 7th Avenue was the site of a tragic plane crash that yielded no survivors. A United Airlines jet crashed into a TWA flight over Miller Field in New Dorp, Staten Island, in snow and fog. The death toll between the flights and casualties on the ground was 134. The Temple Pillar of Fire Church was destroyed in the crash, but surrounding buildings were spared.
7th Avenue ends, or begins, at Flatbush Avenue, which serves as a boundary between Park Slope and Prospect Heights.
There's always something new or undiscovered in NYC. I had been unaware of this 1920s-era warehouse on Bergen near 6th. Peter F. Reilly, apparently, had a warehouse franchise in the early 20th Century, as there are other Reilly warehouses around. The Sofia Brothers entry on Amsterdam Avenue is even more majestic.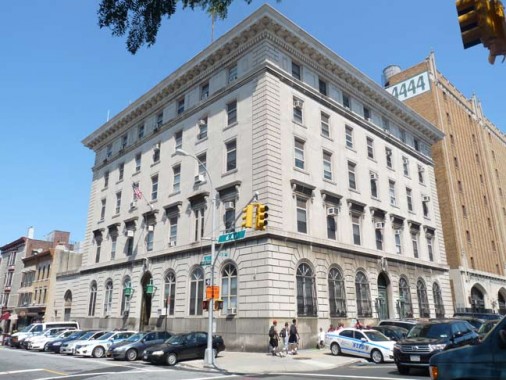 The stolid 78th Police Precinct on Bergen and 6th Avenue just missed the recent spate of teardowns in the area to make room for Barclays Arena and its attendant Ratnerville.
Like it or not, the rusty-exteriored Barclays Arena, between Atlantic and Flatbush at 6th Avenue, has transformed downtown Brooklyn. Atlantic and Pacific along the LIRR cut was something of a mess before the arena, but most area residents would've preferred a different solution.
11/25/12