I return to Park Slope eagerly and often. When I resided in Bay Ridge (1957-1993), I would often hike in Prospect Park from the Park Slope end east to the Lefferts Gardens end on autumn Sunday afternoons (the Jets always lost then, so there was nothing to watch). In the 1980s, I had a  number of friends and relatives living in the area as well, so I would often find myself in the neighborhood every weekend.
Before the 1980s, Park Slope could be a rough place to hang around, despite its wealth of beautiful Beaux Arts buildings that remain intact from its buildup between 1870-1900 or so. Little of that era seems to remain. The gentrification of Park Slope seemed to run from the Park southwest toward the canal throughout the decades. I took the B63 bus on 5th Avenue to both high school and college, and in the Super 70s 5th Avenue, especially, was pretty bad, with plywooded windows, empty lots, and charred remains of recent fires. By about 2000, though, Fifth was completely rehabilitated. Fourth, which had always been the province of auto repair shops that sat beside the traffic that roared along enabled by synchronized stoplights, has undergone a different transformation, with high rise luxury apartments springing up between Flatbush Avenue and 9th Street. Even Third seems tamed, with gourmet bakers taking their place besides upscale bars where old newspaper printing plants once cranked out the NY Daily News and NY Times.
9th Street is the main east-west numbered street in Park Slope and is much wider than its parallel partners. No doubt it was built as a grand promenade or boulevard for carriages and wagons when its street layout was conceived. On an August 2012 weekend, I made my way from its western end to Prospect Park. As always, I was looking for anachronisms, unusual structures, and remains from an earlier era.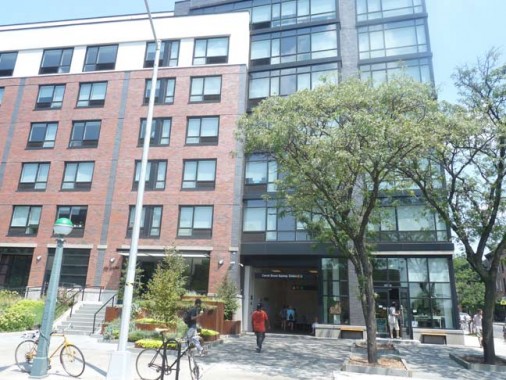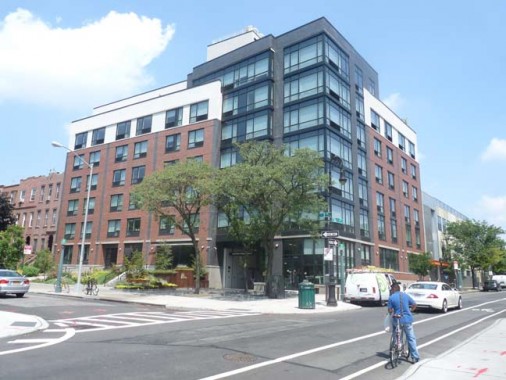 To begin the 9th Street walk, I took the F train to the Carroll Street stop, the entrance of which lets you out at 2nd Place. (The Smith-9th Street station is closed until further notice for renovations.) Till 2007 or so, this locale, if I remember correctly, was an empty plaza with a lengthy path to the subway entrance. At that time, plans for a condominium emerged, and since the original architect was Robert Scarano, whose cookie-cutter designs are vilified by some, there was a neighborhood outcry. The condo went ahead anyway, but without Scarano. If I might be allowed to blaspheme, to me it doesn't look all that bad.
Brooklyn has nearly a dozen different street numbering schemes. Carroll Gardens features one of the more limited ones, with 1st, 2nd, 3rd and 4th Places running west from Smith to Henry Streets. To further confuse the newbie, 2nd, 3rd, 4th and 5th Streets run east from Smith Street, opposite the numbered Places. (The earliest map of the area I can consult is from 1855 and this situation was in place even then.)
South of Carroll, the F train, which was built in the early 1930s as part of the Independent System owned by the city, emerges from underground slumber and stirs awake overground — the only IND line to do so. Here on Smith Street is an electrical substation tricked out in Art Moderne streamlined finery. Even the lettering on this sign is a match to the signage used on tiled subway station signs. Most of subway design between 1908 and 1940 was in the hands of Squire Vickers, a painter by trade, and he took subway design very seriously.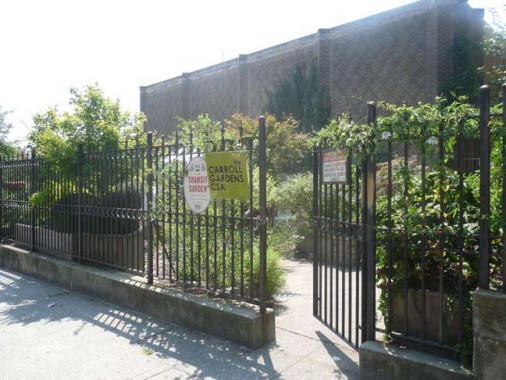 An empty patch next to the substation has been converted into a "Transit Garden."
A mural on the brick wall supporting the subway viaduct along Smith Street by local school kids has been maintained and retouched over the years.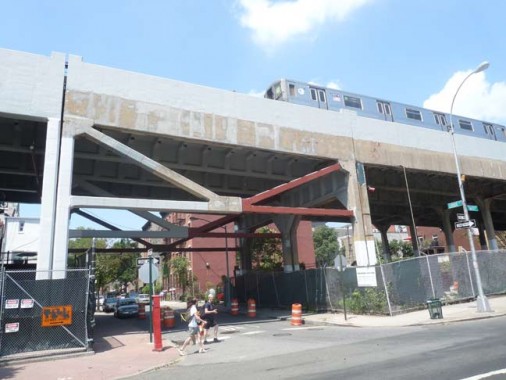 Smith and Luquer Streets. A train traverses the viaduct, which here allows a view of the steel understructure below the concrete coating. I presume that, when work is complete on the viaduct rehab, all of the concrete will be replaced.
Luquer Street has had some confusion over the decades regarding its spelling and pronunciation. To me, it looks as if it should be sounded "LOO-ker" but it isn't.
The IND el, opened in 1933, is unlike any other el in the NYC subway system — it rises higher than any other NYC el, and its steelwork is covered in concrete. In the 1980s the concrete began to chip loose and rain down on streets and businesses below. Therefore, the MTA initiated a stopgap measure and covered all of the concrete with bolted-on canvas that was roughly effective, but unsightly. You can see some of the canvas here, as well as the affected concrete. The program to rehabilitate the el was announced in 2007 and shifted into high gear in 2011, necessitating the partial or full closures of the two IND stations on the el, Smith-9th Street and 4th Avenue.
The Smith-9th Street stop, at 91 feet above the street, is the highest elevated in the NYC subways. It was built so high — along with the Gowanus Expressway viaduct — to enable what today is a no-longer valid purpose, to allow tall-masted vessels to traverse Gowanus Canal. Today, none do. Several other bridges that cross the Gowanus can be moved or swung to permit shipping, but with the busy traffic these bridges have, swinging them would have been impractical — therefore, they were simply built high enough so moving them wouldn't be needed.
The station affords (-ed) views of the Statue of Liberty, downtown Manhattan and until 9/11/01, the Twin Towers.
Former F Line Bagels, west 9th Street at Smith Street. In an egregious act of pettiness, the MTA sued the bagel store owner to stop using the symbol F in an orange circle, citing proprietary rights. So now, it's called the nonsensical "Line Bagels." Meanwhile, I see other businesses incorporating MTA design all the time. I wonder what the bagel man did to set off the MTA.
One man is even selling signs based on MTA designs (as well as subway signage in Boston and Chicago).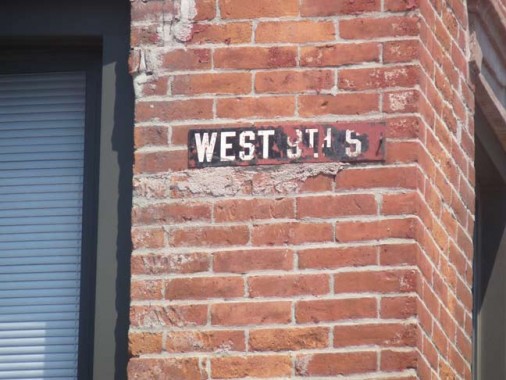 The MTA has stations at West 8th and West 9th Streets that are miles apart. The West 8th Street station is in Coney Island, while West 9th is in Carroll Gardens (and also serves Red Hook).
Many years ago, West 9th had a different name…
This 1891 Rand McNally has it as Church Street. By 1913, though, the next date I have a map for, Church Street had become West 9th. I imagine the rationale was that 9th Street was so important that the street that brought you there also deserved to have the name.
By the way, there was also a West 9th laid out in Gravesend, but, apparently, the City of New York didn't care.
I can't help but show you this well-kept clutch of 3-story, dormered houses on Smith between West 9th and Garnet. They replaced a group of similar buildings, or are the same rebuilt buildings (the leftmost one isn't quite finished) and seem neat as a pin.  Here's what the old buildings looked like when I last surveyed the block in November 2005…
Quite a bit more colorful, eh? This was the flagship of the Russo real estate empire. On FNY's Gowanus Canal page, I explained this plethora of promotion; Vincent Russo, after returning home from WWII in 1947, bought up real estate properties in Carroll Gardens and Red Hook, including this stretch of buildings, and set about decorating them with advertising in his inimitable style.
Russo passed away in 2006, and the buildings were amended or demolished the next year. They had been so well-known that the region became known as 'The Notary District."
This post-9/11/01 mural at Smith and Garnet Streets has held up remarkably well — local youth don't seem interested in ruining it, though there is a fence in front of it.
The 9th Street Gowanus Canal Bridge is a bascule drawbridge and was opened just a few months after its partners, the Union and 3rd Street bridges, in July 1905. It was replaced in 2000 by a new bridge that closely resembled the original. It's really two crossings in one, since it is overshadowed by the massive IND el viaduct, which opened in 1933.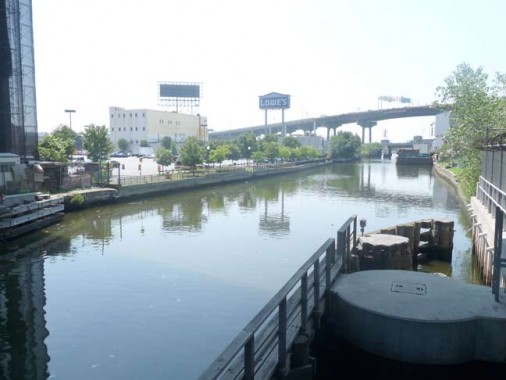 View from the 9th Street Bridge, looking south toward the Gowanus Expressway canal viaduct.
The Flatbush Gardener has additional shots showing the Gowanus Canal from the bridge.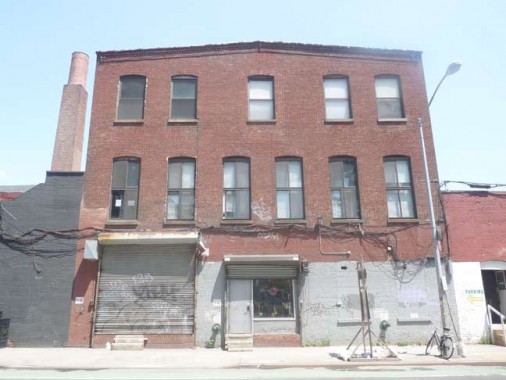 Brick factory or loft building, 9th Street between 2nd Avenue and the canal.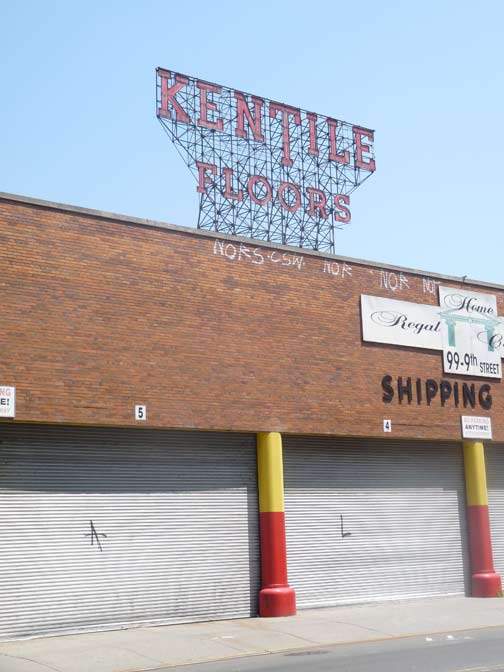 The massive Kentile Floors neon sign, built to attract business from the passing IND trains on the viaduct, looms over 9th Street. It is one of a number of now-defunct large neon signs that can be found in the Gowanus and Red Hook areas, springing up from the 30s through the 50s to be noticed by IND riders and passing Gowanus expressway motorists.
Kentile was founded in 1898 by Arthur Kennedy, hence Ken-Tile, and went out of business in 1992. It opened a factory on 2nd Avenue in the Gowanus area in 1949 — presumably when the neon sign was erected — which closed during the 1980s. Kentile sales fell off sharply after new discoveries regarding asbestos, heavily used in Kentile flooring and other products,  and the cancer asbestos produces, were brought to light.
Hot dogs are getting big in Brooklyn. I was just at the Fulton Ferry landing area, scouting it for a tour, and there are two separate hot dog franchisees there, including Ditch Plains, in addition to the usual Sabrett umbrella guys. And, there's Brooklyn Hot Dogs on 9th Street. I was attracted to the large sign with letters in the underused Kabel type font. (MTV identified its videos using Kabel for many years.)
There happens to be some youtube footage from inside the shop…
http://www.youtube.com/watch?v=ntqyX9VIJdE
This tiny shack with a porch must be indicative of the type of housing in the region before multifamily brick buildings began to appear. Walk around Park Slope, and you will be occasionally surprised to see porched frame buildings among the attached brownstones that are usually the rule.
Looking west toward the Gowanus Canal along 9th Street
The IND el viaduct crosses 3rd Avenue west of 9th Street. With a couple of exceptions NYC's els travel over streets and not on their own rights of way. This is one of those exceptions. Scaffolding is set up to catch anything falling from it during repair work.
A battered tin State Education Department of New York sign, created in 1952, hangs in front of an American Legion hall at 3rd Avenue and 9th Street, stating that remains of the 1st Maryland Regiment, which engaged the British during the battle at the nearby Old Stone House (which is now a museum) in August 1776 and enabled the main line of US troops to escape relatively undecimated, are buried there. The sign is not quite correct, as some say that evidence points to those remains existing beneath an empty lot a block away at 3rd Avenue and 8th Street.
The leader of the find-the-Marylanders group is Bob Furman, a Brooklyn historian and president of the Brooklyn Preservation Council, a nonprofit organization dedicated to maintaining brownstone Brooklyn's look and feel. "The evidence is quite strong," Mr. Furman said. "I'm confident enough that I tell everyone I know."
But Mr. Furman has no way to test his theory. Right now, the site he is targeting is a vacant, concrete-covered lot studded with weeds and surrounded by a chain-link fence. The owners, who say they are interested in developing the property themselves or selling it to someone who will, have rebuffed his inquiries about conducting an archaeological probe on the site. NY Times, 8/26/12
Attached brick buildings, 9th Street between 3rd and 4th Avenues.
Name that car! A Buick, but what style/year?
A couple of grand mansions from Park Slope's salad days, its first blush of wealth before the mid-20th Century collapse, can be found between 3rd and 5th Avenues. This one can be seen better in fall and winter.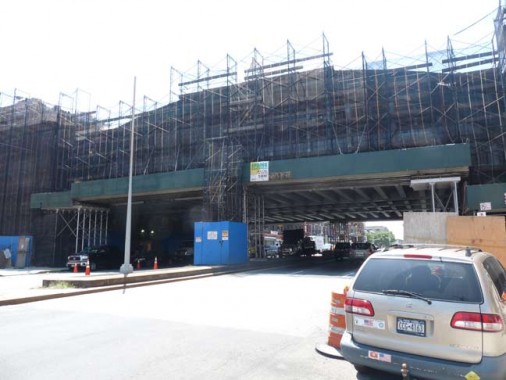 From this chrysalis will hopefullly emerge (sometime in 2013, it is hoped) a completely renovated and rehabilitated 4th Avenue station, which is located in part on this arched viaduct. Originally, there were picture windows overlooking the avenue from the platform. In the late 1960s or early 1970s, local youth began smashing the windows, so they were unceremoniously coated with layers of paint so that the kids wouldn't know they were there. Presumably, the MTA has new methods of combating such vandalism.
One of Park Slope's more massive, and attractive, Roman Catholic churches is Holy Family/St. Thomas Aquinas, which merged two parishes in 2006. After many years in off-white, the church was recently restored to a brick masonry color.
In November 1884, the Rev. James Donahoe was sent to establish the Parish of Saint Thomas of Aquinas in South Brooklyn, the 47th parish in the Brooklyn Diocese. The first Mass was celebrated November 16, 1884 in a building on 9th Street near 5th Avenue. This building, known as the "Wigwam," had been erected by the Twenty-second Ward Democratic Association for their meetings during the National Election of 1884. On Sunday, June 28, 1885, the cornerstone of the present building was blessed by Bishop Loughlin in a ceremony witnessed by over 6,000 people. The church was built within one year at a cost of $90,000. The first Mass in the new church was celebrated on Passion Sunday, April 4th, 1886. A chapel was added in 1887 on the 8th Street side of the church to house the baptistry, sacristy and altar boys' rooms.  NYC American Guild of Organists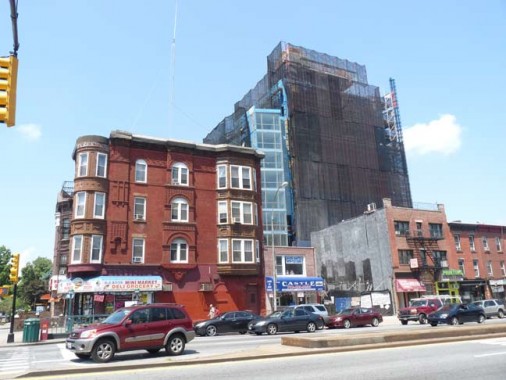 New and old at 4th and 9th. A 1900-era brick masterpiece holds its ground next to one of those new high rise glass front condo buildings.
Good Shepherd Services, across from Holy Family/Aquinas. The building formerly served as the church convent.
Good Shepherd Services is a leading youth development, education and family service agency that serves over 20,000 program participants a year. We give vulnerable youth in New York City the opportunity to take ownership of their future, making a difference today and for the next generation. Good Shepherd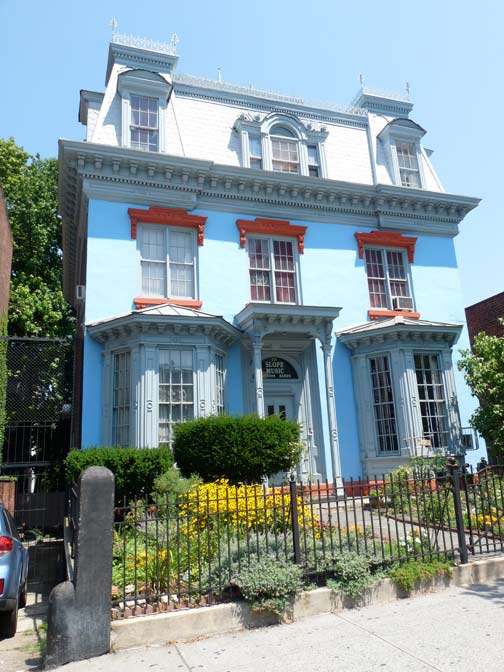 From the ForgottenBook:
On the outskirts of Park Slope on 9th Street between 4th and 5th Avenues, edging toward Gowanus Canal, stands a magnificent stucco house, a textbook Second Empire style with a slanted mansard roof, moldings, bay windows and best of all, a cupola open on three sides. It's been the home since 1981 of jazz musician and teacher Charles Sibirsky. When it was built, Park Slope was open country. Charles and his wife Vita have appointed the house with vintage furniture as well as two vintage pianos: a 1920 Steinway Model "O" in the cupola, and a 1913 Steinway Concert Grand in the downstairs living room. The living room features a room separation featuring Civil-war era cut glass, which, Charles claims, was repaired after a recent accident with the original cutting stone he located in Cobble Hill.
Directly in back of the house is the old Charles Higgins ink factory, now divided into apartments, accessible via a charming cul de sac on 8th Street. The inkmakers, though still going strong, moved out over thirty years ago. This was Charles Higgins' residence. He is buried in Green-Wood Cemetery, adjacent to the Minerva statue he commissioned which is seen to be waving at the Statue of Liberty in the harbor.
Charles Sibersky's Slopemusic
The Owl Farm, bar just west of 5th Avenue. Still bearing the vestigial appointments of Harry Boland's, which it replaced. It is named for a ranch in Colorado owned by 'gonzo' journalist Hunter S. Thompson.
['Gonzo'] is an experimental style of journalism where reporters involve themselves in the action to such a degree that they become central figures of their stories. wikipedia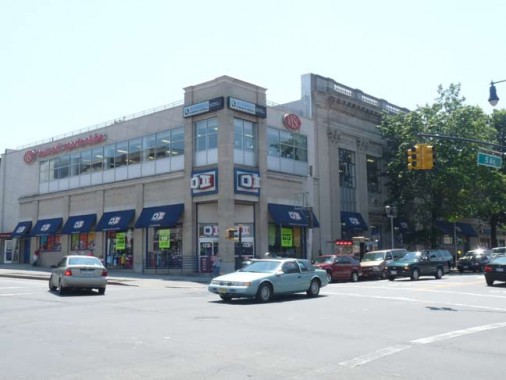 5th Avenue and 9th Street. The gym on the corner is in a relatively new building from the 1980s, but the Astoria Bank next door is quite a bit older. On the sidewalk in front of the bank you'll find a feature peculiar to many NYC banks, though I'm at a loss for why:
Often, banks will have a supply of streetlamps installed on the sidewalk in front of them. If the bank is on the corner, the lamps will appear on both streets. They've mainly disappeared over the years but I can find them here and there. I can only guess at their purpose. Do you have any guesses?
This storefront has been here as long as I've been passing by 5th Avenue and 9th Street, and I have been doing that since 1971 and even earlier — as a lad, I used to insist on Sunday bus rides with the mother or father. We'd ride to the end of the line, and then the parent would pay the return fare home. Of course, I would carry along a plastic spoon from Carvel, a pen or pencil, and one of those little light bulbs you find in flashlights. Why? So I could imitate every light post I saw out the bus window. I would then go home and fill blank tablets with drawings of lampposts. Of course, when I got to be almost college age, my parents grew reluctant to take me on these trips. OK, I'm kidding about the last part.
CDs supplanted records and tapes around 1987-1988, and MP3s supplanted CDs around 2006-2007. Women began to cover themselves in tattoos around 2000, I'd say.
NW corner, 5th and 9th. There has always been a low-rise newsstand-type building at this corner as long as I can remember. No substantial building has ever stood at this corner. Don't believe it? Here's a look at the corner in the 1920s.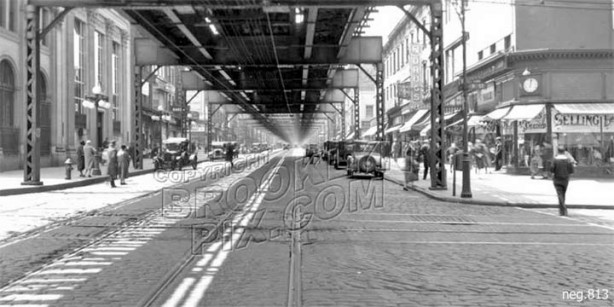 That could be the same building in both photos. On the left, note the sidewalk lamps — they could be accompanying the bank building. The 5th Avenue El, which connected to the Brooklyn Bridge and the Culver El which ultimately got down to Coney Island and also went to 65th Street in Bay Ridge — ended service in 1940, a victim of the BMT 4th Avenue subway. brooklynpix
Neergaard, which serves those late-night needs (you know what they are) has been in business on 5th Avenue since 1888 and has been open 24/7 since World War I. Like many comprehensive pharmacies, it also stocks surgical products, scooters, wheelchairs, walkers, oxygen equipment, lift chairs, hospital beds, and bathroom safety items. There is always a pharmacist on duty in case you need a refill pain killer for that toothache at 2AM. There is a younger branch on 7th Avenue.
Park Slope is the neighborhood where you might more readily expect to find a BigBelly® solar compactor instead of a regular trash can (the MTA is conducting a psychological experiment, incidentally, in which trash bins are removed from platform areas, compelling citizens to bring garbage with them to the streets and deposit it there. Or, as I suspect, just toss it on the tracks).
Who knows, though, they just might reduce trash coverage on the streets. As long as fast food and beverages come in plastic and styrofoam containers, though, it'll be an uphill battle.
Trained eyes can pick out former theater buildings pretty readily. This is the former RKO Prospect Theatre, which was home to vaudeville shows and then films from 1914 until 1967. It has housed a number of supermarkets in recent years. The rear end is now condominiums.
Here's Park Slope has a full view of the place in its glory days.
Constructed on the site of a former synagogue and three apartment houses, the Prospect attracted the biggest stars of its day, including The Marx Brothers, Burns and Allen, Fanny Brice, and Bert Lahr.
In 1925 a comedian named Ted Healy played here in an act that involved three young hecklers who'd sit in the audience and pick fights with him and each other. His act became a huge hit, but the hecklers became more famous than Healy once they struck out on their own as the Three Stooges.
Dram Shop bar. A dram is a unit of volume and derives from the Greek drachma.
Of course the first time I heard the word 'dram' was in a Monty Python song. Where else?
http://www.youtube.com/watch?v=m_WRFJwGsbY
If you hustle past too quickly you'll miss it but this glass-blocked storefront was once the South Brooklyn Savings and Loan. Appellations like 'Carroll Gardens', 'Gowanus Heights' and 'Park Slope' are relatively recent inventions. The whole region was once named South Brooklyn because they encompassed the southern regions of what was once the City of Brooklyn.
This massive YMCA on 9th Street just west of 6th Avenue was where, in the spring of 1968, my father bundled me off for swimming lessons. To my shame, I'll admit, I begged out after 2 lessons, because I was a yellow-bellied, lily-livered coward about the water and I cannot swim to this day. Michael Phelps I am not. I really should try again.
Never fear — the Prospect Branch of the Brooklyn Public Library was closed for renovations, and is due to reopen sooner or later. It opened in 1906, along with many other NYC libraries, with the aid of a grant from Scottish steelman/philanthropist Andrew Carnegie, and is one of 4 NYC libraries designed by architect Raymond Almirall (he also did the unexecuted design for the main branch at Grand Army Plaza). The interior is graced with stained glass, tiled fireplaces, wood panelling and marble mosaic flooring.
[via Francis Morrone's An Architectural Guide to Brooklyn, Gibbs Smith 2001.]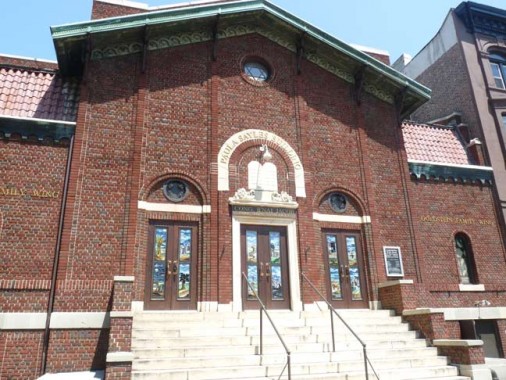 Congregation B'Nai Jacob, Paula Sayles Building. Like many synagogues, the cornerstone relates the date of construction via the Gregorian and Hebrew calendars. Ms. Sayles was a benefactor of the temple.
At Prospect Park West and 9th Street, the Marquis de Lafayette monument finds the great French general, who was of great assistance to Washington during the Revolutionary War, pausing under a tree with his horse and its African-American groom, based on the painting "Lafayette at Yorktown," by Jean-Baptiste Le Paon. The sculpture was by Daniel Chester French and the setting by Henry Bacon — the two were also collaborating on the Lincoln Memorial in Washington, DC at the same time this was unveiled on 5/10/1917. If you've read FNY for any length of time, you also know that Bacon designed NYC's park lamp series, which runs from Type A to Type G.
The monument was built with the aid of a $35,000.00 grant in the will of businessman Henry Harteau.
These ornate lampposts appear in a couple of spots in Prospect Park, here, and again at Grand Army Plaza. I can't determine their date of installation or anything else about them, though.
9/3/12