It's no secret that both Brooklyn's and Queens' street numbering and naming systems are a bit of a mess, confusing out- of-towners and residents alike. Brooklyn has several sets of numbered streets: numbers with no prefixes, and North, South, East, West, Bay, Beach, Plumb, Flatlands, and Paerdegat numbered streets, and I've likely missed a few.
Then there are the lettered avenues that run east-west south of Prospect Park in Kensington, Flatbush, Midwood, Gravesend and Sheepshead Bay, and later extended into Canarsie. When they were first mapped in the late 1800s and early 1900s they began with A and included all letters up to Z, and ran from west to east with only occasional interruptions. Then, the developers took over.
Just south of Prospect Park, Dean Alvord, T.B. Ackerson, Lewis Pounds and others purchased large tracts of farmland where streets had only had rudimentary beginnings, if any at all, and built large, state-of-the-art homes on large plots, while placing utility lines underground — a new development at that time. Wishing to impart a dignified air to the street names, Avenues A through D in Prospect Park South, Beverly Square East and West, Ditmas Park and other developments got British-sounding names: Albemarle, Beverley, Cortelyou, Clarendon (Avenue C got two "C" names) Ditmas, Dorchester, etc. A couple of these new names, such as Cortelyou and Ditmas, honor Dutch families that had settled the area beginning in the 17th Century.
Avenue F became Farragut Road east of Ocean Avenue, honoring David Farragut, the Civil War admiral. However, the piece of Avenue F between Dahill Road and Ocean Parkway was never renamed, and neither were the pieces of Avenues A and B in Remsen Village, Avenue C in Kensington, or Avenue D in East Flatbush and Canarsie. The entire length of Avenue E was named for a local 17th Century landowner, James Foster. After World War I, Avenue Q took the name of Teddy Roosevelt's son, Quentin, who was killed in the war.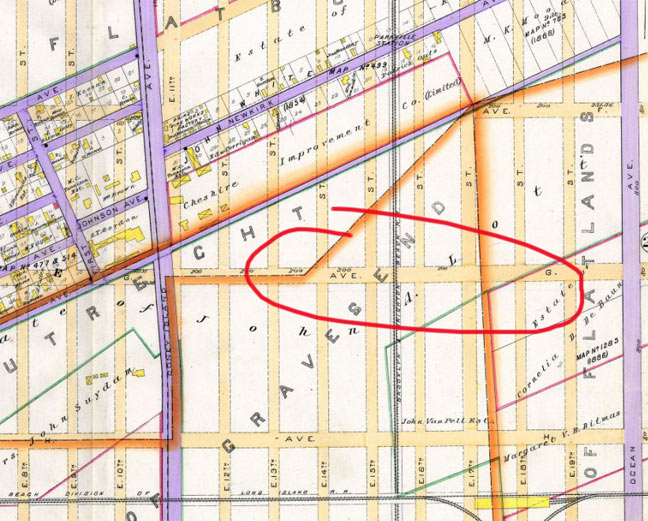 Avenue G/Glenwood Road has always been baffling. It runs through what is now the landmarked Fiske Terrace/Midwood Park neighborhood through East Flatbush and into Canarsie. I'm not entirely sure when the switch was made from Avenue G to Glenwood. In 1890, Avenue G was mapped through what was then the junction of three separate Kings County towns: New Utrecht, Gravesend and Flatlands. All became part of the borough of Brooklyn in 1898.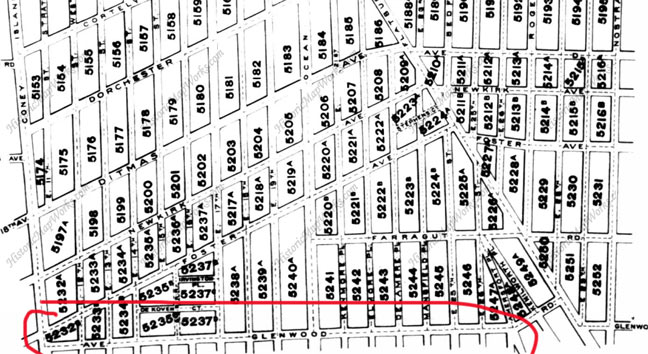 By 1910, the developments of Fiske Terrace and nearby Vanderveer Park were well under way and the streets had been cut through. Some maps from the 1910s show "Avenue G" through Fiske Terrace and then Glenwood Road from Flatbush Avenue east. This map has "Ave Glenwood Road" but I think they left the G out.
By 1929, a Belcher Hyde atlas from that time shows Glenwood Road throughout, with no Avenue G anywhere.
Interestingly Avenue H also runs through Fiske Terrace, but it has never acquired an "H" name — it has always been Avenue H.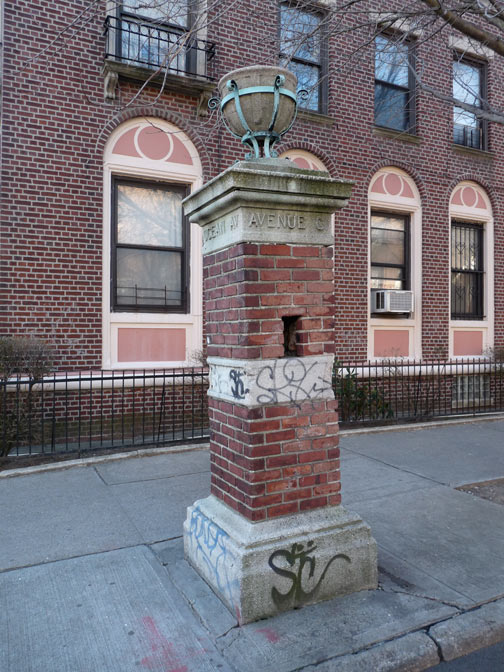 At Ocean Avenue at Glenwood Road, a pair of battered gateposts that once marked Fiske Terrace still stand. The sculptor chiseled in the letters with very small serifs, so the "G" crossbar is barely there, so it looks like Avenue C, not G.
However, it's the last reminder of Avenue G. Area street signs have recently been changed again, as this is a newly minted Landmarks District.
Of course, there are some nearby signs that have been sun-bleached to white, and naturally, those are the last signs that will be replaced if they are replaced at all!
2/18/13