Prepare to gape in awe when walking any street between Albemarle and Beverley Roads and Stratford Road and East 19th Street. You'll find huge Victorian mansions of every conceivable size, color and style in these streets. This is no mere accident: one region, known as Prospect Park South, was developed by Syracusan Dean Alvord, who purchased a parcel of land in Flatbush from the estate of Luther Voorhies and the Dutch Reformed Church in 1898. Unlike developers like Alfred Treadway White, who built Cobble Hill's Workingmen's Cottages, Alvord from the start built sumptuously-appointed buildings for the well-to-do. By 1898 Flatbush had evolved into a well-established community that boasted good schools, decent local transit (trolleys) and the Brooklyn Rapid Transit Company offered easy transport to Manhattan via the Brooklyn Bridge. Prospect Park bordered nearby to the north.
Alvord's idea was to extend Prospect Park South and adapt it to residential use. He foresightedly buried utility lines underground and paved the streets in an age when many were still dirt roads or Belgian-bricked. Streets were given British-sounding names for an aura of sophistication, and brick fence posts bearing the interlocking Prospect Park South monogram can still be seen on many intersections. 
At around the same time, developer T(homas) B(enton) Ackerson was developing Beverley Squares East and West, between Beverley and Cortelyou Roads, Coney Island Avenue and East 19th, divided between East and West by what was originally the surface Brighton Beach Railroad but today is the BMT Brighton Line (B, Q trains). Ackerson bought ten acres for $85K from the Lott family and hired architects such as John J. Petit, A. White Pierce, J.A. Davidson and Benjamin Dreisler, who had worked with Alvord and also Lewis Pounds, the developer of nearby Ditmas Park and Ditmas Park West. The venture was wildly successful and most of the beautifully eclectic buildings have been meticulously maintained for over a century.
Only parts of the entire region have been landmarked  — Prospect Park South and Ditmas Park have, but not the Beverley Squares.
Here are just a few buildings and other notable features from this wondrous area.
1305 Albemarle Road. The homes along Albemarle Road tend to be palatial and roomy. 1305 was built in 1905 and is dominated by a large entrance porch with 4 tall Ionic columns below an ornamented entablature with a single oval window. The front features two side porches, and the second floor has an iron balcony.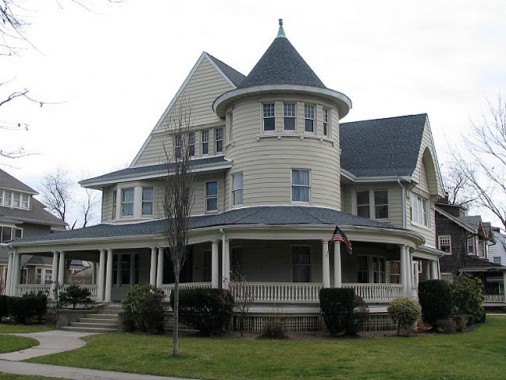 1306 Albemarle Road. John J. Petit, who designed more buildings in Prospect park South than any other architect, designed this corner building features intersecting peaked roofs and a conical turret. The huge, airy front porch wraps around the side. It was first owned by a dye manufacturer, John Eakins.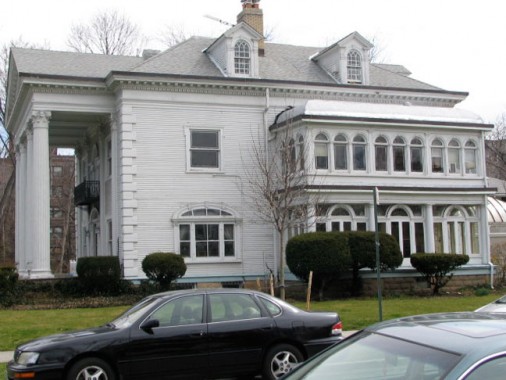 1510 Albemarle Road, corner Marlborough: Built around 1900 with 4 daunting Corinthian columns on a front portico by John J. Petit, but a garage was added in 1910 and the second story on the porch was added in 1920.
Why show a tugboat in Upper New York Bay in association with this mansion?
This is the Christine McAllister; in 1916, the McAllister family, owners of a major tugboat operation in NY Harbor, purchased it from its original owners, the Mintons. It remained with the McAllister family until 1985.
The story of the McAllisters and their tugboat operations is told on this Irish America page.
An interesting relic of the lands south of Prospect Park are these iron signposts identifying neighborhood streets. They must once have been a great deal more prevalent than they are now, but today only two extant signs remain: at Albemarle and Marlborough, and another at Cortelyou and Argyle (which I have inexplicably have not apparently photographed, but it does show up in a Google Street View shot. There is also an iron post sans sign, at Cortelyou and Rugby.
Here's a primer on Prospect Park South's British street names, which take the places of Avenues A, B, C, etc., and the north-south roads, which fill in for East 11th through 15th. Most come from London street names which were in turn named for actual persons or places in the British Isles …
Albemarle: named for a London thoroughfare named for George Monck, the Duke of Albemarle, who aided Charles II's return to the throne and the restoration of the British monarchy in 1660
Beverl(e)y: there are a number of places named Beverley in Britain, most notably a town in Yorkshire. The name comes from an Old English phrase for "beaver stream." The name is spelled both with an e before the y, and without, in Brooklyn; west of Flatbush Avenue, it's mostly Beverley, and east of Flatbush Avenue, it's mostly Beverly. Even the two subway stations on the BMT and IRT have different spellings.
Stratford:  a town and a district in East London, England, in the London Borough of Newham. The etymology is from Old English words for "street" and "ford", the ford, or crossing, being over the River Lea.
Westminster: the area in central London where Westminster Abbey and the Palace of Westminster are found.
Argyle: from Argyll, a region in western Scotland. The name comes from old Gaelic for "border region of the Gaels." The familiar argyle pattern found in clothing is derived from the tartan of Clan Campbell, one of the larger Scottish clans, who hailed from Argyll.
Rugby: a market town in Warwickshire, England, located on the River Avon. The name may be Old English for "rook fort," fort frequented by crows, or a Celtic term meaning 'wild hilltop.' The Rugby School developed a version of football that was influential in the development of American football.
Marlborough: there are a number of places called Marlborough in Britain, the foremost being a market town in Wiltshire. According to legend it is the burial place of Merlin, the Arthurian magician, from which it takes its name.
Buckingham: a town in north Buckinghamshire, England, close to the borders of Northamptonshire and Oxfordshire. The name means "Bucca's Meadow," after an Anglo-Saxon chieftain. Buckingham Palace, the residence of the monarch, was built in Westminster in 1705 by the Duke of Buckingham.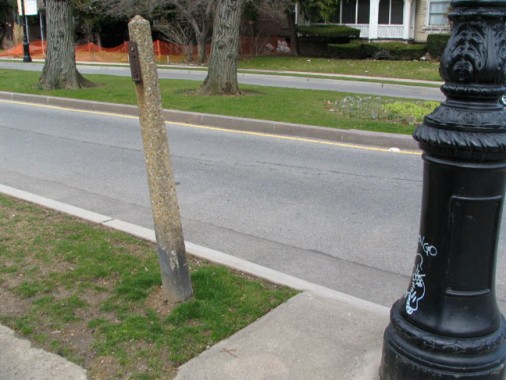 Another anomaly at Albemarle and Marlborough is the presence of a concrete post once used to hold a slot mailbox. They once populated NYC streets by the thousands, attached to concrete posts or telephone poles, and their numbers had dwindled down to a precious few by the time FNY got started in 1998.
The last one on a concrete post I have seen was this one on Hillside Avenue and 268th Street in Floral Park, Queens. No slot mailboxes remain in service in NYC, to my knowledge.
100 Rugby Road, swiss chalet built by Architect John J. Petit in 1900 for Dr. George Watson. The master bathroom features a marble bathtub lit by a crystal chandelier.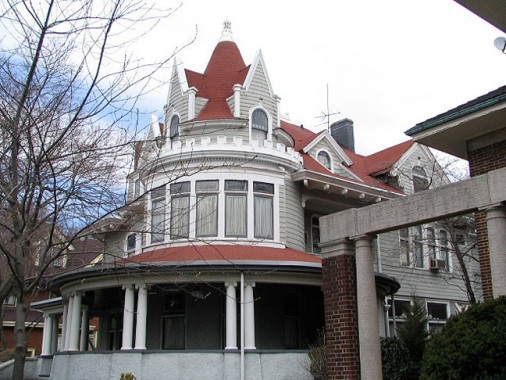 101 Rugby Road, built in 1900 by architect John E. Nitchie for Colonel Alexander Bacon, a direct descendant of Sir Francis Bacon, the famed Shakesperean-era British philosopher and author. The downstairs living room was used as a museum to display Sir Francis' armor, mace, shield and other effects. After the Bacons moved out in 1956, the historic items were moved to a Boston museum. Colonel Bacon was  West Point-trained Civil War officer who was elected to the NY State Legislature in 1887 and in that post, investigated political corruption.
The house's greatest claim to fame is its use in the 1982 Kevin Kline/Meryl Streep film about a Holocaust survivor, Sophie's Choice, for which Streep won the Academy Award for Best Actress. The building sported a pink paint job at that time. Only the exterior of the building was used in filming.
Montrose Morris has more at Brownstoner.
85 Westminster Road, a combination Greek temple and Queen Anne from 1908 by architect George Showers. Many Queen Anne houses are marked by a general asymmetry, so there's a large 3-columned portico, a corner tower and a dormer on the side. Once again a porch wraps around the side.
Most cross streets in Prospect Park South feature brick and concrete gateposts, complete with the PPS trigram and street identifications. They all have a "v" in them for "u", imitating the Roman practice of carving the "U" as a "V". This seems to impart a sense of gravity and importance these days, but in the Roman era, it was just done to save time. The Romans had only the letter U, which they carved as V's, a letter, along with W, which would only be invented in the medieval era; u's and v's were written with u's, and use dictated pronunciation. (The Romans didn't have minuscule letters or punctuation, either.)
126 Westminster, displaying pastel yellow, one of my favorite colors in houses. This house was finished in 1902 by architect Carroll Pratt, who also designed the Prospect Park Tennis House and Boathouse. It was originally occupied by William Ammerman, an employee of Abraham & Straus.
1205 Beverley Road was finished around 1900 by architect Henry A. Sturak, in an asymmetrical style, with bays, oriels, tower, porch and open loggia on the 2nd floor.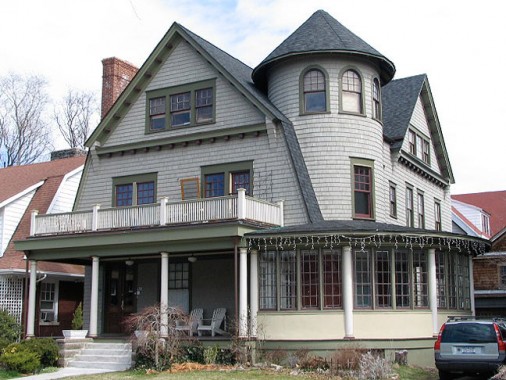 155 Argyle Road was designed by George Showers in 1906. It has an open as well as an enclosed porch, a New Englans style gambrel roof and a corner tower.
183 Argyle is one of the largest Tudor-style buildings in Prospect Park South. It is another design by Petit. The original owner was electrical engineer and inventor Hubert Kratz, who developed a Paterson, NJ neighborhood he called Prospect Park in honor of his beloved Brooklyn park.
Another house with a magnificent porch with single and double Ionic columns, 154 Rugby Road is another Petit design from 1900.
210 Rugby boasts another Ionic-columned porch and a round tower with a conical apex, designed in 1910 by J. L. Tillack. An early resident was the Howard family, who owned a fleet of tugs and barges that moved coal from Baltimore to New York and Boston. Shipping was monitored via a radio set in the ground floor office.
219 Rugby, off Beverley, features a long arched porch with a gable extending along Beverley, a bay window and peaks and dormers at the roof line. It is another Petit design.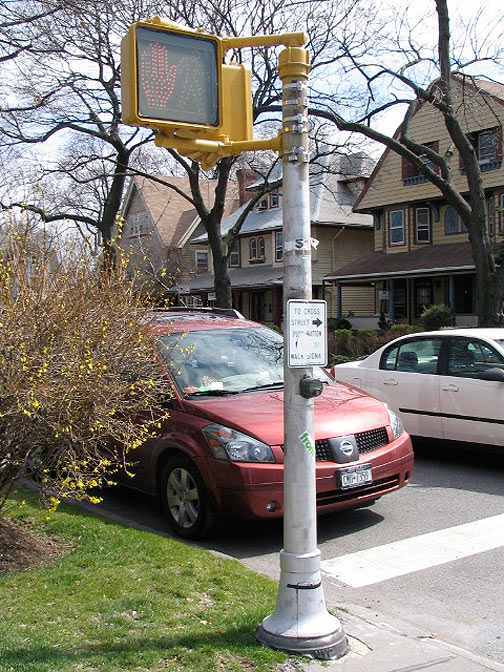 At the corner of Beverley and Rugby is a pedestrian control walk signal mounted on a 1950s cylindrical post. These style posts had fluted bases in the 50s before switching to rectangular ones in the 1960s.
Going further south into Beverley Square West, 242 Rugby Road:
This is one of the cutest and most imaginative houses in Beverley Square. It's a late Queen Anne gem with a wonderfully arched, wrap around porch, supported by thick columns, and a tower and turret that burst forth from the body of the house, which is clad in shingles and clapboard. There's stained glass and patterned shingles, dormers and gables popping out everywhere, all emphasized by the canvas shades. You can't help but smile when you see this building. Landmark it and its neighbors before it's too late, please! Montrose Morris, Brownstoner
At 305 Rugby is a "honeymoon cottage built for one of the Guggenheim sisters," as the 2008 Guide to Victorian Flatbush describes it. Inside there is an octagonal library paneled in cherrywood and a built-in bookcase with leaded glass doors.
304 Marlborough Road was the home of Beverley Park developer T.B. Ackerson. In addition to the ground floor porch, there's an enclosed porch over the entrance.
Across the Brighton Line into Beverley Square East, 317, 335, 343 East 17th. Many of the buildings in Beverly Square and nearby Ditmas Park were developed by Lewis Pounds. 317, at the top, was Pounds' home. He later became Commissioner of Public Works and borough president of Brooklyn, the only Republican who ever served in that office.
According to the above linked article, when originally built, these homes sold in the neighborhood of $8,500. Today, despite the real estate slump that began in 2008, many are worth $1 million.
There are plenty of other eclectic houses to be seen in PPS, the Beverley Squares, Ditmas Park, Midwood Park and Fiske Terrace and I hope to show more soon. In the meantime I also shambled down Cortelyou Road, the main shopping and restaurant district serving the various south of Prospect Park neighborhoods. Oddly there is no main north-south avenue with stores or restaurants until you get to Flatbush Avenue: Coney Island Avenue, originally a plank road and then a major trolley route, is mostly nondescript, with a couple of exceptions.
Cortelyou is a Dutch name in a sea of British names; Jacques Cortelyou arrived in New Netherland in the 1650s as a private tutor to the children of Cornelius Van Wreckhoven, but when his boss died unexpectedly, Cortelyou became the manager of his holdings in Flatbush. He named the western end of the holdings Nieuw Utrecht in honor of the Dutch city. The Cortelyou family held property in Brooklyn into the 20th Century.
Though the name appears as if it's pronounced KOR-t'l you, Brooklynites invariably pronounce it Kor-TELL-you.
I was going to go into a treatise on Cortelyou Road on this page, but it turns out I already have, in December 2009. But here are a couple of things left out there:
I always liked Cortelyou Road's collection of identification signs, in florid, 1890s-style typography. They have apparently been here since 1985 and were apparently installed by the NYS Division of Housing and Community Renewal. The agency, formed in 1926, oversees all public and publicly assisted housing for both the city and the state of New York. It also performs development planning and community preservation, administers state and federal loans to developers building low-cost housing, and manages the rent-control process for New York City apartments.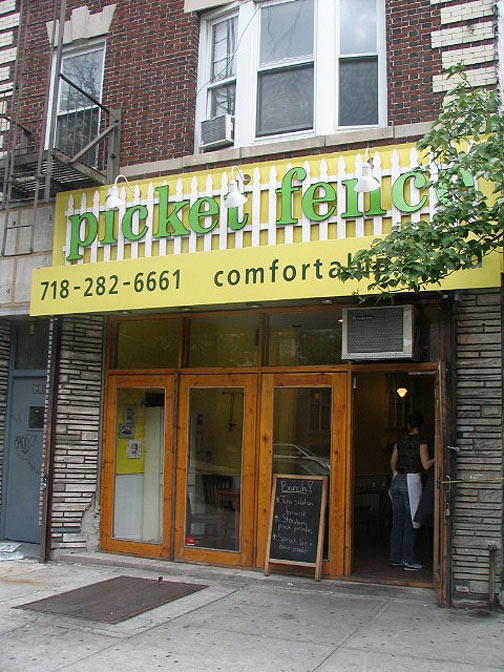 Cotelyou has become a restaurant locus in recent years. When I'm with folks in the area I usually find myself in Picket Fence, which sells American comfort food, my favorite type. Still, you have to get in before 3PM on the weekend, since they switch from a brunch to dinner menu at that time. Nice sign in Century Schoolbook.
There's the neighborhood standby, George's, on Coney Island Avenue, which I have known about since the 1980s when the area was considerably grittier than it is today. And nice use of Egyptian Bold on the sign.
Source: Prospect Park South: A History, Edith Roberts Langenau
2/17/13