The name "William Trist Bailey" will probably engender not a whiff of recognition by all except true Queens historians these days, but you have him to thank for the far-off (by NYC standards) town of Bayswater, located northwest of downtown Far Rockaway.
Bayswater was laid out around 1878 by Bailey, who built homes and a brick hotel at today's Westbourne Avenue and Harbour Court called the Bayswater House.  With the arrival of a steam railroad to Far Rockaway in the mid-1880's, many more city residents could travel to the Rockaways and several amusement parks opened.  After World War II, year-round residents began to move into the Rockaway and Bayswater area as its popularity as a vacation spot declined.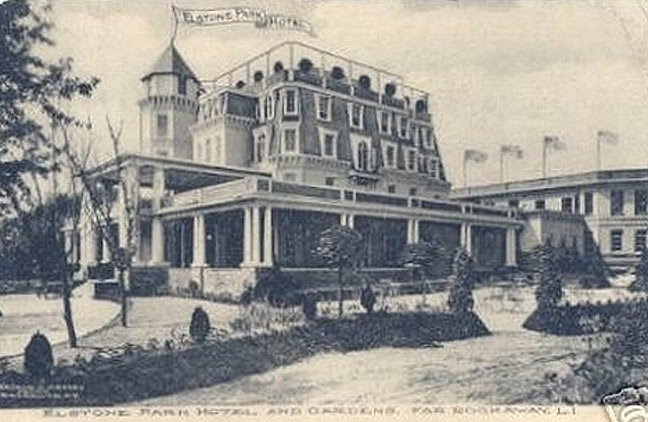 Unfortunately neither Bayswater nor its namesake hotel caught on, and Bailey was forced to sell it off. Part of the property was redeveloped as Elstone Park (which sounds like it could be in Fred Flintstone's neighborhood) and the Bayswater Hotel was replaced by the Elstone Park Hotel, above. It, too, was razed several years down the road. Bailey himself is remembered by a pair of short neighborhood streets, Bailey and Trist Places.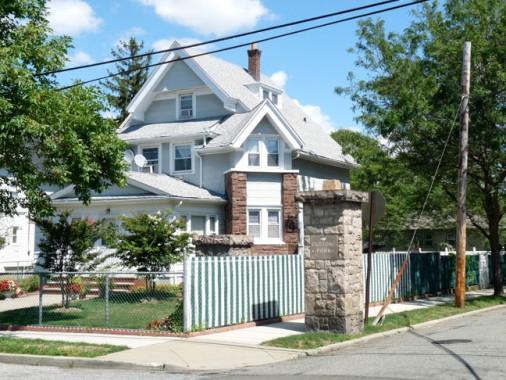 Elstone Park, though, still has a pair of gateposts at Mott Avenue and Grenada Place that identify the former development.
Driving north on Grenada Place you are surprised by a traffic circle whose presence seemingly makes no sense. Why is it there?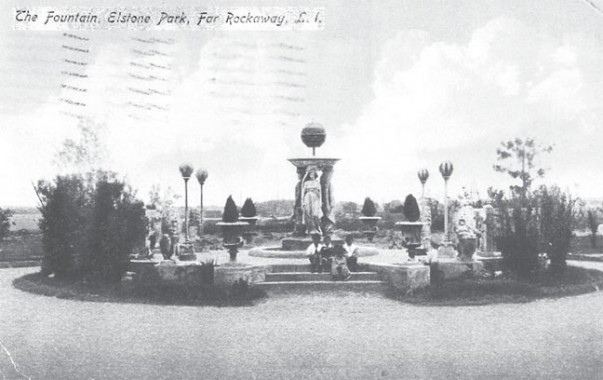 The traffic circle is the former site of an elaborate fountain placed in the middle of Grenada Place either by Bailey when he developed Bayswater, or the developers of Elstone Park. In either case, the fountain's statuary was stolen in 1912, and I do not know how long the rest of the fountain remained there.
Some pundits say Bailey's failure was predetermined when he disturbed a Native American burial site when constructing Bayswater House. That, of course, is pure conjecture.
2/12/13