In Janaury 2012 I was scrabbling around Uptown Trinity Cemetery and its adjacent neighborhood, Sugar Hill, so named because it represented the "sweet" life to aspiring African-Americans who lived uptown, aspired to Sugar Hill's then-luxury buildings and spacious apartments, and were then inspired by the Harlem Renaissance, a literary, philosophical and musical movement of the early 20th Century. Musicians Duke Ellington (who took the A train to get there),  Cab Calloway, Paul Robeson, Billy Strayhorn and Count Basie called the neighborhood home, as well as civil rights activists W. E. B. Du Bois, Walter White, Roy Wilkins and the Rev. Adam Clayton Powell Sr; literary giants such as Langston Hughes and Ralph Ellison; and jurist Thurgood Marshall. 
Sugar Hill proper is between West 145th and 155th Streets and Amsterdam and Edgecombe Avenue (the avenue is s-called because it runs along the cliff overlooking the Harlem River known as Coogan's Bluff, "comb" derived from an old English term signifying hill. For this page I'll take it a few blocks north of that, in order to show you some of the neighborhood's gems on its upper edge.
Beginning at the confluence of Edgecombe Avenue and West 155th Street, at the bridge that carries the east-west street over the high bluff to Macomb's Dam Bridge…
Hooper Fountain
When I came up here a few years ago I was amazed to find in Maher Circle (which this intersection is properly called, in honor of a local kid killed in World War I; his first name has been forgotten) a combination horse trough, streetlamp and weathervane, the Hooper Fountain.
The fountain was a gift from civil engineer/newspaperman/entrepreneur John Hooper. In his will, made public upon his death in 1889, he appropriated funds for the construction of two public fountains that had to include horse troughs as well as drinking fountains. Both fountains were built in 1894: this one, designed by George Martin Huss at Maher Circle, and another in Brooklyn at Flatbush and 6th Avenues in Park Slope that disappeared long ago.
The unusual design features a trough topped by an Ionic column with a human-scale drinking fountain appended, while the column is topped by a spherical lantern topped by a weathervane.
After motorized traffic began to overtake the equine variety in the early 1920s the trough became an anachronism, and there were efforts made to have it moved to a bridle path. But here it remained, decade after decade, with no upkeep and gradually deteriorating. Vandals finished it off in 1981. However, it was renovated, brick by brick, and restored to its old spot in the mid-1990s.
Harlem River Driveway
At West 155th and Edgecombe you will also find the Harlem River Drieway, which has a somewhat spectacular past but a run-of-the-mill present.
Harlem River Driveway at West 155th Street. The shot was taken in 2012, but the cautionary sign from 2007 was still there.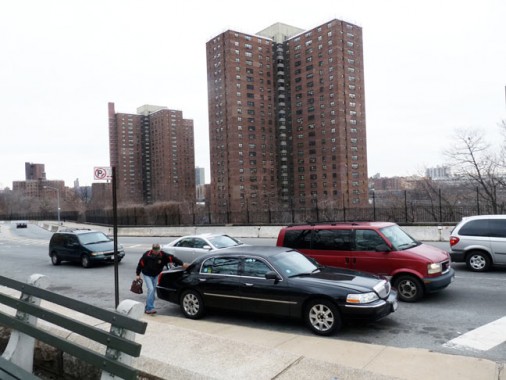 Harlem River Driveway and the Polo Grounds Houses
The Harlem River Driveway today is a connecting road from Maher Circle to the Harlem River Drive proper, but it started out as the 'original' Harlem River Drive, long before automobiles were commonplace.
1909 map showing Harlem River "Speedway" north from West 155th Street along Harlem River

Recognizing the long-standing popularity of horse racing among New Yorkers, the city built a "Harlem River Speedway" along the west bank of the Harlem River in Manhattan. The 95-foot-wide dirt roadway stretched two and one-half miles from West 155th Street north to West 208th Street. Presaging the automobile parkways of the 20th century, the speedway was flanked by trees and pedestrian walkways. When it was not being used as a racetrack, the Harlem River Speedway was used as an exercise track. NYC Roads
When the Harlem River Drive was constructed beginning in the 1930s, it obliterated the old Speedway, except for a short section between what is now the Ralph Rangel Houses (Ralph Rangel, a community worker and tenant association president, was the brother of US Representative Charles Rangel) and West 155th. The extant portion was renamed the Harlem River Driveway.
In the early 20th Century, the Harlem River Speedway approaches High Bridge…
At about the same spot today, the Harlem River Drive nears High Bridge. The arch section of High Bridge was added in the 1920s to aid river navigation.
Speedway just south of Washington Bridge, about 1900…
…its modern counterpart approaches the same bridge.
Lastly, here's a 1902 film showing horses and carts making their way south on the Speedway near the bridges:
Coogan's Bluff is the cliff leading down to the Harlem River from Edgecombe Avenue. It used to overlook the Polo Grounds, the ballpark home of the New York Giants, and in different eras, a temporary home for both the New York Yankees and New York Mets. The rise is named for James J. Coogan (1845-1915), a real estate owner and one-term Manhattan Borough President. Known as "Coogan's Bluff" as early as 1893, the property passed on to his wife upon his passing. wikipedia
Coogan's Bluff Playground perpetuates the old name. Coogan's Bluff also became the name of a 1968 Clint Eastwood film about an Arizona lawman in NYC, the inspiration for the Dennis Weaver McCloud TV series.
Brush Staircase
A last remnant of the presence of the Polo Grounds, besides a plaque in the Polo Grounds Houses, is the John T. Brush Staircase, named for a former Giants' owner, installed by the Giants during the 1913 season allowing fans up and down the steep Coogan's Bluff.
John Tomlinson Brush was born in Clintonville, New York in 1845. After founding a clothing company in Indianapolis in 1875 he became involved in local baseball teams to help promote the city and business. He later owned Indianapolis' short-lived entry in the National League in the 1880s, and later acquired the Cincinnati Reds in 1895. After selling the Reds in 1902, he bought the New York Giants the same year. When the Giants won the National League pennant in 1904, he agreed with manager John McGraw that the Giants shouldn't play the "junior circuit" American League champion Boston Pilgrims (later, the Red Sox) because of an ongoing disagreement with AL president Ban Johnson. The World Series would be played every year thereafter until 1994, when a strike canceled the Series. Brush was on his way to California on board a train in 1912 when he suddenly passed away; he had suffered from ill health for some time.
The Polo Grounds was temporarily renamed Brush Stadium from 1911-1919, but the owner's name lives on in metal letters embedded in the concrete landing. After years of decay,
In 2011, the New York City Parks and Recreation Department launched a $950,000 restoration project and now the stairway is scheduled for a "soft opening" this spring [2013]. Major League Baseball gave $50,000 to the project, along with other old Polo Grounds tenants — the San Francisco Giants; the Yankees, who played there from 1913-23; the Mets; the New York Jets (nee Titans), who played their first four AFL seasons there, and the New York football Giants, who played there from 1925-55. Major League Baseball
Photos from Stadium Page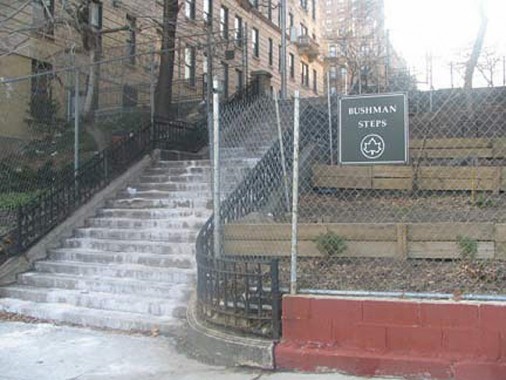 Across Edgecombe Avenue from the Brush Staircase is another named set of steps, the Bushman Steps, which fill in for West 157th Street in this hilly area. The steps were constructed in the early 1930s, with the NYC Municipal Archives photo showing them just after they opened. The fence you see in the present-day photo was installed shortly after the staircase opened, additional archival photos prove. The steps also lead to the IRT 157th Street station. The identity of Bushman is unknown; the only famed Bushman I can think of is Francis X. Bushman, a movie star in the silent era.
While West 158th street does reach Edgecombe Avenue, a cautionary signal light has been installed here to prevent traffic from careering past and onto the cliffs located in High Bridge Park.
Though High Bridge Park is one of NYC's larger parks, extending from West 155th north to Dyckman Street between the Harlem River and Edgecombe and Amsterdam Avenues, it's also one of Manhattan's least-maintained, with criminal incidences reminiscent of the bad old days when entering parks meant risking your life. Hopefully, as High Bridge itself is reopened to foot traffic sometime in the early 2010s, the namesake park's conditions will also improve — it boasts occasionally fantastic views.
Edgecombe Avenue gently curves around the bluff towards…
555 Edgecombe
555 Edgecombe Avenue at West 160th Street, which contained apartments formerly tenanted by Paul Robeson, Count Basie, Lena Horne, Thurgood Marshall,  and presently, the keeper of once of NYC's great musical traditions, Marjorie Eliot, who has held parlor jazz concerts every Sunday since 1992 on Sundays from 4-6 PM in tribute to her late son, Philip.
If you walk in after the music has begun, two things will happen. One, because the rest of the audience will be paying rapt attention to the musicians, you will feel as if you are intruding. Not to worry: The second thing that will happen is that, almost immediately, Marjorie herself will appear at your elbow and help you find a seat. Under any other circumstances, her apartment would feel spacious, but as a makeshift concert hall, it is packed with people on folding chairs and wooden stools, filling the living room, the kitchen, and the foyer, with more people standing behind them.
For two hours the music continues, with a rotating cast of young and old musicians taking their positions against the back wall of the living room. Some are regulars, and some are new. "It is so rewarding for me to be able to bring a diverse audience—which ranges from people who come every Sunday from Westchester, to people who come once a year from Sweden—and the musicians together, face-to-face," says Eliot.
On our visit there was a pianist, a vocalist, a man playing the bass, and another playing the trumpet; one man alternated between the flute, the clarinet, and the saxophone. They played everything from church hymns and songs of peace to a tear-jerking rendition of "Somewhere over the Rainbow." They stopped only for a brief intermission, during which platters of cookies and apple juice were passed from one audience member to the next, turning the secret Sunday jazz concert into Sunday at Grandma's house.
The highlight of the afternoon was when Eliot took the stage to play piano, and sunlight seemed suddenly to come pouring into the room. Almost everyone was transfixed. Our advice: Close your eyes and just listen. And go back again soon. Robb Report, which provides details on what apartment to visit if you want to stop in on Sunday afternoon at 4 PM.
Edgecombe Avenue and West 160th Street.
Robert Morris Park/Morris-Jumel Mansion
From the ForgottenBook: This oldest private home in Manhattan stands on a high hill at Edgecombe Avenue and West 160th Street, somewhat nonchalantly eyeing the city spread out below it. The Morris-Jumel Mansion was built around 1760 by a British colonel, Roger Morris, who was married to Mary Philipse: some say Mary had previously turned down a proposal from George Washington. Morris' estate, Mount Morris, covered a vast amount of Harlem acreage, some of which would become Mount Morris Park, now Marcus Garvey Park. During the war, Morris, a loyalist, was forced to vacate the mansion and return to England; it then became a headquarters for Washington in the autumn of 1776. While President in 1790, Washington had a formal dinner in the mansion with John Adams, John Quincy Adams, Thomas Jefferson and Alexander Hamilton.
After passing through several owners, the mansion was purchased in 1810 by a wealthy French emigrant, Stephen Jumel, and his wife Eliza. They redecorated the house in the French Empire style it retains today and imported furniture; a bed purportedly owned by Napoleon can be found in the Mansion. Jumel also planted a number of cypress trees south of the mansion that were brought from Egypt by the French emperor. After Jumel's death in 1832, Eliza married former Vice-President Aaron Burr, who is probably better remembered today for killing Alexander Hamilton in a duel in 1804. Their marriage was stormy and brief, and after their divorce in 1834, Eliza occupied the Mansion until her death in 1865 (she is entombed in nearby Uptown Trinity Cemetery). Some say her sprit is in the house, since the ghost of a well-dressed woman in the fashion of the time has occasionally been spotted in the halls. The Mansion has been preserved as a monument since 1904.
On the museum grounds in Roger Morris Park, you will also find an 11-mile marker on the Kingsbridge Road, which in upper Manhattan became St. Nicholas Avenue and Broadway.
Jumel Terrace
Jumel Terrace, named for Stephen and Eliza Jumel, runs two blocks from West 160th north to West 162nd. It still preserves its Belgian block pavement from decades ago. A second street named for the Jumels,  Jumel Place, can be found a few blocks north between West 167th and Edgecombe Avenue near Amsterdam. The terrace, as well as West 160th and West 162nd Streets, is home to several picturesque Romanesque Revival houses built in 1896.
Sylvan Terrace and the Morris-Jumel Mansion.
Sylvan Terrace
Steps at Sylvan Terrace and Amsterdam Avenue.
"Sylvan" is an adjective that means "woodsy" or "like a forest" and there are three uptown alleys named "Sylvan": Sylvan Court and Sylvan Place, which are on East 121st Street near Marcus Garvey (Mount Morris) Park, and Sylvan Terrace, which dead-ends on Jumel Terrace facing the Morris-Jumel Mansion, with a set of steps leading down to St. Nicholas Avenue. This was once the carriageway to the mansion, but since 1882 it has been home to about 40 nearly identical clapboard wood-frame houses, meticulously maintained by their owners. It was developed by James Ray and built by architect Gilbert Morrison. Earlier critics mistook them for servants' quarters, but they were originally middle class residences, and present prices on the terrace are around $1M if you want to purchase one.
I can never see enough photos of this block — check this google photo aggregation for more, including some interior views.
Walking south on Amsterdam Avenue you find the Duke Ellington School (PS 4) at West 160th. Built in 1996 it is a "refreshing variation from the minimal boxes of the 1950s, 1960s and 1970s" according to the AIA Guide to NYC.
Across the street on West 160th Street is a large "Say No to Drugs" mural.
At Amsterdam and West 159th, wrapping around the corner, is another large mural. The kid walking on the sidewalk looks like he is part of the mural.
A recently shuttered dry cleaners still employed its 1950s-era plastic lettered awning sign.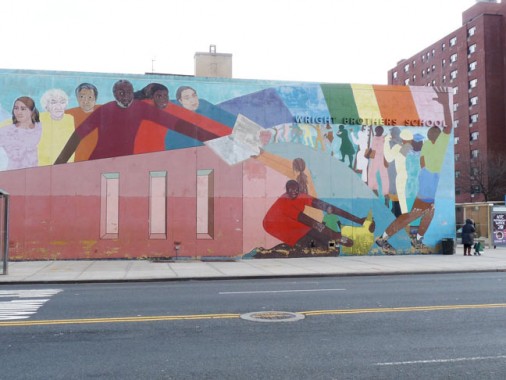 Yet another large mural at Amsterdam and West 155th, at PS 28, the Wright Brothers School, named for the air flight pioneers.
I then passed by Uptown Trinity Cemetery, which borders Amsterdam Avenue on the west (see link)
St. Luke African Methodist Episcopal Church (originally Washington Heights Methodist Episcopal), Amsterdam Avenue and West 153rd, across from the cemetery. The cornerstone provides AME info, but the church building has been here since at least 1896, so this is a little confusing.
The Carmansville Playground, Amsterdam Avenue and West 152nd, is the last vestige of the uptown village founded by Richard Carman (1801-1867), who sold 23 acres of his uptown property to Trinity Church in 1842. Carman was a box manufacturer who made a fortune in real estate and insurance and was a near neighbor and friend of the family of John James Audubon, who also lived nearby. He founded the village of Carmansville along today's Amsterdam Avenue between West 150th-153rd Streets, and was interred in the nearby Uptown Trinity Cemetery.
The former NYPD 32nd Precinct headquarters, Amsterdam Avenue and West 152nd Street, is a French Second Empire-style brick building that must look quite a bit like the way it was built in 1871, down to the rooftop crenellation, and rather unusual brownstone-style quoins (interlocking concrete slabs on the corners) with overall brick construction. It is now home to a branch of the TCI College of Technology. Originally the building included stabling for horses, a jail, and quarters for 'vagrants.'
Daytonian in Manhattan relates some tales of the occasional nonstandard activities engaged in by the patrolmen in the station house.
The SE corner building at Amsterdam and West 153rd is another mansarded Second Empire design but with a little more modernization.
Heading east on 153rd I was surprised to find a group of extraordinary attached townhouses dating back to the late 1880s. Similar buildings can be found on West 152nd and West 154th and are part of the overall Hamilton Heights-Sugar Hill Northwest Landmarked District, and a detailed history of Sugar Hill, and architectural descriptions of these buildings, can be found on this NYC Landmarks page.
Also on West 153rd between Amsterdam and St. Nick is the charmingly appointed, to me at least, "Senior Citizens Sculpture Garden Park." I know nothing about its origins, but it features amateur art, a man-made pool, a collage featuring a Daily News cover from May 1948…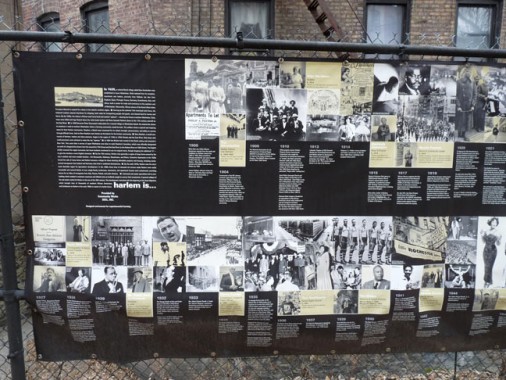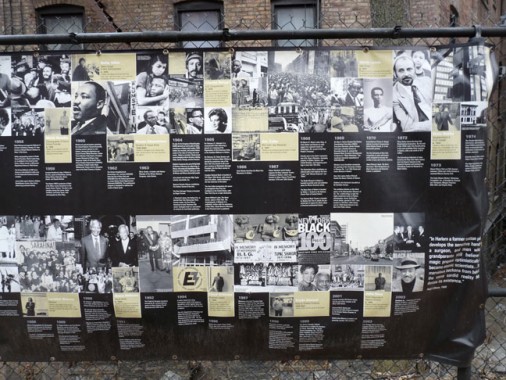 …. and most interestingly, a Harlem timeline published by Community Works DEEL, Inc. Anyone know anything about this organization?
Attached brownstones on St. Nicholas Avenue facing West 153rd. The bars on the ground floor windows are a guard against what is still a criminal element in the area.
A handsome and eclectic grouping near West 152nd, with two houses in different states of repair. They were designed by architect Clarence True and built in 1894.
The seriously corniced St. John's Baptist Church, West 152nd west of St. Nicholas Avenue.
St. Nicholas Place is a short street running north from St. Nicholas Avenue and West 150th north to West 155th and Maher Circle. The building with the ogee-curved cupola, #14 St. Nicholas Place, was designed by architect William Grinnell as well as #16, on the left, and built for James Montieth in 1883-1884, and are the oldest buildings in the immediate area. "Their picturesque, Queen Anne-style facades, which feature rock-faced granite bases, projecting turrets, incised floral motifs, onion dome, and roof gables, arc unusual in Manhattan" (LPC Landmarks Designation Report for Hamilton Heights-Sugar Hill)
James A. Bailey, whose circus (owned with P.T. Barnum) joined with the Ringling Brothers' in 1919, owned this magnificent edifice  at the northeast corner of St. Nicholas Place and West 150th Street, finished in 1888. The house has been owned by Marguerite Blake since 1951. She operated the M. Marshall Blake Funeral Home in the house until a few years ago. Recently the house went on the market for $8 million. 
The house (architect Samuel Burrage Reed) is constructed with walls of grey Indiana limestone. Interior decorations were by a company headed by Joseph Burr Tiffany, the brother of Louis Comfort Tiffany of glassworks fame, and the stained glass windows were fashioned by the Belcher Mosaic Glass Company.
Dawn Hotel, St. Nicholas Place and SE corner of West 150th., constructed in 1886 for provisions merchant architect John W. Fink. It is in relatively rundown condition compared to the Bailey House even as the latter undergoes renovations. Fink sold to entrepreneur Charles Runk and by 1895, it was joined with the house immediately to its south and served as a sanitarium for a number of years. As the Dawn Hotel it has served homeless families as emergency housing.
The magnificent Arundel Apartments, 772-778 St. Nicholas Avenue at West 149th, features distinctive recessed bays and decorative arches. Composer Oscar Hammerstein was an early resident of this building that went up in 1905.
713-721 St. Nicholas Avenue, an eclectic mix at the SW corner of St. Nicholas and West 146th. Let Michael Henry Adams, of Harlem: Lost and Found describe it for you:
Retained by mason-builder Hugh Reynolds, in 1891, architects Thayer & Robinson  designed a row of five houses, numbers 713 to 721 at the southwest corner of 146th Street. Here  they devised a prominent corner tower like no other ever built. Buff-colored brick trimmed with agitated courses of red brick, they almost reach an A-B-A-B-A symmetry…
First  adapted into the exclusive Heights Club, by 1897, and converted within two years into the respected Barnard School for Boys by William Livingston Hazen, number 721 [on the corner] apparently never did have a conical, or any other conventional kind of roof.  From about 1920 through 1964 it was occupied by one of the area's first speakeasies, the Silver Dollar Cafe.
729-731 St. Nicholas Avenue between West 146th and West 147th were constructed when what became Hamilton Heights and Sugar Hill were still suburban, with widely-spaced country estates. Adams, again:
The imposing facades were the most original and satisfying in all Harlem. Each residence featured picturesque massing, including the iconic domed or conical Norman turret, and tall, distended chimneys. Like the lost freestanding dwelling that once occupied the corner at 146th Street, the two bow-fronted row houses which survive celebrate their definitive medieval vernacular architecture transferred to the city. Faced with rugged Manhattan schist, excavated from their foundations, articulated like Norman originals, with red brick, they are further distinguished by unglazed yellow terra cotta ornament and imbricated wood shingles.
By the early 20th Century the turreted towers were hemmed in by apartment buildings and attached brownstones.
Finally, I've always had a soft spot for this apartment building on the southwest corner of 145th and St. Nicholas…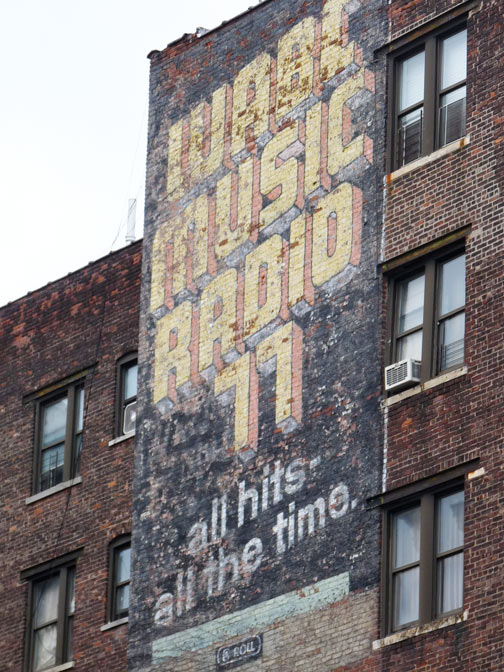 … because the back of the building hosts an apparently unfade-able painted ad for MusicRadio 77 WABC, where the All-Americans (Dan Ingram, Chuck Leonard, Cousin Brucie) revolved stacks of wax from 1960-1982.
2/9/13