Prospect Park South was developed by Syracusan Dean Alvord, who purchased a parcel of land in Flatbush from the estate of Luther Voorhies and the Dutch Reformed Church in 1898. Unlike developers like Alfred Treadway White, who built Cobble Hill's Workingmen's Cottages, Alvord from the start built sumptuously-appointed buildings for the well-to-do. By 1898 Flatbush had evolved into a well-established community that boasted good schools, decent local transit (trolleys) and the Brooklyn Rapid Transit Company offered easy transport to Manhattan via the Brooklyn Bridge. Prospect Park bordered nearby to the north.
Some of the iron street signs that were placed at the very beginnings of the development are still in place — at least, some of the posts that held them are. This is a remaining Marlborough Road sign at Albemarle Road which is, as far as I know, the only extant iron street sign.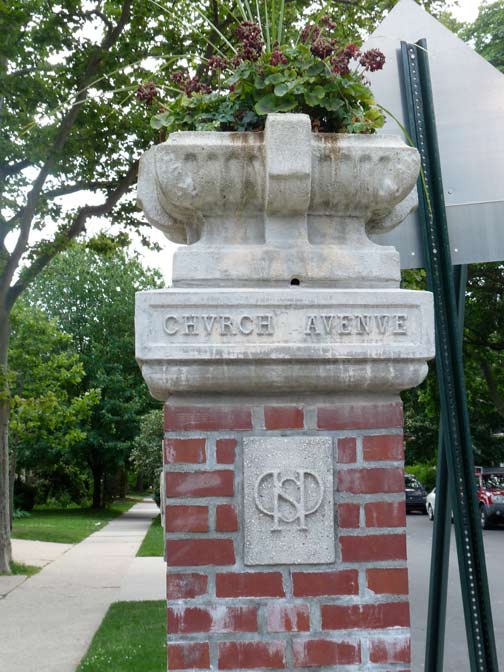 This gatepost, with its PSP trigram, can be found at Church Avenue and Marlborough at the northern edge of the development. The lettering follows the old Roman practice of carving a V instead of a U — it was easier on the chiseler.
2/4/13