Though it has been over century since it was known as Shell Road, an ancient east-west Queens thoroughfare connecting the banks of Newtown Creek with downtown Elmhurst remains largely intact. While idly meandering from Corona back to the Long Island Rail Road Woodside station the other day, I found myself along part of this route and it turned out to be a part I had never walked before.
Click above gallery for a larger image
First, a bit of background. Laurel Hill, the little-known Queens neighborhood between Calvary and New Calvary Cemeteries,  today is known as West Maspeth, and, like Blissville, it is a small, isolated little village, with heavy industry dotted with ancient one-family houses. It's hemmed in by Calvary Cemetery/Brooklyn Queens Expressway in the west, the Long Island Rail Road to the south, the Long Island Expressway to the north, and pedal-to-the metal 58th Street, a main truck route, to its east. Its original name is remembered by Laurel Hill Boulevard, which buddies up with the Brooklyn-Queens Expressway for most of its route from the old Penny Bridge Long Island Rail Road stop northeast to Queens Boulevard.

In 1840, engineers constructed a new road from Penny Bridge on the Creek to Newtown (today's Elmhurst) built with the finest pavement available at the time: crushed oyster shells. It was alternately known as the Newtown Turnpike and Shell Road. Today, its route is still definable by Laurel Hill Boulevard, the Brooklyn-Queens Expressway, and 45th Avenue. The road ended at Broadway just north of the LIRR. Today, Laurel Hill Blvd. functions mainly as the BQE service road, though it breaks free at western end at Calvary Cemetery and also for a few blocks at its eastern end in Woodside (right). Coney Island, Brooklyn has kept its own ancient Shell Road.
In the 1873 Beers map shown above, I've detailed the route of the old Shell Road. The route remains largely intact — though Laurel Hill Boulevard has been interrupted around the present Queens Boulevard:
Click above gallery for a larger image
In this map we have moved forward to 1915. By then all of Shell Road/Newtown turnpike had acquired the Laurel Hill Boulevard moniker, while Queens Boulevard had embarked on a widening project that would bring it to its current width. Within a few years, Queens' streets would be numbered and Shell Road east of Queens Boulevard will be called 45th Avenue. 69th Street, an important north-south street, was called Fisk Avenue, a name still used on the Flushing Line #7 train station.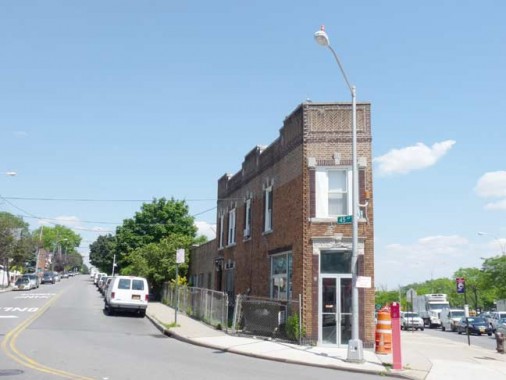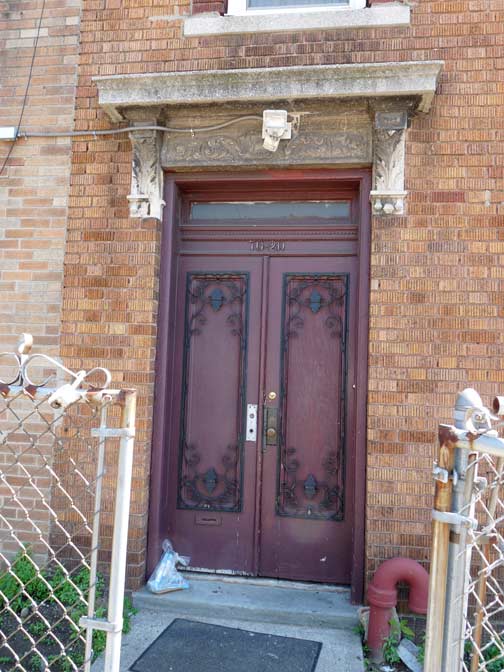 The V-shaped junction of Queens Boulevard and 45th Avenue created a near-triangular plot. I've always been fascinated by buildings shaped like this, and would like to have a room with just the one window facing west. The front door looks original.
Note the grade difference between Queens Blvd. and 45th Avenue. Here, the Boulevard runs through a valley, while 45th Ave. ascends a hill.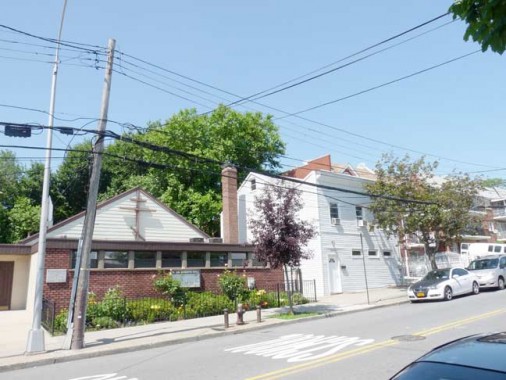 St. John Chrysostom Eastern Orthodox Catholic Church, founded 1958. There's a mini onion dome on the left, but I had to cut it out to get the older house on the right in the picture. The Eastern Orthodox Church, the successor to the Byzantine Church, is the religious affiliation of the majority of the populations of Belarus, Bulgaria, Cyprus, Georgia, Greece, Macedonia, Moldova, Montenegro, Romania, Russia, Serbia, and Ukraine; significant minority populations exist in Jordan, Israel, Lebanon and Syria. wikipedia 
John Chrysostrom, an early bishop of Constantinople, is considered to have been one of the greatest orators in the Christian tradition (his name in Greek means "golden-mouthed."
This stretch of 45th Avenue is scattered with curious dwellings of a very old age. Along the south side of the avenue are a group of 4 or 5 one-story buildings arrayed at the top of the hill overlooking Queens Boulevard. All are protected assiduously by fencing of varying opacities.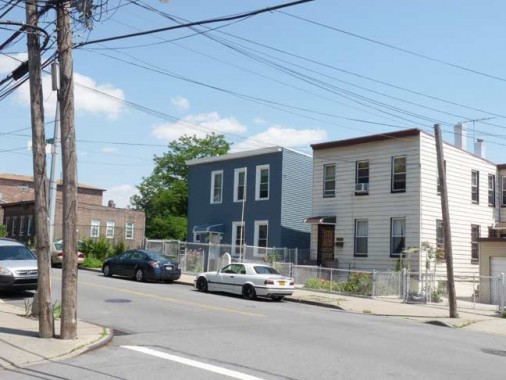 Otherwise, this stretch of the avenue (here at 72nd Street) features wood frame salt box dwellings that might go back as far as 1850, just 10 years after the turnpike was built. All have, of course, been given new aluminum siding hat masks their age.
Detouring to 44th Avenue, a recent teardown has left a temporary view to this gabled and peaked brick building.
Another flat-roofed building over a century old. The interior porch was probably added decades later.
You can tell the difference, age-wise, between this building and the two on either side.
A brick building atop the severe downslope just south of 45th Avenue. The first floor is below the sidewalk.
A stucco-sided building with a cupola alongside the Connecting Railroad, which bisects this part of Elmhurst.
At 74th Street, this building has served proudly for perhaps 150 years — it's being forcibly retired.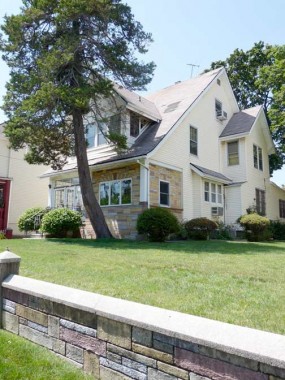 76-11 45th Avenue is unique among "Shell Road"'s houses in that it has a huge lawn. There's also a sunny interior porch in front.
Roosevelt Roofing's original location on Roosevelt Avenue and 70th Street was disloacted by the Brooklyn-Queens Expressway, but they later moved to Woodside Avenue and 71st Street. At both locations, the company displayed its trademark, a large tin man figure perhaps inspired by L. Frank Baum. Unfortunately the tin man has disappeared since they moved again to 69th Street.
45th Avenue / Shell Road ends at Broadway and Moore Homestead Park, near the heart of old Newtown. The park is named for the colonial era family the Moores, which produced Clement Clark, the composer of "'Twas the Night Before Christmas," and the ancient house that stood here until the early 20th Century.
BTW, how does Google decide where to put the blurs in its street view scenes?
The long history of this site features colonial settlers, a tasty apple, a beloved children's poem, subway construction, and a neighborhood playground. In the mid-1600s Captain Samuel Moore was granted eighty acres of land in the area to recognize the efforts of his father, Reverend John Moore (1620-1657), in arranging the purchase of Newtown from local Native Americans. Captain Moore built a house here in 1661, and the property was handed down from generation to generation of his descendants. During the Revolutionary War, the British General William Howe made his Long Island headquarters at the homestead. The site is also known as the birthplace of the famous "Newtown Pippin" apple.
Clement Clarke Moore (1779-1863) was the great-great-great grandson of Reverend Moore. Born in New York City, Clement spent much of his boyhood and youth at the family estate in Newtown. He was tutored at home by his father and graduated from Columbia College with a B.A. in 1798, an M.A. in 1801, and an honorary LL.D. in 1829. Moore served as a professor of Oriental and Greek literature at the General Theological Seminary in Manhattan from 1823 until he retired in 1850. Fluent in six languages, he published numerous scholarly works, including a Hebrew lexicon, a biography, and several treatises and addresses. NYC Parks
In the Dirty Thirties, NYC was relentless about bulldozing or otherwise destroying historic properties before preservation laws were on the books, and the Moore homestead didn't survive the construction of the new IND subway under Broadway in 1933. The land where the house had ben became a playground in 1954 and was renamed for the homestead in 1987.
Meanwhile, two Moore burying grounds survive: a hidden one in a playground at 90th Street and 56th Avenue, and the Moore-Jackson Cemetery on 54th Street between 31st and 32nd Avenues in Woodside.
More on ancient Queens pathways in Brownstoner Queens
6/20/13