As far as I can tell, there are four "L"-shaped streets in Manhattan, and I just featured one a few days ago (August 2013): Shinbone Alley, a now-privatized lane in NoHo between Lafayette and Bleecker Streets. Another one is Marketfield Street in the Financial District between Broad and Beaver Streets that has been there since the 1600s with a variety of names, but the street itself is a back alley mostly populated by Dumpsters®. Then there's Ryder's Alley (seen on this FNY post) between Gold and Fulton Street, but that one was demoted in the 1990s when part of it was given back its old name, Edens Alley. It, too, is mostly noticed only by the rats and pigeons.
Commerce Street, between 7th Avenue South and Barrow Street, is a different beast. It's lined by handsome townhouses, some quite old indeed, and is punctuated by the historic Isaacs-Hendricks House and the Cherry Lane Theater. It's clearly a cut above those other L-shaped alleys in every way.
Both books that list the origins of NYC's street names, Henry Moscow's The Street Book and Sanna Feirstein's Naming New York, both usually reliable guides, have the apocryphal story that Commerce Street got its name because an early 19th Century smallpox breakout forced downtown businesses to move to the Village. Jim Naureckas, in NYC Songlines, has another story:
Commerce was one of a handful of streets in the vicinity that were named for French revolutionary virtues; others included Art Street (now part of 8th Street), Science Street (which became Waverly Place) and Reason Street (renamed Barrow). Art, Science and Reason are gone; only Commerce remains.
But: Don Rogerson, author of Manhattan Street Names Past and Present:
While the yellow-fever origin of the name "Commerce Street" may be apocryphal, the claim that it was named in conjunction with Art, Science and Reason Streets as part of "French revolutionary virtues" has no basis or documentation whatsoever and is certainly wrong. People today assume that streets have always been named according to an orderly plan. This is far from the reality of the chaotic way street names evolved over many centuries.
Feirstein and others repeat the story that Commerce Street was named when businesses fled downtown New York for the Village in the yellow fever epidemic of 1822. This is despite the fact that the street is first mapped by this name in 1799. This doesn't necessarily disprove the story, though, as yellow fever outbreaks were frequent in the city's history and indeed there was a large one in 1798, the year before the street is first mapped.
Reason Street was so named in 1809 in honor of Thomas Paine, who had recently died, and was called after his famous pamphlet The Age of Reason. Paine spent his last days in this neighborhood on Herring Street (now Bleecker) finally dying in a small house on Grove Street. The naming of the street was controversial, as Paine was considered a religious heretic by many New Yorkers. When the street was extended past Bedford to meet Barrow in 1828, the opportunity was taken to remove the name and extend the name Barrow to the full street, reportedly at the encouragement of Trinity Church.
Science Street was never adopted as a street or a street name, but was one of the proposed streets of the Mangin-Goerck plan. It was 6th Street – from the Commissioners' 1809 plan – and not Science Street that was later renamed Waverly Place. Science Street only ever existed on paper. It was probably chosen by Mangin in reference to Art Street, which was an actual named street at the time, and which he extended as part of his plan.
So of the four supposed "virtue" streets that Naureckas names, one is certainly named in honor of Paine's pamphlet and not the abstract virtue. One (Science) only ever existed on paper. Art Street seems indeed to have been named for the abstract human endeavor, while Commerce may after all have been named for the exodus of downtown businesses to the healthier countryside of the Village.
Incidentally, my new book on the origins of Manhattan street names corrects these and some of the other errors repeated by Moscow and Feirstein.
Cherry Lane? I'll get to that later.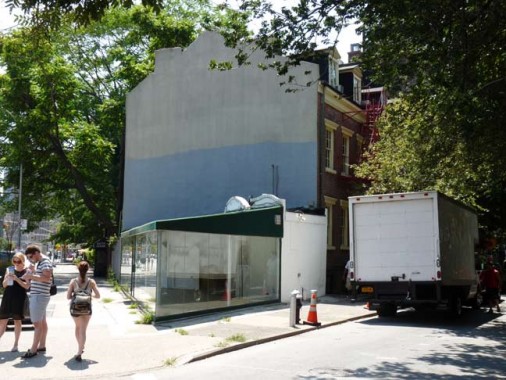 The southwest corner of 7th Avenue South and Commerce Street is occupied by a small glass-enclosed art studio. But if you squint you can just make out the top of an even smaller structure that the studio is built around. That's what's left of a gas station that was in business there from 1922 to 1974.
It is actually in the back yard of a landmarked house on Bedford Street (that's more obvious when you are facing it from 7th Avenue South) and when a couple purchased it in the 1980s, they found they couldn't tear it down — so they made it an office and guest house. The art studio appeared a few years ago.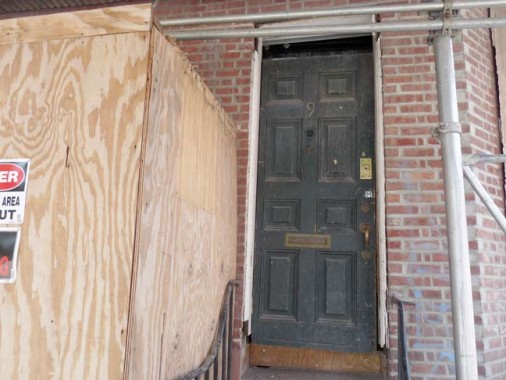 The first house you encounter when turning into Commerce Street from 7th Avenue South is #9 Commerce. Why not #1?
This 1850s map shows Commerce Street with its eastern end at Bleecker Street, not 7th Avenue South. That street came into existence when the IRT Subway was built in the neighborhood in 1912, and the decision was made to run it on a straight line from 7th Avenue and then under Varick Street. The problem was, at that time the northern end of Varick was at Carmine and Clarkson Streets. Therefore a great deal of property was bought or seized and then demolished to build the subway. After it was done, instead of constructing new buildings, a new road, 7th Avenue South, was laid on top of the subway cut, connecting 7th Avenue and Varick Street. Today it's one of the Village's busiest north-south routes.
The buildings on both sides of Carmine were destroyed in the process, including #1 through #8.
Oddly, when the same thing was done in 1928 for the IND Subway, 6th Avenue was extended south into Tribeca, but the new section wasn't called 6th Avenue South — the city renumbered the whole avenue instead.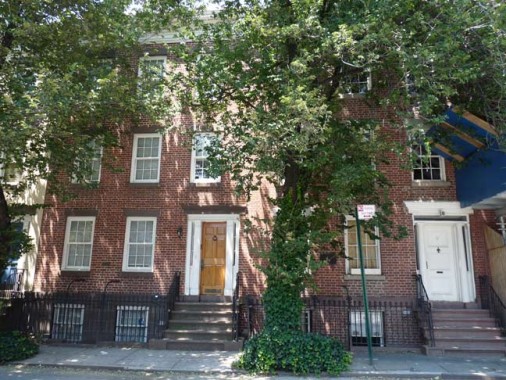 #9 Commerce, along with #11-15, were built in 1826 in a plain Federal style. They haven't lost any of their charm in their nearly 190-year history. The doors and doorway treatments serve to individualize them.
A plaque on #11 Commerce proclaims it as the former home of Washington Irving, Jr. The sign is perplexing, to me at least, because the famed author of Rip Van Winkle and The Legend of Sleepy Hollow remained  a bachelor his whole life after the death of his fiancée when she was seventeen years old. Perhaps the plaque refers to someone claiming to be his son. (Washington Irving's father's name was William Irving, Sr.)
Again in Songlines, it is posited that #11 was the home of Irving's sister, and he wrote Sleepy Hollow here. However, it was first published in 1820.
#17 Commerce was built in 1830 by stonecutter Abraham Bogert and is only two floors in height (the previously-seen buildings here were 2.5 stories, with a third added later. The building boasts its original stoop ironwork. with pineapple-shaped finials. It was on the market for over $4 million in 2012. The building does, or did, have a plaque identifying it as the "Aaron Burr House," but while Burr lived in the nearby Richmond Hill mansion, he did not live here.
The three small houses, numbers 24-28, were built by two shoemakers when residents of "The City" first came north to inhabit the Village of Greenwich. They built three houses on two lots so the builders could each have a house and rent one. West Village Web
Asher Martin and John Bennett built the Federal-style dormered houses in 1821. They are seen here in 1932.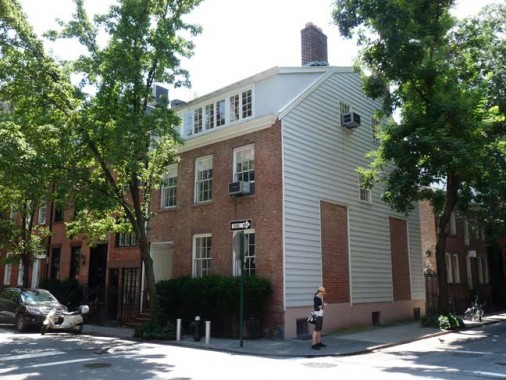 The Isaacs-Hendricks House, #77 Bedford Street at the southeast corner of Commerce, is one of a handful of remaining buildings on Manhattan built in the 18th Century. It just got in under the wire since it was built in 1799.
Large sections of it including the brick facing were added to the house in 1836, and the third floor is practically "new", since it was added in 1928. It is a former farmhouse owned by Harmon Hendricks, a copper merchant who supplied Robert Fulton with materials for copper boilers that powered the historic Clermont steamboat run in 1807. Next door, in a house so narrow it seems to rate only half an address, is 75-1/2 Bedford Street, a house only 9-1/2 feet wide. There used to be stables inside the block adjacent to the Isaacs-Hendricks House, and the narrow building was constructed in 1873 on what used to be the carriageway entrance. Famed poet Edna St. Vincent Millay lived in the building briefly in 1923-24. (Beat novelist William Burroughs lived at 69 Bedford, a few doors down, in the 1950s.)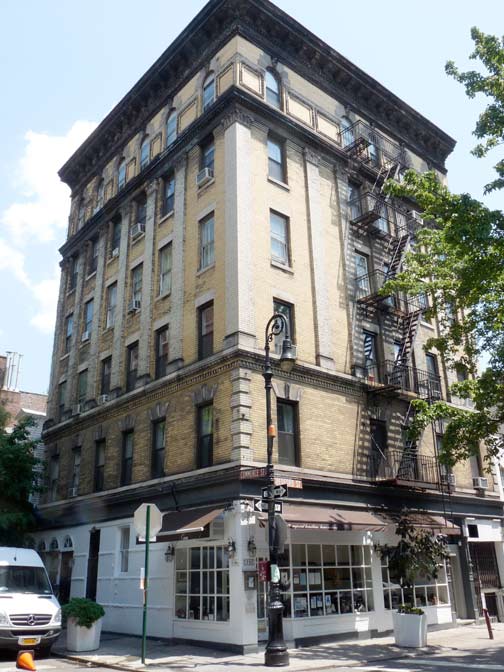 This 6-story apartment building on the northeast corner of Commerce and Bedford is actually one of the new kids on the block — it was probably built around 1900, when architects were still adding razzamatazz like stone quoins, lintels and stringcourses on multifamily buildings.
The bishop crook is one of the second-generation Retro-crooks that started appearing in the 1980s.
On the left, #32 and #34 Commerce were built as wagonsheds, later became factory buildings, and are now residential. They first appeared in the 1830s.
On the right, #36 Commerce was built for brewer Alexander McLachlan in 1841, who also constructed the adjacent #38, the Cherry Lane Theater, the same year. Before that, it had been farmland. The two houses share a courtyard. The stoop was installed in 1996, but it was built to match 1840s styling.
The Cherry Lane Theatre has been located at #38 Commerce since 1924. Between its time as McLachlan's brewery and the theatre, the building had been used as a box factory. Author Edna St. Vincent Millay, who lived around the corner at the narrow 75-1/2 Bedford, was among the theater founders.
According to the theater's website it has played host to the cream of American playwrights' productions and some of the most popular actors on the NY stages and Hollywood:
a large succession of plays by nascent writers whose names have lent distinction to the American and international literary and dramatic treasuries from F. Scott Fitzgerald, Dos Passos and Elmer Rice in the '20s to O'Neill, O'Casey, Odets, Auden, Gertrude Stein, T.S. Eliot and William Saroyan in the '40s and '50s to Beckett, Albee, Pinter, Ionesco and LeRoi Jones in the '60s to Sam Shepard, Lanford Wilson, Joe Orton and David Mamet in the '70s and '80s…
The Playhouse productions featured an equally illustrious group of actors and directors including Barbra Streisand, Gene Hackman, Beatrice Arthur, James Earl Jones, Colleen Dewhurst, Cicely Tyson, Alan Schneider, Harvey Keitel, Judd Hirsch, Tony Curtis, Gary Sinise, Jerry Stiller, Rue McClanahan, Geraldine Fitzgerald, Roy Scheider, Frances Sternhagen, F. Murray Abraham, Joan Micklin Silver, Peter Falk, Tom Bosley, Frank Langella, Kim Stanley, Tyne Daly, Estelle Parsons, Geraldine Page, Kevin Bacon, Lee Strasberg, Roscoe Lee Browne, Tony Musante, Adolph Green and Betty Comden, Alvin Epstein, Dennis Quaid and Joseph Chaikin.
The Cherry Lane has always had a reputation for avant-garde and up-and-coming shows.
For years many historians assumed that Commerce Street was called Cherry Lane at one time, and in the 1990s the Department of Transportation gave it a sub-sign with the name. However, the appellation is fictitious and was made up by one William Rainey, one of the investors who along with Miss Millay founded the Cherry Lane Theatre.
Originally the group had a hard time coming up with a name for the venue, and when a reporter asked him what the theatre would be called, Rainey scrambled to find an answer, and recalling that the group had joked about calling it the "Cheery Lane" theatre since a London critic had been lambasting the Drury Lane Theater as the "Dreary Lane," Rainey blurted out "Cherry Lane." He perpetuated the ruse his entire life, claiming to have found an old map with Cherry Lane on it. He confessed to the jibe shortly before his death in 1964.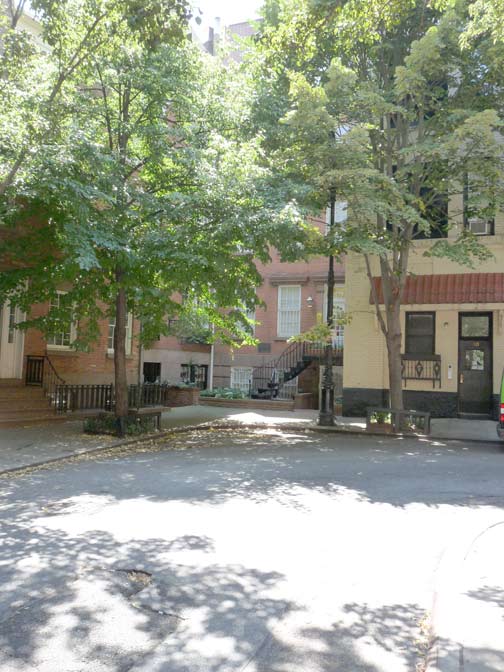 Commerce Street's hallmark is its nearly 90-degree turn. If you look at a map, you will see several Greenwich Village streets that have a bend along the same line as Commerce Street's more extreme bend: Grove, Barrow, Morton, St. Luke's Place/Leroy Street and Clarkson/Carmine Street east of Hudson Street all have picturesque bends. The bends mark a 1633 property line delineating the holdings of Wouter Van Twiller, the successor to Peter Minuit as Director General of the New Netherland colony. His home stood where West 8th and Macdougal Streets intersect today.
Commerce Street originally dead-ended but was given an extension, turning it north to Barrow Street, fairly early in its existence.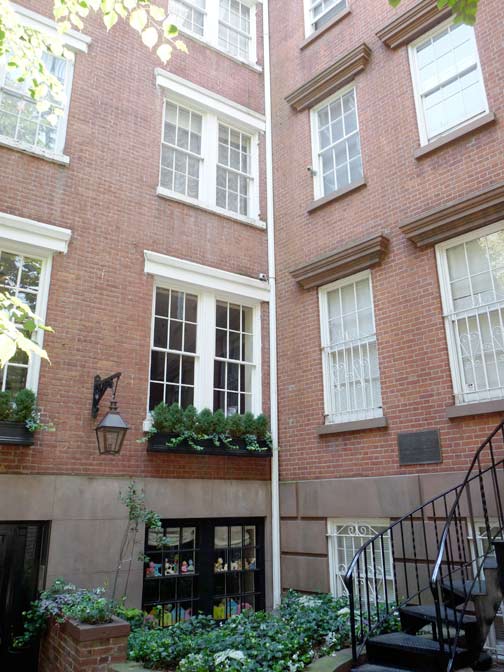 You don't see this sort of scenario too often in Manhattan, with two buildings (#46 and #48 Commerce) abutting each other at a nearly 90-degree angle.
Both buildings were constructed in 1844 for department store magnate, Irish immigrant Alexander T. Stewart. His huge emporium, the first of its kind in NYC, eventually faced all of Broadway between Chambers and Reade Streets. The building was later the headquarters for the old New York Sun newspaper.
Stewart founded Garden City in Nassau County, and built his own railroad line connecting Queens and Garden City in 1872. The railroad faltered after two years, but much of its right-of-way is now Kissena Corridor Park.
In a bizarre occurrence, three weeks after his 1876 burial in St. Mark's Churchyard in the East Village, his remains were dug up and held for a ransom, which was paid, but it's still unclear if the remains that were returned were Stewart's!
Commerce Street, northwest toward Barrow Street…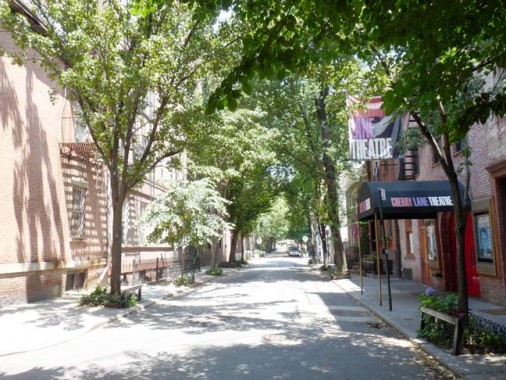 …and northeast, toward Bedford
A Nice Pair
Numbers 41 (left) and 39 Commerce, on the bend just before Barrow Street, were both built in 1831 for a Peter Huyler, whose occupation in the accounts I'm researching from was "milkman" — the profession was apparently highly paid at one time! The mansard rooves were added in 1873 for Peter's son, George, as the French Second Empire slanted styles were the rage then.
Another apocryphal story maintains that the "Twins" were built by a sea captain for two feuding daughters, one per house. Sometimes, you just keep telling a colorful tale rather than settle for reality, and so people will always believe that story as well as the one that says this was once Cherry Lane.
However…if you do want to find a Cherry Lane, look no further than Staten Island's busy Forest Avenue, which was called Cherry Lane in the 19th Century in its Port Richmond stretch.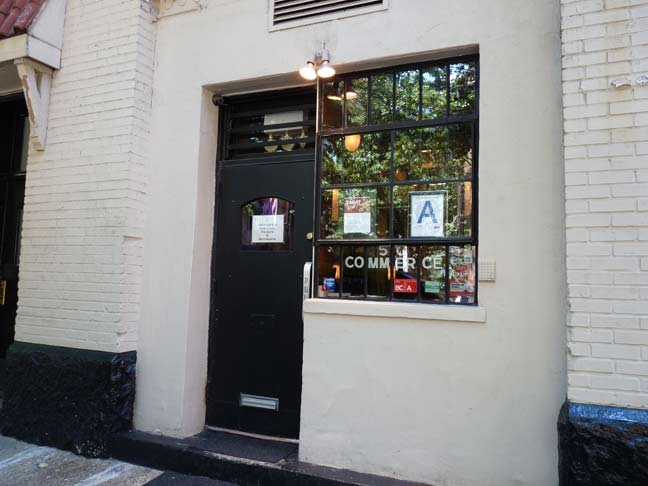 #50 Commerce, the highest numbered address on the street, is another young pup, going back to 1912. It has been a Grange hall in the past. Various taverns and restaurants have occupied the street level (including the Blue Mill Tavern) and several movies and TV shows have filmed there.
I noticed some handsome buildings on Barrow Street adjoining Commerce.
#66-68 are two of a group of four handsome brownstone apartment houses built in 1889.
.. while #70 Barrow was built as a firehouse in 1851 for the Empire Hose Fire Volunteer company and was used until they disbanded in 1865. It is now an apartment building. A spiral staircase from its firehouse days can still be seen through its front window. It became a shoe factory for a time after its firehouse days and became an apartment building about 1880.
Additional information from the late Terry Miller's Greenwich Village … and How it Got that Way, 1990 Crown Publishers
8/18/13