I was skulking around the Financial District/lower Tribeca on Greenwich Street when I found this closed CEMUSA newsstand. On the side window was something unusual, which set off some reminiscences: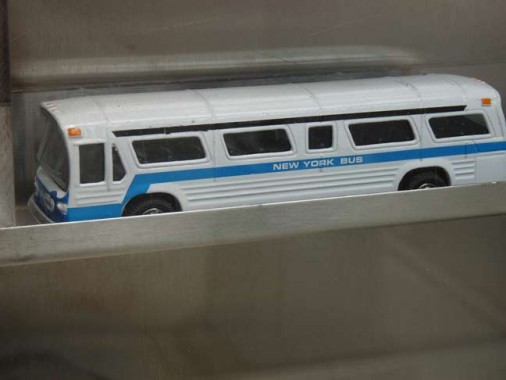 There were these small scale-model versions of cars and trucks and such, including one of the General Motors "new look" buses that premiered about 1960. Their large front windows imparted their nickname, the Fishbowls.
There were also some Checker cabs as well as the more recent taxi vans.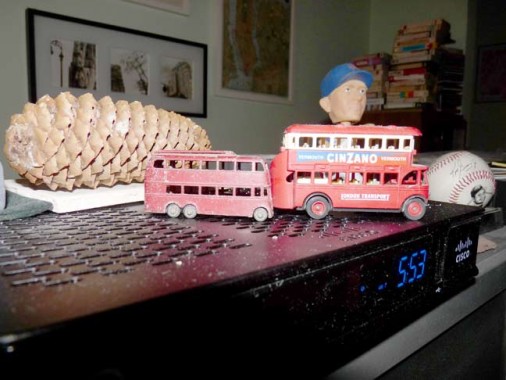 It occurs to me that there are many, many things I would collect if I had that mania, and if I had the room or the money to do so. My apartment would become a Collyeresque model of clutter. (NYC's King of All Lampposts, Bob Mulero, who you see on the tours, has a whole apartment full of plastic toys.)
I already have about 300 street maps of varying ages, but I stopped collecting years ago. I worked for a direct marketer for years writing and checking ad copy for coin collections, and I was reminded of how avid a coin collector I would be. Even conifer cones come in many different shapes and configurations and I want to have them all.
As a child I was somewhat fascinated with Matchbox trucks, but not enough to bankrupt my parents. Every so often we would go to a certain newsstand on 5th Avenue in Bay Ridge, and the proprietor would listen to my request and open a big wood cabinet in back of the counter and take out the asked-for model.
One such is in the photo above, it's the smaller of the two London double decker buses. Somehow, I have held onto it all these years. Matchboxes are exquisitely detailed, but the signage on the bus has long since flaked off. I got the larger bus as a gift from Mary Beth several years ago and the two have been a matched set since.
There's also a Billy Wagner bobblehead from Shea Stadium that doesn't look like Billy Wagner, and a Ken Griffey machine-signed baseball I got as a door prize at a Christmas party. On the wall is a gift from Nigey and Eric showing the stock lamppost photo that Harper Collins used on the front cover of the ForgottenBook. There's also some VHS tapes that still play. There's a porcelain tile from the Columbus Circle station when they were renovating it. A hockey puck from Nassau Coliseum.
As for the title card phrase, the Beatles' remake of Carl Perkins "Matchbox" was one of their few Capitol Records flops, only making #25.
8/2/13