It's time for FNY's peripatetic MTA employee and former bus driver Gary Fonville to take us on a merry chase showing the signs he has seen while tooling around town, on MTA-sanctioned vehicles or others.
Text and photos by Gary Fonville
Coney Island Avenue & Avenue U is this sign's location.  The sign reflect changes in this auto retailer's operation.  Saab is virtually non-existent in the U.S. after GM jettisoned the brand by selling it to Spyker Cars in 2010.  Pontiac, once a brand of General Motors, bit the dust in 2010.  GM suits determined that there was no need for the brand to exist.  Their Buick brand almost suffered the same fate.  Plaza Automall now only sells Hyundai, Honda, and Honda's luxury line, Acura.  In addition, Plaza dropped Dodge and Mazda.
Could this store have been the inspiration for the Victoria's Secret stores?  The picture represents another time when I just happened to look in a certain direction, and there it was! Rivington Street in the LES (Lower East Side), Manhattan.
[I hope they never get rid of this stenciled sign. –KW]
I must have driven down Bushwick Avenue hundreds of times.  It wasn't until I stopped to get gas at a service station across the street from this location at Stanwix Street & Bushwick Avenue, Brooklyn  that I saw this gilt lettering.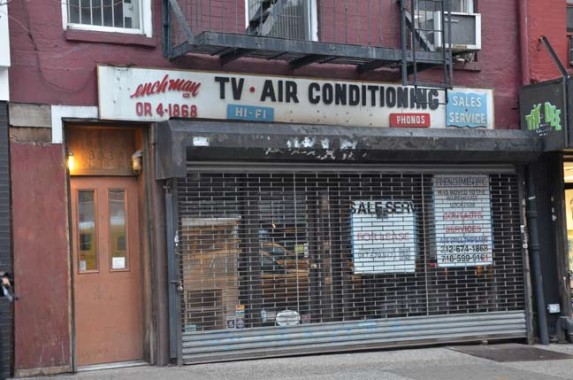 Name that telephone exchange! Are there any FNY fans who know what "OR" means in  this alphanumeric phone number that's part of this old school sign at 333 First Avenue, near East 22nd Street in Manhattan.
[I'm wondering what the owner's name was. Henchman? –KW]
Saturn, as a brand of GM, was started in 1985 as an attempt to compete with cars from Japan.  It lasted until 2010. GM even set up a separate dealer system from the parent company. The brand suffered because their cars were plagued with subpar designs and quality, along with a limited lineup.  And its failure came before the Koreans with their Hyundai brand came on strong into the marketplace. The ad can be seen from the Gowanus (above) or 3rd Avenue (below) around 20th Street in Brooklyn.
Coin operated telephones have suffered greatly since the proliferation of cellphones.  As you are reading this, think of when was the last time you've used a payphone.  It's probably been a long time.  Their numbers are dropping rapidly as it's almost impossible to find one on NYC's streets.  Bell Atlantic was the phone company's name before it was christened Verizon.
Edelstein auto body supplies on Tompkins Avenue, near Fulton Street in Bedford-Stuyvesant still sports this brightly colored baked enamel sign.
I have no doubt that this ad at McKeever Place & Sullivan Place, in what was the shadow of Ebbets Field, has been there since the Dodgers played there.
The NE corner of 116th Street & Manhattan Avenue in Harlem is where this tattered fabric sign reveals an old school Coca-Cola sign.  I used to patronize this store when I lived on Morningside Avenue back in the 1960s and early 70s.
This substation for the Manhattan Railway (3rd  Avenue El) still stands on 3rd Avenue, near East 99th Street in Spanish Harlem, Manhattan.  The letters were there up into a few years ago.  What happened?  There a similar looking building close to the Manhattan Bridge, Manhattan side.
These pictures clearly illustrate why FNY is important. Many times buildings are torn down or altered greatly in the name of progress. A FNY camera was able to document this building until they made a huge alteration.  Packard was an American luxury car brand that operated between 1899 up to the time it merged with Studebaker, another independent carmaker. Its weakness was that it didn't have the resources of the larger carmakers such as GM, Chrysler or Ford. As a merged company, by now known as the  Studebaker-Packard Corporation,  it struggled along until 1958.  Packard had this facility at Atlantic & Classon Avenues in Brooklyn.  Fortunately it left its trace to be recorded by a  FNY camera –it's since been greatly altered.
Here's the same building as it currently looks.
You know this sign is old when it's supposed to be a dark blue and now it's almost gray.  This public telephone sign is right off Utica Avenue near Bergen Street, Crown Heights, Brooklyn.
[All telephones are public now, which is a problem. –KW]
Drugs, er, pharmaceuticals are and have been sold here for many years on 3rd Avenue, near Alexander Avenue, the Bronx.
Eva Deli/Grocery on Wilson Avenue, near DeKalb Avenue, in Bushwick, Brooklyn was preceded by Iavarone Brothers, a shop that catered to its largely Italian clientele a generation or two back.
At  Jerome Street & Atlantic Avenue in East New York, Brooklyn is one of the largest street designations seen on a building. Usually they're in a cornerstone with small writing.
These businesses are on Myrtle Avenue near Cypress Avenue in Ridgewood, Queens.  Look carefully between the awnings.  You'll see a small portion of a baked enamel sign.  Are there any FNY fans who can identify what business the sign was for?
[Well, that "K" looks suspiciously like…. –KW]
Karl Ehmer, once a large German business with 50 stores from Florida to New York.  It was well known for its knockwurst, frankfurters and bratwurst. Due to changes in demographics and slumping sales, it had to scale back greatly.  This location at Myrtle Avenue & 62nd Street in Ridgewood, Queens sports a pristine Karl Ehmer sign.
The wurst of times [NY Daily News]
Karl Ehmer leaves New York [Lost City]
Fresh Pond Road, near Catalpa Avenue in Ridgewood, Queens.
Waverly Avenue, in Clinton Hill, Brooklyn.  Was this place affiliated with THE Borden's, as in dairy products?
[Yes, that's the old Borden's logo. Borden has had its finger in many pies over the decades. -KW]
Name that telephone exchange! Does anyone know what the "AS" in this alphanumeric telephone number stands for  on Astoria Boulevard in Astoria, Queens?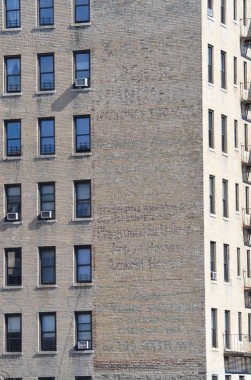 The sun has almost made these signs disappear around 158th Street & Riverside Drive in Manhattan.
I couldn't tell if this business is still active. But if they are, they need to display more current technology in their sign.   Since voice mail has been entrenched in the market, pagers have been made obsolete. Knickerbocker Avenue, in Bushwick, Brooklyn is this location.
[Mike Epstein of Satanslaundromat fame wrote that downtown Baltimore still has a lot of businesses advertising beepers. –KW]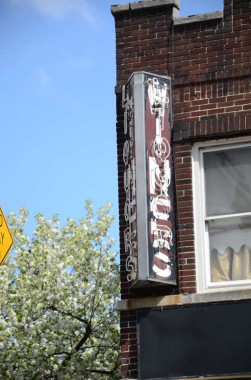 Fifth Avenue & Carroll Street in Park Slope, Brooklyn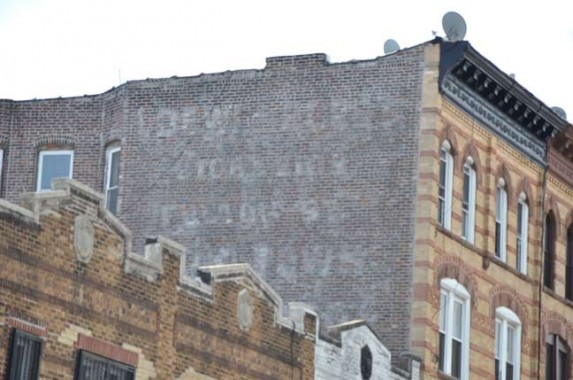 There no doubt that this almost forgotten sign was also intended for passengers on the now defunct Fulton Street el.  The only discernible word is Loew's.  Which Loew's theater is it referring to? Location: Fulton Street, near Rockaway Avenue, Brooklyn.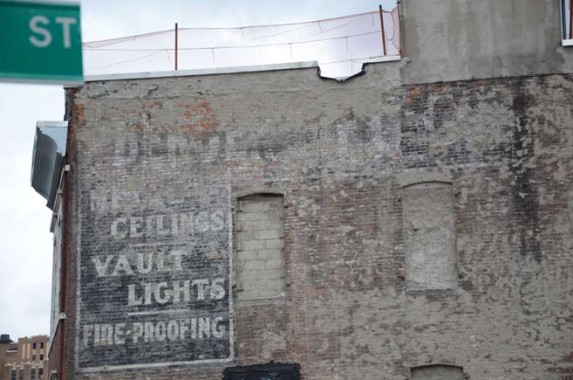 Right off the West Side Highway, near West 20th Street, I saw this sign that was exposed after a recent demolition.  However, that day it was still dark when I passed it in the AM.  However, I  returned later that day to record this under better lighting conditions.  Vault lighting, I believe is where thick glass was put into sidewalks to allow light to filter below to a basement area.  (If I am wrong, I need some FNY fans to correct me.) As for fireproofing, as they did it, probably involved the use of asbestos. However, during that time, asbestos was seen as a "wonder" material. Because of its resistance to heat, chemical damage and fire, its use was ubiquitous. Also it was cheap! As time passed, asbestos was found to cause numerous health issues in humans.
When I first saw this sign I was traveling on a southbound 1 train. I thought I would need to take this shot from a moving train, because it's difficult to see from Broadway.  But I then discovered I could get a great shot from the shopping mall's parking lot at West 233rd Street to get a great shot.
It's a good thing FNY exists to capture stuff like this. This sign will fade completely in a few years. At Astoria Boulevard &  22nd Street in Astoria, you can only read "4-6 Weil Place".
[Weil Place is 22nd Street's old name. –KW]
Looks like this sign says "Madray" at Newton Avenue, near 22nd Street in Astoria, Queens.  Was it the name of a moving company?  Who knows?  Or maybe some FNY fans know.
It seems that  liquor store signs are the most common neon signs around functioning or non functioning. Broadway, near MacDougal Street in Brooklyn.
This one has seen better days at Eastern Parkway, near Pacific Street in Brooklyn.
This is on an old school laundromat. So is the sign. More laundromats are now using  a card system, which works in the same manner as a Metrocard. You put value on a card by inserting cash and the card in  a wall mounted computer. After adding value, then insert the card into the dryer or washer you're going to use. This system prevents people with sticky fingers from doing their thing with quarters.  Utica Avenue, near Montgomery Street.
I did a feature a few months back highlighting IND substations around the city. I shot some in Brooklyn, Manhattan and the Bronx.   FNY received a lot of response from fans. I thought I did them all, until I discovered this one on Cliff Street, near Fulton Street in Lower Manhattan. Here it is. Better late than never!   The Art Deco design on this structure is exquisite and timeless. Are there any Art Deco  IND substations in Queens? To my knowledge, there are none.  If there are any, I stand to be corrected.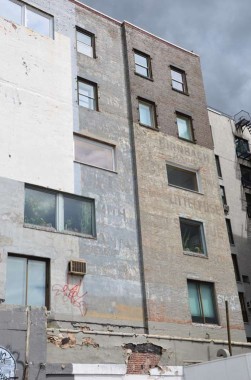 These two signs at Canal Street & the West Side Highway are probably some of the last advertisements for Radio Row businesses.  Radio Row was located on the lower west side of Manhattan.  It was a place where electronics stores were congregated.  It lasted from the mid 1920s until the mid 1960s.  Cortlandt Street was the main street while it existed.    The beginning of the end of Radio Row was the implementation of eminent domain by the Port Authority of New York and New Jersey.  The Port Authority had plans to construct the World Trade Center.  After plans were revealed, there was a large outcry from local businesses.  It was pointed out that close to 30,000 people were employed by businesses in the affected area.  As compensation, the PA offered $3000 to each business regardless to its size how long they had done business there.
[There was also an S. Birnbach hardware store in Bay Ridge, Brooklyn in the 1960s into the 1970s. –KW]
Myrtle Avenue, near Seneca Avenue is where this sign can be found.
How long could this sign for fountain services, stationery, etc. stay hidden from a FNY camera? Actually, I saw this sign while sitting in traffic along Grand Street, near Henry Street in the Lower East Side, Manhattan.
A well preserved baked enamel gem ion Astoria Blvd in Elmhurst, Queens.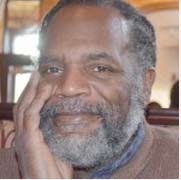 FNY Correspondent Gary Fonville began working for the NYCTA in October, 1982 as a Bus Operator and worked in that capacity until October, 2003 when health issues forced him to be reclassified to the position  as a TPPA (Transit Property Protection Agent). His new hobby, photography, came about by being a contributor to FNY and snapping many photos in the process.
10/6/13