I'm an old Riverdale hand — before Forgotten New York was a synapse in my brain, I was stalking around the place. I recall a late November 1984 stroll in the semirural Bronx neighborhood — it was cold and it was dusk, but I'm hard up for any other details. I didn't always have a camera with me then, to my regret. Since FNY got started in 1998, I've been there at least once or twice a year. Not one but two ForgottenTours have been held there (in the latest, in 2011, I bit off more than I could chew and we walked for 5 hours including a mile walk back to the subway in the rain. I have tightened up the tour routes since then). I looked at an apartment on Henry Hudson Parkway about 12 or 15 years ago and at the time a 1 bedroom would have cost $800 a month.
This one went especially well because Little Neck (my neighborhood) to Riverdale isn't an arduous trip at all. Just the LIRR to Penn Station and the #1 train to 231st Street — it takes about an hour. On the way home I treated myself to a Metro North ride from Riverdale to GCT and a hot chocolate when I got there. I had a Metro North schedule with me and arrived just in time to catch the inbound. [My facebook pal Emily Moser rides the Metro-North extensively and blogs about it here.]
The MTA has gotten good at refurbishing elevated stations, though so far it's dropped the ball at most of the stations on my "home" line, the #7 Flushing Line. The elusive unicorn is pictured here in Felipe Galindo's series "Magic Realism in Kingsbridge."
GOOGLE MAP: SPUYTEN DUYVIL — RIVERDALE
Starting briefly south on Broadway, I again encountered a favorite dead end alley, Verveelen Place, noting the dwarf lamps under the Broadway el. According o Bronx historian John McNamara, the Place commemorates Revolutionary War-era ferry operators Johannes and son Daniel Verveelen, who ferried passengers over Spuyten Duyvil Creek (since engineered into the Harlem River) and had a home and inn in the area from 1669-1693. Note the curved-mast light post — we will see more of those later.
Parrilla Latina is a steakhouse on Broadway between West 230th and 231st Streets. I wouldn't normally feature it (I'm sure it's a nice place) but…
… I always pause for what's in front of it — this 1910s vintage Type 24 BC bishop crook light post. The "cup" luminaire was added in the late 1940s, most likely, and this is the last such luminaire to have the lengthened diffuser bowl that was popular for awhile in the 1940s and 1950s. This post has the Edison Company lightbulb on its base, so it's one of the older examples of its genre.
I doubt it lights up anymore — a newer Dwarf post has been alongside it for a few decades — but it can't be torn down legally, as it has landmarks protection. However, a Type G post at Mosholu and Post Avenues about a mile to the north finally rusted so much that the city finally replaced it, despite its Landmarks status.
Landmarks status should force the Department of Transportation to maintain such properties in workable shape. Already, this post shows signs of severe deterioration.
The Marble Hill Houses, Broadway between West 228th and West 230th Streets. These houses are officially in the Borough of Manhattan, as the Bronx-Manhattan borough line runs just south of West 230th. The neighborhood of Marble Hill has always officially been in Manhattan, and Spuyten Duyvil Creek used to form the border. To aid shipping it was dredged and rerouted to become part of the Harlem River emptying into the Hudson, and for awhile Marble Hill found itself on its own island. In 1916, it gained a landfill connection to the mainland, but politically, Marble Hill has still never left Manhattan. The only other land-based borough borderline is the lengthy one between Brooklyn and Queens.
These projects are pretty much the drab Corbusian towers in a park concept, but once of the buildings that faces Broadway has a surprise:
The story of Kingsbridge can be found on a grime-encrusted plaque on one of the Marble Hill Houses, on Broadway just south of West 230th Street. The plaque is devilishly hard to read, since it's out of range of sight from the street; you have to climb the short fence or walk around it. The plaque reads:
"Northwest of this tablet within a distance of 100 feet stood the original Kings Bridge and its successors from 1693 until 1913 when Spuyten Duyvil Creek was filled up.
"Over it marched the troops of both armies during the American Revolution and its possession controlled the land approach to New York City.
"General George Washington rested at Kings Bridge the night of June 26, 1776 while en route from Philadelphia to Cambridge to assume command of the Continental Army.
"This tablet was erected by the Empire State Society Sons of the American Revolution, June 27, 1914."
West 230th Street is a main artery between Kingsbridge (where I got off the train) and Riverdale. The hills in the distance represent the heart of Spuyten Duyvil and Riverdale, where I was bound. 230th is lined with massive apartment buildings and car washes, but there are a couple of kernels of interest that can be seen from the road.
Kingsbridge Avenue and West 230th Street. Just south of here, the avenue changes its name, becoming Marble Hill Avenue. This is approximate to the spot where the original Kings Bridge crossed Spuyten Duyvil Creek.
Frederick Philipse built the first Kings Bridge, a tolled span over Spuyten Duyvil Creek, in 1693. Benjamin Palmer and Jacob Dyckman built a second bridge in 1759 to avoid paying the high tolls charged by Philipse. During his retreat from the Battle of Harlem Heights in 1776, General George Washington used both the King's Bridge and Palmer and Dyckman's free bridge to escape to White Plains. The original Kings Bridge has inspired a network of roads in Manhattan and the Bronx, some surviving, some not, named for it. The span survived till the excavations for the Harlem Ship Canal between 1913 and 1916, though the Bronx Historical Society supposedly maintains a small piece of it under Marble Hill Avenue between West 228th and West 230th Streets, in almost exactly its old position.
The distinctive Deco-ish spire of St. John's Catholic Church dominates Kingsbridge Avenue north of West 1230th. The Tudor-ish church was built between 1904-1910 for the parish, which has been in existence since 1877.
Tibbett Avenue is named for Tibbett Brook, which was shunted underground into the sewer system decades ago. Colonial-era landowner George Tippett acquired land in the area in 1668. The Tibbett Diner, on the avenue between West 230th and West 231st, was constructed in 1955 by Mountain View and redone in 1961 by DiRaffele. It survived a fire in the early 2000s.
The Little Kitchen, in a picturesque mini-dwelling with a menu featuring basic fare like wraps, salads and sandwiches, serves the car wash and auto body shop workers on West 230th. And me, if it was open on the weekends.
At the west end of West 230th (where the high ground interrupts it temporarily) Riverdale Avenue begins its march north to Westchester County. FNY did a page on its wonders a couple of years ago, which include the Riverdale Bell Tower, several picturesque houses and hidden alleys not depicted on maps.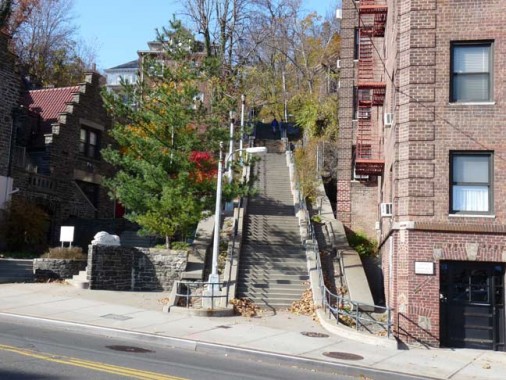 West 230th between Riverdale and Netherland Avenues takes the prize as longest step street in the Bronx and probably New York City. Spuyten Duyvilers ascending these steps after leaving the IRT at 231st and Broadway certainly keep their heart rate up when they travel these stairs every day. The staircase is four blocks long and connects Riverdale, Johnson, Edgehill and Netherland Avenues.
Kingsbridge Heights and Spuyuten Duyvil are so hilly that many step streets are necessary so pedestrians can walk in safety. West 230th is just one of many…there are Godwin and Naples Terraces,  Summit Place between Bailey and Heath, at Cannon Place and Orloff Avenue at West 238th Street, and many other western Bronx spots. As an added fillip, some of these step streets preserve one-of-a-kind lamppost shaft designs. The Bronx and upper Manhattan can rival Pittsburgh and San Francisco in stepped streets, perhaps not in quantity but in quality.
In fact, West 230th is stepped again east of here, with another steep hill between Heath Avenue and Kingsbridge Terrace.
Before ascending, though, I noted this building on #1 Riverdale…
The residential complex collectively known as #1 Riverdale is houses in a series of Flemish-style brick buildings with he stepped cornices seen frequently in representations of Oude Dutch Nieuw York. I like what they did with the carved concrete lions –each has a different expression.
Here's a detailed street/property map from the early 1900s of the area into which we're ascending via this staircase. I've helpfully added street names where they're missing from the sample, and outlined the staircase in red. Both the Edgehill Inn (built on the site of  Revolutionary War era fort) and Nipinichsen Club, named for a Weekwaeskeek Indian village that was here long before the colonial era, are long gone.
The staircase connects four avenues and runs for 3 complete blocks.
West 230th, looking north and south, just north of Riverdale Avenue.
The first "landing" is on Johnson Avenue. A near-palatial mansion entered from Johnson also has a side entrance on the steps. The avenue is named for Isaac Gale Johnson, who owned an iron foundry and manufactured munitions for the Union side during the Civil War. Five mansions belonging to the Johnson family were built during the postwar era, but all had been razed by 1938.
Continuing up a short stretch of steps…
You alight at the northern dead end of Edgehill Avenue, which is shaped like a reverse J, connecting to Netherland Avenue one block to the west. We are nearing the crest of Tippett's Hill (see Tibbett Avenue above) and the site of the fort. The avenue is dominated by cottage-like one family houses.
Ascending again up the final leg of staircase between Edgehill and Netherland Avenues. Along the way there are one or two homes that actually are entered via the staircase, which is officially West 230th Street.
The massive Tudor at he top of the steps at Netherland Avenue has an incredibly spacious back yard. You see a  lot of expansive properties here, some of which is taken up in front or back yards.
Netherland Avenue is one of those north-south Riverdale Avenues that run intermittently, skipping several streets then picking up again. Officially it runs from Kappock Street near the Harlem River to West 261st near Mount Saint Vincents, but it does so in several pieces.
If you look at the old map above, it shows detail that modern maps don't show, such as this mall down the center of Netherland Avenue. The section off to the left connects to Edgehill Avenue. Most maps were inaccurate regarding Riverdale until fairly recently — it has always been a semiexclusive area and before the satellite map age, researchers just didn't have complete information and mapmakers largely had to guess and estimate.
Spuyten Duyvil has some deep bedrock, which allowed architects to build some massive apartment buildings, like the Century, 2600 Netherland Avenue, constructed in 1976.
Kappock Street twists and turns in southern Spuyten Duyvil on either side of the Henry Hudson Parkway. Like Cortelyou and Schermerhorn, it's another one of NYC streets whose pronunciation makes no sense. Local denizens say KAY-pock while to me, the double P should shorten the consonant before it into CAP-puck.
The street name was suggested by historian Thomas Edsall after it was briefly Warren Avenue after it was laid out in 1895. Kappock is a shortening of the Native American (Algonquian) Shorakkappock, meaning "Sitting Down Place." Edsall himself has a picturesque street in Spuyten Duyvil named for him.
Pedestrians need to use this staircase and underpass to take Kappock Street under the Henry Hudson Parkway.
Kappock Street leads to Independence Avenue, whose name is an error: Accoding to historian McNamara, a Revolutionary War era British cartographer thought Fort Independence was located in the Spuyten Duyvil-Riverdale area instead of further east in Kingsbridge Heights. When realtors developed the area they perpetuated this error an d called one of the north-south streets Independence Avenue and perpetuated the error. Like its parallel streets, Independence Avenue runs almost all the way to Yonkers (it was fittingly called Yonkers Avenue at one point) but requires maddening detours as you proceed north.
Looking south on Independence from Kappock, you have a view of the Henry Hudson Bridge, which spans the Harlem River and carries the Henry Hudson Parkway, which has recently switched to Triboro Bridge-style lampposts.
The AIA Guide to New York describes Edgehill Church, a NYC Landmark, as having "a base of Richardsonian Romanesque, a top of Gothic Revival and a smattering of Tudor details." Surprisingly it was designed by Francis Kimball to be a modest chapel for workers of the now-vanished Johnson Iron Foundry. Kimball also designed the brownstone Corbin Building at Broadway and John Street, now slated to remain as part of the planned new Fulton Street Transit Hub due to open late in the 2000s. Note especially the stained glass windows: they are by Louis Comfort Tiffany.
Isaac Gale Johnson, referenced above, was an original Spuyten Duyviler, founding a Civil-War era foundry supplying ordinance to the Union side. By 1890, the Johnson family owned much of what is now Spuyten Duyvil, but by 1923 they had closed and by 1938 the factory buildings had been razed.
The present location is in fact the second for the chapel. Its smaller first home of 1869 was at the present intersection of Johnson Avenue and Kappock Street, which marked the head of a no-longer-extant downhill lane known as Puddler's Row. A "puddler" was a worker whose dangerous job involved managing molten iron as it was prepared for casting. It was the families of such employees at the Johnson Iron Works who were the focus of the mission's work. The sprawling foundry, with smokestacks and night-reddening furnaces, occupied a peninsula reaching into the river from the base of Spuyten Duyvil cliff, just east of the shadow of today's Henry Hudson Bridge. Lehman College
Henry Hudson Park and Monument
The spirit of Henry Hudson, it seems, seeps through Spuyten Duyvil, though the British navigator and explorer (1570-1611) apparently spent little time here when the Half Moon cruised by the region in 1609. Searching for a passage to the Pacific Ocean, Hudson wrote vividly in his log about the river that would bear his name. Hudson observed the islands that would be home to New York City, and in 1611, did find a northern passage to the Pacific when he sailed to Hudson Bay in Canada, but with disastrous consequences. His crew, Britons and Dutchmen, brawled ferociously and when they found themselves low on supplies on the frozen bay, they mutinied, setting Hudson, his son, and seven loyal crewmen adrift. Hudson presumably froze to death, while the crew starved or were killed in battles with the Inuit.
In Henry Hudson Park, at Kappock Street and Independence Avenue, you will find Karl Bitter and Karl Gruppe's 1939 memorial, a 16-foot statue of the explorer mounted on a 100-foot shaft (that had been erected 30 years previously, on the 300th anniversary of Hudson's visit here). Hudson and his son are shown preparing for the journey and  bartering with local Native Americans in bronze reliefs on the base.
Independence Avenue, a busy 2 lane street with a double yellow line south of West 231st, narrows considerably north of there and loses its sidewalks. Riverdale was developed in fits and starts and some avenues, such as Independence, were given makeovers in some spots. Tudors abound.
A considerably wider Independence Avenue again opens up north of west 232nd.
Crossing Henry Hudson Parkway at West 232nd, at the roof of an apartment building facing Fairfield Avenue, there are the initials TR. Probably the Theodore Roosevelt Apartments at one point.
(I'm told it's Riverdale Towers… see Comments)
The corner of Fairfield Avenue and West 232nd is one of my favorites in Riverdale. It's the only corner, perhaps in NYC, where there are not one but two early 1950s-vintage curved-mast poles, with the original masts. You can see the rust definitely poking through one these two poles. While there are other poles of similar age in Riverdale, most have received cobra-neck masts in the ensuing years. "Octagonal" poles, named for their 8-sided shafts, first appeared in 1950 and they remain NYC's "go-to" lamppost of choice of the Department of Transportation, though curved masts with brackets like these were likely not produced anymore by 1955.
Another humongous apartment building, the appropriately-named Whitehall, dominates the Henry Hudson Parkway between West 232nd and West 235th Streets.
A pedestrian overpass at the Henry Hudson Parkway and West 236th Street preserves some mini-versions of the "Whitestone" posts, which dominated the NYC parkway and expressway scene between about 1940 and 1964, when they were largely replaced by Donald Deskey posts on the parkways. One of them is so laden with stoplights and pedestrian signals you'd think it might tip over.
The gneiss is nice on West 246th Street and Hudson Manor Terrace at Riverdale Playground, which becomes a squirrel's paradise in the fall. The outcroppings were left by a retreating glacier about 17,000 years ago.
Raoul Wallenberg Forest, between Palisade and Douglas Avenues across from West 246th, is named for the Swedish diplomat (1912-1947) credited with saving tens of thousands of Hungarian Jews from extermination by the Nazis in the World War II years by designing counterfeit passports and distributing them to Jews bound for the concentration camps. He also purchased as many houses, villas, and buildings as possible and adorned them with the blue and yellow of Sweden's flag, thereby making them neutral diplomatic property and a safe haven for Jews.
His whereabouts became unknown in 1945. In 1957, documents were released stating he had died of a heart attack in 1947 in a Russian prison. Suspicions remain that he was killed by the KGB.
The forest was part of the 1890 James Douglas estate; a later resident was U Thant, UN Secretary-General in the late 60s and early 70s. It was converted to a public park in 1990. The thickly-wooded park is home to a European beech with a 52″ diameter trunk, as well as other large, venerable trees. There are also remnants of former mansions scattered about.
Source: www.nycgovparks.com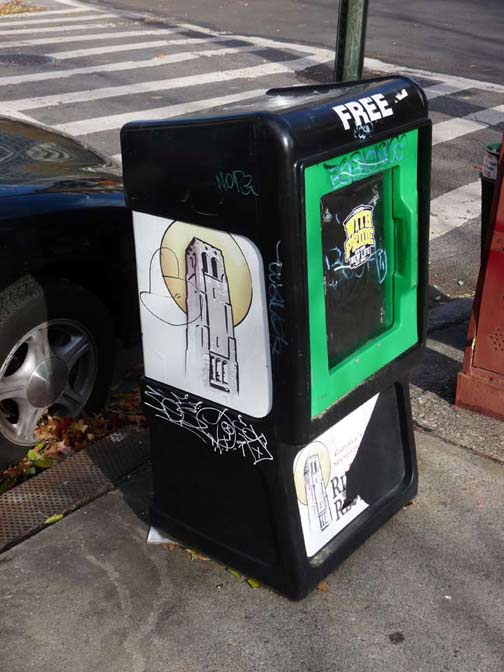 I didn't go by the Riverdale Bell Tower on this walk, but it's nonetheless one of my favorite area artifacts. (It's on FNY's Riverdale Avenue page). It is represented on newspaper boxes.
Yet another massive apartment house, the Manor Tower, dominates Hudson Manor Terrace. In an area that parsimoniously doles out Hudson River views (blocked by private property and railroad tracks) the views are available for the price of an apartment or rent, on the west side of these buildings.
Now and then, though, an opening vouchsafes a sight to behold.
Probably the most striking tableau depicting Independence Avenue's ever shifting role in Riverdale comes at West 246th street, where it transforms from a major two-lane boulevard (top) to a sidewalk- and shoulder-free trickle through a former private estate (bottom).
Most of my maps disagree on exactly where Ploughman's Bush is.  Google Maps and the latest Hagstrom have it emanating from Independence Avenue and West 246th trailing off northeast, which is where I found it; Google also has it connecting with the driveways around the Dodge Mansion (see below).
The city doesn't grace it with a street sign, but it does have this iron plaque on a gatepost. I didn't test the 'no trespassing' warning, fearing being met by rabid guard dogs. According to McNamara, when Robert m. Field subdivided his Riverdale properties and built houses here in 1930, he gave it this fanciful name.
A sampler of the homes found along the narrow stretch of Independence Avenue between West 246th and 247th Streets.
Dodgewood Road is one of those semiprivate streets that the Department of Transportation does not deign to mark with a street sign. The street accepts all traffic between Independence and Arlington Avenues, so I question the DOT's philosophy here. (Near my home in Little Neck, a road goes by three names since the DOT, considering it semi-private, chooses not to mark all but the westernmost section).  A private sign has been posted.
At its junction with Arlington Avenue, another massive Tudor bruits its way above the mist and falling leaves.
I turned west at Arlington Avenue onto West 247th Street, a near-rural country lane sans sidewalks. It's hard to believe it but West 247th belongs to the same street nomenclature, the same "family" of streets that the bustling 14th, 23rd, 34th, 42nd, 125th and so on belong to.
A housing development known as Alderbrook (a real stream; see below) consists of several brick houses that look like the ones the three little pigs cowered in, the big bad wolf couldn't blow down.
Independence Avenue comes to a temporary end at West 247th in a traffic triangle punctuated by a lone conifer.
…though Independence Avenue does trail off to a dead end home to two buildings.
For all its historic homes, Riverdale is also dotted by Modernist-style homes built after 1960 or so. The woodframe home on the bottom is found frequently in suburbia; the style originated around 1970. You'll be surprised to read that I don't mind the style, except for the smallish windows. A street named Ladd Road, further north on Palisade Avenue, has several  homes built in similar styles; unfortunately I didn't get there on this walk.
Looking west on West 247th toward Independence Avenue.
The magnificent mansion at 690 West 247th Street was built in 1863-1864 by architect James Renwick, Jr. for industrialist William E. Phelps Dodge, founder of the Phelps Dodge mining company. The Dodge family also helped found Columbia University Teachers College in 1887 and Dodge's descendants gifted the mansion to the college in 1961. It has since reverted to a private residence after a stint as a Buddhist retreat.
Are we in Riverdale, or Rivendell? A fanciful storybook-style mansion can be seen through the foliage on West 247th.
A neat Tudor complete with stone chimney across the road form the Dodge mansion. No doubt there's a fireplace inside, and no doubt it was blazing the next day after this walk when the temperature didn't crack freezing.
"You'd never believe you're in NYC." West 247th finally ends at Palisade Avenue, which parallels the Metro-North railroad. Some maps say it's continuous from Spuyten Duyvil to Mt. Saint Vincents, but in Riverdale, that's hardly the case.
Alder Brook parallels Spaulding Lane and empties into the Hudson River near the Riverdale Day School. Its route was recently restored. Along Spaulding Lane, some driveways are bridged over the brook. I was surprised to see this because I'd only seen this arrangement before in Baxter Estates, near where I used to work in Port Washington, Nassau County.
Independence Avenue resumes yet again at Spaulding Lane and runs in a lengthy section ending at West 254th.
As far as the public is concerned, Wave Hill, Independence Avenue and West 249th, is likely the Riverdale locale that is best known. Surpringly hard to approach (West 249th is really the only east-west street that reaches it, causing motorists, bicyclists and hikers to jam the narrow, potholed path)…is officially known as the Wave Hill Center for Environmental Studies, but is really Bronx' second botanic garden (the first being in Bronx Park) and a relaxing rural retreat 45 minutes from Times Square by subway and foot. The mansion (also known as Wave Hill) was built by William Lewis Morris in 1844 and expanded by subsequent owners. After conservationist George Walbridge Perkins bought the estate, he built the nearby Glyndor mansion, also on the Wave Hill grounds, and rented the older building to guests like Theodore Roosevelt and Mark Twain.
Wave Hill is open year round; admission for adults is $8.00, less for kids and seniors.
5000 Independence Avenue, with a huge front lawn.
5020 Independence–with that shady front porch, who needs air conditioning?
Seasonal coloring at West 252nd and Independence Avenue.
The maroon signs indicate the presence of a NYC Landmarks Historic District. The Bingham Road sign was added to the one block of Independence Avenue between West 252nd and 254th in 1989 in honor of the late Congressman Jonathan B. Bingham (1914-1986).
Most Riverdale streets are not paved very well, but Sycamore Avenue, which runs from West 252nd to 254th north of Wave Hill, takes the booby prize. I have heard it surmised that the well heeled Riverdalians actually cultivate such potholes (as well as the map errors) because the unwashed hoi polloi in their SUVs and trucks would invade these secluded paths if the streets were ever scraped and paved.
5220 and 5253 Sycamore Avenue.
Periodically I check in at West 254th and Palisade Avenue to see if NYC's oldest telephone pole mast lamp is still there. The streets of NYC used to be filled with these simple rods supported by a piece of metal scrollwork – there were thousands of them. This one is the only one still in active use. When it was installed sometime in the 1910s it supported an incandescent lamp, likely a radial wave. It also supported a fire alarm inidicator light: the masts that had those lamps had the scrollwork at the top, like this one. The ones without the alarm indicator had the scrollwork at the bottom.
This one has survived likely because it's now in the midst of some tree limbs and would be a pain in the neck to remove! DOT… save this lamp.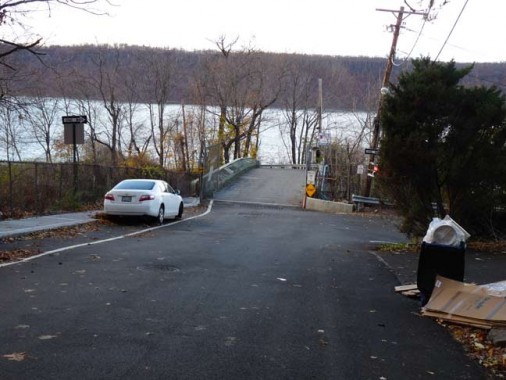 Finally…an unobstructed view of the Hudson River and NJ palisades. West 254th bridges over the railroad to a parking area.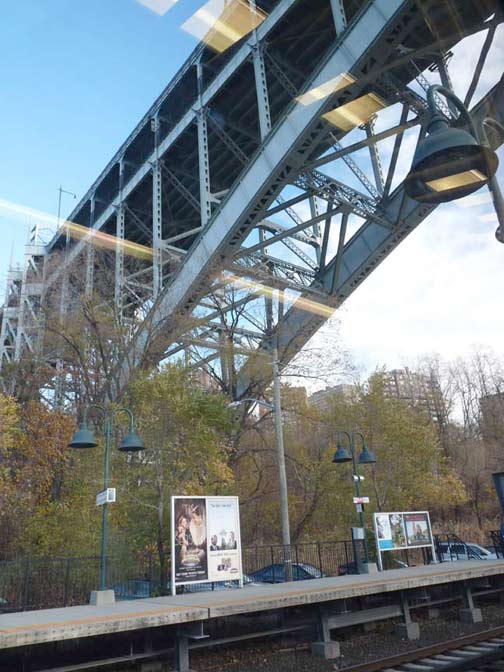 I got to Riverdale station just in time to catch the train back to Grand Central — very unusual for me. I shot the platform at Spuyten Duyvil out the train window. The magnificent Henry Hudson Bridge spans over the platform.
11/24/13