Now and then when I'm feeling ambitious, and a glimmer appears in the back of my mind about getting in better shape, I take the subway up to Washington Heights and ramble around. The hills can be occasionally challenging, though I'm not quite old or infirm enough to huff and puff after scaling a hill (that comes if I have to run a couple of blocks). Exercise, it seems, always exhausts me.
I was puttering around the streets surrounding Yeshiva Unversity, on the quiet uptown avenues of Audubon and Wadsworth, when it occurred to me that I should get some photos of an unknown alley that had been on the edge of my consciousness for years but which I'd only visited once, and so I headed east on West 186th and found…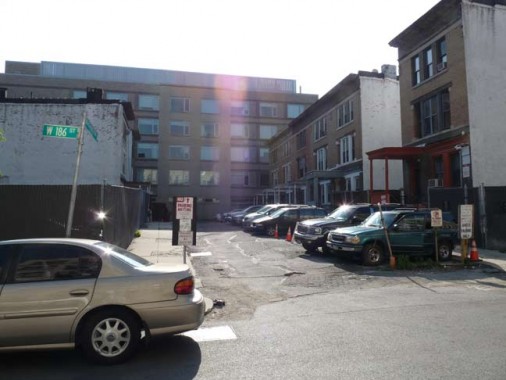 … a somewhat ramshackle dead end lined on both sides with 3-story brick buildings that appear to have seen better days, though all are occupied and no doubt the residents keep up the interiors as best they can.
The terrace appears on this 1909 G. W. Bromley atlas plate.
Most such alleys in upper Manhattan and the Bronx were real-estate developments. The land was purchased in 1898 by Bayonne builder Daniel J. Murphy, who built 18 modest brick dwellings with exterior porches that were completed by 1900. Murphy had to foreclose on his properties after that, but continued to live at #18 Washington Terrace. (Since so many other streets in NYC are named 'Washington' you wonder why it wasn't called 'Murphy Terrace' but we can imagine he was of a patriotic bent.) In the 1980s five of the homes were abandoned and the terrace became an eyesore, but it seems to have stabilized since then.
The Yeshiva University library can be seen at the end of Washington Terrace.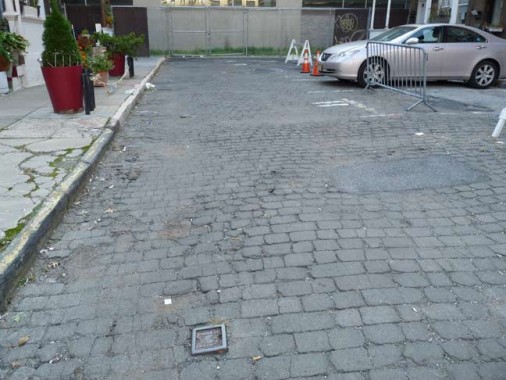 The terrace boasts flat brick paving that is somewhat different from the larger bricks used for "Belgian-block" pavements.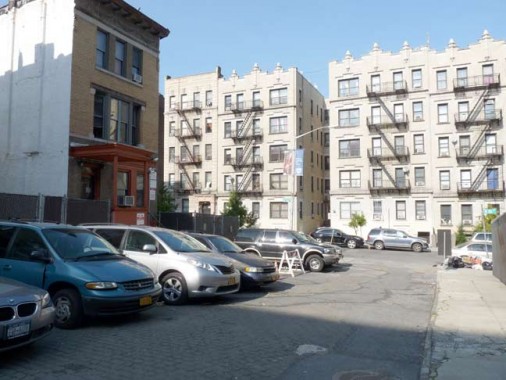 Looking toward East 186th and a facing apartment building.
Source:
Streetscapes: Washington Terrace: A Shadowy Owner On a Secret Street, NY Times, Christopher Gray, 8/4/1991
12/28/13