A 5-pointed star on a 35-foot high pole  was erected in 1916 to commemorate the country's first community Christmas tree that was lit in Madison Square in 1912 "as a gift to the less fortunate in the city." The annual tradition lives on with festivities sponsored by the 23rd  Street Association and the Department of Parks.
In fact the Star of Hope is actually meant to convey the Christmas spirit of brotherhood and generosity throughout the year in place of the Madison Square tree while it's absent in the off season.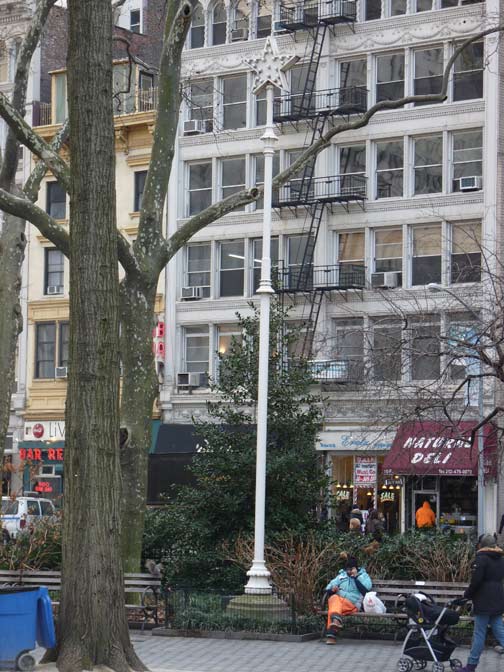 In the New York World, Roy L. McCardell wrote:
We are thankful that in the heart of the city, in Madison Square, a new star gleams — a sign of man's love for his fellow-man in the firmament. It is announced that 'an unknown person' has been granted a permit there to burn a large electric star against the sky there in the city's heart every night of the year from dusk till dawn. An advertisement? Yes, and the best advertisement ever put forth — publicity for a throbbing thought of love and kindness! The new star is to burn in the sky as 'a symbol to all who see it, of Hope, Peace and Goodwill!' There let it burn its tender message of altruism against the sky while we build a better city underneath the star!
From The American City, Vol. 13
1/21/14