Brooklyn, the borough, was once a city on its own until it narrowly voted to consolidate with New York City in 1898. The city evolved out of six distinct towns in Kings County, most developed during the Dutch colonial period: Brooklyn, Bushwick, New Utrecht, Gravesend, Flatbush, and Flatlands. Later, this became two cities and six separate towns, but gradually the city of Brooklyn annexed them all until by 1896, the city of Brooklyn and Kings County were co-terminous (as the city and county of Philadelphia, PA. are). However, the party lasted just two years.
Some of Brooklyn's neighborhoods simply retained the old town names, though some did not. Here I'll go into as many as I consider major enough to note, though I was admonished on my Names of the Neighborhoods of the Bronx page that some neighborhood names exist on maps and signs only and the residents call them something completely different. Of course… you can't please everybody.
PART 1: THE NAMES OF THE NEIGHBORHOODS OF THE BRONX
View north from Manhattan Avenue toward… Manhattan
GREENPOINT
Greenpoint was once known as the "Garden Spot of Brooklyn," or "Garden Spot of the World," a phrase attributed to longtime US Rep. John Rooney, who served for 30 years from 1944-1974. Poked fun at for his home neighborhood's reputation for smokestacks, factories and lack of street trees, Rooney claimed to hail from a greener world, perhaps, from which he had really come, though Greenpoint lives up to that name on such streets as India, Kent and Beadel, and also in McGolrick and McCarren Parks.
From Comments: John J. Rooney doesn't deserve the credit for coining the phrase "Garden Spot of the World". That goes to Alderman/Sheriff of Kings County/Assistant Commissioner of Public Works of Brooklyn and Democratic leader, the Hon. Peter J. McGuinness. He was quoted as saying that "Greenpernt was de garden spot of de univoise" on numerous occasions. One of his most memorable quotes was that, "Greenpoint was a city when Brooklyn was just a lot of trees and shrubs. Greenpoint made Brooklyn; and you know what New York would be without Brooklyn; just a puddle. If it wasn't for Greenpoint we wouldn't have a nation". Pet McGuinness was the embodiment of Greenpoint. In a time when just about every politician was corrupt and under the control of Tammany Hall, Pete's honesty was unimpeachable. They don't make'em like old Pete anymore.
Before European colonization, of course, Greenpoint was much greener than now, and early settlers noted its location on a bulge, or point, of land formed by a bend in the creek that would later be called Newtown Creek, for the Long Island town located to its north.
Church of the Annunciation School, Havemeyer and North 5th Street
WILLIAMSBURG(H) and EAST WILLIAMSBURG
The town of Williamsburgh was founded in 1802 by ferry operator Richard Woodhull, who purchased 13 acres of Charles Titus' farm along the East River in 1802, and commissioned close friend Colonel Jonathan Williams to survey and lay out the town's streets. Graciously, Woodhull, instead of calling the place Woodhullville or something similar, honored his friend by naming it Williamsburgh. By 1852 when Williamsburgh had grown substantially enough to incorporate as a city, it ws decided to drop the final "H." It was annexed by the city of Brooklyn in 1855. Brooklyn also annexed Greenpoint and the next town southeast of Williamsburg…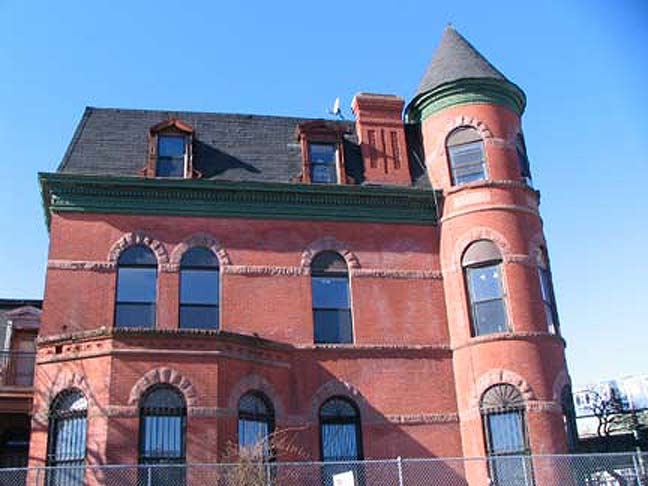 William Ulmer Mansion, later Frederick Cook residence, Bushwick and Willoughby Avenues
BUSHWICK
One of Kings County's original six towns, Bushwick is a vast area located between Broadway, Flushing Avenue, the Queens line (Ridgewood) and the Brooklyn-Queens cemetery belt. Like a number of Brooklyn locales, the name is an English version of the Dutch "Boswijck" (pronounced BOSS-vhy-ck) meaning "town in the woods" or "heavy woods." While poring over Brooklyn maps and street guides as a kid, the name reminded me of the cartoon character "J. Skulking Bushwack" on the Lariat Sam cartoons from the Captain Kangaroo show. Gene Wood, later the Match Game announcer, sang the theme song.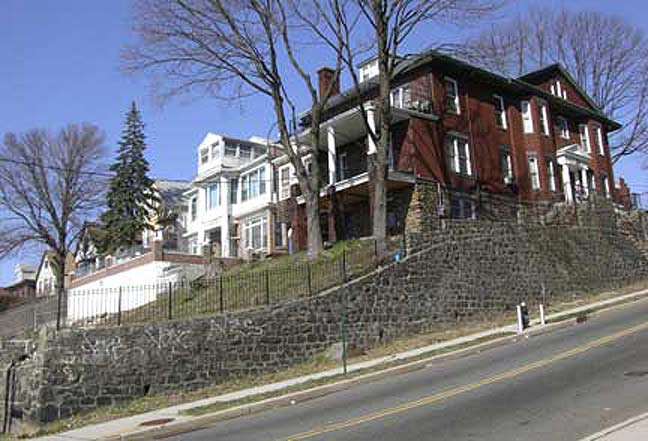 Miller and Sunnyside Avenues
HIGHLAND PARK
This neighborhood is located just south of the park it is named for, south of the Jackie Robinson Parkway, north of Highland Boulevard and west of National Cemetery (below). It's situated on the terminal moraine, site of the Brooklyn-Queens Cemetery Belt and on some of the highest hills on Long Island, deposited by the stoppage of the southern push of a glacier during the last Ice Age over 10,000 years ago.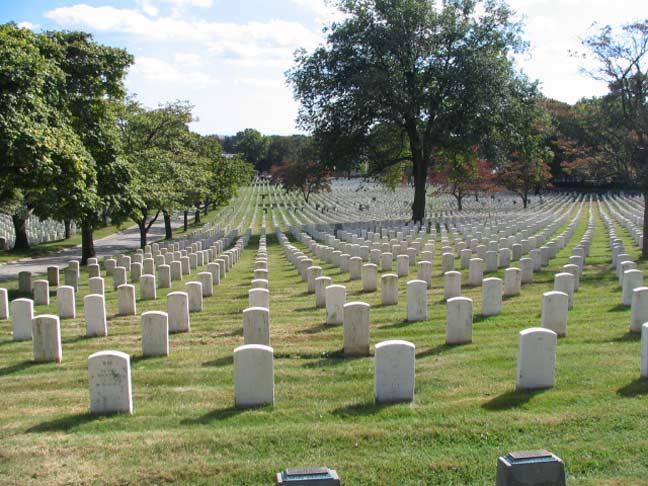 CYPRESS HILLS
This Brooklyn neighborhood south of Cypress Hills, National, Maimonides and Mount Hope Cemeteries, east of about Euclid Avenue and west of the Brooklyn-Queens line on Elderts Lane was originally called Union Place in honor of the nearby Union Course racetrack. After it closed, the neighborhood  and the cemetery were named for the many cypress trees found in the region.
Louis Pink Houses, Loring and Autumn Avenues
CITY LINE
This neighborhood; known for its public housing and southern underdeveloped streets owing to its swampiness, runs from Conduit Boulevard south to Flatlands Avenues east of Euclid Avenue and west of the Brooklyn-Queens borough line, which runs on Drew Street, Liberty Avenue, 75th Street, Dumont Avenue and 78th Street. Between 1886 and 1898 this was actually the city line of Brooklyn and the name has remained the same, even after Brooklyn became "just" a borough.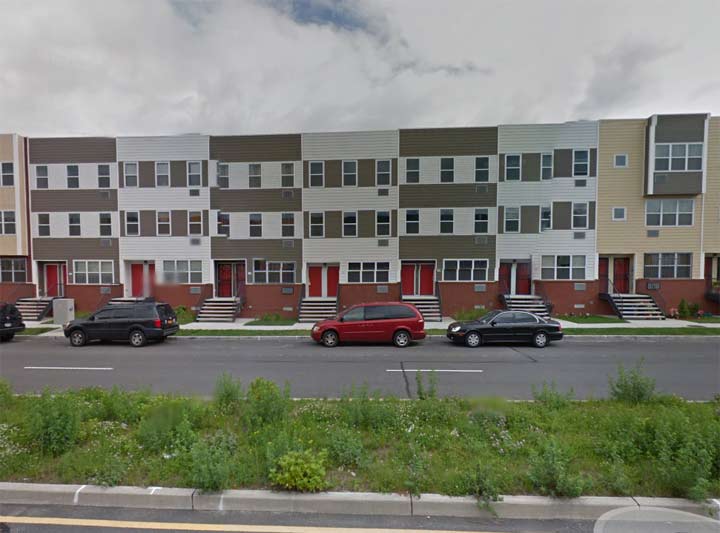 Vandalia Avenue near Essex Street
SPRING CREEK/STARRETT CITY
A spring creek is a type of free flowing river whose name derives from its origin: an underground spring or set of springs which produces sufficient water to consistently feed a unique river. The water flowing in a spring creek may be additionally be fed by snow pack or rain run-off, as in most traditional free-flowing rivers, but often the entire water source for a spring creek is an aquifer or other underground water source. For this reason, spring creeks are often filled with very pure, clean water and also demonstrate water flows that are smooth, consistent, and unwavering throughout the seasons of the year – unlike rivers filled with run-off or spring and summer melt-off from snow pack, whose water flows, water clarity, and water conditions often vary highly over the course of the year. wikipedia
Brooklyn's Spring Creek runs about parallel to the Brooklyn-Queens borough line; the park named for it, nearly all marshland,  is found on either side of the creek south of the Belt Parkway. New housing developments along Vandalia Avenue have been built in recent years, and in 2002 the massive, 153-acre Starrett City housing project changed its name to Spring Creek towers after a scandal involving racial quotas in screening apartment applicants.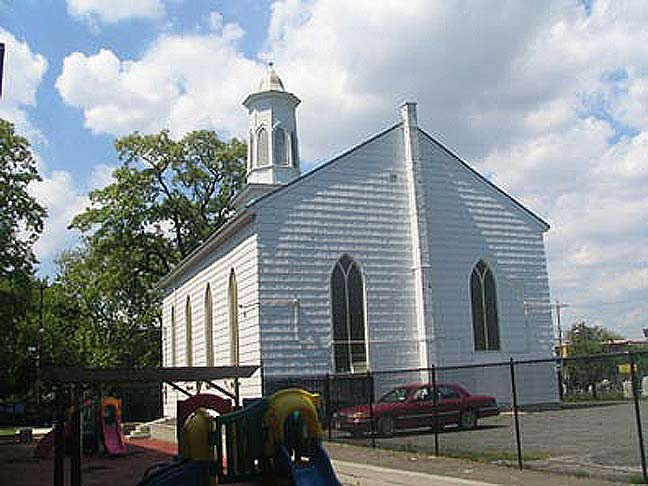 New Lots Reformed Church, New Lots and Schenck Avenues
NEW LOTS
This neighborhood remembers a town that separated from Flatbush in 1852 and was annexed by the city of Brooklyn in 1886. Today, its boundaries are roughly New Lots Avenue, Flatlands Avenue, Louisiana and Fountain Avenues. In the Dutch colonial days, it was called Ostwout, or "East Woods" and it was here that farmers from Flatbush, which came to be called "Old Lots" in reverse parlance, moved when Flatbush became overcrowded and overtilled.
Abandoned Brooklyn Police Department Precinct #17, Liberty and Miller Avenues
EAST NEW YORK
Connecticut merchant John R. Pitkin purchased land from the farming families in western New Lots in 1835 and grandiosely named his development East New York, believing it could become a mini-metropolis rivaling NYC to the west. The neighborhood did eventually become a formidable residential and shopping mecca, but not a NYC rival. Pitkin failed to build up the area and in the mid-1900s it was Horace Miller and James Butler who finally developed it after repurchasing it. Nevertheless, both Pitkin and Miller have avenues named for them. Today East New York lies roughly between the LIRR/Canarsie line cut and Euclid Avenue and from Atlantic Avenue south to New Lots Avenue.
Loew's Pitkin Theatre, Pitkin Avenue and Legion Street
BROWNSVILLE
Vermonter Charles S. Brown invested in the western end of New Lots beginning in 1865, acquiring farmland from the Von Sinderens, Schencks, Lotts and Vanderveers (the families all wound up on street signs eventually). Brown's Village originally consisted of several hundred frame cottages that would become, along with their successor multifamily apartments and brick two-family homes,  shelter to waves of Eastern European immigrants, and African-Americans after that.
Log cabin real estate office, Flatlands Avenue and East 93rd Street
CANARSIE
Canarsie is named for the indigenous Canarsee Indians the Dutch found in residence when they arrived in the 1640s. The name "Canarsee"'s etymology is in dispute, but it some scholars of Native American tongues say it means "fenced land" or "fenced place" in Algonquin. Years of warring with the invading Dutch took their toll on the Indians in western Long Island; most of the Canarsees repaired east and today most of the descendants of the Canarsees can be found at the Poospatuck Reservation, near Patchogue in eastern Long Island. The reservation numbered but 271 in the 2000 Census.
Boys' High School, Marcy and Putnam Avenues
BEDFORD-STUYVESANT
Bedford was a very old Brooklyn farming community first settled in 1677 by British governor Richard Nicolls, who founded the settlement at the junction of two former Indian trails, naming it for the town in south central Britain. After the Revolutionary War it was gradually divided into lots and houses began to appear, though the farmland hung on in areas till after the Civil War. The Lefferts family were prominent residents; by 1838 the Lefferts had sold the land later known as Weeksville to free black Henry Thompson, who soon after sold it to James Weeks. The opening of the Brooklyn elevateds on Lexington and Myrtle Avenues in the 1880s provided a whole new building boom; the last two decades of the 19th Century and first two of the 20th gave rise to the vast area's distinctive brownstone architecture. The coming of the IND subway in 1936 increased the population, as well as emigration of African-Americans from the Southern USA as well as immigration from the Caribbean. Gradually Bedford and the neighboring community to the east, Stuyvesant Heights, were referred to as one large neighborhood, Bedford-Stuyvesant, which today stretches from roughly Washington Avenue on the west to Broadway on the east, and from Flushing Avenue on the north to Atlantic Avenue in the south.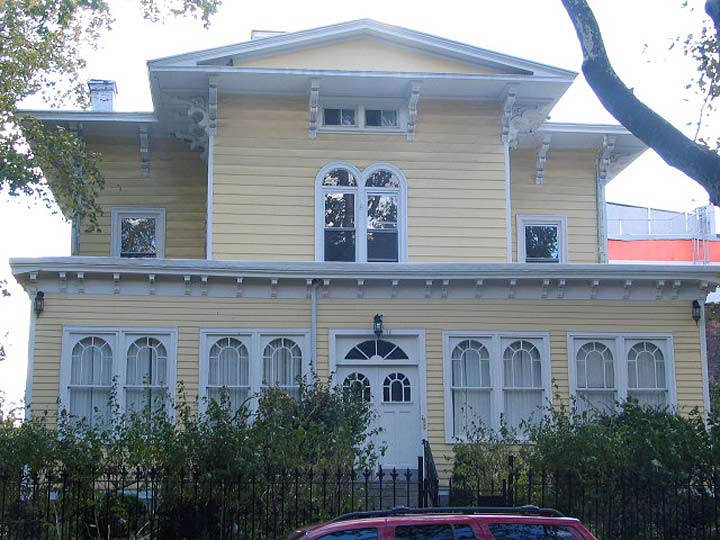 James Elwell House, Lefferts Place between  Grand and Classon Avenues
CLINTON HILL
Clinton Hill runs from Carlton Avenue east to about the Pratt Institute area at Classon Avenue, where it melts into Bedford-Stuyvesant; no true exact boundaries have been mapped, and if you live on, say, Adelphi Street and you want to be considered a Fort Greener, no one's going to really mind. Most locales such as streets, parks, neighborhoods and even diners in New York State are named for DeWitt Clinton, who held every important office in NYS.
Clinton (1769-1828) was a founding father who served as NY State Assemblyman, NYS Senator, NYS Governor, US Senator and NYC Mayor during an illustrious career capped by his indefatigable support for the Erie Canal. Several streets around town were named for him, and when Green-Wood Cemetery opened in 1838 his remains were later exhumed from the original burial plot in Albany, NY and moved to Brooklyn. Clinton lived in Maspeth for several decades in a house that had stood near Newtown Creek. The house was built in the mid-1700s, while Clinton moved here about 1780; it is said original plans for the Erie Canal were drawn up here.
Prison Ship Martyrs' Monument (under repair in 2008)
FORT GREENE
Fort Greene Park is located between DeKalb and Myrtle Avenues on the north and south, St. Edward Street and Brooklyn Hospital on the west, and Washington Park (as Cumberland Street is called here) on the east.
It is named for a fort built in 1776 at what is now the park's central summit by General Nathanael Greene (1742-1786). The fort, originally named Ft. Putnam, aided in George Washington's retreat after his defeat in the Battle of Brooklyn in 1776, and was reactivated during 1812 when a British attack was anticipated.
Walt Whitman, editing the Brooklyn Daily Eagle from 1846 to 1848, pressed for a public park in the area, and in 1847, Washington Park, named for the President, began development. Whitman lived nearby, at 99 Ryerson Street in a building that still standing, and it's not surprising he wanted a park near his home.
Nathanael Greene (August 7, 1742 – June 19, 1786, frequently misspelled Nathaniel) was a major general of the Continental Army in the American Revolutionary War, known for his successful command in the Southern Campaign, forcing British general Charles Cornwallis to abandon the Carolinas and head forVirginia. When the war began, Greene was a militia private, the lowest rank possible; he emerged from the war with a reputation as George Washington's most gifted and dependable officer. Many places in the United States are named for him. Greene suffered financial difficulties in the post-war years and died suddenly of sunstroke in 1786. wikipedia
Brooklyn Avenue and Bergen Street
CROWN HEIGHTS
The name of this neighborhood is thought to have two sources: African-Americans, who were freed slaves and their descendants, inhabited the region relatively early on, in the mid-19th Century, prompted some residents to call the area by a racial epithet: "Crow Hill." The name "crown," also applied to Crown Street, also refers to the neighborhood's location on a hill. In general, Crown Heights can be said to run from Bedford Avenue east to Eastern Parkway as it angles northeast. South of Empire Boulevard it bleeds into Flatbush (see below).
Prospect Place east of Underhill Avenue. The brick building faces a property line that followed a now-vanished colonial-era road.
PROSPECT HEIGHTS
Prospect Heights, on a hilly area facing Prospect Park to the south, is a parallelogram defined by Flatbush Avenue, Atlantic Avenue, Eastern Parkway and Washington Avenue. It bleeds into Crown Heights and Bedford-Stuyvesant on the east.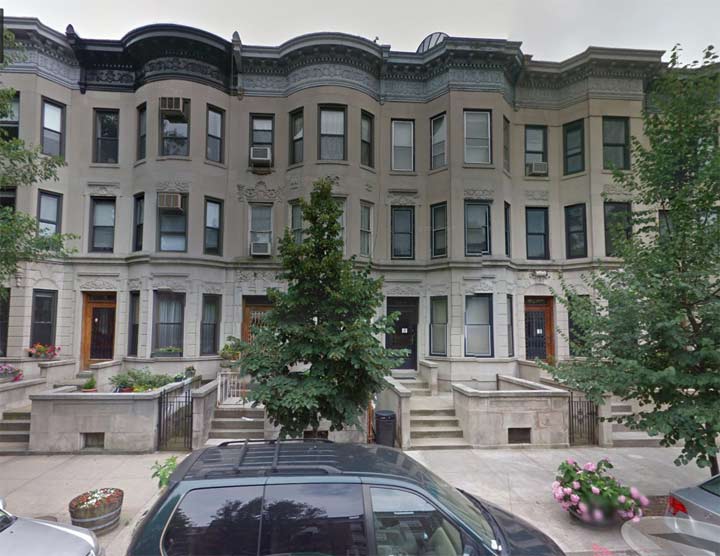 Midwood Street between Flatbush and Bedford Avenues
LEFFERTS GARDENS
The Lefferts Homestead, found just inside the Prospect Park entrance at Flatbush and Ocean Avenues, was built by the Lefferts family in an area east of the park along the Old Flatbush Road at about where Flatbush Avenue and Maple Street are now. Peter Lefferts had arrived in New Netherland in 1660 and had purchased a farm in this area in about 1675, and passed the property on to his son John.
On August 23, 1776, British forces engaged American rebels in the area near the farm. Rather than allow the British to occupy the house, the rebels burned it to the ground (the family had already left town to escape the anticipated British invasion). John Lefferts died a couple of months after that, and his family set to the task of rebuilding the farmhouse. By 1777, John's son Peter had produced this gabled, shingle-roofed building featuring a 6-columned porch and dormer windows; the Lefferts family continued to occupy it until 1918, when the City took it over and moved it to its present location. It's presently used as a children's museum, complementing the larger one in Bedford-Stuyvesant. During the year, there are sheep shearing exhibitions a swell as Dutch and African-American festivals.
The neighborhood just to the east of this Colonial relic is called Lefferts Gardens, or Prospect-Lefferts Gardens. Part of it has been designated by the Landmarks Preservation Commission, as the side streets have some distinctive late 19th Century and early 20th Century attached houses along well-shaded streets. The neighborhood is defined by Lincoln Road, Hawthorne Street, Flatbush Avenue and Nostrand Avenue.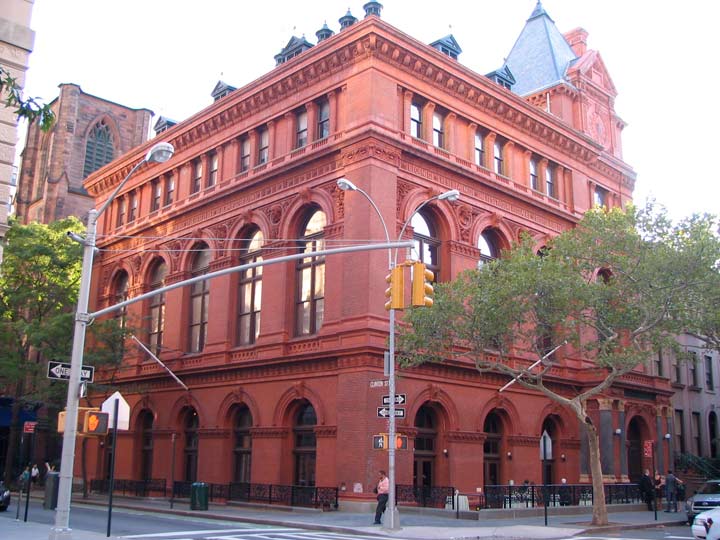 Brooklyn Historical Society, Clinton and Pierrepont Streets
BROOKLYN HEIGHTS
This was the first neighborhood designated by the Landmarks Preservation Commission in 1965. Its picturesque tree-lined streets overlook a high bluff facing the East River. In the 1950s, traffic czar Robert Moses built a triple-decker roadway to accommodate the Brooklyn-Queens Expressway on top of the bluff, with the top deck becoming a walkway facing the Manhattan skyline officially called the Esplanade, but which Brooklynites call the Promenade. Along with Downtown (see below) the area, part of the original Brooklyn Village, sprung up around the Fulton Ferry, which ran for the better part of two centuries until it was shut down in 1924. Brooklyn Heights is in a fairly well-defined area between Old Fulton Street, Cadman Plaza West, Columbia Heights, the Promenade, Furman Street and Atlantic Avenue on the south.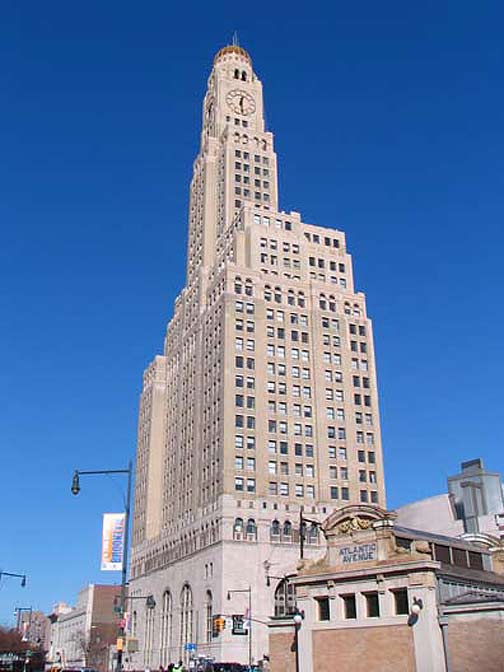 One Hanson Place, originally Williamsburg Bank Tower, Ashland and Hanson Places
DOWNTOWN
Downtown defines the area where Brooklyn's City Hall, now Borough Hall, was built at Court and Remsen Streets, surrounded by its courthouses and Fulton Street shopping district. It is surrounded on the northwest by Brooklyn Heights, the south by Boerum Hill, and east by Fort Greene. It's hard to say exactly where the northern boundary is; there's not an easily demarcated line about what is in Fort Greene and what's "downtown." I've decided to let the Flatbush Avenue Extension, built in 1909 from Flatbush Avenue and Fulton Street to allow Flatbush Avenue connect to the Manhattan Bridge, as well as Sands Street, the formerly lively strip whose now-vanished saloons and gambling dens catered to sailors and workers from the neighboring Brooklyn Navy Yard, be the neighborhood arbiters on the north. The grande dame of Brooklyn streets, Fulton, surpassed in length only by Bedford and Flatbush Avenues, emanates from here and runs out to the Queens line in Cypress Hills (see above).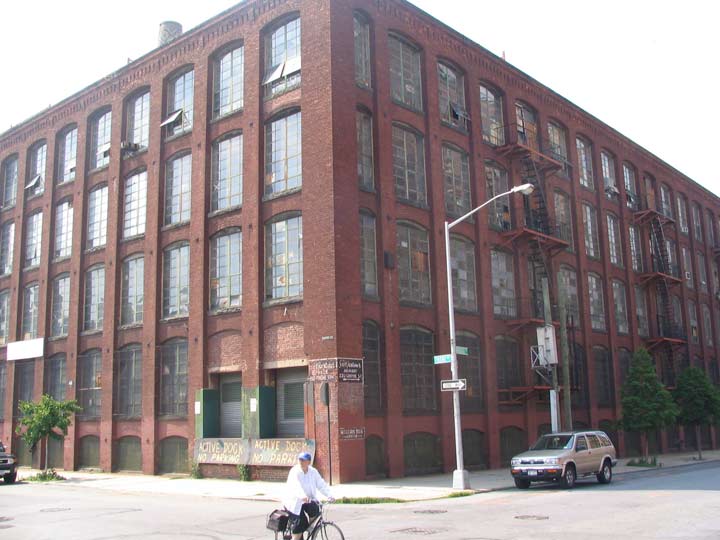 Originally Hanan shoe factory, Bridge and Front Streets
DUMBO
Until the 1970s or so, DUMBO, an acronym for "Down Under the Manhattan and Brooklyn Bridge Overpasses," didn't have a name of its own; it was just the gritty, industrial eastern section of Brooklyn Heights. After much of the industries moved out, real estate speculators including David Walentas bought up much of the old brick and stone factories and warehouses. Following the acronym trend started by Tribeca (Triangle Below Canal Street), DUMBO was the next such area to be named. Today DUMBO runs between Old Fulton Street on the west, the East River on the north, Gold Street on the east and the Farragut Houses on the south.
Hudson Avenue looking south from Plymouth Street
VINEGAR HILL
Vinegar Hill is the (heretofore) little-known eastern section of DUMBO, encompassing the blocks east from Gold Street, with the Brooklyn Navy Yard on the east.   The story of how Vinegar Hill got its name is an unusual one. Vinegar Hill has been here since 1800, when a John Jackson purchased its land from the Sands brothers (for whom Sands Street is named). Jackson actually hoped to attract Irish immigrants in an era when Irish were otherwise unwelcome. He named his tract Vinegar Hill after the site of a fierce battle in the unsuccessful Irish rebellion of 1798. In Ireland, the name "Vinegar Hill" was an English transliteration of an Irish Gaelic term meaning "hill of the wood of the berries." Vinegar Hill has also been known as Irish Town. Much of Vinegar Hill was lost to the construction of the Farragut Houses in the 1950s.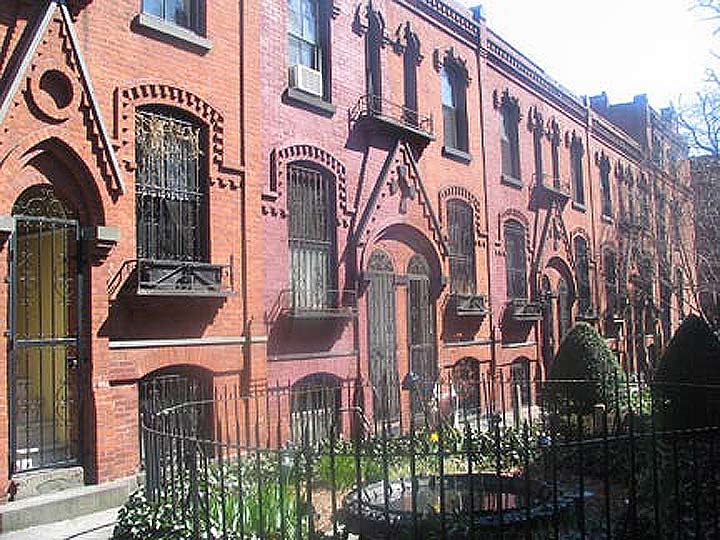 Warren Place between Warren and Baltic Streets near Henry Street
COBBLE HILL
This neighborhood south of Brooklyn Heights from Atlantic Avenue south to about Union Street between the Buttermilk Channel and Smith Street was called "Cobles Hill" by the occupying British and referred to the loose cobblestones strewn around while the area streets were being constructed in the colonial era. There was also a Cobble Hill Fort at the present location of Trader Joe's at Atlantic Avenue and Court Street where George Washington is purported to have witnessed with his spyglass the Battle of Brooklyn being played out in the present-day Green-Wood Cemetery in August 1776.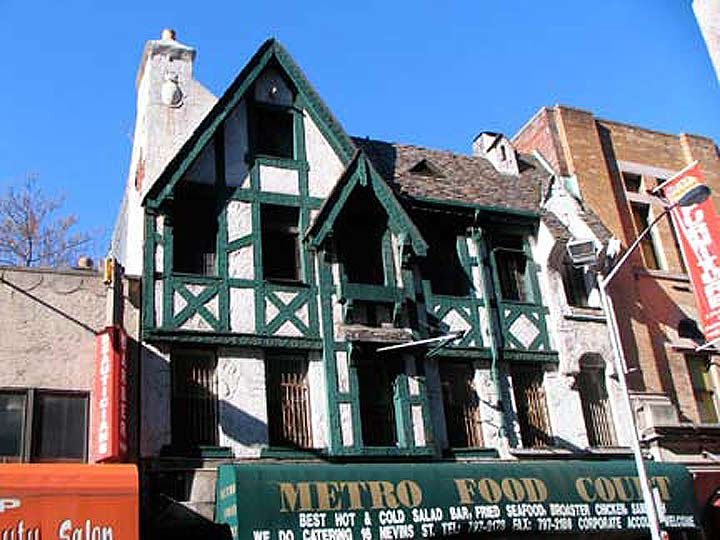 Tudor-style facade, Nevins Street near Atlantic Avenue
BOERUM HILL
This neighborhood between Smith Street, Atlantic and 4th Avenues and Union Street was once a part of Gowanus (see below) but was renamed by real estate concerns in the 1970s after the prominent Dutch landholding family the Boerums. Boerum Place, expanded into a multi-lane approach to the Brooklyn Bridge in the 1950s, bisects the neighborhood, and there is also a Boerum Street in East Williamsburg.
Gowanus Canal seen from the Carroll Street Bridge, looking toward the Union Street Bridge
GOWANUS
Manhattan may have its Canal Street, built over a former waterway draining the equally lost Collect Pond, but Brooklyn has its very own waterway known as the Gowanus Canal bisecting the neighborhood of the same name (which means, depending on what source you use, "a young or small pine," or "the sleeper" in the Delaware Indian language).
Other sources have the area named for Gowane, purportedly a sachem of the Canarsee Indians. The name "Gowanus" first appears in Dutch documents in 1640 and was first affixed to a bay, a creek and a piece of land in the area called South Brooklyn for many years due to its position south of Brooklyn's original village located where Brooklyn Heights is at present. In the mid-20th Century the neighborhood was  a haven for the Mohawk Indians who found work in the building trades.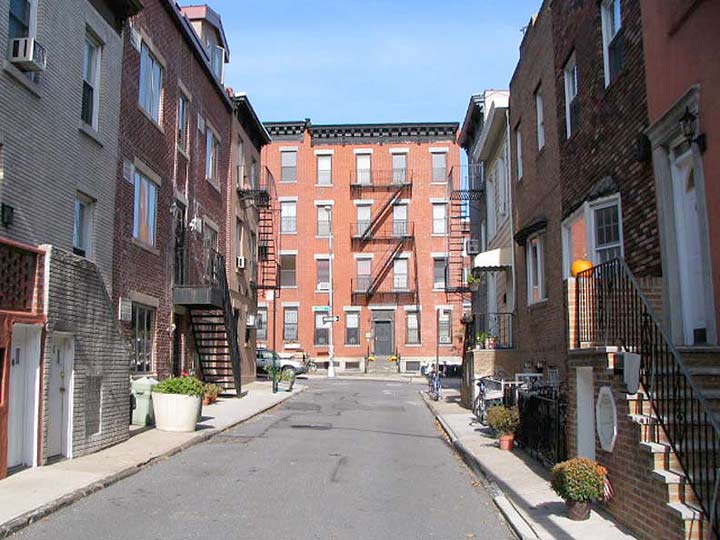 Dennet Place looking toward Luquer Street
CARROLL GARDENS
The neighborhood defined by Hamilton Avenue/Gowanus Expressway, Union Street and the Gowanus Canal is named for Charles Carroll of Maryland, the only Roman Catholic to sign the Declaration of Independence, and Carroll's presence here in the atlas is quite deliberate. A regiment of 400 Maryland troops, under Lord Stirling, assisted American patriots in a strategic retreat from British forces who vastly outnumbered them in the Battle of Brooklyn in what is now Green-Wood Cemetery, witnessed by George Washington from Cobble Hill Fort (see above). Some of the building plots on Carroll and President streets allow for extra-large lawns — hence the "Gardens."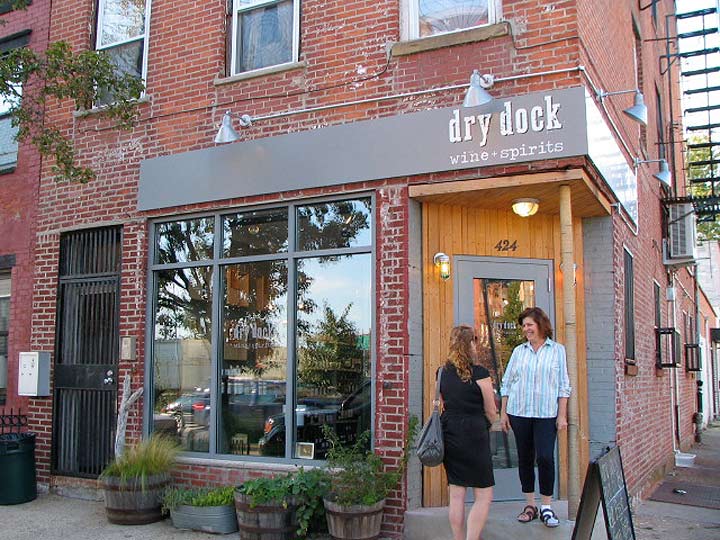 Van Brunt Street and Van Dyke Street
RED HOOK
This neighborhood, formerly home to numerous maritime industries and dry docks (hence the name of the liquor store shown here) was named, like Yellow Hook (see below) for the color of its soil; the Dutch called it "roode hoek" or "red point" because the soil  largely consisted of red clay. Red Hook today is everything southwest of the Gowanus Expressway, and it is defined on the west and south by Gowanus Bay (which becomes the canal as it pushes inland) and by Lower New York Bay.
Prospect Park West at 15th Street
PARK SLOPE
This large Brooklyn neighborhood is on a noticeable uphill as you travel east from the Gowanus Canal to Prospect Park, hence the "slope." It's also defined by Flatbush Avenue on the north and Prospect Avenue on the south.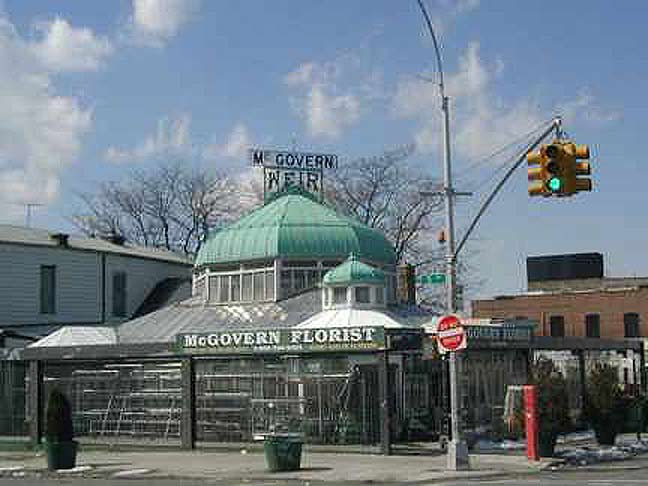 McGovern-Weir Greenhouse, 5th Avenue and 25th Street
GREENWOOD HEIGHTS
Like Park Slope, this neighborhood's name can be derived from the uphill climb between Lower New York Bay at Bush Terminal and Green-Wood Cemetery, of which 5th Avenue serves as the western boundary. Note that the cemetery has a hyphen, while the neighborhood "Greenwood" is just once word.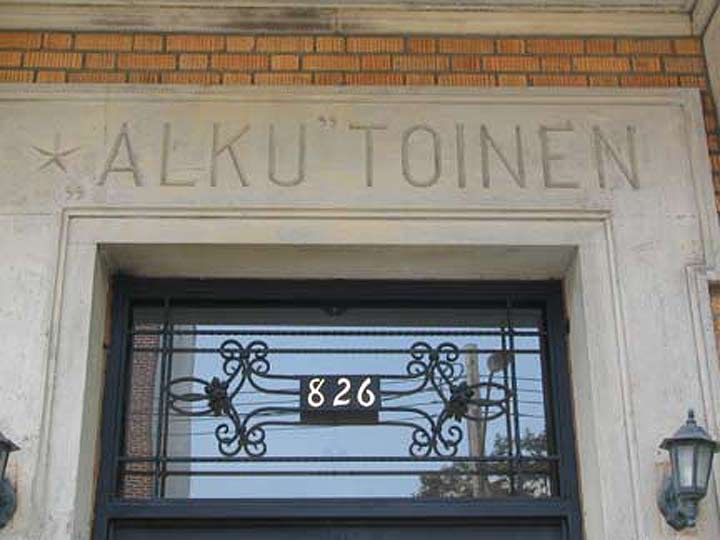 Originally a Finnish co-op, 43rd Street between 8th and 9th Avenues. The title means "new beginnings."
SUNSET PARK
This neighborhood contains the same hill that leads uphill from the waterfront as in Park Slope and Greenwood Heights. Over the decades it has benefited from an influx of Scandinavians and Irish, followed by South Americans and Caribbeans and since the 1980s, Cantonese followed by Fuzhou. The park at the north end of the neighborhood sits at the top of the hill, and the western view from the park offers pleasant sunset scenes.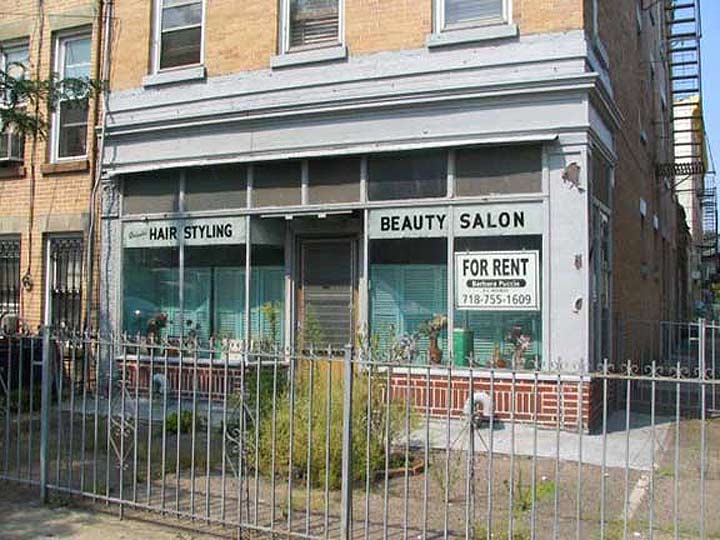 10th Avenue and 40th Street. Sadly, it doesn't look like this any more.
BOROUGH PARK
Borough Park is thought of today as a quiet residential neighborhood between Dyker Heights and Kensington in the southwestern quadrant of Brooklyn. But, Borough Park used to have a quite different aspect. Sure, it was always pretty quiet, but until the late 1800s it was the province of farms, hay wagons and mooing cows.
Formerly vacant land was opened to to real estate development in 1886 by Electus B. Litchfield, who called his development "Blythebourne" (from Scottish terms for 'happy' and 'home.') In 1898 Sen. William Reynolds expanded the property and renamed it Borough Park, though the Post Office on 12th Avenue and 51st still bears the name Blythebourne Branch.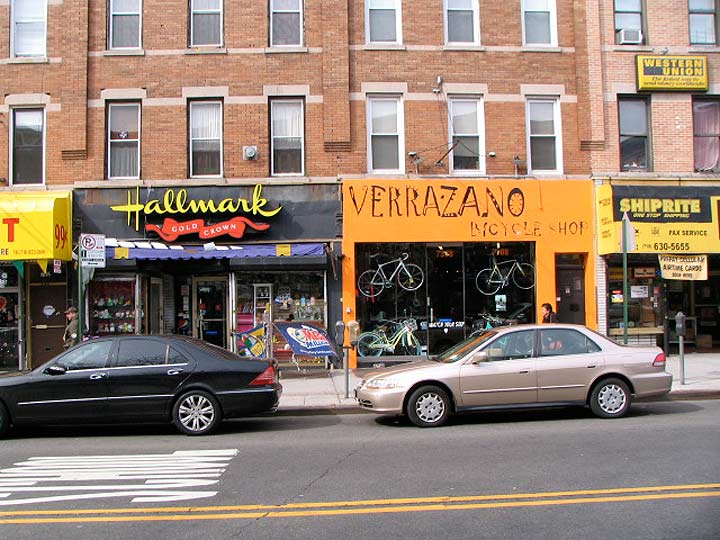 5th Avenue between 73rd and 74th Streets
BAY RIDGE
Bay Ridge is named similarly to Brooklyn Heights, describing a bluff facing a body of water, this time the Narrows. High hills lead east from the waterfront, as they do in Park Slope, Greenwood Heights and Sunset Park.
In the colonial era and afterward, Bay Ridge was known as Yellow Hook, from its light-colored soil; but in 1853, Yellow Hook was renamed Bay Ridge at florist James Weir's suggestion, since "Yellow Hook" reminded many of a recent yellow fever (the disease is potentially fatal) epidemic. A greenhouse at one of Weir's former florist shops can still be seen at 5th Avenue and 25th Street (see above).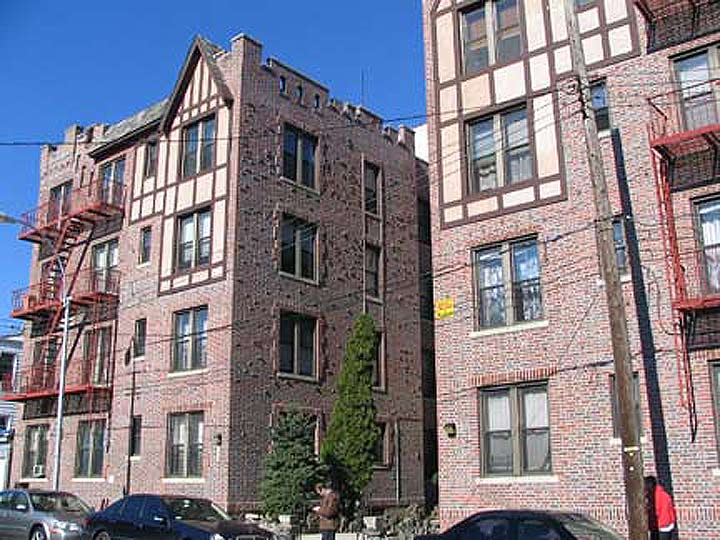 Fort Hamilton Parkway near 90th Street
FORT HAMILTON
This neighborhood is the southern part of Bay Ridge south of about 90th Street but actually developed as a small town on its own near the fort for which it's named.
Fort Hamilton is the crown jewel of Bay Ridge, an active fort on the southwest tip of Long Island since it was completed in 1831. It is situated on the Narrows, a strait separating Long Island and Staten Island, and a strategic point for any enemy vessels that would attempt to enter Upper New York Bay and then the island of Manhattan from the south. In the Revolutionary War, British troops invaded Long Island in August 1776 by landing on property near the future fort owned by a Denyse Denyse. Patriots fired on the British warship Asia during the invasion, but it was of little hindrance.
It might be odd to hear that Robert E. Lee, the great general of the Confederacy, was once a major figure in Brooklyn. While still a captain in the US Army in 1839, Lee was given the task of improving armament at Fort Hamilton as well as other forts in the region, and served here until 1846. A major east-west street inside the military reservation is named for him, and he was a vestryman at St. John's Episcopal (Anglican) Church at Fort Hamilton Parkway and 99th Street. The church is still there, now on its second structure.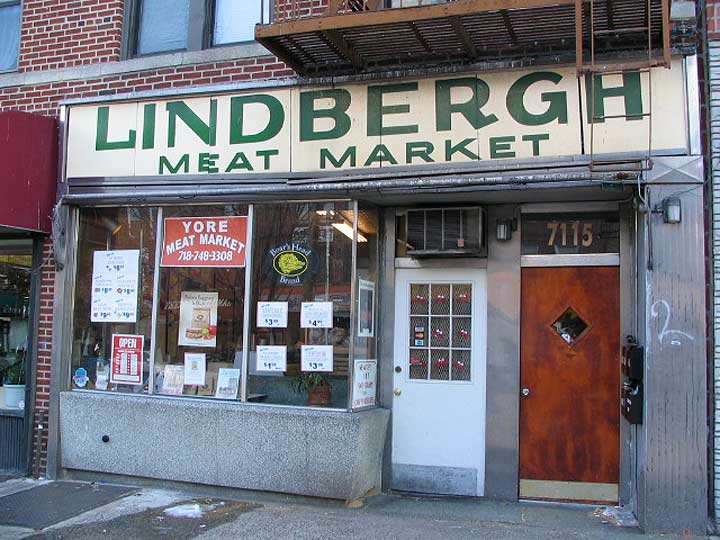 Fort Hamilton Parkway and 72nd Street
DYKER HEIGHTS
The name "Dyker" presents a bit of a puzzler for Brooklyn lexicologists. In Brooklyn By Name, Leonard Benardo and Jennifer Weiss assert that Dutch farmers who built dikes to drain the area's wetlands in the colonial era gave it its name. However Van Dyke is a common Dutch name and a family of that name did have a hand in its development in the mid-1700s. Strictly speaking Dyker Heights was more strictly defined when the Gowanus Expressway was completed in 1964, as the neighborhood's boundaries can be set at 86th Street (and the Dyker Park Golf Course, where Tiger Woods' father Earl was a pro) the expressway, 65th Street, and 14th Avenue. It's overwhelmingly residential and the only business streets are Fort Hamilton Parkway, 13th Avenue, and parts of 11th. The neighborhood is best-known and most heavily chronicled during the Christmas season, when many locals construct extravagant Christmas displays, especially along 84th Street between 11th and 12th Avenue.
The Narrows seen from 18th Avenue and the Belt Parkway
BENSONHURST
Bensonhurst and Benson Avenue are named for the colonial-era landholding Benson family, who produced a star in New York State's first attorney general; NY Supreme Court justice; and US Representative Egbert Benson (1746-1833). Benson was interred in the now-largely abandoned Prospect Cemetery in Jamaica, Queens.
Bath Avenue and 16th Avenue
BATH BEACH
Bath Beach and Bath Avenue were named for the British spa town on the Avon, famous in high-school British lit classes for the Wife of Bath, the randy, frequently-married heroine featured in Geoffrey Chaucer's 14th-Century Canterbury Tales. This was a recreational area in Brooklyn too, as villas and yacht clubs clustered near the shore. It's not a beach these days, but there's a small sandy area along Gravesend Bay near the West 8th Street entrance on the Belt Parkway. Bath Beach also had an amusement park (Ulmer Park, closed 1899, remembered today only by the bus depot at 25th and Harway Avenues). The Depression ended Bath Beach's days as a seaside resort area and soon, multi-unit housing appeared on its streets, further encouraged by the construction of the Belt Parkway through the neighborhood in 1939-1940. Till they hit it big in showbiz, the Three Stooges (two of them, anyway, Moe and Curly) were carpenters in Bath Beach.
New Utrecht Reformed Church, 18th Avenue and 83rd Street
NEW UTRECHT
The town of New Utrecht was named for Utrecht, Netherlands, the 4th largest city in that country, from which a number of Dutch colonists hailed in the 1600s. In Dutch, "Utrecht" is derived from two words that mean "old fort," so that "New Utrecht" actually means "New Old Fort." It's remembered in Brooklyn by New Utrecht Avenue, the much shorter Old New Utrecht Road and by New Utrecht High School, which was shown in the opening credits for the 1970s fave Welcome Back Kotter TV show. Once one of Kings Count's original towns, New Utrecht has been demoted to neighborhood status, located along the side streets emanating from New Utrecht Avenue from about 62nd Street to 86th Street.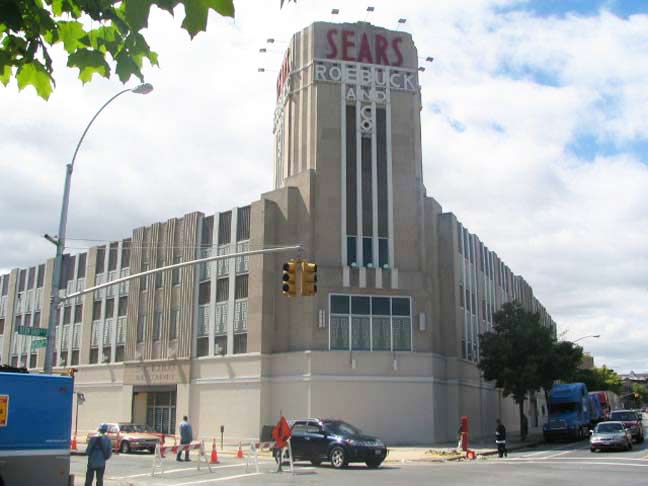 Brooklyn's first Sears Roebuck (1934), Bedford Avenue and Beverley Road
FLATBUSH and EAST FLATBUSH
The name Flatbush is an Anglicization of the Dutch Vlacke bos (vlacke = vlak = flat; "flat woodland" or "wooded plain"), so Flatbush is something of a rarity, a rough English bowdlerization of a Dutch phrase that wound up somewhat close to the actual meaning. Once a town in its own right, today it's a neighborhood with a somewhat undefined border, but I make it as bordered by Ocean,  Clarkson and Brooklyn Avenues and by Avenue I — anything south of that is Midwood and anything east is East Flatbush. Let the debates begin!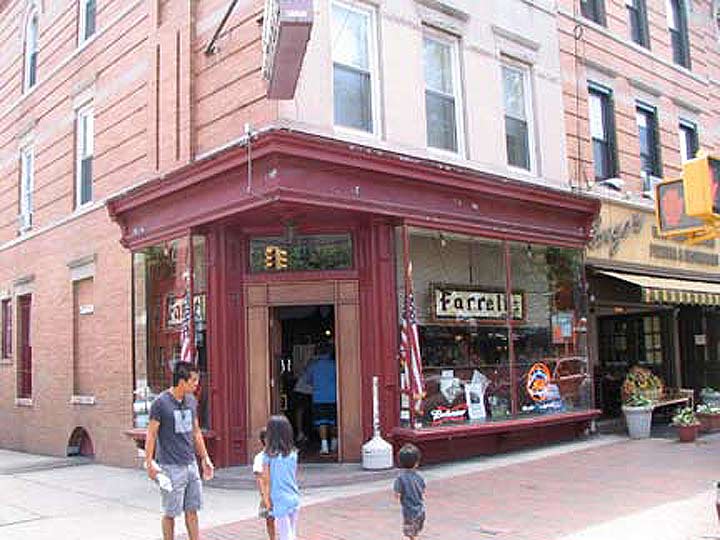 Farrell's Bar, Prospect Park South and 16th Street
WINDSOR TERRACE
As much as any other neighborhood in Brooklyn, Windsor Terrace's boundaries are rather easily defined: it's that narrow strip, about 8 or 9 blocks at the widest, between the vast greenswards of Green-Wood Cemetery and Prospect Park. Prospect Park West (which 9th Avenue is inexplicably called here — the stretch doesn't border the park) is its northern boundary with Fort Hamilton Parkway the southern. Originally Windsor Terrace proper extended from Vanderbilt Street south to Ft. Hamilton Parkway and was a northern extension of the town of Flatbush, but after Flatbush was annexed by Brooklyn in 1894, and Brooklyn was then consolidated with NYC in 1898, just about all the territory "between the green" is included.
The neighborhood, named for Windsor, England, was first built up by developer William Bell between 1849 and 1851 between Vanderbilt Street and Greenwood Avenue, and row houses sprang up on 16th Street and Prospect Park Southwest by 1905. Windsor Terrace was heavily Irish in the early 20th Century, and remains a quiet, relatively undiscovered neighborhood despite the construction of the Prospect Expressway from 1953-60; thankfully, a proposal to extend the expressway south along Ocean Parkway — which would have become a 6-lane expressway–was never acted upon.
Kensington Stables, Caton Place and East 8th Street
KENSINGTON
Kensington is named for a western borough of London; there are many British-sounding place names in the area, mostly by design since in the mid-1800s, when the region was developed, a patina of sophistication was desired. There were scattered farms around until the 1850s when the Coney Island Plank Road (Coney Island Avenue) was built and some dwellings began to concentrate at Coney Island and Church Avenues, as well as the northern end of the area near Ft. Hamilton Parkway. As early as 1851, the street pattern began to appear.
Kensington's borders are generally accepted to be Ft. Hamilton Parkway on the north, 18th Avenue on the south, 36th Street and Dahill Road on the west and Coney Island Avenue on the east, though some demographers fudge a little, saying separate areas called Dahill (defined by a triangle formed from FHP, Dahill Road and 36th Street) and Albemarle (the northern extent from FHP south to Church Avenue) are subsections.
1305 Albemarle Road at Argyle Road
PROSPECT PARK SOUTH
Prospect Park South was developed at the turn of the 19th-20th Century by upstate New Yorker Dean Alvord, who purchased a parcel of land in the then-town of Flatbush (just south of Prospect Park, of course) from the estate of Luther Voorhies and the Dutch Reformed Church in 1898. Alvord, with the aid of architect John Petit, set about building sumptuously-appointed buildings for the well-to-do. By 1898 Flatbush had evolved from farmland into a well-established community that boasted good schools, decent local trolley lines, and the Brooklyn Rapid Transit Company, the precursor of the BMT (Brooklyn-Manhattan Transit) offered easy transport to Manhattan via the Brooklyn Bridge on what was once a steam line called the Brooklyn, Flatbush and Brighton Beach Railroad that evolved into today's B/Q train.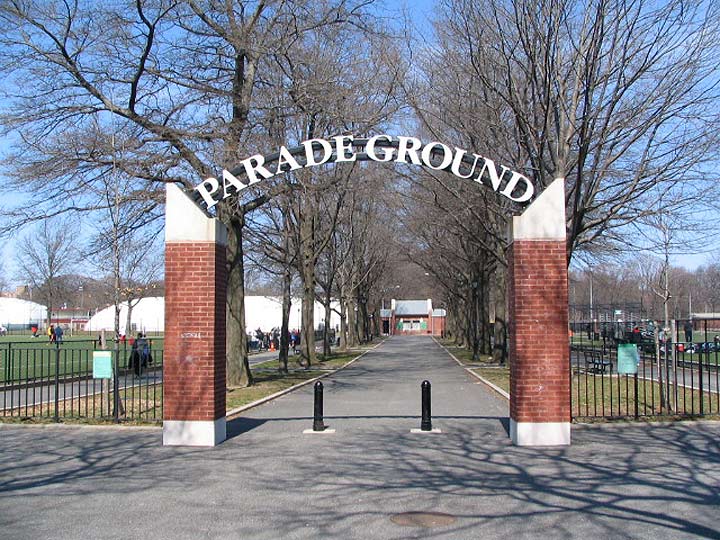 Entrance to Parade Ground, Caton Avenue and Marlborough Road 
CATON PARK
This is a small subdevelopment (from 1902-1909) of Prospect Park South between Caton and Church Avenues and Rugby Road and East 16th Street. "Caton" honors the prosperous Susan Martense Caton, who lived in a mansion that once stood at Flatbush and Caton Avenues. Her father, Jon Martense, and her son-in-law was Philip Crooke. All these folks have had local streets named for them.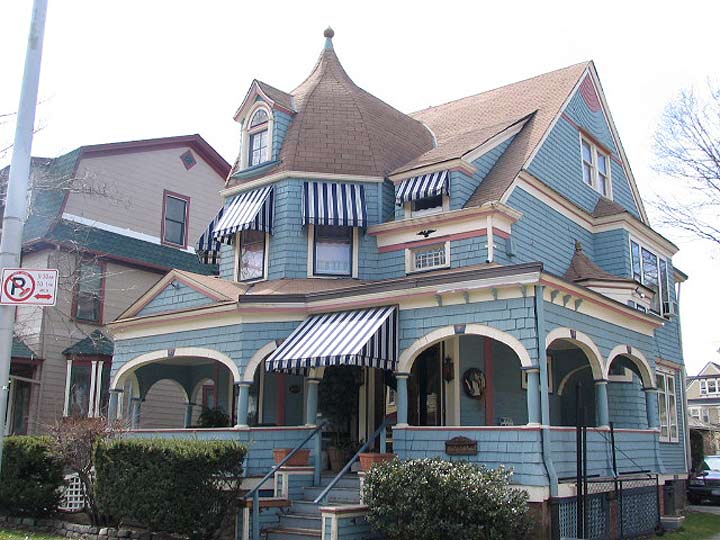 Rugby Road south of Beverley Road
BEVERLEY SQUARE EAST and WEST
From 1898-1901 developer T.B. Ackerson built Beverley Square East and West between Beverley and Cortelyou Roads from Argyle Road east to East 19th Street. Ackerson also established two railway stations on the Brooklyn, Flatbush and Coney Island Railway at Beverley and Cortelyou Roads, which later became part of the more mundane B and Q trains.
Prospect Park Jewish Center, Dorchester and Marlborough Roads
DITMAS PARK and DITMAS PARK WEST
Bounded by Coney Island Avenue, Ocean Avenue, Dorchester Road and Newkirk Avenue, Ditmas Park radiates from Ditmas Avenue north and south. It was developed by Lewis Pounds and architect Arlington Isham. Both locales were completed by 1909. When Vitaphone was a burgeoning motion picture company on Avenue M in Midwood (see below) Mary Pickford and husband Douglas Fairbanks resided in Ditmas Park.
There are a number of streets in NYC named Ditmas or Ditmars. Their progenitor was Jan Jansen von Ditmarsum, who emigrated from Holland in the 1600s. His descendants John and Hnery Ditmas established the Flatbush Plank Road company, the forerunner of Flatbush Avenue.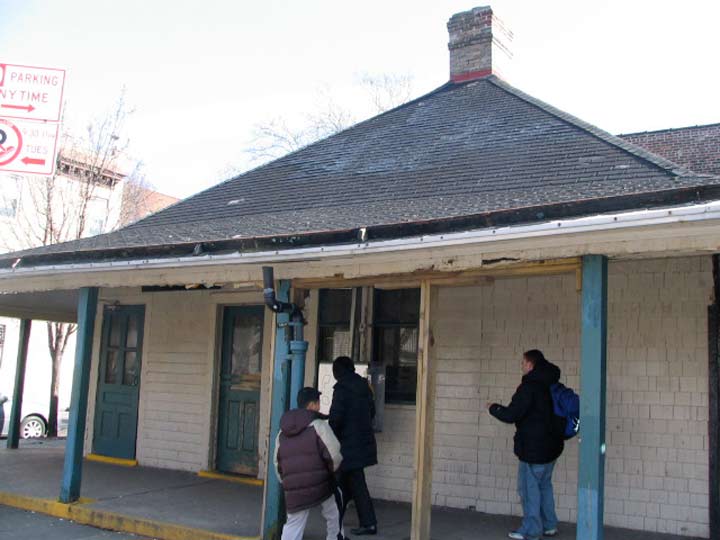 Before it was recently refurbished: The Avenue H subway station house, originally the T.B. Ackerson real estate office
FISKE TERRACE
Ackerson also developed Fiske Terrace between the railroad/subway cut and Coney Island Avenue between Glenwood Road and Avenue H after purchasing property from George and Elizabeth Fiske.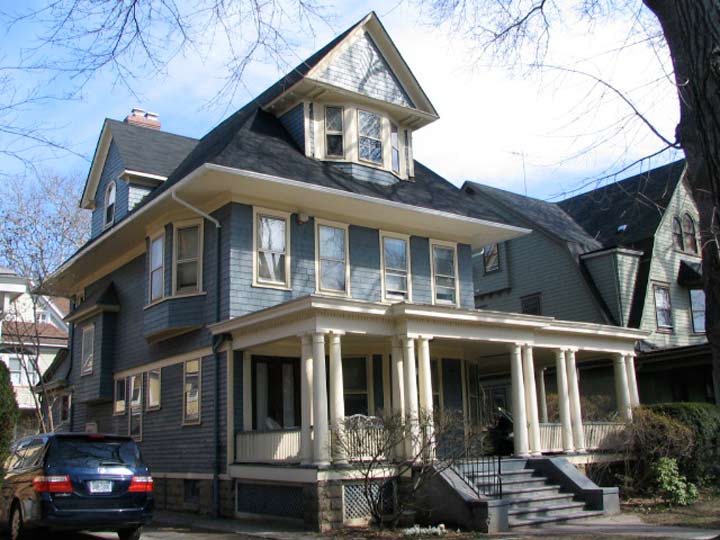 East 17th Street south of Foster Avenue
MIDWOOD, MIDWOOD PARK, SOUTH MIDWOOD, WEST MIDWOOD
Only in Brooklyn can South Midwood be located north of Midwood. The name, Midwood, derives from the Dutch word, Midwout (middle woods), the name the settlers of New Netherland called the area of dense woodland midway between the towns of Boswyck (Bushwick) and Breuckelen (Brooklyn). Jan Snedeker, Jan Stryker, andTomys Swartwout solicited from Director-General Stuyvesant the right of settling together on a level area of wilderness (vlacke bosch, the flat bush), adjacent to the outlying farms at Breukelen and Nieuw Amersfoort. Through Swartwout's suggestion, the settlement was named the village of Midwout or Midwolde. wikipedia
Today, Midwood lies south of Flatbush between Avenue I and Kings Highway and between McDonald Avenue and Nostrand Avenue; everything east of that can be called East Flatbush.
Midwood Park, meanwhile, was developed in 1908 by the John Corbin Company  between Foster Avenue, avenue H, Coney Island and Ocean Avenues and has subdivisions called South and west Midwood.
Saint Rose of Lima Church, Parkville Avenue between Ocean Parkway and East 8th Street
PARKVILLE
Greenfield "was laid out in 1851 on 67 acres of land which the United Freeman's Association had bought from Johnson Tredwell," reports The Eagle and Brooklyn, from 1893.
"To this property they added the Ditmas farm in 1852, making a total acquisition of 114 acres."
The Greenfield name didn't last long; the town was renamed Parkville in 1870. Ephemeral New York
Even today Greenfield/Parkville can be easily discerned on maps, since its streets run northeast against the prevailing grid between 18th and Foster Avenues and McDonald and Coney Island Avenues. South Greenfield, meanwhile, can be found between Avenues L and O from Coney Island Avenue east to Bedford Avenues. It can be picked out bt the diagonal streets, Bay, Elm, Chestnut  Avenues and Olean Street, that also thwart the grid.
Samuel Hubbard House, on 2138 McDonald Avenue between Avenues S and T
GRAVESEND
Scholars differ whence Gravesend got its name. The more widely-accepted theory is that Gravesend is named for a British seacoast town 15 miles east of London. Gravesend was the only one of the six original Kings County towns that was a British settlement. In Old English, 'grave' meant 'grove' so the name means 'town at the end of the grove.'
Pocahontas, the Algonquian Indian princess who apparently saved the life of captain John Smith from execution by her father Powhatan in 1607 is buried in Gravesend, England; she had gone to England in 1616 with her husband, John Rolfe, and died of tuberculosis the following year.
The second view was that Gravesend derives from a Dutch name, s'Gravenzande or s'Gravensande, so named by Dutch provincial governor of New Netherland William Kieft, who donated a small tract of land in what became Gravesend to a British immigrant, Lady Deborah Moody, and her son, Sir Henry, in 1643. s'Gravenzande means "The Count's Beach" and may have been named for Henry; perhaps it was named for Kieft's birthplace on the Maas River in Holland.
Gravesend has expanded beyond its original town square marked by Village Roads North, South and East, and Van Sicklen Street. Today it can be said to encompass everything between Stillwell Avenue, Kings Highway, Ocean Parkway and the Belt Parkway.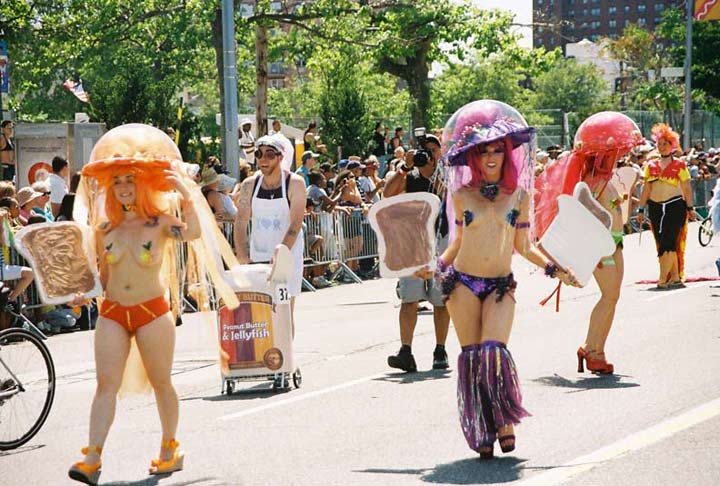 Coney Island Mermaid Parade
CONEY ISLAND
When the Dutch arrived in Brooklyn the 1600s, they found  long-eared lagomorphs all over what became Coney Island, which was indeed an island at the time. They called it konijnen eylandt (Rabbit Island) which became bowdlerized into "Coney Island."  In the very early 20th Century Coney Island Creek and Sheepshead Bay were separated by landfill and Coney became a peninsula, not an island; even today the ground is still quite marshy and there are certain spots where high rise apartment houses can't be built, which has saved Coney from being plagued by them even more than it has.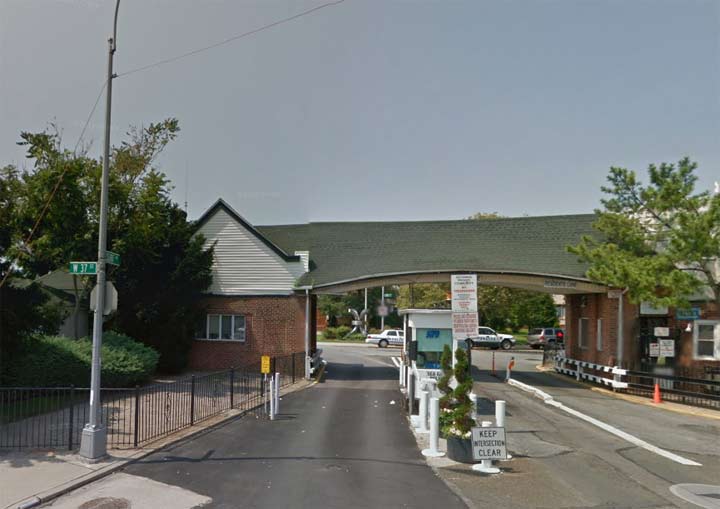 Sea Gate entrance, Surf Avenue and West 37th Street
SEA GATE
This is Brooklyn's only walled-off neighborhood: only property owners here and vouched-for visitors can enter. It had been called Norton's Point early in the 20th Century for Tammany Hall crooked politician Michael Norton. It was privatized around 1900.  Sea Gate sustained heavy damage from Hurricane Sandy in 2012.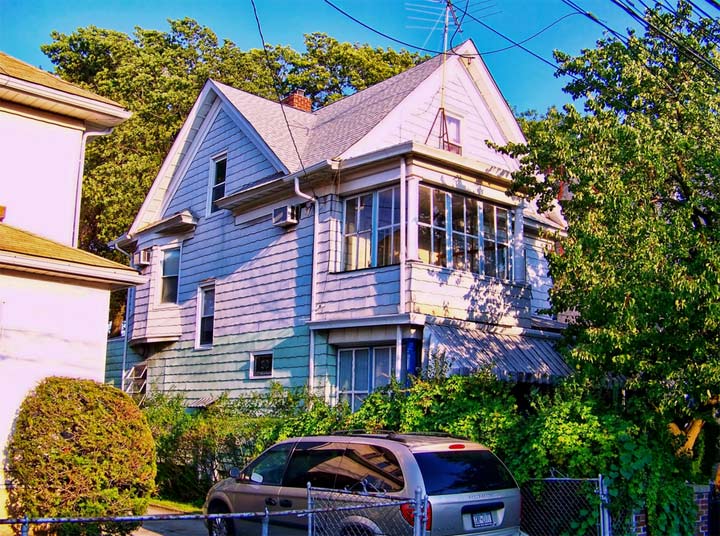 East 13th Street between Avenues U and V. Lisanne Anderson
HOMECREST
In the early 20th Century developers built many large single-family homes in the east end of Gravesend and agreed to refer to it as Homecrest-by-the-Sea. Its boundaries are Kings Highway to the north, Avenue V to the south, East 16th Street to the east, and Ocean Parkway to the west. Many of the homes built during the first wave of development are still there, while on other blocks that soil is too swampy to support anything more substantial than bungalows.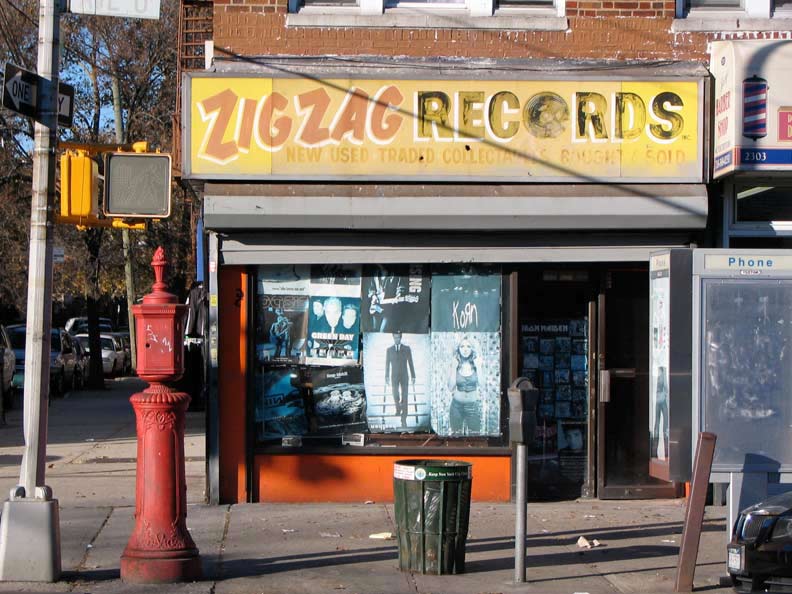 Former Zig Zag Records, Avenue U and East 23rd Street
SHEEPSHEAD BAY
The bay, an inlet of the Atlantic Ocean, and the neighborhood north of it, are named for the sheepshead, a fish no longer found in local waters. Its teeth are supposed to resemble a sheep's.
Although the Sheepshead Bay section of Brooklyn, in New York City, was named after the fish, it is almost entirely a southern species: its range extends from the Mid-Atlantic to Texas. As sheepshead feed on bivalves and crustaceans, successful baits include shrimp, sand fleas (mole crabs), clams, fiddler crabs, and mussels. Sheepshead have a knack for stealing bait, so a small hook is necessary. Locating sheepshead with a boat is not difficult: Fishermen look for rocky bottoms or places with obstructions, and they try around jetties and the pilings of bridges and piers. The average weight of a sheepshead is 3 to 4 pounds, but some individuals reach the range of 10 to 15 pounds.They are edible. wikipedia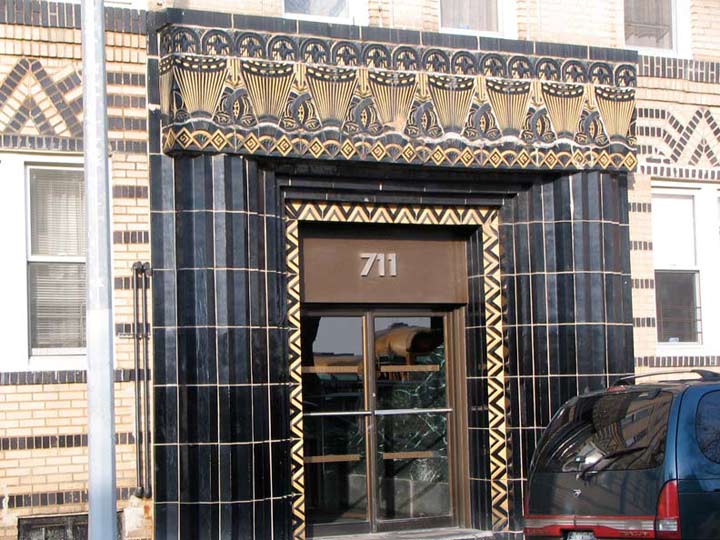 Art Deco apartment house, Brightwater Court and Coney Island Avenue
BRIGHTON BEACH
The entire southern coast of Kings County, long before Coney Island became the poor man's Riviera, was home to a number of staggeringly large and well-appointed hotels and resorts, in the last decades of the 19th Century. Only the names survive… Manhattan Beach, Brighton Beach…
William Engeman developed what is today the neighborhood of Brighton Beach in the late 1860s, naming his Brighton Hotel for the British seaside resort town.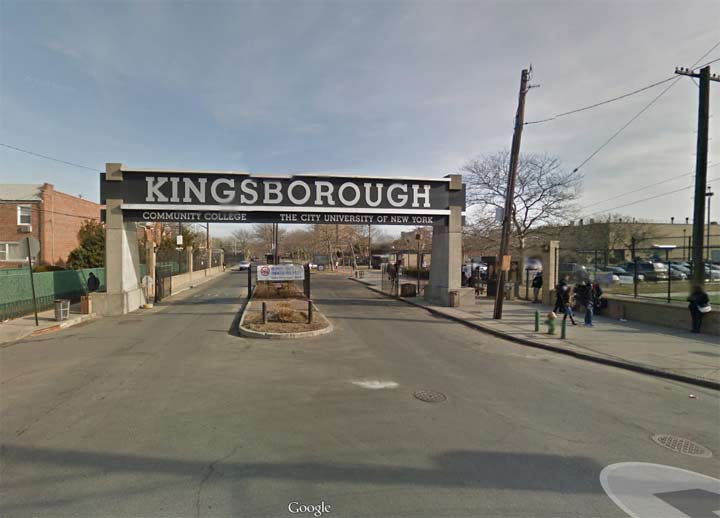 Oriental Boulevard and Oxford Street
MANHATTAN BEACH
In the mid-1870s, railroad magnate Austin Corbin speculated on property on the peninsula south of Sheepshead Bay and named it for Manhattan Island. Developer Joseph Day laid out the street grid, using British-sounding names as Dean Alvord would do in Prospect Park South.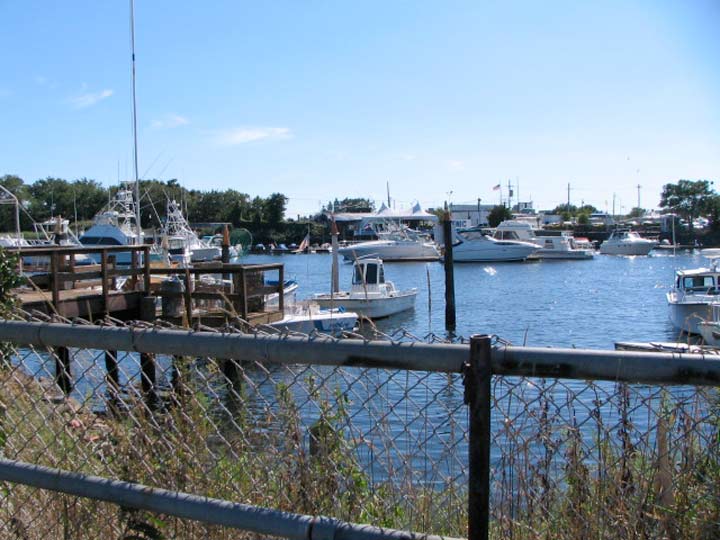 View of Shell Bank Creek from Gerritsen Beach
GERRITSEN BEACH
Dutch settler Wolpert Gerritsen arrived in 1636 with a land grant in hand from the Dutch West India Company. The Gerritsen family operated a mill in what is presently Marine Park for generations, and finally sold it to millionaire William Whitney in the 1890s.
Marine Park Creek
MARINE PARK
To the northwestt of Floyd Bennett Field along Flatbush Avenue and Avenue U can be found vast (about 800 acres) Marine Park, named for its proximity to the Atlantic Ocean. Until a few years ago, Marine Park south of Avenue U was mostly 'wilderness', but trails are now maintained and residents of Gerritsen Beach and the surrounding neighborhood, also called Marine Park, can enjoy a shoreline nature milieu.
The park surrounds Gerritsen Creek, an arm of Jamaica Bay. The creek was a freshwater stream that once extended about twice as far inland, all the way up to Kings Highway The creek had been converted to a storm drain by the early 1920s. The creek's fresh water, however, supports a wide range of plant and animal life.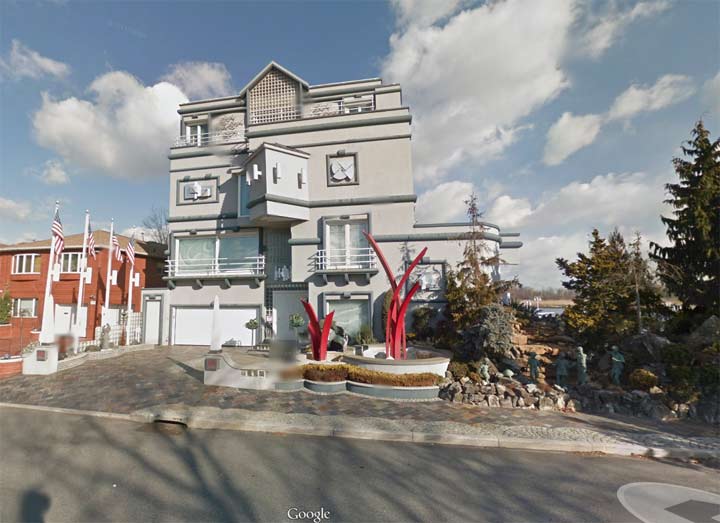 Arkansas Drive and Bassett Avenue, Mill Basin
MILL BASIN
Brooklyn's last frontier is the landfilled area northwest of the Kings Plaza shopping mall and the landfilled area northeast of it, which used to be a series of small islands and shallow marshes not developed until after World War II and not fully developed until the end of the 20th Century. Mill Basin, now on a peninsula defined by the curving Mill Basin and East Mill Basin, consists mainly of curved and circular streets punctuated by sometimes fanciful mansions like one shown above.
The stretch of Avenue U between Flatbush and Mill Avenues is called Old Mill Basin, since it began to be populated between 1920 and 1945 (Mill Basin proper was built up after World War II on the former Mill Island, named for many tidal mills in the region in the colonial era, including Gerritsen's). There had been a few houses left over from the Dutch colonial period; two have been relocated to the Brooklyn Museum.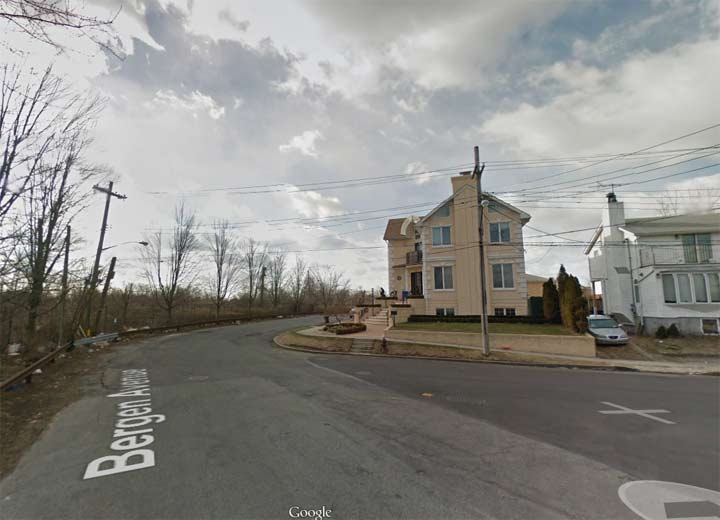 Bergen Avenue and Avenue Y
BERGEN BEACH
"Bergen" is a name found all over the NYC map. However, Bergen Beach is a little different since these lands are named for a Norwegian, Hans Hansen Berger, who emigrated here by way of Holland in 1633 and six generations of Bergens followed him in Kings County residency, including newspaper owners and members of the US Congress. Today Bergen Beach can be said to run from Avenue T to Avenue Y and from East Mill Basin to Paerdegat Basin. North of that is…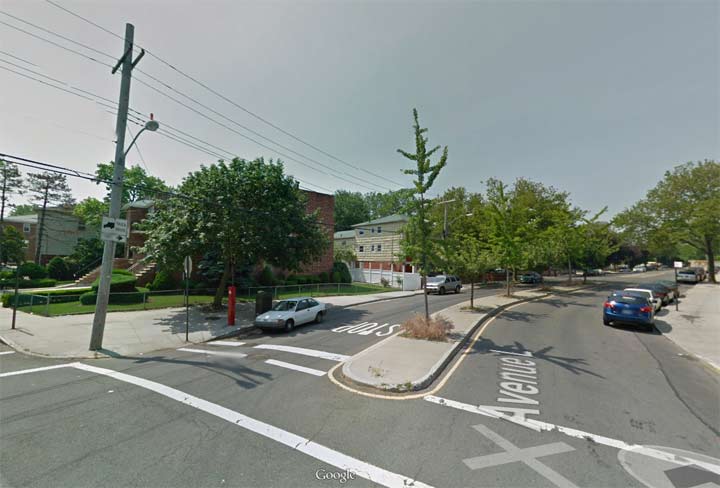 Avenue L and East 72nd Street
GEORGETOWN
Truly the last area to be fully developed in Brooklyn, Georgetown was mainly empty lots until the 1970s and developed slowly after that, not really filling in completely until the first decade of the 21st Century.
Georgetown was named for a planned development in the 1960s to be called Georgetowne Greens in the vicinity of Ralph Avenue and Avenue L. The project never got off the ground, but the name survived in the Georgetowne Shopping Center on Ralph and the neighborhood, minus the final "e." The area was slowly developed from the 1960s through the 1980s.
I'm sure I've forgotten something. Let the fun begin in Comments!
3/9/14