No, I haven't been in the Hotel Vigilant, #370 8th Avenue between West 28th and West 29th. It's a part of town I'm quite familiar with, though. For a few years in the late 1980s and the early 1990s I worked in a back office in a dark little building, #130 West 29th, for a type shop run by two Russian immigrant brothers and their associate, also from Russia, checking all their non-Cyrillic proofs for mistakes, which meant I would read material in French, Spanish, German and even Rhaeto-Romansch (sometimes called Swiss) character by character. The shop also had the Circus Magazine account: they were all pop metal then, so I would be looking over the adventures of Bret Michaels and Axl Rose while finding out who's "ringing up" a birthday in the Lou O'Neill columns.
A few years later, I was writing catalog copy for Macy's, and in between getting screamed at by the hatchet-faced supervisor, I'd be slumping around with a camera on my lunch hour. Though sometimes I'd take the subway south to the Village or north to Central Park (gathering images eventually used in the ForgottenBook), I'd mostly stay the f!@# away from 8th Avenue, since it still carried a not insubstantial whiff of the Old Bad Days, before Sheriff Rudy cleaned up the town. I suppose I should have hung out more on 8th Avenue because most of the seediness has been leached away, continuing in the Bloomberg and de Blasio eras.
But no, I haven't been in the Hotel Vigilant. It's a reminder of the old Bowery, before it was transmogrified and be-glitzed as the magic wand of development tuned it into a boulevard of high-rises and restaurants. The poor jabronies need somewhere to go. The subways, for all their improvement, are still hellish on occasion, and it all has to do with a certain way of thinking by those in charge of running things: "You take the subways for a reason, and you take limos for another reason." If you're down, you must deserve to be.
The Vigilant is a survivor of a mini-hotel row on 8th Avenue in the nebulous area south of Penn Station (built in 1910) and north of Chelsea. The Hotel Vigilant was apparently built in 1916 and by 1932, rooms were offered for 32¢ a night. By 2012 the price was up to $40 per night, or the bargain price of $140 per week. However, only Y-chromosomed are permitted lodgings.
The Vigilant is a fleabag in the truest sense of the word, and could also be called a bedbug-bag, as the bloodsucking Arthropoda crawl all over the five-story Italianate brick building. However, in an amenity few hostels provide, nontoxic bug spray is readily available, and by the most prominent account, it's definitely needed. Rest rooms and showers are shared, and smoking is permitted in the rooms, which are 8x8x4 feet and are divided from other rooms by slight wooden slats. There is one lamp per 'cubicle', a wooden plank for a shelf, and an electric outlet.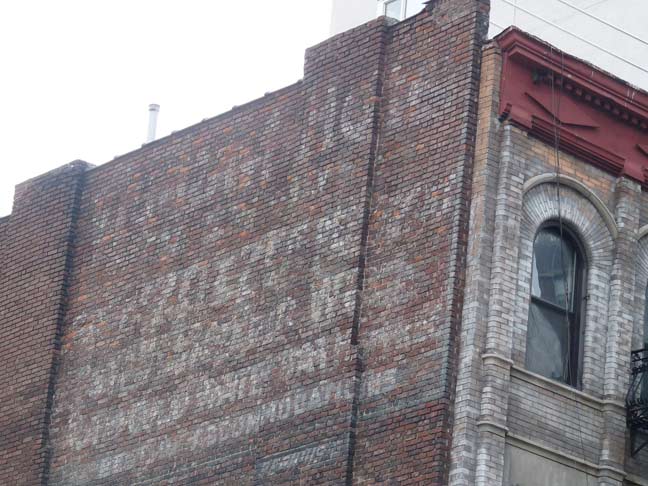 Almost illegible by now, you can find a painted sign on the hotel facing north. The words "Vigilant Hotel" are just barely legible on the top.
More readable is the taped up sign above the entrance.
Piped of, but, three befouled showers, a pair of sinks, and toilettes of excreta. Succinctly, an inn of cells petit rented to gents of varied feather—all poor for whatever reason, breathing the airs of next step below homelessness. $125 per seven days. No credit, no checks, no euros, cartons maybe—of Marlboros. Never gleeful, rarely tended proud asylum sans musique. Fine abode for a bit of drifting or a brief disappearance. In sum, perfect for the bored with responsibilities of maintaining a traceable address. Foam pad, gray, oft cavorted 'pon by bloodsucking mites. Not For Tourists
The Vigilant is where you wind up when your resources are exhausted and you have nowhere else to go. It's a communal hostel: you, your hotel-mates, the manager, and the bedbugs.
In the big city, if you're at the end of your rope, more important people than you think you deserve nothing better then the Hotel Vigilant. I hope I never get to that point. A cautionary vision.
No, I haven't been to the Hotel Vigilant, but these people have…
A Night at the Vigilant [Business Insider]
Checking Out the Vigilant Hotel [EV Grieve]
Vigilant Hotel [Walter Grutchfield]
Down and Out in New York [Bedbugger]
6/2/14