So, where were we? In Part 1 I had gotten from the Bergen Street F line station by meandering down Smith and 3rd Streets, over the noxious and noisome Gowanus Canal, winding up at the Old Stone House, a reproduction of a 17th Century structure that saw a key part of the action in the Revolutionary-era Battle of Long Island. Today I will continue to make my way south into Windsor Terrace, a narrow strip of Brooklyn located between two vast swathes of green, Green-Wood Cemetery and Prospect Park.
Five is my favorite number. Why, you ask. I have no idea, but five has always stood alone among the integers between one and nine. It's individualistic and doesn't play well with the other numbers, being evenly divisible into other numbers ending in five or zero. Brooklyn is the only borough where 5 meets 5, as in Avenue and Street. This awning sign cleverly plays off the policy of "stop and frisk" (for weapons) used by Mayor Mike Bloomberg and NYPD Commissioner Ray Kelly. Or, at least I think it does.
When I passed this storefront at 372 5th Avenue near 5th Street, I assumed it was an elaborate movie set or an expensive joke, but it turns out "Brooklyn Superhero Supply" is a spiffed-up tutoring center for neighborhood kids, known as 826nyc, that opened in June 2004.
Why 826? It is an offshoot of an original center on 826 Valencia Street in San Francisco; it has a Pirate Supply Store, at which September 19 must be a big day. The whole thing was started by belles-letterman Dave Eggers of mcsweeneys fame.
One of the oldest awning signs remaining on 5th Avenue between 5th and 6th Streets.
"Botanicas" are stores selling religious supplies for the Christian and Santeria religions. This one is subtitled for "Our Lady of Mercy."
On 5th Street between 5th and 6th Avenues I found some V-shaped bay windowed attached buildings similar to those I found on 3rd Street between 4th and 5th Avenues in Part 1. There was also a cupboard available free of charge, but I don't think I could have gotten it home on the trains.
In the 1980s and into the 1990s I had a number of friends and relatives in Park Slope (when I was in Bay Ridge), but one by one they were priced out. Sometimes a combination of us wound up here at the Park Slope Ale House, a decent neighborhood joint at 6th Avenue and 5th Street.
Situated on the less commercial Sixth Avenue among rows of brownstones in the heart of the Slope, this quaint bar is the neighborhood's nod to the quintessential New York pub of yesteryear: exposed brick walls, pressed tin ceilings, deep wooden booths, a highly-perched TV silently exhibiting some sporting event and various chalkboards heralding food and beer specials…  NY Magazine
Some more of those V-shaped bays. Perhaps the same developer built all of them. On the south side, there are some pleasant stained glass panels, and more conventional bays.
Before street signs were affixed to lampposts, the standard sign was a small blue and white sign nailed to the buildings. A lot of them can be found all over the city, like this one on 6th and 6th.
At 6th Avenue and 8th Street there a pair of buildings that the guidebooks inexplicably ignore. The Sixth Avenue Methodist Church was organized  and its original building was constructed here in 1884, with the second building erected in 1915. The church merged with the 18th Street Methodist Church in 1930, becoming the Park Slope Methodist Church. Jacob Riis became a congregant in 1895, and his career as a photojournalist chronicling the plight of the immigrant poor, claims the church, began here. Unusually, the church also ministered to immigrants from Newfoundland, Canada Methodists from the 1930s into the 1970s.
The Second Empire style Public School 39 was designed by architect Samuel B. Leonard, then the Brooklyn Superintendent of Schools, opening in 1877. Comprehensive details from the Landmarks Preservation Commission can be found here.
The Prospect Branch, or Park Slope Branch, of the Brooklyn Public Library on 6th Avenue between 8th and 9th Streets was one of many NYC libraries built with the aid of a grant from Scottish-born industrialist and philanthropist Andrew Carnegie. It was built in 1906 in a modern Classical style and was designed by prolific Brooklyn architect Raymond F. Almirall.
The Prospect Park YMCA opened in 1927 on 9th Street near 6th Avenue. 41 years later, I took swimming lessons here that ended ignominiously. I really should try again.
Some m ore of those V-bay windows, on 10th Street between 6th and 7th Avenues. A friend lived at #482 10th for many years, so this was a frequent destination. Since I had read that NYC mayor Bill deBlasio lived a block away on 11th Street despite often pledging to move to Gracie Mansion, I walked over there and indeed saw him and his wife walking toward 7th Avenue. I'm not a stalker, so I lost them there. There is one of those NYPD guard booths set up outside his house in case of any monkey business.
Found this ad for Anchor Laundry Company above Applewood Restaurant, 11th Street east of 7th Avenue. On September 1, 1915, the Brooklyn Eagle announced the Anchor Laundry Co. was "putting up a $60,000 laundry building at 361 7th Avenue." That building is around the corner from here, but in a row of brownstones that appears to have been built before 1915.
The Ansonia Clock Company occupied this brick factory, taking up most of the block between 7th and 8th Avenues and 12th and 13th Streets.
Ansonia was founded in Derby, Connecticut in 1851 as a subsidiary of a brass business run by Anson Phelps in the Naugatuck River valley. Ansonia shelf clocks are still very collectible today, with their expert craftsmanship and accurate timekeeping: the firm's clock cases were made of mahogany, rosewood, and other quality materials. Ansonia moved to Brooklyn in 1879; their original factory there burned down immediately, but the second is still here on 7th Avenue between 12th and 13th Streets.
Active clock production at Ansonia Clocks ended about 1930, whence the machinery was sold off to a Russian manufacturer. In 1981 the factory was divided into apartments and renamed Ansonia Court. The only reminder of the Ansonia days is the sign on Astoria Optical, across the street on 7th Avenue, and some very faded words on the 12th Street side.
The Factory stopped being a factory in the late '70s, and bohemian types, musicians and artists, started renting loft space. Then, to everyone's amazement, The Factory was converted to condos in the '80s and renamed Ansonia Court. I'd say more than half the guys I hung out with in The Factory are dead now, some lost to street violence, some to drugs, booze, cancer and war.
But last week, as I stood under the big clock of the Williamsburg Bank Building, 40 summers later, I learned they were getting $800,000 for two bedrooms in The Factory, and I just had to close my eyes in the warm July sun and shake my head and laugh. Denis Hamill
They say LPs don't matter, cassettes don't matter, CDs don't matter and even MP3s don't matter. Streaming matters and leasing music by the month is where it's all going. I'm for owning everything you use — even though I rented an apartment for years and with ever-increasing apartment maintenance, even though I own about 65% of my apartment, it's like I still rent.
You can get pretty much any song you want on youtube now, Beatles included. The record biz has turned upside down. It's that Shawn Fanning fella and his Napster 20 years ago.
Another well-worn awning store sign on 7th Avenue in Park Slope.
Neon liquor store signs are easily located around town, since they seem to be permitted to last for decades — they just get the job done. Slope Cellars, 436 7th Avenue near 15th Street, also retains the tradition of listing types of liquor on the outside store window glass. In addition, a contemporary identification sign has been added.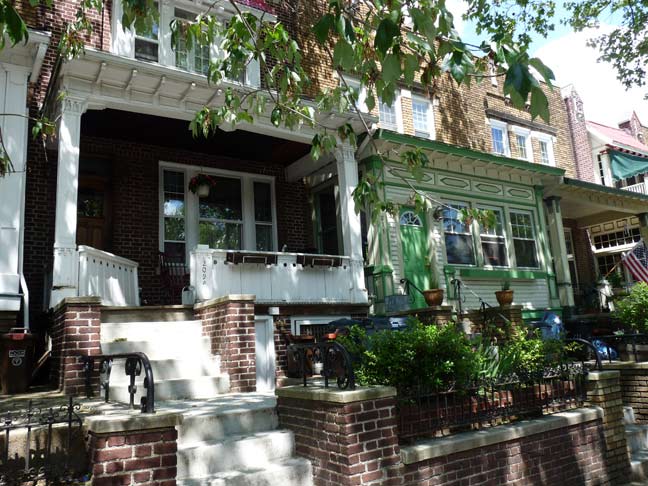 Now going southeast along Windsor Place in the "South Slope"; though Windsor Place extends into Windsor Terrace, I make the boundaries of the neighborhood fairly clear-cut; from Prospect Park South in the north to Fort Hamilton and Ocean Parkways in the south and from 20th Street/McDonald Avenue (Green-Wood Cemetery) on the west to Prospect Park Southwest.
Originally Windsor Terrace proper extended from Vanderbilt Street south to Ft. Hamilton Parkway and was a northern extension of the town of Flatbush, but after Flatbush was annexed by Brooklyn in 1894, and Brooklyn was then consolidated with NYC in 1898, just about all the territory "between the green" is included.
Dutch settler John Vanderbilt was the first European settler in the Windsor Terrace area. in the early 1800s. The neighborhood, named for Windsor, England, was first built up by developer William Bell between 1849 and 1851 between Vanderbilt Street and Greenwood Avenue, and row houses sprang up on 16th Street and Prospect Park Southwest by 1905. Windsor Terrace was heavily Irish in the early 20th Century, and remains a quiet, relatively undiscovered neighborhood despite the construction of the Prospect Expressway from 1953-60; thankfully, a proposal to extend the expressway south along Ocean Parkway — which would have become a 6-lane expressway–was never acted upon.
It may be coincidental but there is both a Windsor Place and a Terrace Place in Windsor Terrace. Early maps show Windsor Place as "Braxton Street."
The Seeley Street Bridge  is one of NYC's "secret" bridges, in that it doesn't show up on maps; I've only found a couple more like this, such as the cast-iron Eagle Avenue Bridge that spans East 161st Street in the Bronx, or the bigger Grand Concourse bridge over East 173rd Street. The bridge spans Prospect Avenue, which cuts through a deep valley and makes a turn to the south. Engineers must have thought it better to just bridge Seeley Street over Prospect Avenue when the street grid was bring built, instead of making it ascend and descend a steep grade.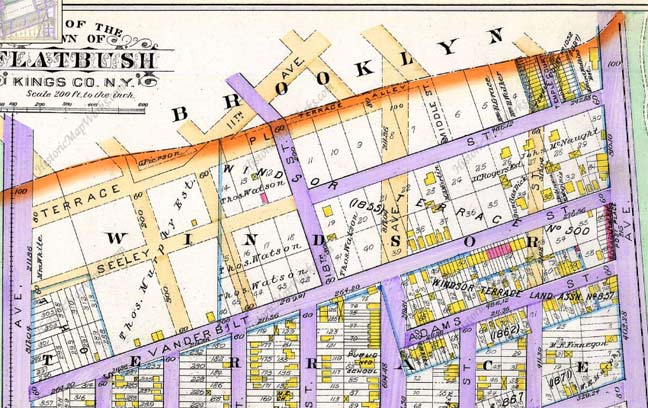 In fact this 1890 atlas plate shows that Seeley Street was laid out first and Prospect Avenue followed later. The bridge likely dates from this period.
For a street running just a few blocks, Seeley Street is bridged over two main thoroughfares, Prospect Avenue and Prospect Expressway, which connects the Gowanus Expressway with Ocean Parkway. It was built between 1953 and 1960 and effectively cuts Windsor Terrace in half, though pedestrian walkways cross it at major avenues.
I often make fun of modern construction, especially Fedders Specials with rusty terraces and concrete lawns, but this relatively new building at Seeley and 18th Streets isn't half bad, a patch of green in the front and no visible meters.
A look at the Prospect Expressway facing south.
In 1963, New York City Arterial Coordinator Robert Moses proposed a $10.5 million conversion of the existing Ocean Parkway into an expressway. The 4.2-mile-long project, would have provided a six-lane expressway with flanking service roads between Prospect Park and Coney Island. Future connections were to be provided with the east-west Cross Brooklyn Expressway.
In its 1966 report Transportation 1985: A Regional Plan, the Tri-State Transportation Commission recommended a Prospect Expressway extension along a different route, along Flatbush Avenue southeast to the Marine Parkway-Gil Hodges Memorial Bridge. NYC Roads
Can you imagine Ocean Parkway as an expressway, and a Cross-Brooklyn Expressway?
There are a variety of "needle" parks along the west end of the Prospect Expressway from 11th Avenue/Terrace Place south as far as just south of Vanderbilt Street. Two are named Thomas Cuite Park (after a City Council majority leader of the 1960s and 1970s, 1913-1987) and pictured, Seeley Park. NYC Parks admits that no one knows where the Seeley Park name comes from, as land that it was built on belonged to Murphys, Watsons and McNaughts. There were a total of ten small parks constructed in association with Prospect Expressway.
Sometimes, no one seems worthy of a name! I have never seen a blank NYC brown Parks sign before.
Vanderbilt Street is named for Windsor Terrace's original European settler, John Vanderbilt. West of the Prospect Expressway, it serves as an unusual dividing point between the street numbering systems of western Brooklyn (1 to 101, without any modifiers) and southern Brooklyn (East 1st to East 108th Streets). Further south, Dahill Road serves as a divider between the numbered avenues of western Brooklyn and the lettered avenues of southern Brooklyn.
There are some handsome attached brick dwellings at the expressway along the neat, tree-lined street.
This is one of those jewel box homes from the 1800s you see isolated here in there in different neighborhoods. I have seen them in Murray Hill, Queens, Manhattan, Flushing, all over. I wonder what their stories are. This one is on East 5th, facing the Prospect Expressway between Vanderbilt Street and Greenwood Avenue. The slanted roof gives it a Second Empire (France) design, seen first in the 1870s.
The Windsor Terrace World War I memorial is rather out of the way, at East 5th and Greenwood Avenue at an expressway exit. It was sculpted by Charles Keck and was unveiled on November 11, 1922, commemorating 47 local soldiers killed in the "Great War." It originally stood on the grounds of PS 130 at Ocean and Fort Hamilton Parkways, but when the roads were regraded the memorial was moved here.
One of a number of pedestrian walkways over Prospect Expressway at Greenwood Avenue. It still has its original davit-style posts.
It's an unusual position for an IND Subway exit. The Fort Hamilton Parkway station at Ocean Parkway is right alongside the Prospect Expressway. The subway here runs under Prospect Avenue and has another entrance/exit there, across the expressway. I wonder what the exterior of this station looked like originally, when the expressway wasn't there.
Immaculate Heart of Mary Catholic Church, Fort Hamilton Parkway from East 4th to East 5th Streets was designed by prolific ecclesiastical architect Henry V. Murphy in 1931, combining Art Deco and Gothic elements. The parish was founded in 1893.
I can't figure out the Latin inscription, mainly because I can't identify the letter before "edificatio."
On Fort Hamilton Parkway, ultimately named for the first Secretary of the Treasury Alexander Hamilton; the fort itself, still an active military base, goes back to the 1820s.
Now entering the neighborhood of Kensington. As mentioned on the Names of the Neighborhoods of Brooklyn page, the neighborhood is named for a western borough of London; there are many British-sounding place names in the area, mostly by design since in the mid-1800s, when the region was developed, a patina of sophistication was desired. There were scattered farms around until the 1850s when the Coney Island Plank Road (Coney Island Avenue) was built and some dwellings began to concentrate at Coney Island and Church Avenues, as well as the northern end of the area near Ft. Hamilton Parkway. As early as 1851, the street pattern began to appear.
Caton Avenue runs east from Fort Hamilton Parkway and Dahill Road and feeds traffic onto Linden Boulevard and Bedford Avenue; Linden then runs out to the Belt Parkway at the Queens line, so this avenue is the connector between Fort Hamilton and the Belt Parkways. On both sides, it features handsome attached buildings between East 2nd and East 5th Streets.
Two separate generations of accommodations on East 5th south of Caton, a porched single-family house and a multifamily apartment house.
The Flatbush & Shaare Torah Jewish Center, Church Avenue and East 5th Street, was opened in 1924 as the Jewish Center of West Flatbush, but changed its name two years later to the Flatbush Jewish Center. These days, it's no longer in Flatbush (though the original Kings County town of Flatbush included Kensington). The temple merged with the Shaare Jewish Center, formerly on Ocean Parkway, in the 1960s.
The "church" in Church Avenue is the Flatbush Dutch Reformed Church on Flatbush and Church Avenues. The congregation originated in the 1650s and the present building was erected in 1799. Several tombstones in the Dutch language can be found in its churchyard.
The porched homes seen here are standard issue in Kensington, along with duplex porched homes with exterior porches on the second floor. Also seen was what looked an awful lot like it could have been a barn with its original hayloft.
The Brooklyn street pattern has evolved to the degree that while Avenue C is in Kensington, Avenues A and B are in the Brownsville-Canarsie border, and Avenue D is in East Flatbush and the north edge of Canarsie.
PS 179, which appears to be a citidel of learning on Avenue C between East 2nd and 3rd Streets. I can't find much about it online, but it looks like one of the works of prolific schools architect C.B.J. Snyder.
When I was a kid and would bicycle around the Kensington area, I would always smell nutmeg around Avenue C and McDonald Avenue. I assumed wit was a chemical that smelled like nutmeg, but now I'm not so sure, since I've noticed bakery supplies wholesalers on the avenue.
The F train didn't always descend/ascend from/to a tunnel on McDonald Avenue between Avenue C and Cortelyou Road. The IND subway was built as far south to Church Avenue in 1933, and while a connection to the Culver El on McDonald Avenue was always in the cards, construction on the ramp didn't begin until 1941, and after World War II demanded use of metal, wasn't finished until 1954.
A simplified history: the Culver El was built in 1919 as a branch from the Fifth Avenue el south to Coney Island. When the Fifth Avenue el ended service in 1940, the Culver (named for the founder of the Prospect Park & Coney Island steam railroad line Andrew Culver, over whose route the Culver El operates) ran from the 9th Avenue station, which had a connection with the West End line that connected with the 4th Avenue subway, south to Coney Island. After the McDonald Avenue ramp was opened, the Culver between 9th and Ditmas Avenues became a shuttle line in 1959, serving in that role until 1975, when it was replaced by a free transfer to the #35 bus.
Besides the lower level of the 9th Avenue station in Borough Park and the stub tracks leading out from it. the only remnant of the Culver Shuttle is this stub track north of the Ditmas Avenue station on McDonald Avenue. Here's FNY's page on the Culver Shuttle showing it during demolition.
You find some stub tracks at Cortelyou Road and McDonald Avenue. These formerly belonged to the South Brooklyn Railway, a freight line that ran from the waterfront in Sunset Park alongside and under the Culver Shuttle and then down the center of McDonald Avenue to the Coney Island Yards. These tracks continued in active freight use until 1978 and they were not paved over until 1991. Occasionally, some of the tracks here show up, but the ones down McDonald Avenue were yanked out during a street reconstruction several years ago.
New Yorkers will use anything as a trash receptacle, including this Culver Line pillar.
The rattlesnake is usually seen as a troublesome animal (though it doesn't bite unless attacked) but it has been used as a patriotic symbol on several different occasions.
The Moose, whoever he is, is loose in Kensington.
A laundromat at McDonald and Ditmas Avenues has a mural on the side wall showing what people usually do at laundromats, but here's an interesting scene as someone was selling secondhand clothes on the sidewalk. The painted clothes look like they are falling from the sky to join the real clothes.
There are a number of buildings along Dahill Road, as here at 41st Street, that are roughly triangle-shaped, as the northwest-oriented street pattern of western Brooklyn meets the N-S-E-W pattern of southern Brooklyn.
Not too many street conifers in Brooklyn, but here is one on Dahill Road south of Avenue F in front of some handsome bay-windowed attached homes.
This coffee shop with a modern awning on 18th Avenue between Dahill Road and McDonald Avenue has kept its old illuminated sign with a former name.
We are now in Parkville, likely named form its relative proximity to Prospect Park.
Greenfield "was laid out in 1851 on 67 acres of land which the United Freeman's Association had bought from Johnson Tredwell," reports The Eagle and Brooklyn, from 1893.
"To this property they added the Ditmas farm in 1852, making a total acquisition of 114 acres."
The Greenfield name didn't last long; the town was renamed Parkville in 1870. Ephemeral New York
Even today Greenfield/Parkville can be easily discerned on maps, since its streets run northeast against the prevailing grid between 18th and Foster Avenues and McDonald and Coney Island Avenues. South Greenfield, meanwhile, can be found between Avenues L and O from Coney Island Avenue east to Bedford Avenues. It can be picked out by the diagonal streets, Bay, Elm, Chestnut  Avenues and Olean Street, that also thwart the grid.
Though the 18th Avenue F train station is Parkville's mass transit connection to Manhattan, Parkville was also a Long Island Rail Road station in the early 20th Century with the station a few blocks south at Avenue I. Here it intersected with the Culver steam line.
If I were a kid I'd be all over International News at 18th and McDonald, because of all the model cars, trucks and buses, both Matchbox size and a little bigger. Though I never learned to drive I would still collect model cars if I had the money.
A couple of vintage signs on the venerable building across 18th Avenue.
With that, time for the train home.
6/1/14