A road runs from the East River to the tip of the North Fork of Long Island, running through Long Island City, Woodside, Jackson Heights, Flushing, Auburndale, Bayside, Douglaston, Little Neck, Great Neck, Munsey Park, Port Washington, Muttontown, East Norwich, Oyster Bay Cove, Cold Spring Harbor, Huntington, Northport, Smithtown, Stony Brook, St. James, Port Jefferson, Rocky Point, East Shoreham, Wading River, Calverton, Riverhead, Aquebogue, Jamesport, Mattituck, Cutchogue, Southold, Greenport, Orient and Orient Point, and would go further were an ocean not in the way. It is a precolonial trace used by Native Americans before Verrazano and the Dutchmen who followed him caught sight of the lengthy island along whose north shore it limns. It's Jackson Avenue, North Hempstead Turnpike, Lawrence Hill Road, Fort Salonga Road, North Country Road, Main Road, Route 25A, Route 25, and in NYC and Nassau County, it's Northern Boulevard.
In Queens, Northern Boulevard has been called Jackson Avenue (the stretch west of Queens Plaza still is) Bridge Street, and Broadway; a Flushing enclave and LIRR station still bear the name Broadway after the old road. I'm unsure when the whole kaboodle was renamed Northern Boulevard; perhaps it was in the great 1920s "boulevard"-naming craze the Queens Topological Bureau underwent, when the Philadelphia-style numbering system was instituted and most major roads like Vernon Avenue, New York Avenue, and Rockaway Plank Road were given "boulevard" monikers.
To walk Northern Boulevard, or Routes 25A/25 from shore to shore would require a few days, and at the sluggish pace your webmaster generally employs, more than a week.
There's no disputing that in the county of Queens, Route 25A is called Northern Boulevard. It begins here at Queens Plaza, the same spot where Queens Boulevard, running east and southeast, also begins. For  a few blocks, it sluggishly staggers along under the elevated Astoria Line (N, Q trains), and the IND Queens Boulevard line (E, F, R) runs under it. Northern Boulevard is freed from the oppresiveshadows at 31st Street and 39th Avenue, and runs quickly and furiously, hurtling toward the city line in Little Neck.
Nowadays, Route 25A maintains the name Northern Boulevard once crossing the city line — these days, at least. This was not always the case.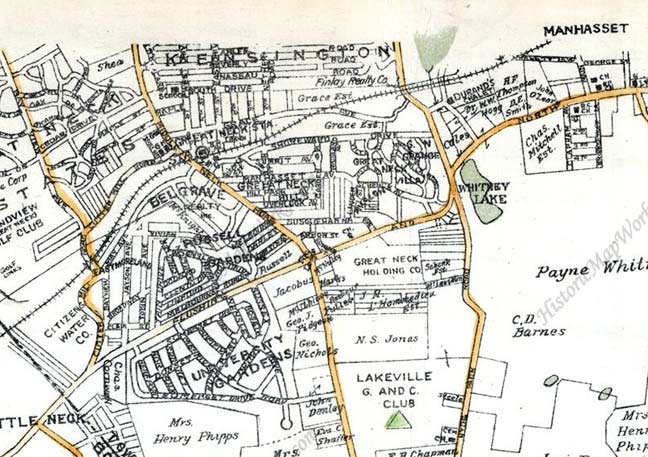 On this 1927 atlas plate, Northern Boulevard is shown as the line running northeast through the center. It's labeled the Flushing and North Hempstead Turnpike, an accurate name since Little Neck is in the old Queens town of Flushing and once over the city line, is in the Nassau County town of North Hempstead. In 1899, three eastern towns in Queens decided to form their own county in a dispute over where the county court house would be located, Long Island City or Mineola, and the three towns, Hempstead, North Hempstead and Oyster Bay, became Nassau County.
After a time, the Flushing and North Hempstead Turnpike would become just North Hempstead Turnpike — and even that change was confusing, since at the time, Queens County had another North Hempstead Turnpike several miles west in southern Flushing. The situation was amended in 1964 when that road was renamed Booth Memorial Avenue for a hospital on that avenue and Main Street that has subsequently become New York Hospital.
The North Hempstead Turnpike name would be coterminous with Route 25A all the way to the Nassau/Suffolk County line. But there has been a trend over the decades to call it an eastern extension of Northern Boulevard instead of the older name — but not by everyone.
This excellent 1939 map by Dolph Maps (which is still around, but only in the South) indicates  that by then, North Hempstead Turnpike had apparently become Northern Boulevard even past the city line in Nassau County. It would seem that the issue had been settled, and Northern Boulevard had won.
Not so fast. This Hagstrom plate from 1949 shows that Route 25A becomes North Hempstead Turnpike at the Queens/Nassau line, while keeping the Northern Boulevard name in Queens exclusively.
These days, through most of Nassau County, the overwhelmingly favored name for 25A is Northern Boulevard. When the Roslyn Viaduct was built in 1949, the older section of 25A that curved through downtown was then renamed Old Northern Boulevard (it had been Willow Avenue). Even after crossing into the town of Oyster Bay the Northern Boulevard name still sticks. But …
Google Street View isn't adept at catching street signs, so bear with me from here on.
At Remsens Lane, the road bears signs identifying it as "Northern Boulevard/25A." Unlike New York City, where street signs are pretty uniform, Nassau and Suffolk feature street signs of all shapes, colors and fonts.
Further east, at Sugar Tom's Lane the small brown sign on the utility pole has simply "Northern Boulevard."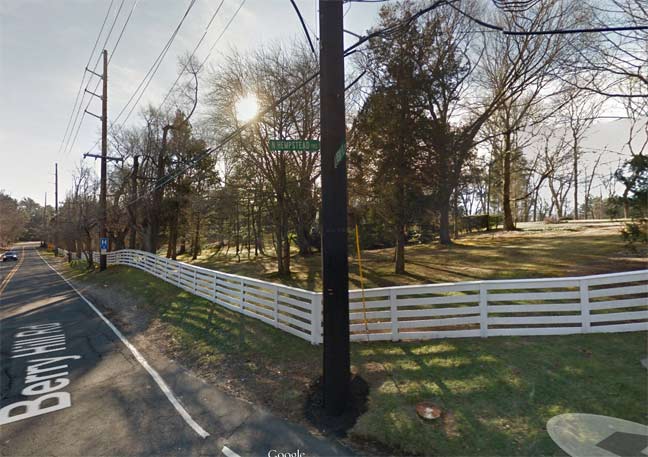 Even now, however, these is a dispute over what the name of 25A. is. At the junction with Berryhill Road, two street signs stick with the old tradition and call it North Hempstead Turnpike. You would think that would settle the matter, no? East of here, you'd think Northern Boulevard ceases to exist.
That's not the case, however. Northern Boulevard is shown on street signs — which in Nassau are small and inconspicuous — as far east as Cove Road at Memorial Cemetery. East of that, though, the street signs simply say "Route 25A", washing hands of the dispute.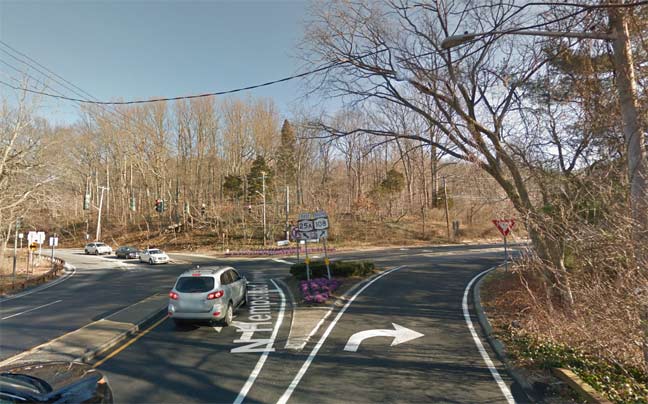 Finally, at the Nassau-Suffolk line at Cold Spring, 25A continues northeast as Harbor Road, and Route 108 east as Lawrence Hill Road.
So, the designation between "North Hempstead Turnpike" and "Northern Boulevard" is left rather ambiguous for the last mile of the road's lengthy run. I'd bet the local denizens simply say they're on 25A.
6/11/14